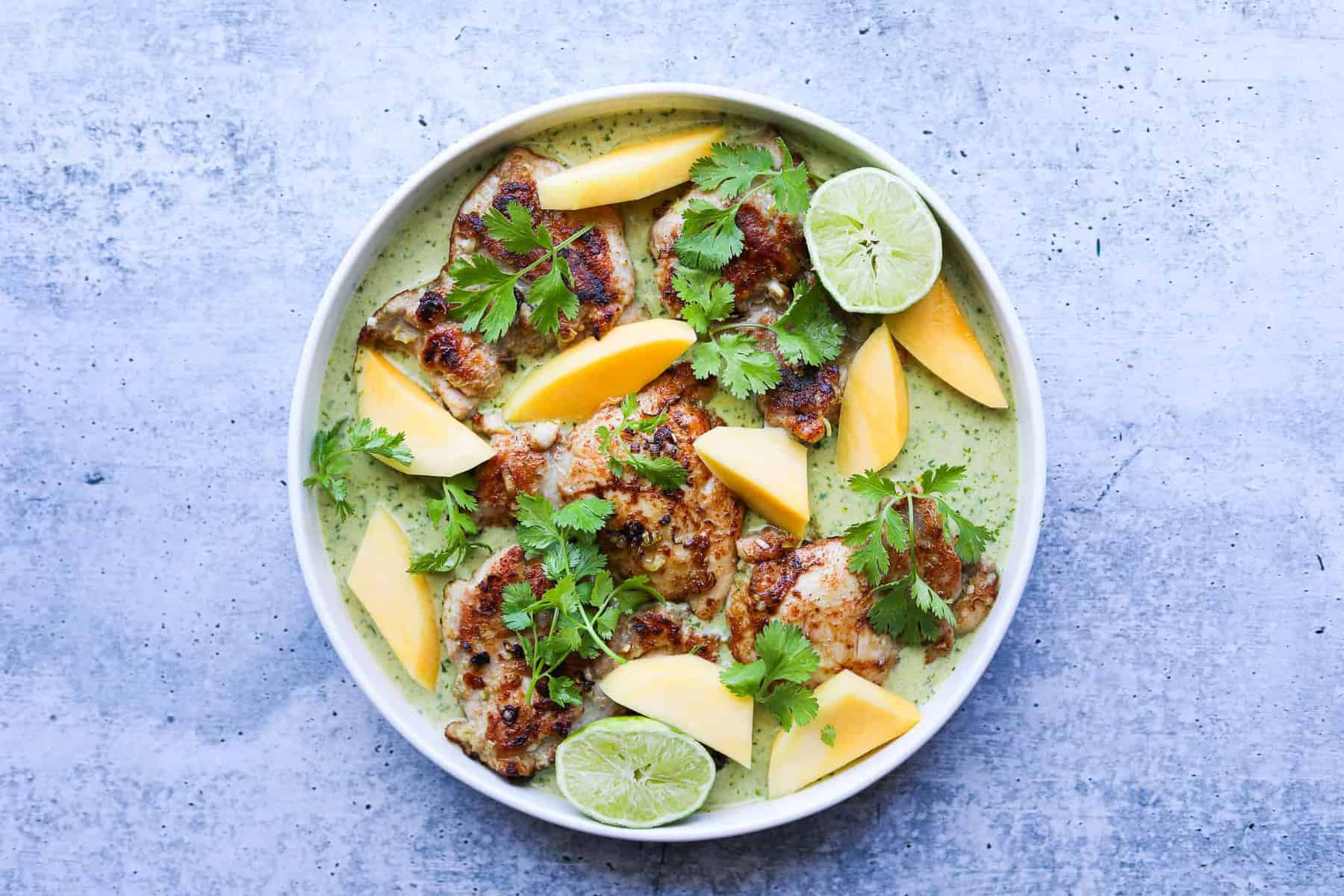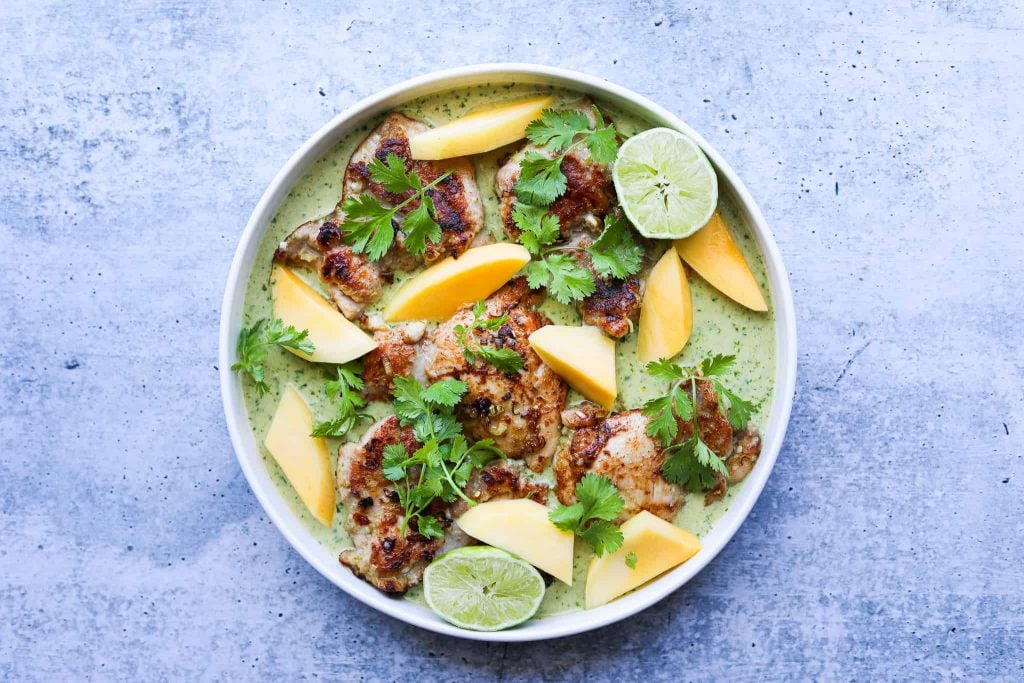 Green curry chicken thighs make for an easy weeknight dinner!
I used to think a curry would be the last thing you would want to eat on a hot summer day, but after spending a few weeks in Thailand last year, I learned otherwise. The combination of ginger, lemongrass, coconut, fresh lime, and cilantro has a magical cooling effect on the body. Throw in some fresh mango, and you have a refreshing meal for a hot summer day! Once you master this coconut green curry sauce, you can use it in many different ways. I've included some of my favorite variations below! Serve green curry chicken thighs with steamed rice, cilantro and lots of extra lime!

Recipe Variations:
Swap the chicken thighs for shrimp, veggies or tofu!
Add one quart of chicken stock and cooked rice noodles for a delicious green curry soup!
Serve with Toasted Coconut Lime Rice
Serve the curry with cauliflower rice or zucchini noodles for a healthy swap!
Step by step green curry chicken thighs →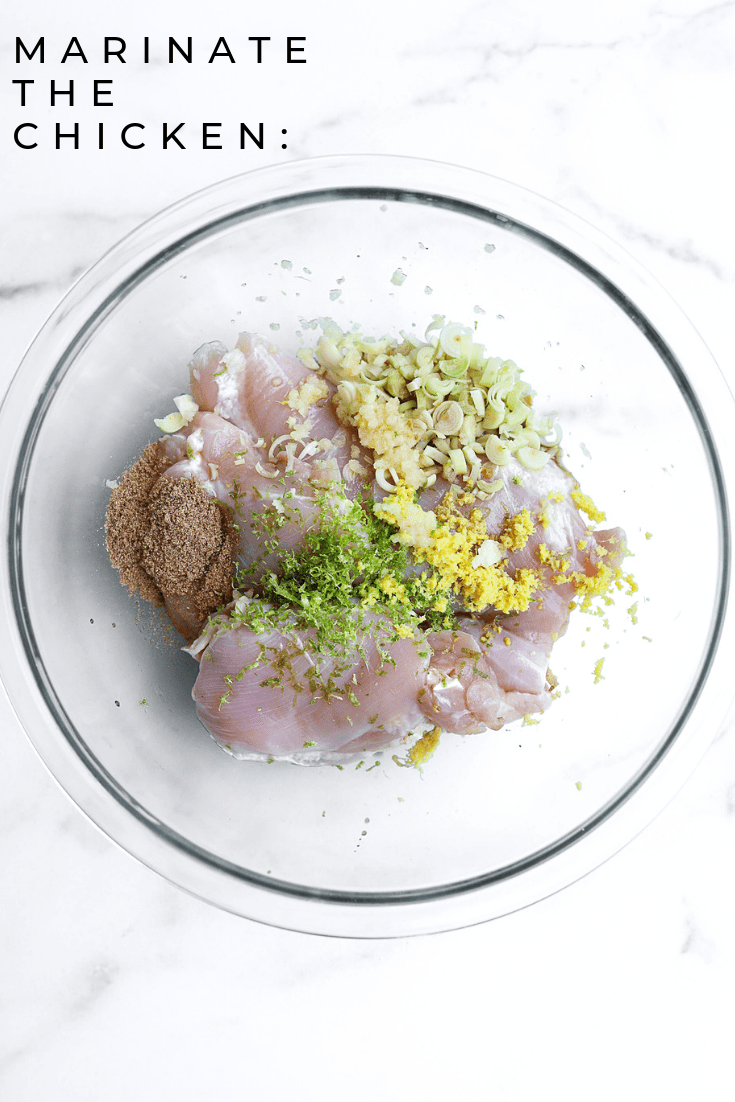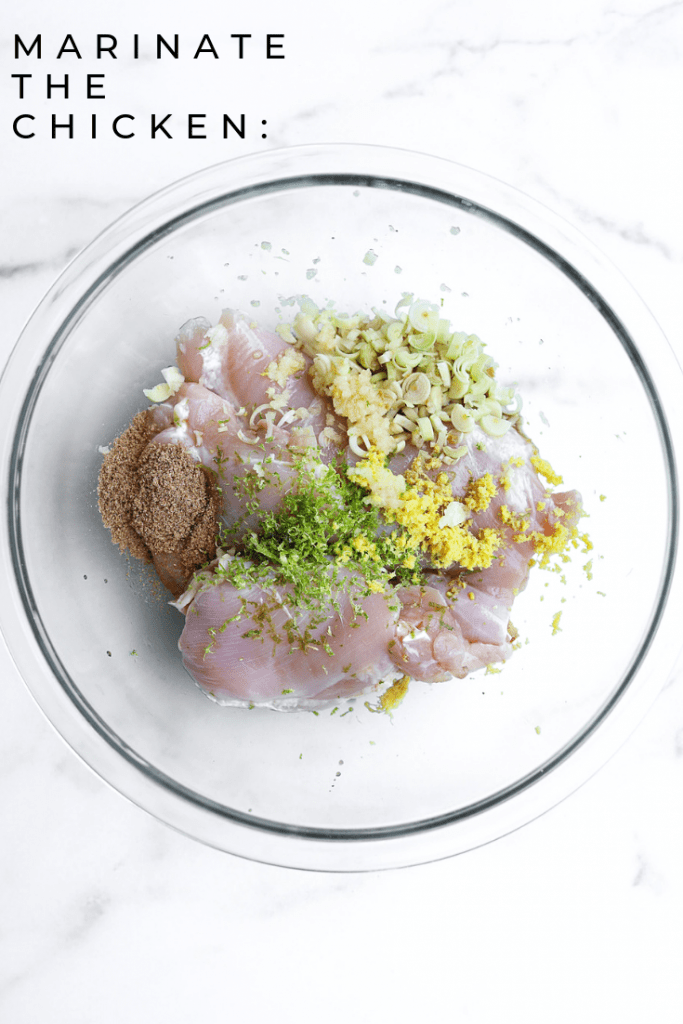 Toss the chicken thighs with fresh ginger, lemongrass, garlic, lime zest, and coriander. Let marinate in the refrigerator for one hour or up to twelve.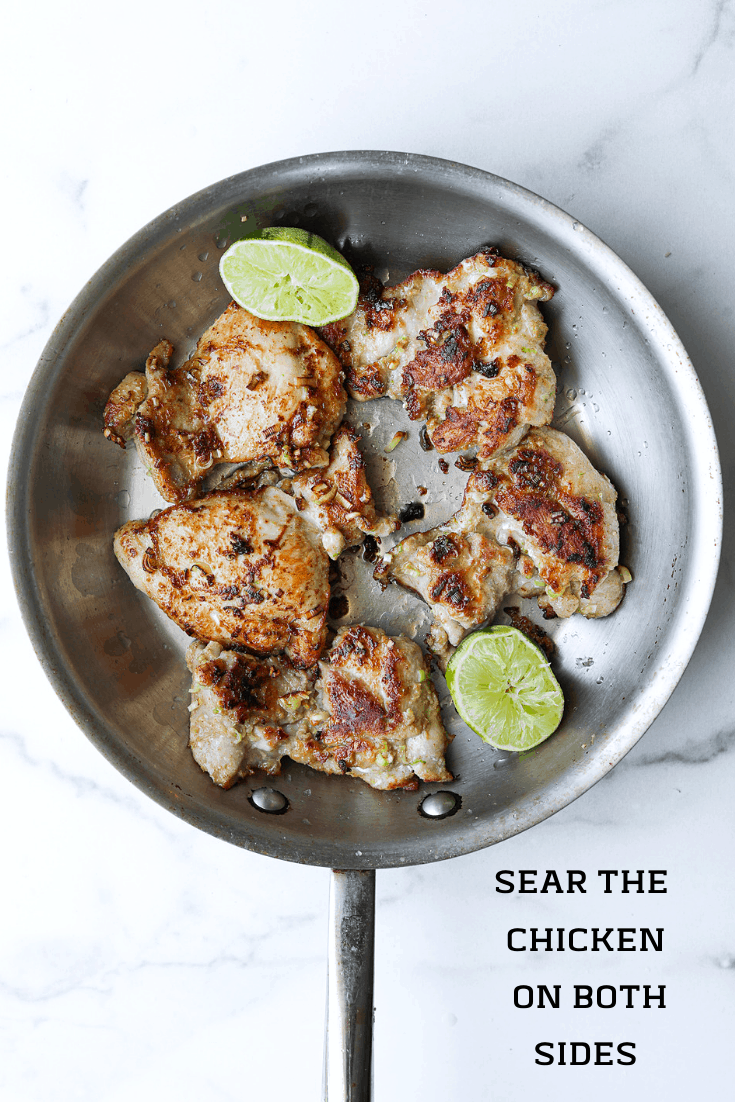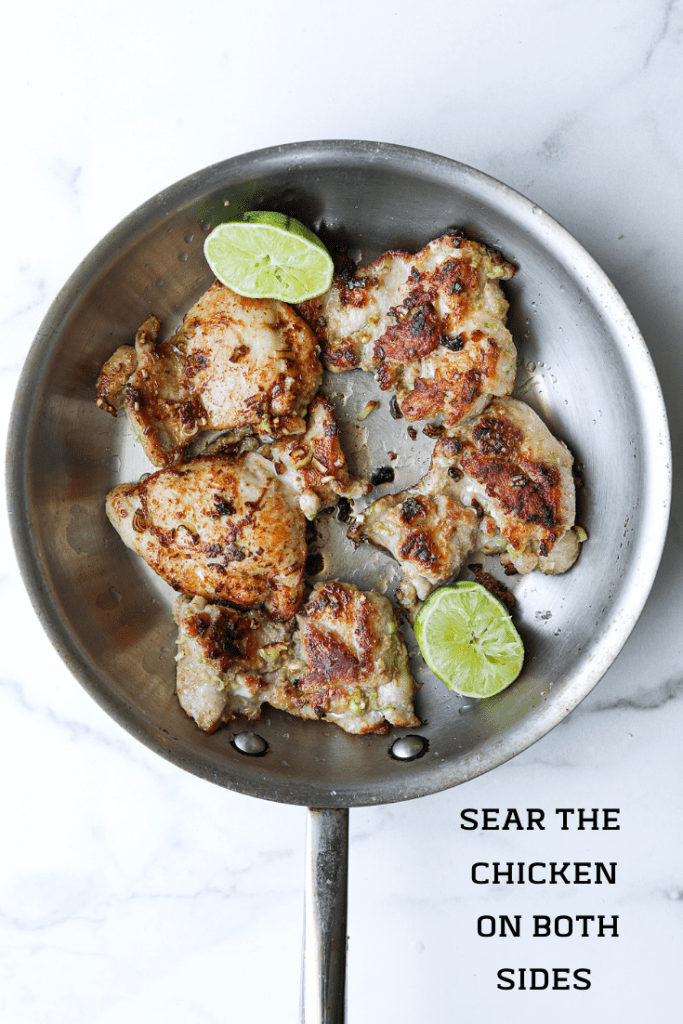 Sear the chicken in a hot pan until golden brown and crispy. Flip and repeat on the second side.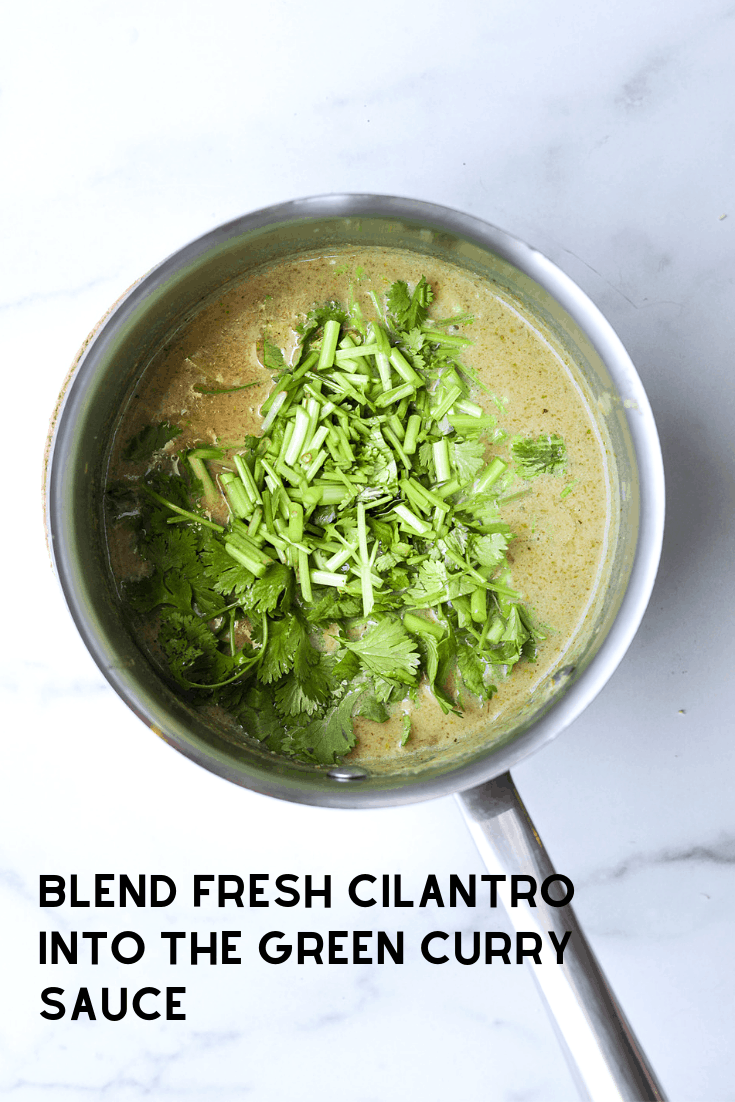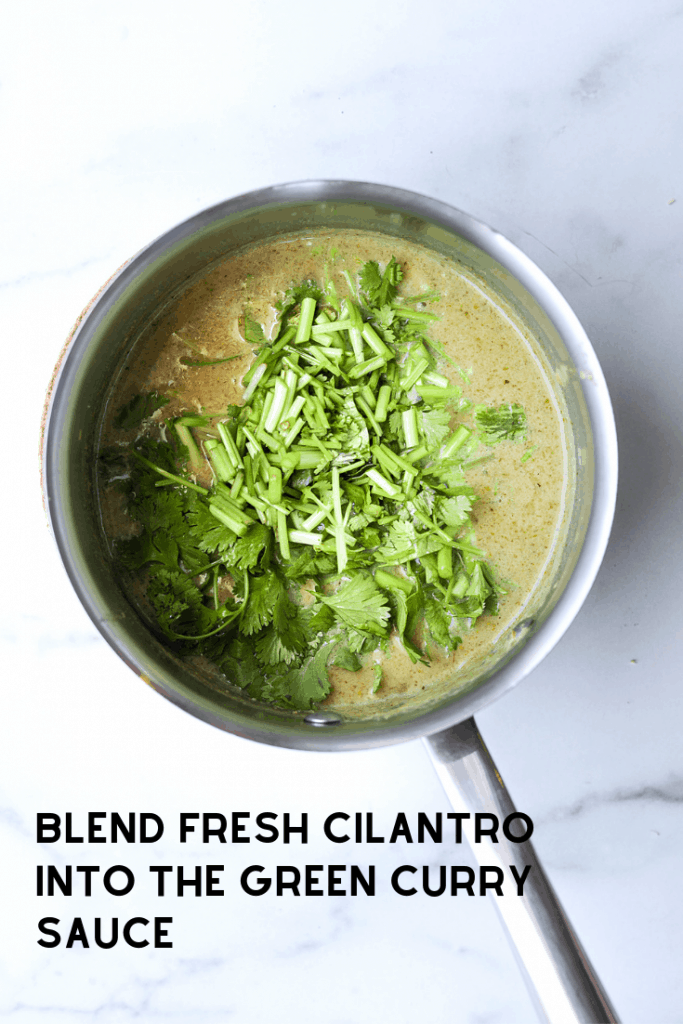 Blend fresh cilantro into the coconut-green curry sauce. Season with fresh lime juice and fish sauce!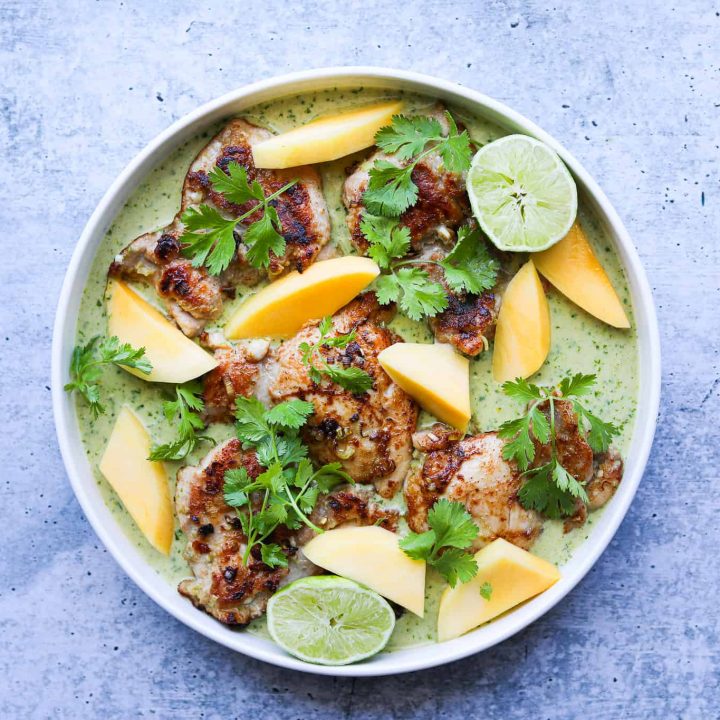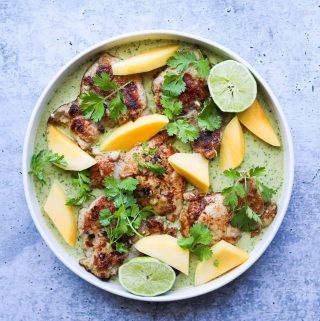 Ingredients
Green Curry Sauce
3

shallots

coarsely chopped

3

inch stalk

lemon grass

3

cloves

garlic

smashed

2

inch

piece of ginger

cut into small pieces

2

teaspoons

ground coriander

1

handfull

cilantro

1

tablespoon

chili sauce

such as sambal or sriracha

1

can

coconut milk

3

tbsp

fish sauce

2

whole

limes
Chicken Thigh Marinade
2

lbs

boneless skinless chicken thighs

3

inch stalk

lemon grass finely chopped

1

inch piece

peeled ginger

3

cloves

garlic

1

tsp

ground coriander

1

tsp

lime zest

3

tbsp

fish sauce

1

tbsp

coconut oil
For Serving
4

cups

cooked rice

2

limes, cut in half

2

whole

mangos, peeled and diced

1

handfull

fresh cilantro, roughly chopped
Instructions
Chicken Marinade
In a large bowl stir together the grated garlic and ginger, lemongrass, coriander fish sauce, lime zest and coconut oil. Add the chicken to the bowl and toss to coat. Marinate the chicken for one hour or up to twelve.
Green Curry Sauce
In a blender pulse the shallot, ginger, garlic, lemongrass, coriander and chili sauce until it is very finely ground like a paste. If you need to you can add a few tablespoons of water to help it blend. In a small sauce pot sauté the paste with a little bit of coconut oil until it is aromatic. Whisk in the the coconut milk. Let the sauce gently simmer for ten minutes then turn off the heat.
Assembly
In a large sauté pan on medium heat add two tbsp of coconut oil and then lay the chicken thighs in the pan in one even layer. You may have to do multiple rounds depending on the size of your pan. Sear the chicken until it is crispy and brown, then flip and repeat on the other side. When the chicken is cooked through remove it from the pan and set aside. If you need to do a second round of chicken do it now.

To finish the coconut green curry sauce transfer the warm sauce to a blender and add in a large handful of fresh cilantro (stems and all) as well as the fish sauce and juice from two limes. Blend the sauce to incorporate the cilantro then pour over the cooked chicken thighs. Top with fresh cilantro and chunks of mango. Serve with warm rice and extra lime on the side.
---
If you love Green Curry Chicken Thighs, check out these other great recipes →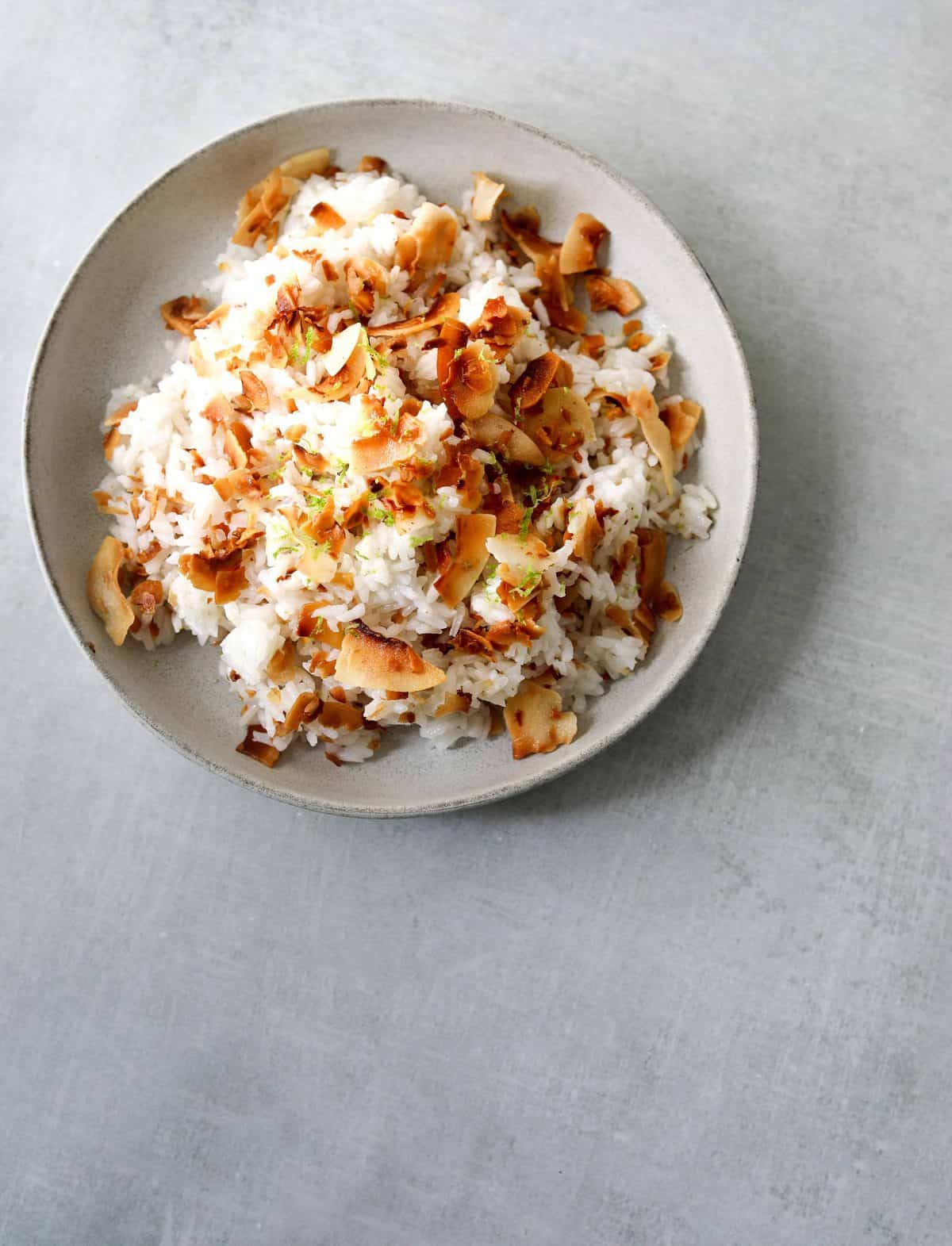 Toasted Coconut Lime Rice
Fluffy steamed rice with crispy toasted coconut and a hint of lime zest! Perfect for serving alongside chicken, shrimp or your favorite curry! This toasted coconut lime rice if one of my favorite side dishes. I make rice a few times a week and this recipe is a great way to mix it up. Serve…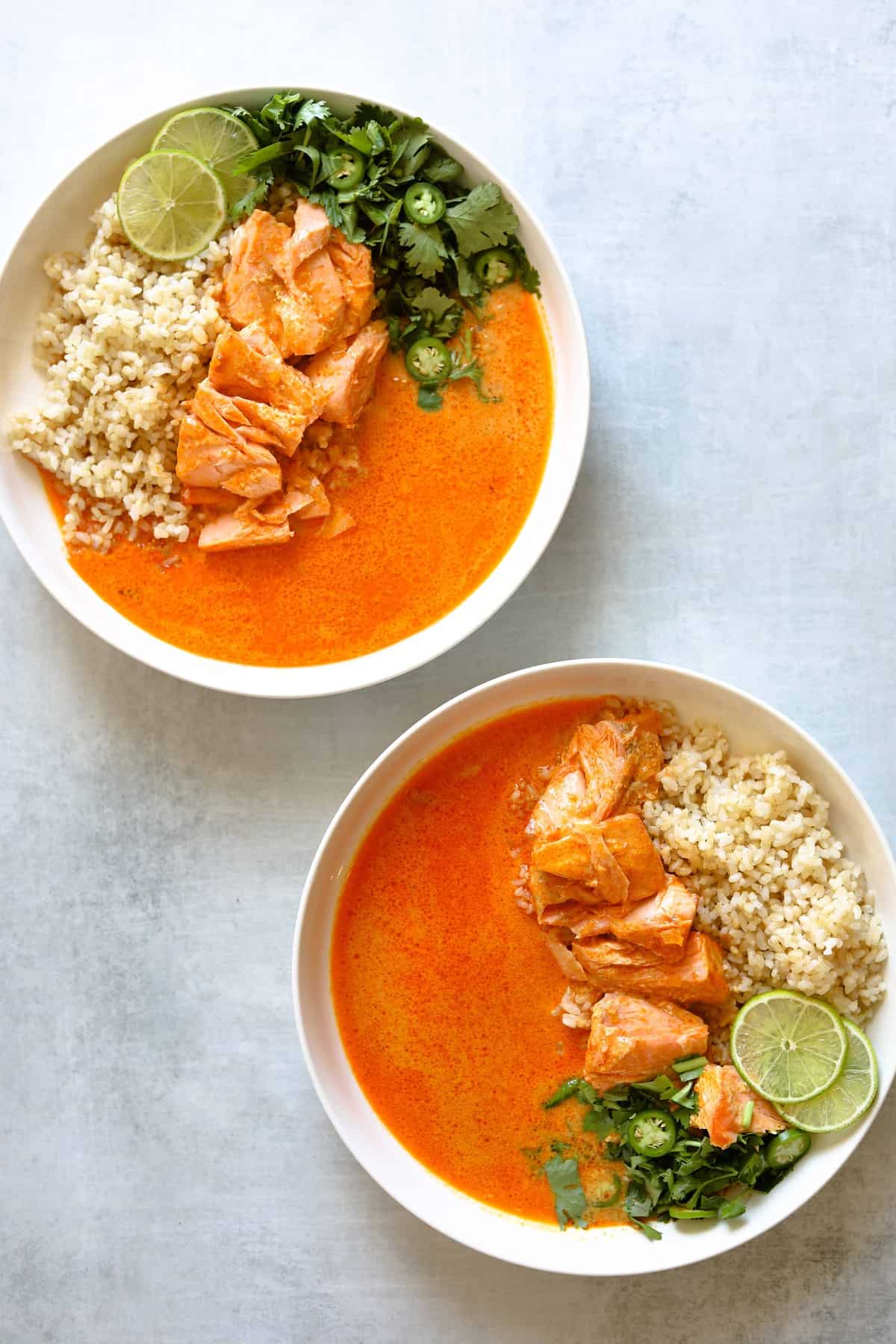 Coconut Curry Braised Salmon
This quick and easy coconut curry braised salmon comes together in less than 30 minutes! Serve over brown rice with cilantro, lime, and sliced chilis! Coconut curry braised salmon is the perfect recipe for nights when you want a meal that's big on flavor with minimal effort. The salmon cooks quickly, in about ten minutes…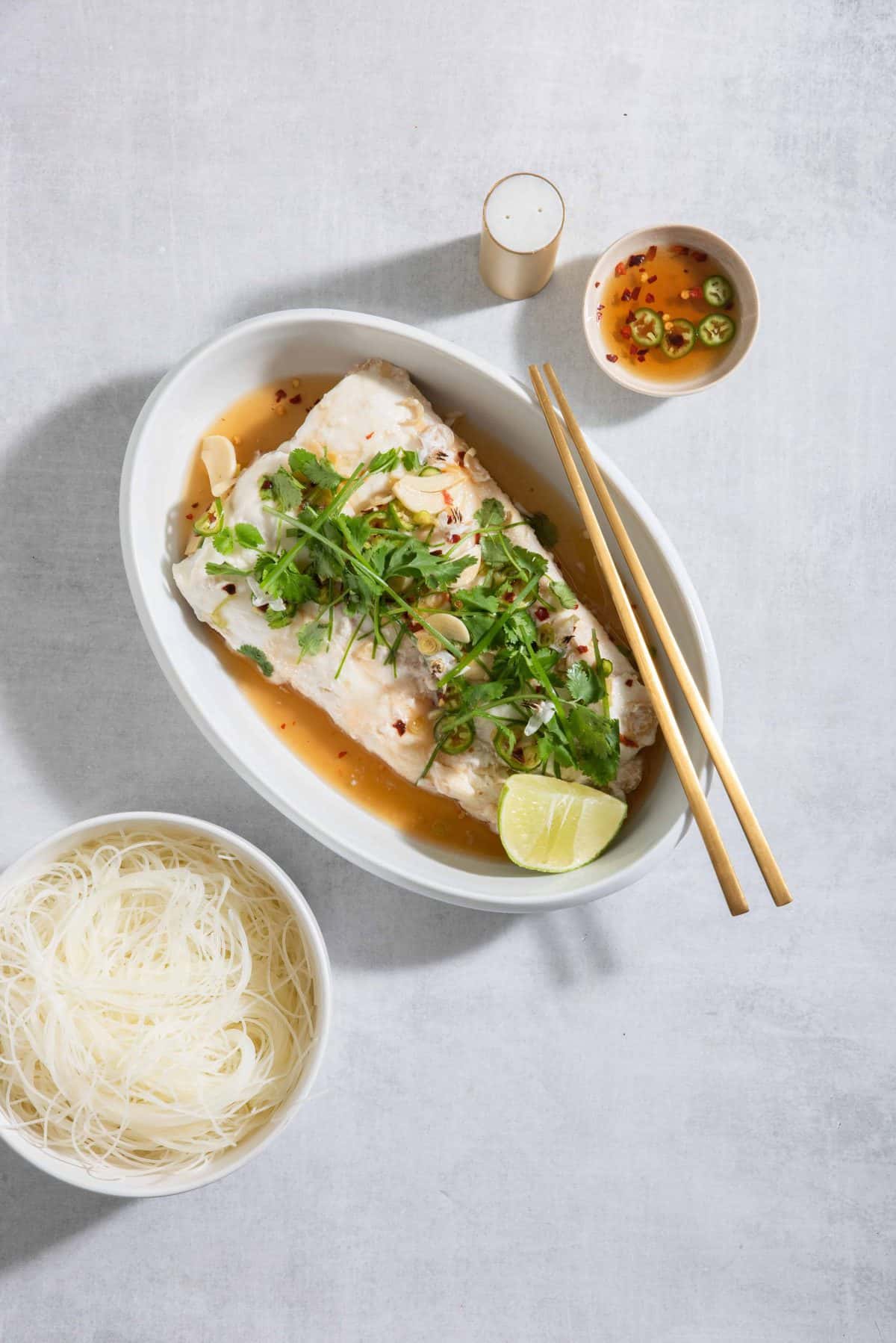 Thai Inspired Steamed Fish with Lime Juice and Chilis
A super flavorful steamed halibut with lots of fresh garlic, chili, lime juice, and cilantro! This recipe is inspired by one of my favorite dishes to order in a Thai restaurant; plaa neung manao. A steaming hot, usually whole, fish comes to the table bathed in tangy lime, fish sauce, chili, and garlic sauce. It's…
Don't' forget to leave this recipe a five-star rating and comment below!