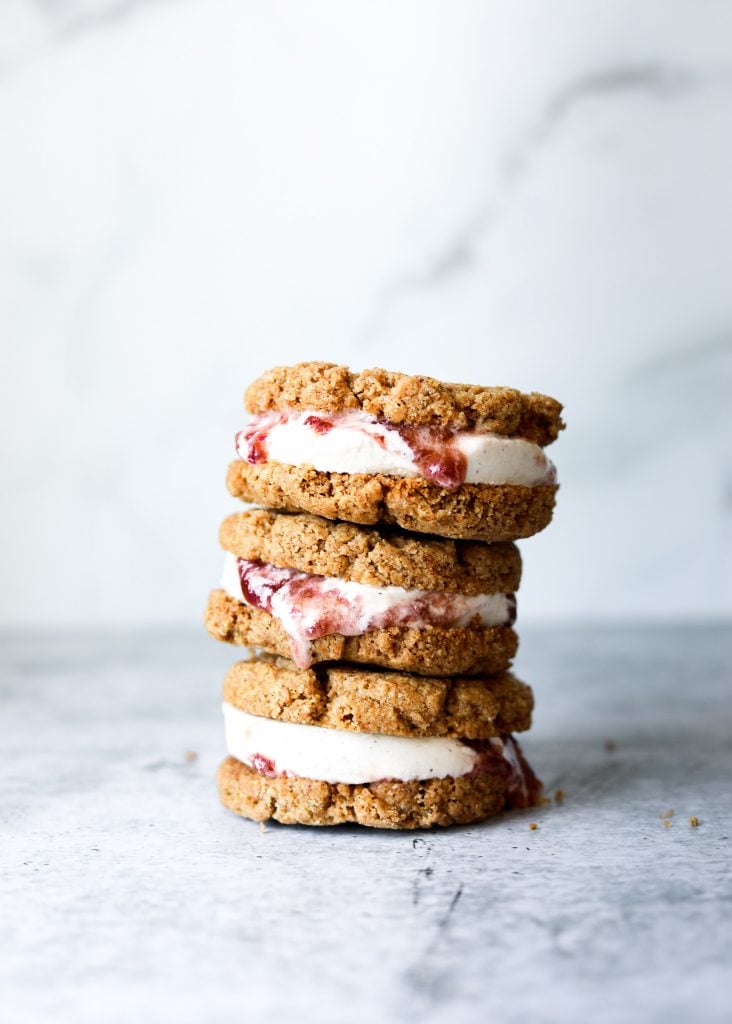 This may be my most indulgent recipe to date! Vanilla ice cream and strawberry jam sandwiched between brown butter cookies! OMG! The best part? This recipe is way easier to make than it looks! I used store-bought ice cream and strawberry jam so the only technical part is making the cookies. These strawberry brown butter ice cream sandwiches are a great make-ahead recipe too. They're delicious to eat right away but I almost like them better after they've sat in the freezer for a day or two. If you are going to leave them in the freezer for a few days just make sure you wrap them really well in plastic wrap to avoid freezer burn.
Ingredients:
Brown Butter Cookies: If you've never made brown butter before you're in for a treat! The aroma and flavor of brown butter are like toasted hazelnuts. Browning the butter before you make the cookies adds so much richness and flavor. When assembling the ice cream sandwiches, make sure the cookies are completely cool; otherwise, they will melt and become a big mess. You can pop them in the freezer for a few minutes just to be sure.
Vanilla Ice Cream: You can bet I did not make homemade ice cream for these ice cream sandwiches. I used store bought. Strauss is my favorite brand for plain vanilla ice cream, it's packed with vanilla beans!
Strawberry Jam: I recommend using a high-quality jam here. I really like the brand Bonne Maman, It has big chunks of whole strawberries throughout.
Strawberry Brown-Butter Ice Cream Sandwiches
Ingredients
Brown Butter Spelt Cookies
1

c

butter (2 sticks)

2 1/2

c

spelt flour

1

c

packed brown sugar

2

large

eggs

1

tsp

baking soda

1

tsp

salt

1

tsp

vanilla extract
To Assemble
1

pint

vanilla ice cream

1/2

c

strawberry jam
Instructions
Preheat the oven to 350 and line two sheet trays with parchment paper.

Place the butter in a small sauce pan over medium heat. Let the butter melt, and brown. Keep a close eye on it because it can burn really quickly. You will know it's nice and brown when the butter becomes foamy and aromatic. It will smell like toasted hazelnuts. As soon as it's golden brown pour the butter into a glass jar and let cool in the refrigerator for 20minutes.

In the bowl of a stand mixer beat together the brown sugar, vanilla and cooled brown butter for 2 minutes. Next add in the eggs one at a time. Mix on high for one minute. Last with the mixer on low slowly add in the dry ingredients.

With a small ice-cream scoop or a 1/4c measuring cup scoop the cookies onto the parchment lined baking sheet. Leave about 2 inches of space around each cookie so they have room to spread while they bake. Put the sheet tray with the cookies in the freezer or fridge for 15minutes before you bake them so that they don't spread too much.

Bake the cookies for 12 minutes. Let cool completely.
To Assemble the Ice Cream Sandwiches
Place a large scoop of ice cream onto the flat edge of one cookie. Next place a spoonful of strawberry jam onto the ice cream. Top your ice cream sandwich with a second cookie and enjoy immediately or place back in the fridge to eat later.
---
Did you make this recipe?
Leave a review below, then snap a picture and tag me @craving_california and use #cravingcalifornia on Instagram so I can see it!
If you love Strawberry Brown-Butter Ice Cream Sandwiches you'll love these other great desserts: →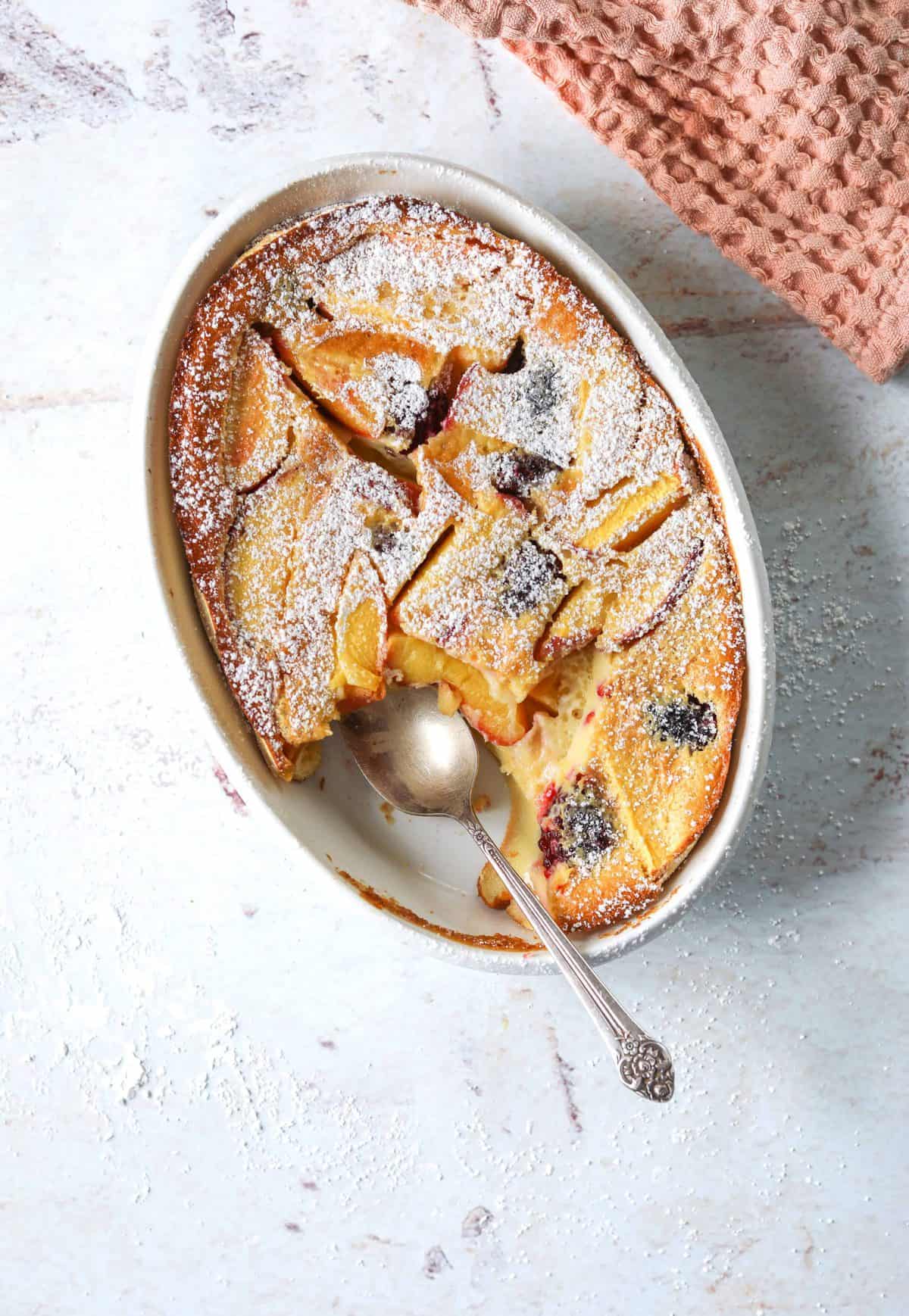 Stone Fruit Clafoutis
Perfectly ripe, stone fruit and fresh blackberries baked into a creamy, custard base with almond extract. Dust generously with powdered sugar, serve warm or room temperature. This delightful summer dessert is the perfect sweet treat to cap off your next dinner party! I love clafoutis because it's rustic, very easy to make, and can be…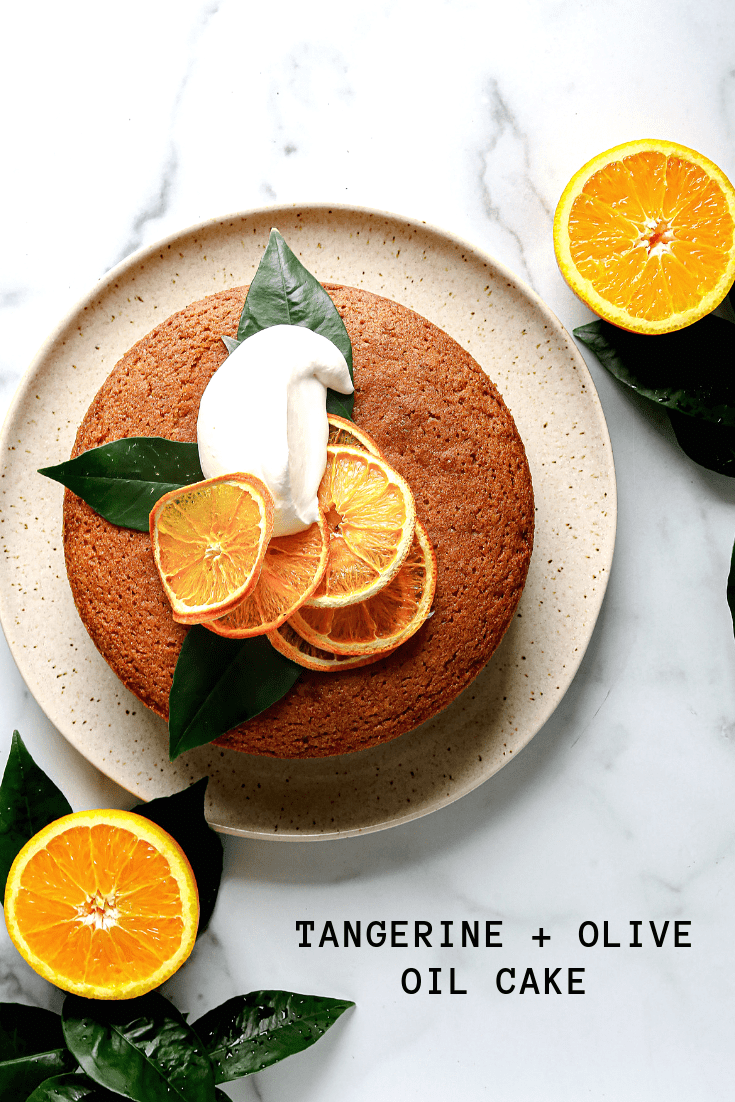 Tangerine + Olive Oil Cake
This tangerine and olive oil cake is pure heaven in every bite! I serve it with freshly whipped cream and dried orange slices. You can buy oranges slices at the grocery store if you don't feel like making them. This cake also works really well with lemon, grapefruit or any in-season citrus! The key to…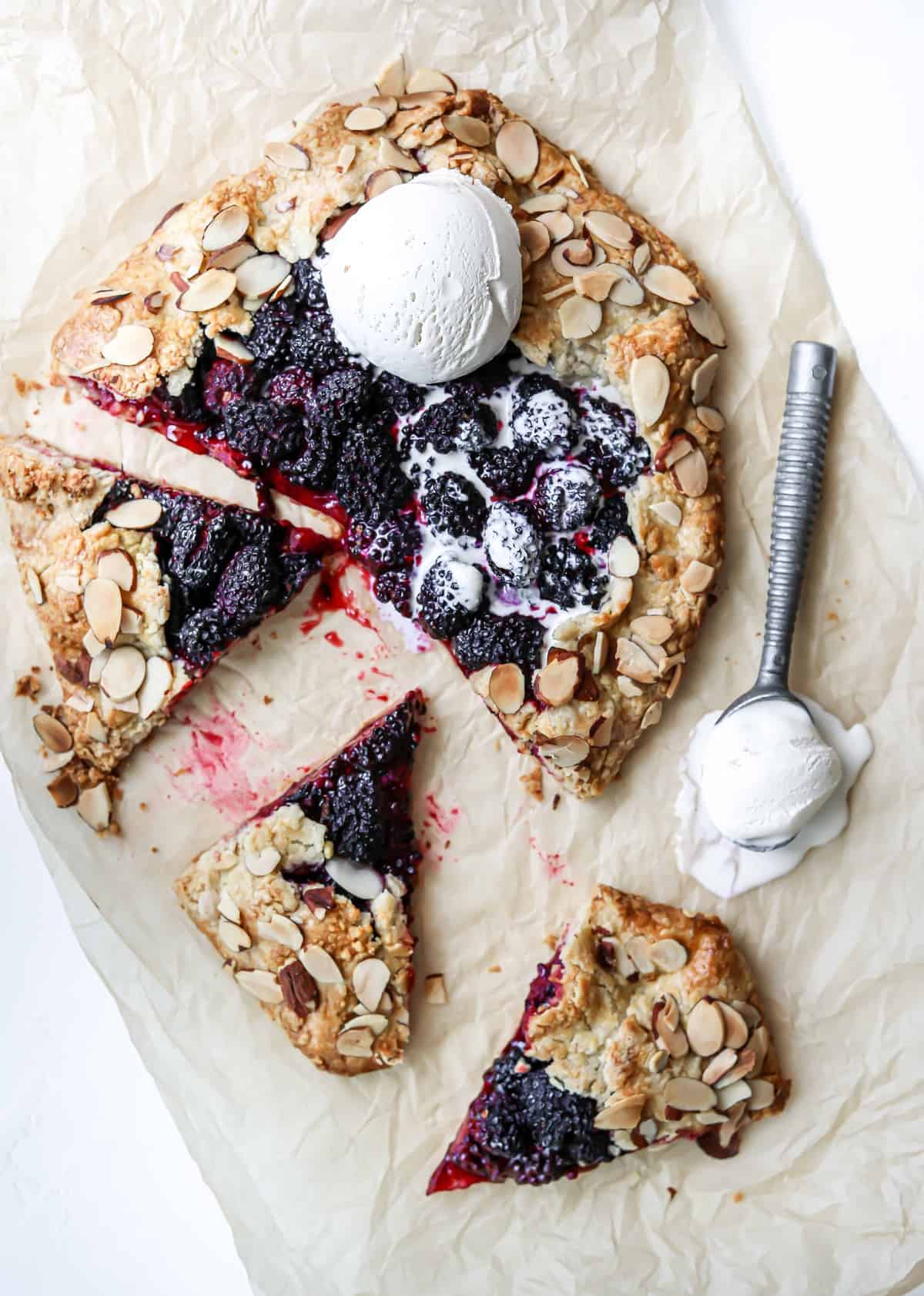 Blackberry and Almond Crostata
I love, love, LOVE making crostatas in the summer! There are so many beautiful fruits and berries in season begging to be wrapped in flakey pie dough and topped with ice-cream! This Blackberry Almond + Crostata is the perfect dessert to serve all summer long! A crostata is like low maintenance pie. It's rustic and…