7-Minute Eggs with Everything Bagel Seasoning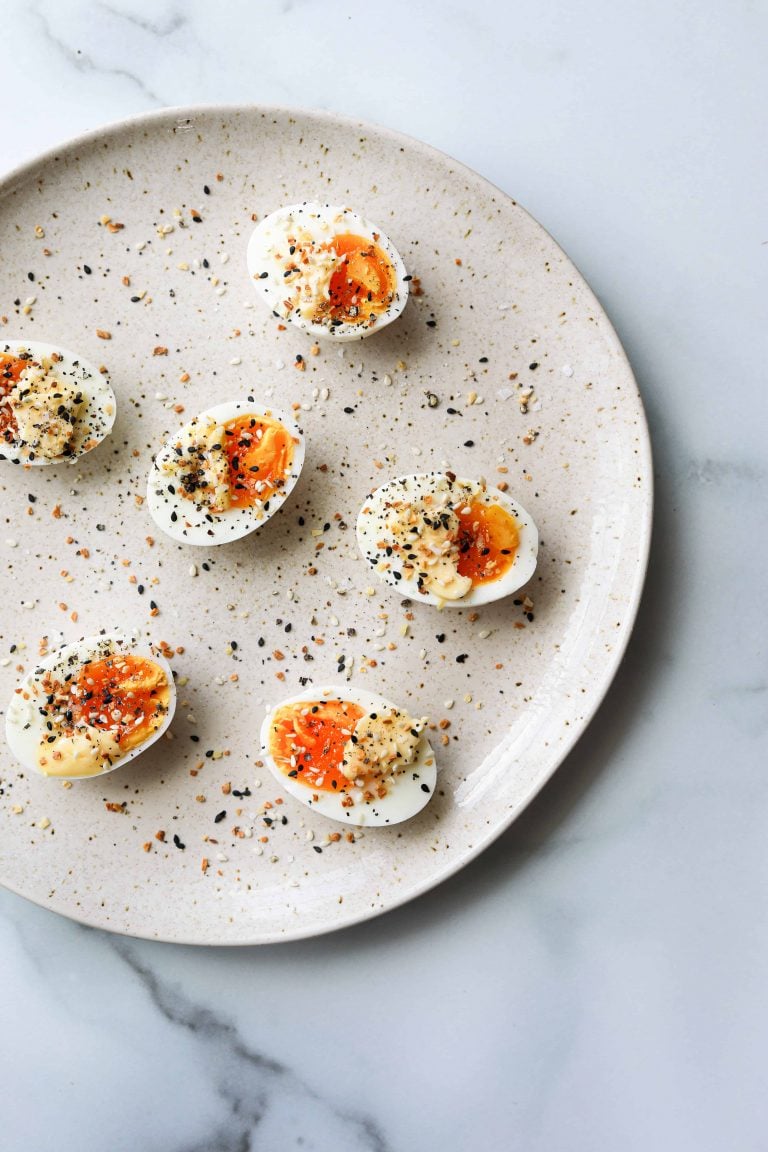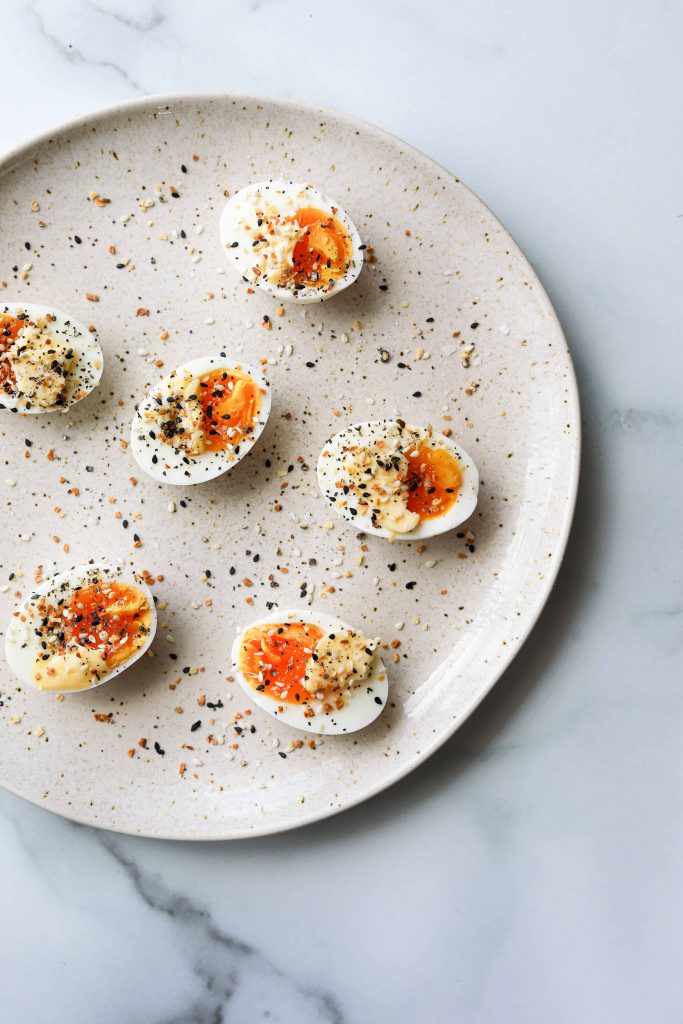 7-minute eggs with everything bagel seasoning are the quickest and easiest breakfast for busy mornings!
There's a good reason that #yolkporn is one of the trendiest hashtags on Instagram. Gently soft boiling eggs turns raw egg yolk into a jammy, not quite set, but not super runny, bite of liquid gold. I love making these 7-minute eggs with everything bagel seasoning as a quick breakfast or mid-day snack.
t
Topping them with a little pat of butter and sprinkling them with everything bagel seasoning takes them over the top! If you don't want to make the seasoning yourself you can purchase it at most grocery stores these days. I see it often at Trader Joes. You can also this massive bottle of it here → Amazon.com Trust me, you're not going to run out of things to sprinkle it on!
---
Tips for perfect soft boiled eggs:
–Timing is everything: If you like your egg yolks a little more set then what you see in the photo above let them hang in the simmering water for an additional minute. If you like your yolk even runnier pull them out of the water after 6minutes.
-Simmer don't boil: A strong simmer or gentle boil is ideal for soft boiled eggs. If the water is boiling hard and fast the eggs will bounce around in the pot and you'll end up with broken shell and misshapen eggs.
–Use a large slotted spoon to gently lower the eggs into the water and remove them from the pot. These are the best → Bamboo Slotted Spider
–Storage: Soft boiled eggs can be stored in the fridge for up to 4 days. As soon as you pull the eggs out of the simmering water, drop them into an ice bath and let them cool completely before putting them away in the fridge. To reheat them bring a small pot of water to a simmer and drop in an egg for 1 minute, peel and eat.
---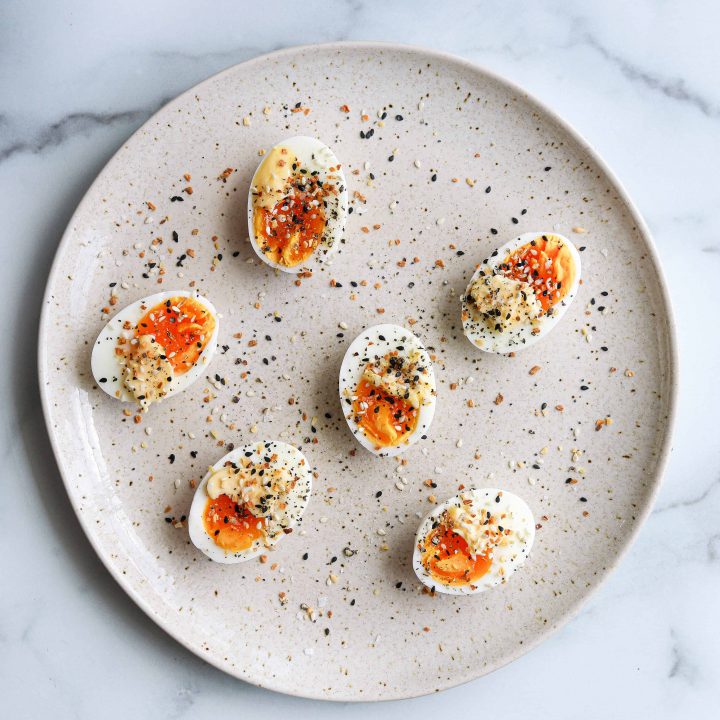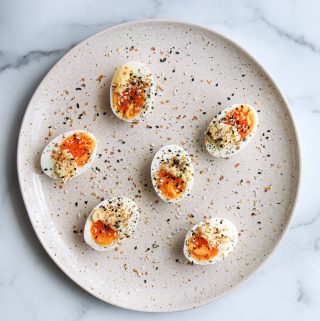 7 Minute Eggs with Everything Bagel Seasoning
Soft boiled eggs with bagel seasoning!
Print
Pin
Rate
Ingredients
4

whole

eggs

2

tbsp

butter
Everything Bagel Seasoning
3

tbsp

poppy seeds

1

tbsp

white sesame seeds

1

tbsp

black sesame seeds

1

tbsp

dried minced garlic

1

tbsp

dried minced onion

1

tsp

flakey sea salt
Instructions
Everything Bagel Seasoning:
Put all ingredients in a bowl and stir to combine. Store in a jar with a tightly fitting lid for up to 2 months.
Jammy Eggs:
Bring a medium-sized pot of water to strong simmer/gentle boil. Gently place the eggs into the water. Set a timer for 7 minutes. When the timer goes off remove the eggs from the water and places them directly into a bowl of ice water.

As soon as the eggs are cool enough to handle but still warm, carefully peel off the shell. Rinse the eggs under water to remove any last bits of broken shell. Slice the eggs in half, top each egg with a little bit of butter and a sprinkle of everything bagel spice. Enjoy immediately!
---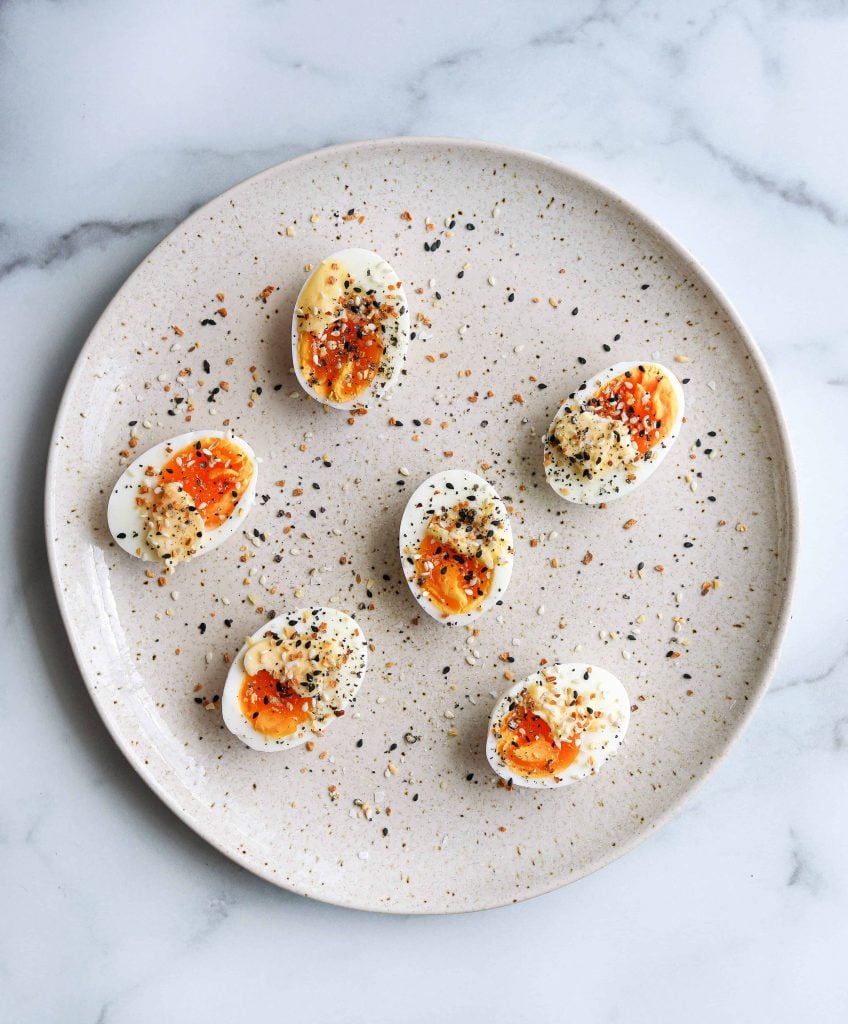 ---
If you love 7-minute eggs with everything bagel seasoning check out these other great recipes →
Frisée Salad with Bacon, Croutons and Soft Boiled Egg
Frisée salad with bacon, croutons and soft boiled egg is the perfect dish for breakfast, lunch or dinner! This frisée salad is like a very sophisticated breakfast for dinner. The warm, crispy bacon, soft boiled egg, toasty croutons, and bitter frisée lettuce really come together in a magical way! Soft boiled eggs are so quick…
Crispy Olive Oil Fried Eggs with Yogurt + Herbs
I love, love, love a crispy olive oil fried egg! I'm typically not a fan of egg whites, but there is just something about the crispy edges of these olive oil fried eggs that I like! This is not the time or the place for a non-stick pan. To get this technique right, you want…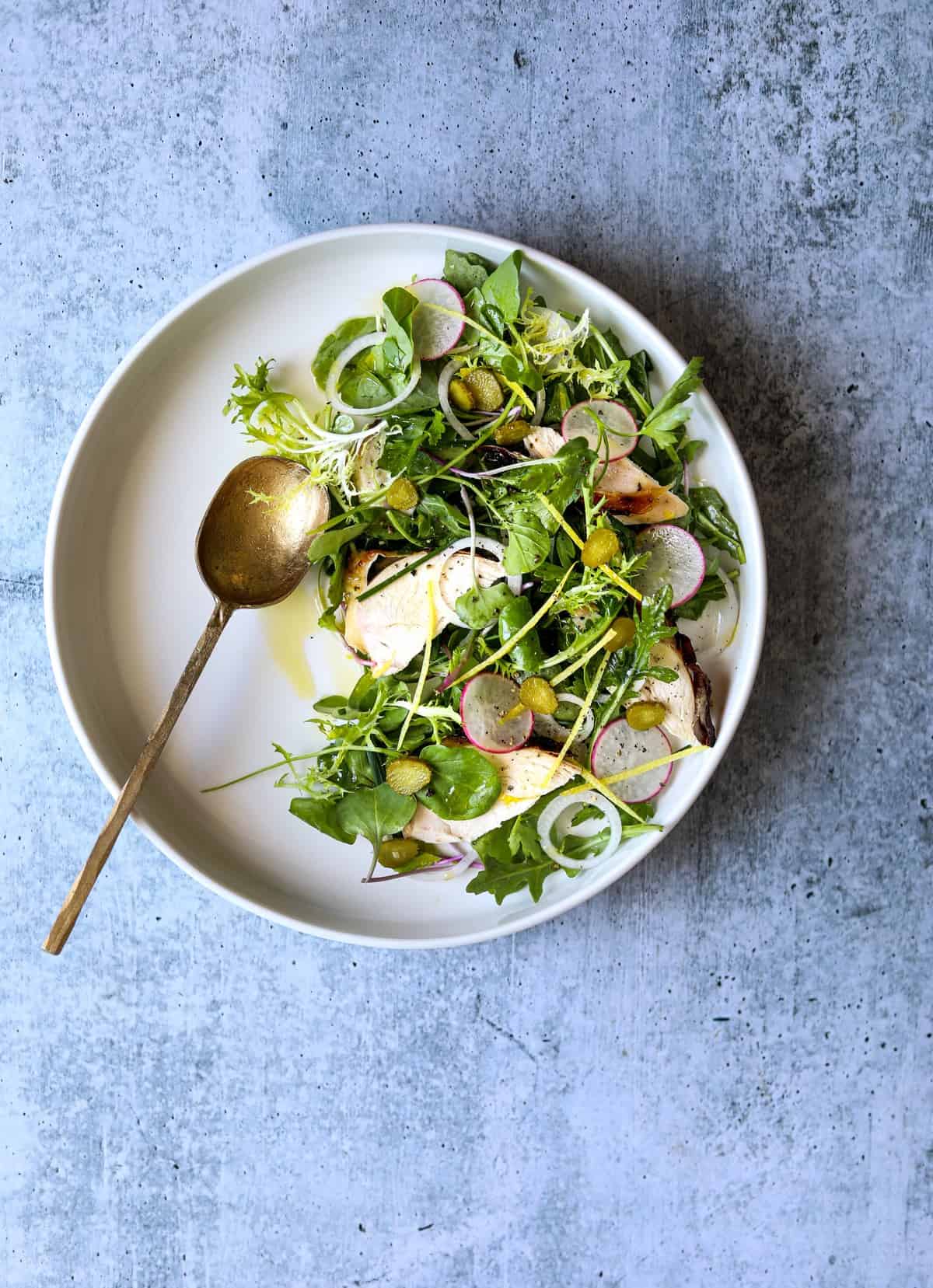 Easy Weeknight Rotisserie Chicken Salad
This easy rotisserie chicken salad is my ultimate dinner hack on busy nights when I have no time to make dinner from scratch. I love to bring home a store-bought a rotisserie chicken and turn it into a full meal. We're currently in that stage of the summer in Los Angeles where it's way too…
---
Like this recipe? Don't forget to leave it a five-star rating below!