The most delicious chicken tacos al pastor with juicy pineapple and a tangy chipotle marinade. This sheet pan taco recipe is quick, easy and will have dinner on the table in under an hour!
These super-simple sheet tray chicken tacos are inspired by my favorite taco truck that I have been going to for over five years! The best part? They're quick and easy to make! Try out this recipe and let me know what you think!
What is "al pastor"?
Traditionally tacos al pastor are made up of thin slices of pork that has been slow-roasted on a vertical spit (like middle eastern kebab). The pork is marinated in a combination of different spices, dried chilis, and pineapple.
Ingredients in this recipe→
Chicken Thighs: Dark meat chicken thighs stay juicier than chicken breasts. But if you're "anti-thigh" you can certainly use white meat. You may need to adjust the cooking time.
Pineapple: Fresh is best, but canned will work too.

Chipotles in Adobo: Smoked jalapeños rehydrated and canned in a sweet and tangy purée of tomato, vinegar, garlic, and some other spices. These peppers are super spicy but combined with honey and tomato paste their heat is perfectly mellowed.

Cilantro and Onions: Chopped cilantro and onions are a staple at the taco truck and one my favorite topping!

Tortillas: Flour or corn, either work. When buying corn tortillas look for ones that are soft and pliable. I heat them up under a damp paper towel in the microwave.

Creamy Avocado Salsa: This salsa recipe is so easy to make and lasts in the fridge for up to a week! If you don't have the time to make fresh salsa store-bought is fine. I do suggest going with a fresh tomatillo salsa for the best flavor!
How to Make Chicken Tacos Al Pastor→
Step One: Marinate the chicken. Toss the chicken with the marinade and let it sit for at least ten minutes and up to 12 hours in the refrigerator.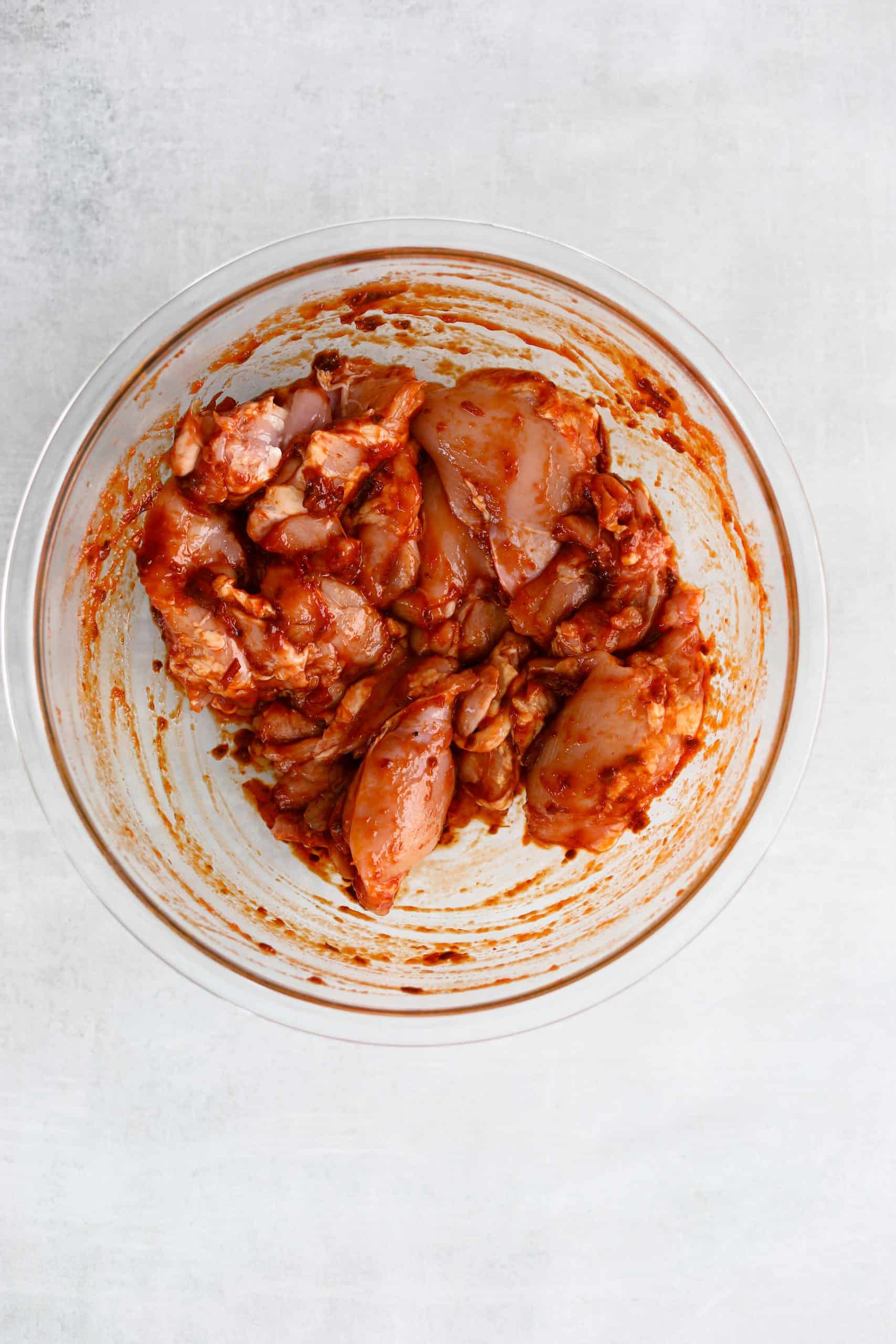 Step Two: Arrange the marinated chicken and pineapple on the sheet pan. Cook for 25 minutes, flipping halfway through. For extra caramelization broil for an additional 5 minutes.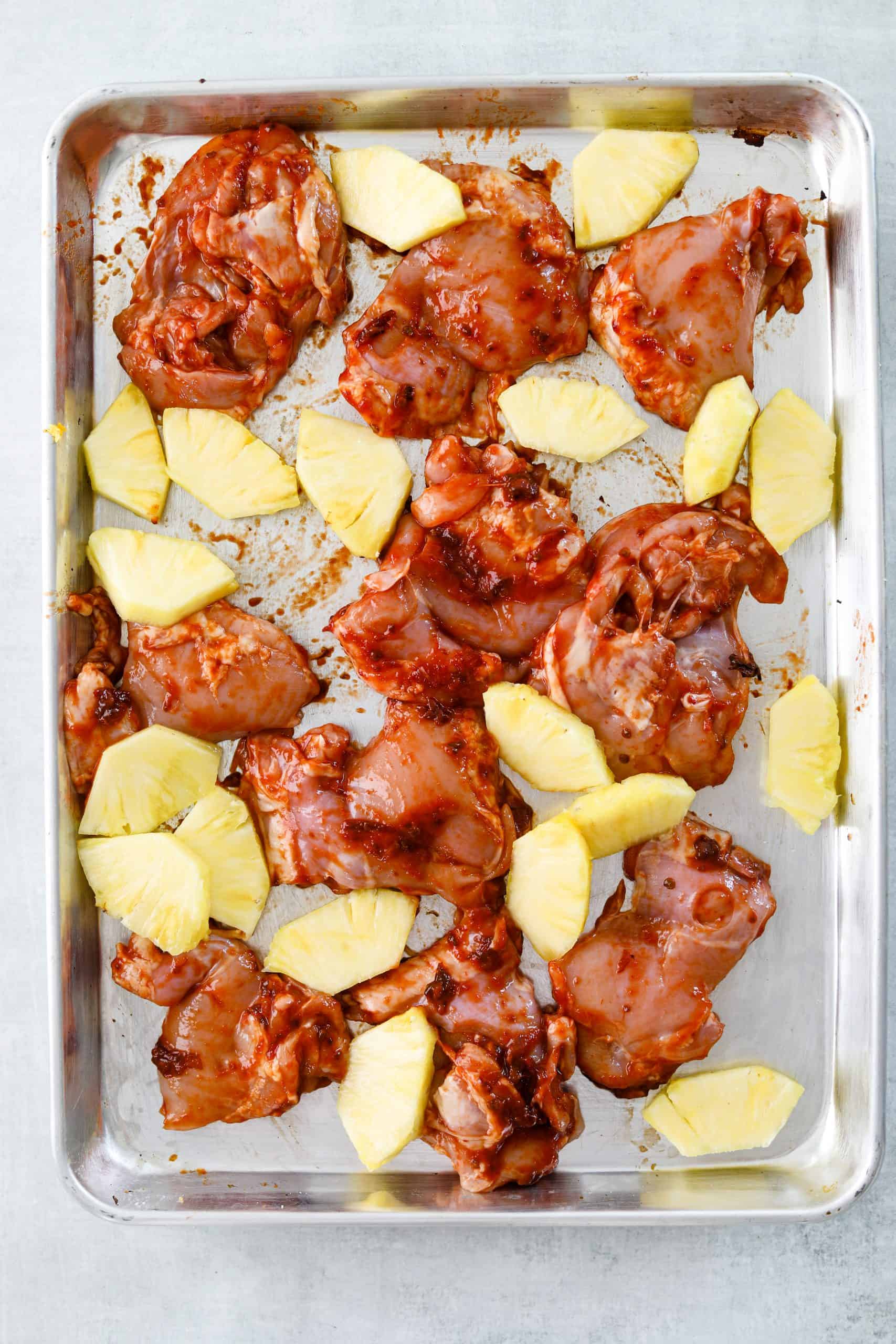 Step Three: Gather your accompaniments. Tortillas, salsa, sliced radish, limes, chopped onion, and cilantro.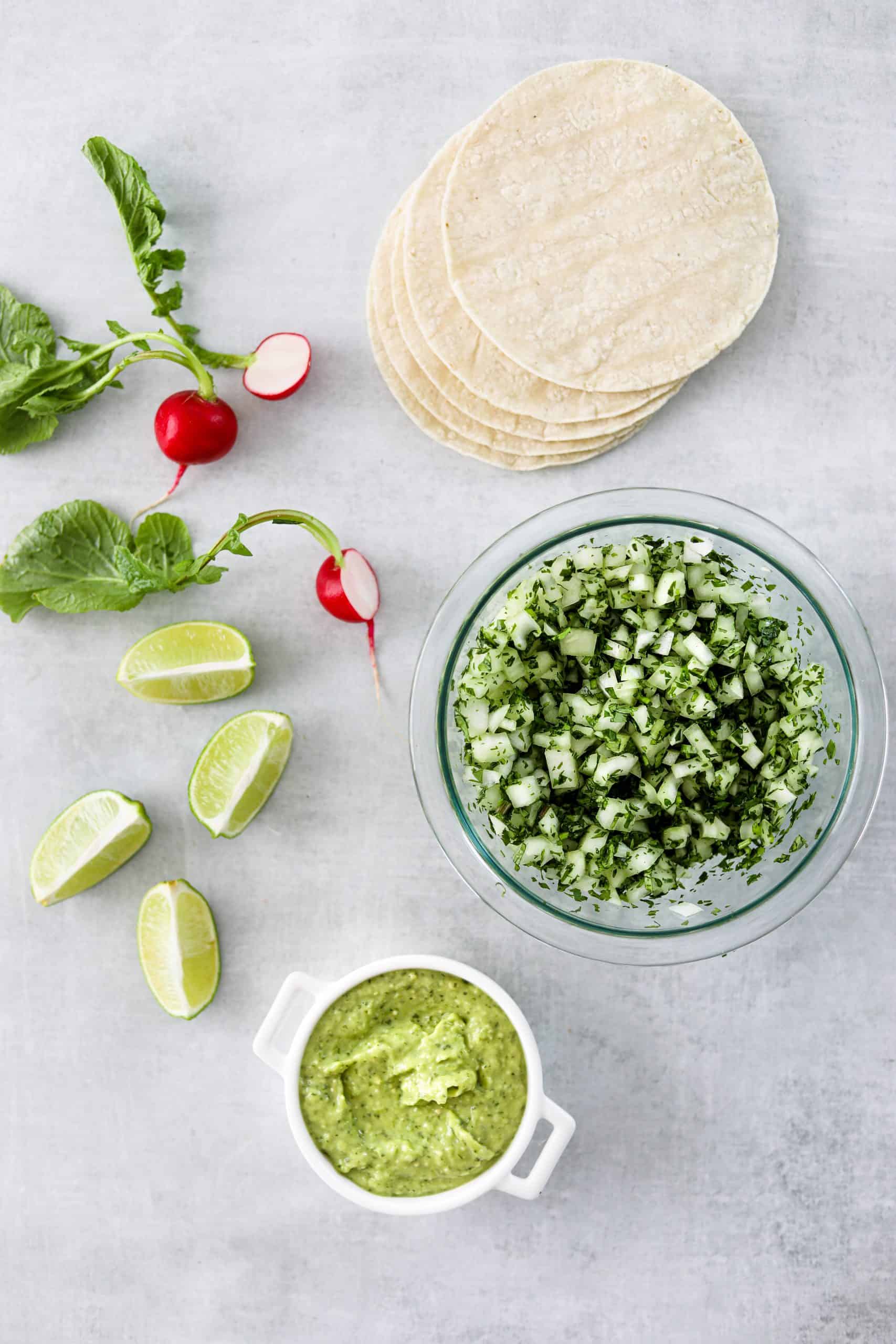 Step Four: Dig in!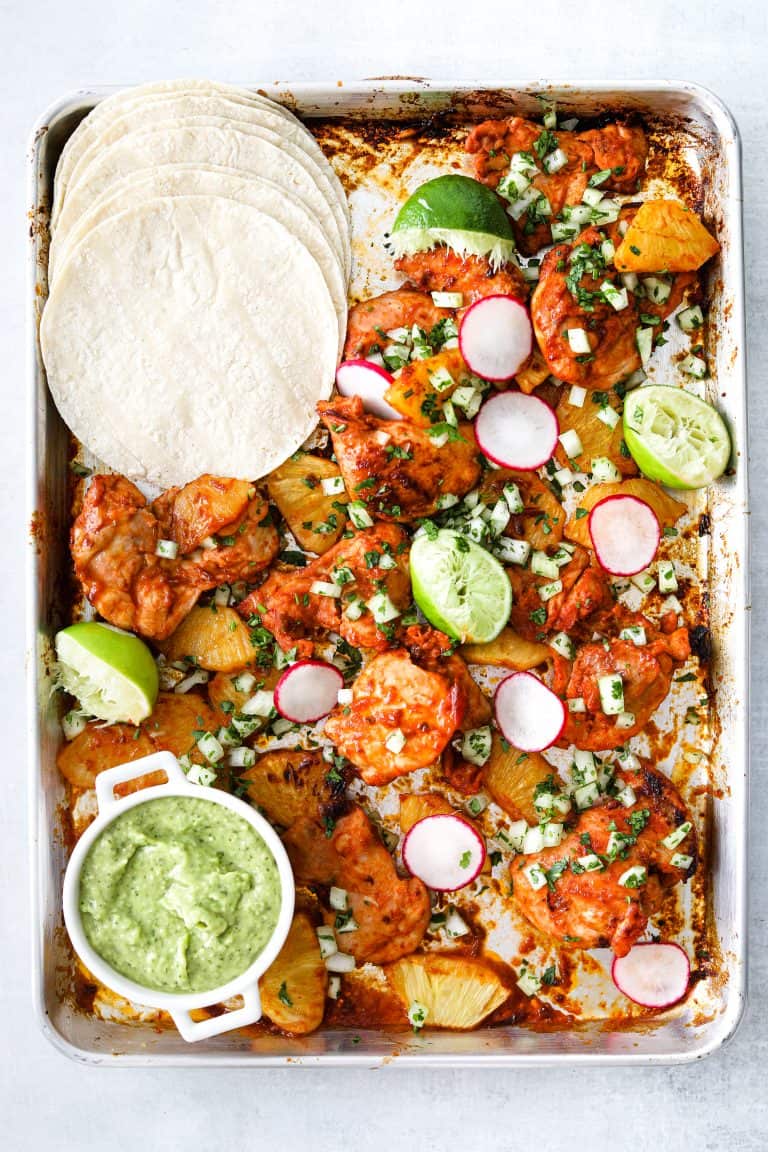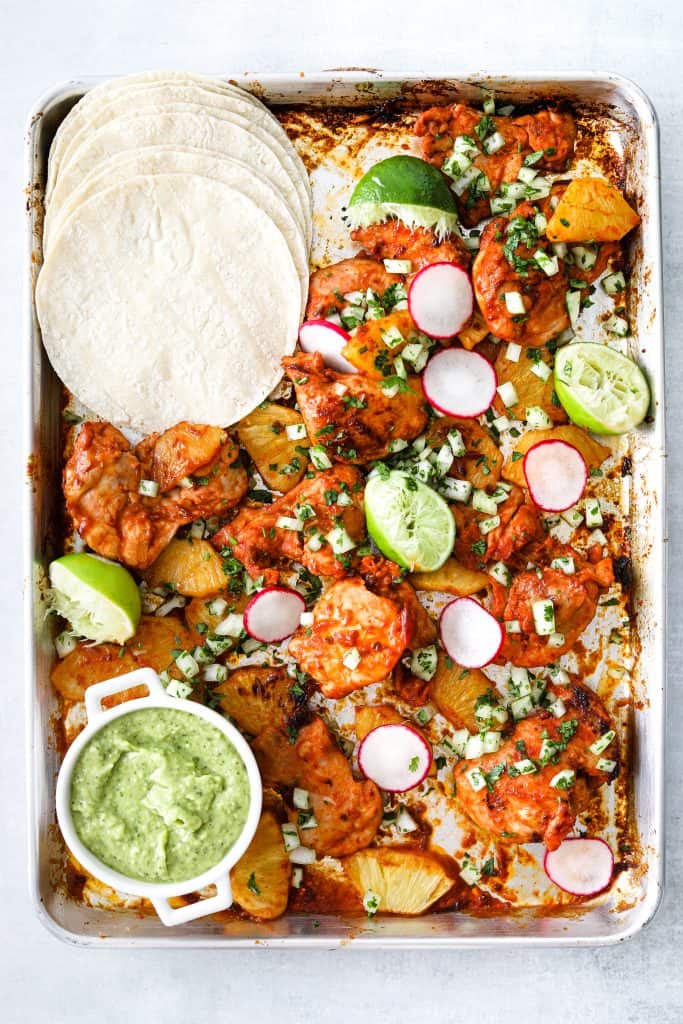 ---
---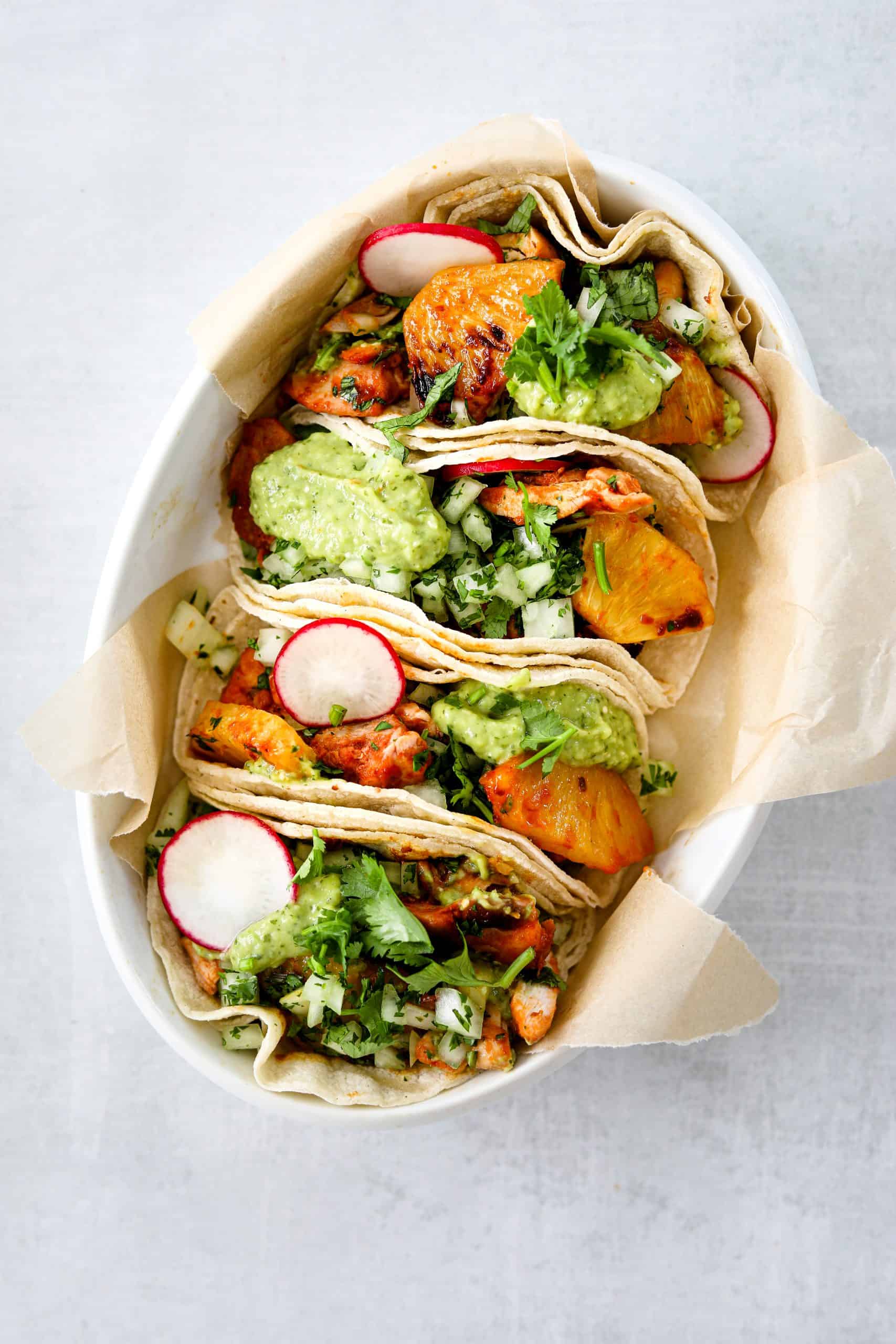 ---
Check out more great recipes→