These beer braised chicken tacos are so damn easy you're going want to add them to your taco Tuesday routine ASAP! Top them with: avocado, salsa, cheese, sour cream, pickled red onion or whatever your heart desires! I do strongly suggest you wash them down with my Perfect Mezcal Margarita.
My biggest dinner "wins" with kids usually come when I let them DIY their meal. That's whats great about these chicken tacos! I put out the chicken, tortillas and all the fix-ins and let them add in any toppings they want. If you are making these tacos for kids, I do suggest cutting way back on the chipotle and maybe substituting the beer for chicken stock or water.
How to Quick Pickle Red Onions:
-Thinly slice one whole red onion and place in a bowl
-Bring 1/2c red wine vinegar, 1tsp salt, and 1tbs sugar to a simmer, pour over the sliced onion and let cool. Store in the refrigerator for up to a week.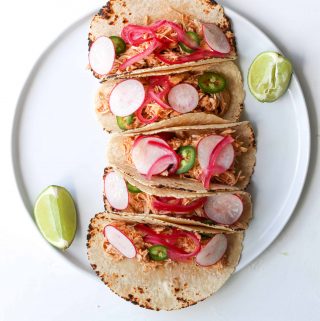 Ingredients
3

large

boneless skinless chicken breast

3

tbsp

avocado oil

1

14oz

can tomato sauce

1

12oz

can Mexican beer

4

cloves garlic, chopped

1

yellow onion, thinly sliced

1-2

chipotle pepper (canned in adobo sauce)

1

tsp

cumin

1/4

c

lime juice

salt to taste
Toppings:
corn or flour tortillas

avocado

sliced radishes

lime wedges

quick pickled red onion

cilantro
Instructions
Heat the avocado oil a large pot or dutch oven on medium/high heat. Season the chicken breast with salt and sear for about 4 minutes on each side or until golden brown. Remove the chicken from the pan and let rest on a rack or paper towel lined plate.

Add the onions, garlic and cumin to the pan. Sauté until soft and aromatic then add the tomatoes and chipotle peppers. Bring the tomatoes to a simmer, add the chicken back to the pot. Pour enough beer over the chicken until it is fully submerged, cover with a lid and let simmer to 30-45 minutes until the chicken is soft and tender.

Remove the chicken from the pot and let cool. Shred the chicken and add it back to the sauce. Simmer the sauce and shredded chicken together for another 10 minutes. Taste and season with salt and lime juice. Serve with warm tortillas and any toppings you like!
You may also like: