The Perfect Mezcal Margarita!
A perfectly balanced, slightly sweet, super-refreshing mezcal margarita!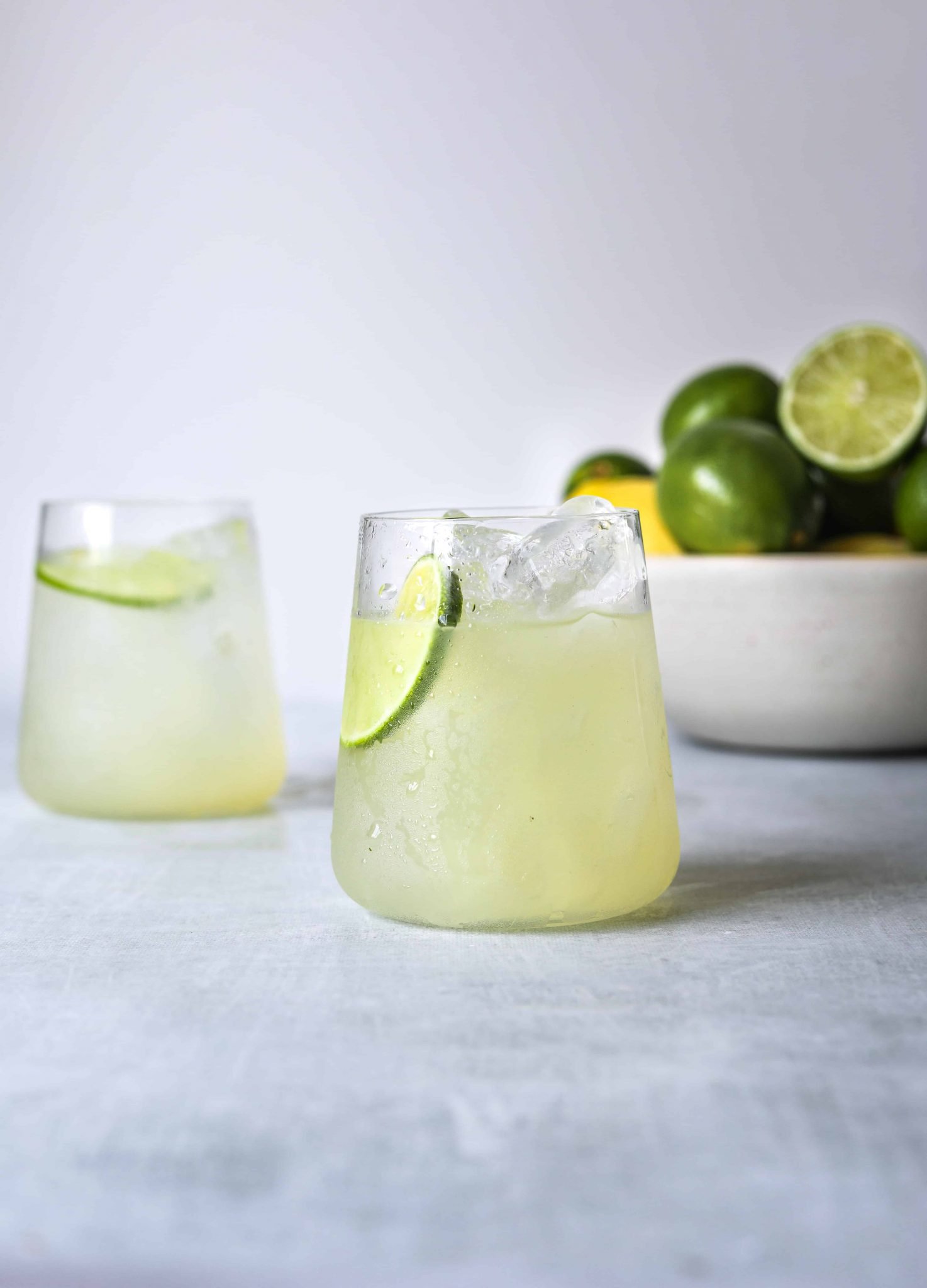 Is there anything better than a cold margarita on a hot summer day? Nope! I get nervous about ordering a margarita at a bar or restaurant because so often they're packed with way too sweet syrups or pre-made mixes, which is a shame because it's such a simple cocktail to make! My recipe is a little bit healthier; I swap simple syrup for homemade honey syrup. I prefer mezcal, but this recipe works with regular tequila too! Use whichever you like better.
Mezcal Margarita Tips and Tricks:
Use an ice-cold glass: Put your margarita glasses in the freezer for a few minutes while you're getting all the ingredients together. A frosty glass is a nice touch! If you like a salted rim, simply cut a lime wedge and rub it on the edge of your glass, then dip the edge in salt.

Use fresh lime juice, never bottled! This is non-negotiable!

The perfect amount of sweetness: I use homemade honey syrup in lieu of sugary mixes or simple syrup.

Skip the triple sec!: This one may be controversial but I never make my margaritas with triple sec or Cointreau. I don't find it necessary at all! Trust me give it a try!
Temperature is everything: Make sure you shake your margaritas until they go ice cold. It takes about 45 seconds of vigorous shaking but it's worth it!
How to make the perfect mezcal margarita:
Step one: Some people use simple syrup or agave, both of which are totally fine. I myself like to make a honey syrup. It takes just five minutes and the honey flavor compliments the smokey mezcal perfectly!
Step two: Put all of the ingredients, minus the salt, into a cocktail shaker or jar with a tight-fitting lid (I use a mason jar). Fill the shaker with ice and shake vigorously until you feel that everything is cold. Strain into a chilled glass with fresh ice, garnish with a lime wedge.
---
Recipe Variations:
Spicy Mezcal Margarita: Add a few slices of fresh jalapeño to your mezcal 15 minutes before you're ready to mix. The longer you let the jalapeños infuse, the spicier it will be!
Pineapple Mezcal Margarita: Add 2oz fresh pineapple juice to this recipe, garnish with a pineapple slice (optional).

Mezcal Paloma: Swap out fresh grapefruit juice instead of lime. Shake all of the ingredients together then top with 4oz of grapefruit soda, garnish with a grapefruit wedge.
---
Serve The Perfect Mezcal Margarita with one of these great recipes →