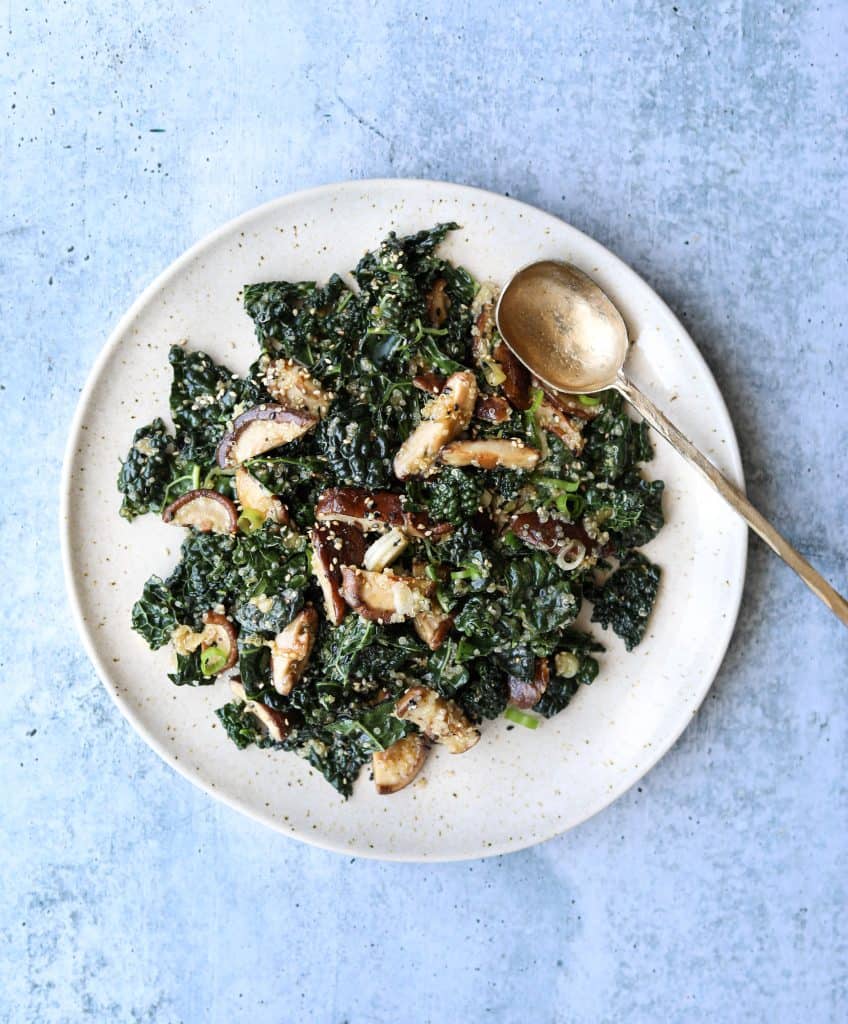 It doesn't get any more California than a Kale and Quinoa Salad!
This kale and quinoa salad with shiitake mushrooms is packed with umami flavor! The kale and quinoa together make a hearty and filling salad, perfect for packing up for a lunch at the office. The garlic-soy dressing is a staple in my fridge and has many uses beyond this salad. Pour it over sauteed sugar snap peas, broccolini, or crispy fried tofu!

Making a kale salad is a hands-on operation. Kale is very fibrous, the easiest way to break down its fibrous leaves is to massage it! Don't be afraid to really get in there and work the dressing into the kale leaves with your hands. Trust me it will taste so much better than if you try to do it any other way.
---
Ingredients used in this recipe:
Tuscan Kale:
For salads, I prefer Tuscan kale, also known as lacinato or dinosaur kale. It's hearty rippled leaves are great for holding onto salad dressing. Just make sure you really massage the dressing into the kale to break down its fibrous texture and always remove the stem.
Quinoa:
One of my favorite grains because it cooks so quickly! You can use white quinoa, red or a combination.
How to cook quinoa:
1. Rinse the quinoa under cold water.
2. Fill a small pot with 1 cup quinoa and 2 cups water, salt and a glug of olive oil. Bring to a boil. Cover, reduce heat to low and simmer for 10 minutes. Turn off the heat and let the quinoa steam in the pot for an additional 10 minutes. Remove the lid and fluff with a fork.
Shiitake Mushrooms:
Shiitake mushrooms are my favorite for sauteing! They're so much more flavorful than button mushrooms. If you can't find shitake mushrooms use portobellos and just chop them into smaller pieces.
Pro Tip: When sauteing mushrooms of any kind always wait to the season at the end of cooking. If you season them with salt in the beginning, it will draw out the moisture into the pan you'll end up steaming them and they won't get brown and caramelized. Instead, season them towards the end after they are nicely browned on all sides.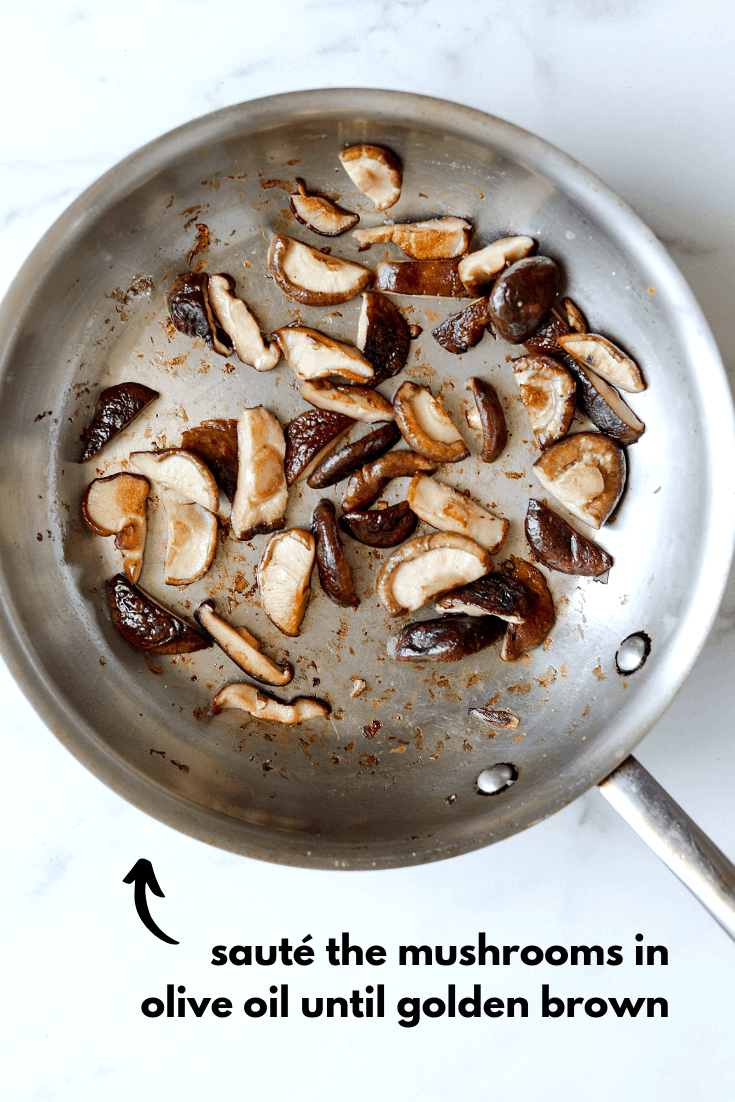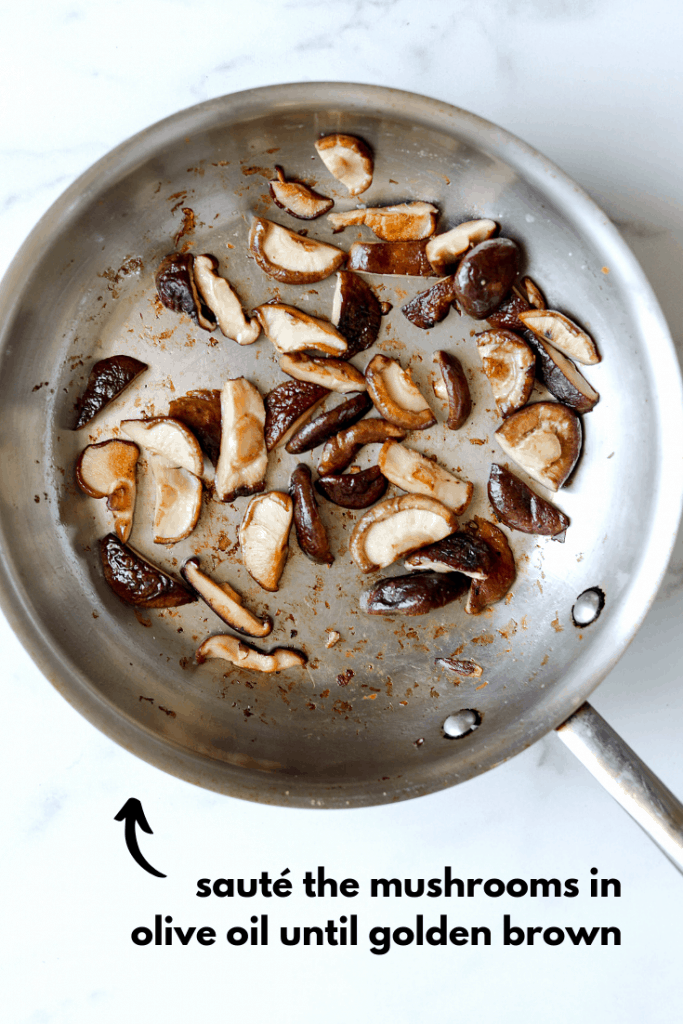 ---
Kale and Quinoa Salad with Shiitake Mushrooms
Umami packed kale and quinoa salad with shiitake mushrooms and garlic-soy vinaigrette!
Ingredients
1

bunch

lactinato kale

1

c

cooked quinoa

2

scallions, thinly sliced

8

oz

shiitake mushrooms

1

tbsp

olive oil

salt and pepper
Garlic-Soy Dressing
2

tbsp

soy sauce

2

tbsp

rice vinegar

1/2

c

olive oil

1

tsp

sesame oil

1

tbsp

toasted sesame seeds

1

clove

garlic, grated
Instructions
Garlic-Soy Dressing:
Put all of the ingredients in a jar and shake well.
Salad:
Rinse the shiitake mushrooms under cold water, remove the stems and slice them into halves or thirds depending on how big they are. Heat a saute pan over medium-high heat. Pour the oil into the pan then add the mushrooms. Sauteé until golden brown and caramelized. Turn off the heat, season with salt and pepper. Set the mushrooms aside until you're ready to assemble the rest of the salad.

Strip the kale leaf from the stem and then roughly chop into thin ribbons. Wash the chopped kale very well in cold water and then dry it in a salad spinner or with clean kitchen towels. Put the kale in a large bowl with the quinoa, cooked mushrooms, and sliced scallion.

Toss all of the ingredients together with the dressing. Use your hands to massage the dressing onto the kale leaves. Season the salad with freshly ground pepper. Divide between two plates and enjoy immediately!
---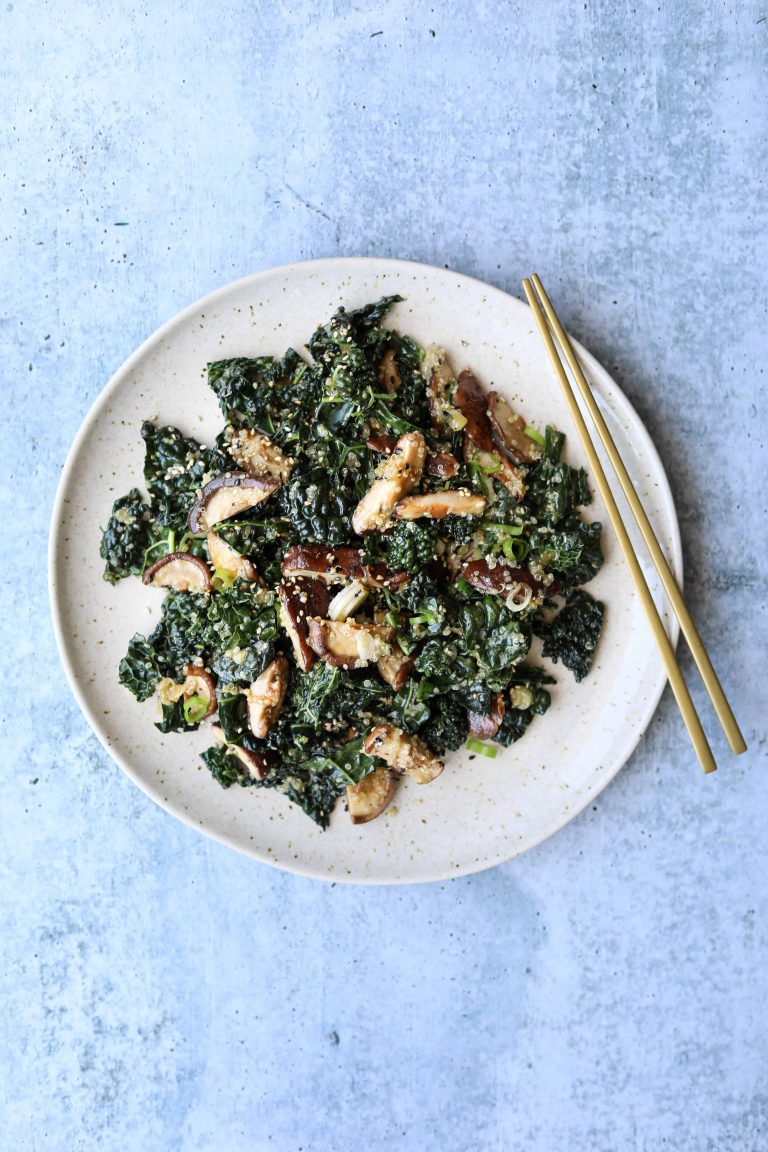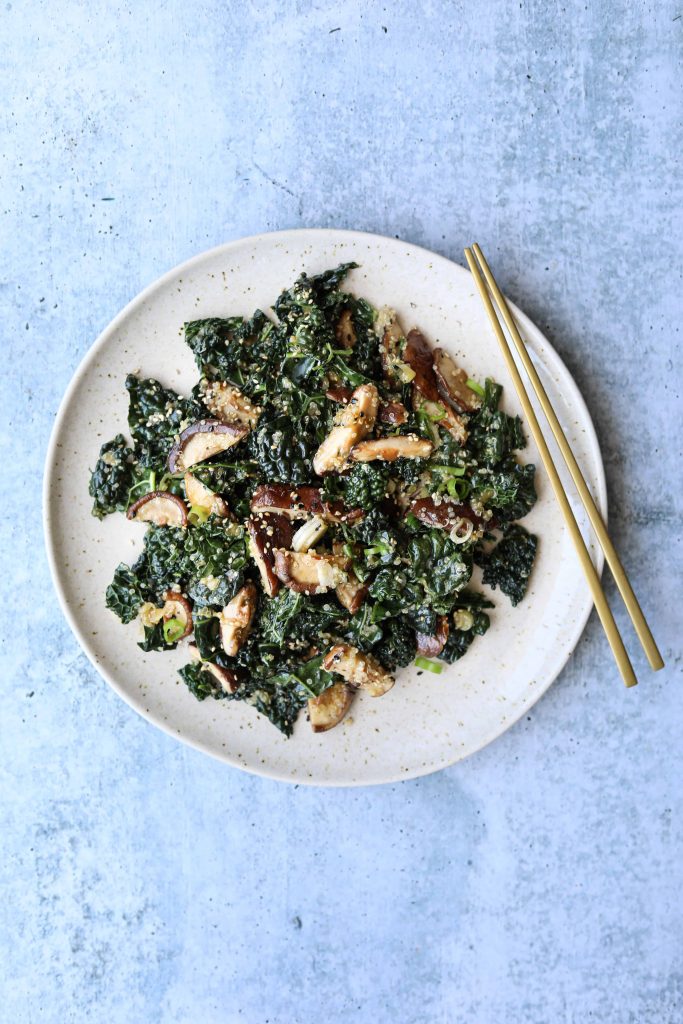 ---
If you love Kale and Quinoa Salad with Shiitake Mushrooms check more great salad recipe →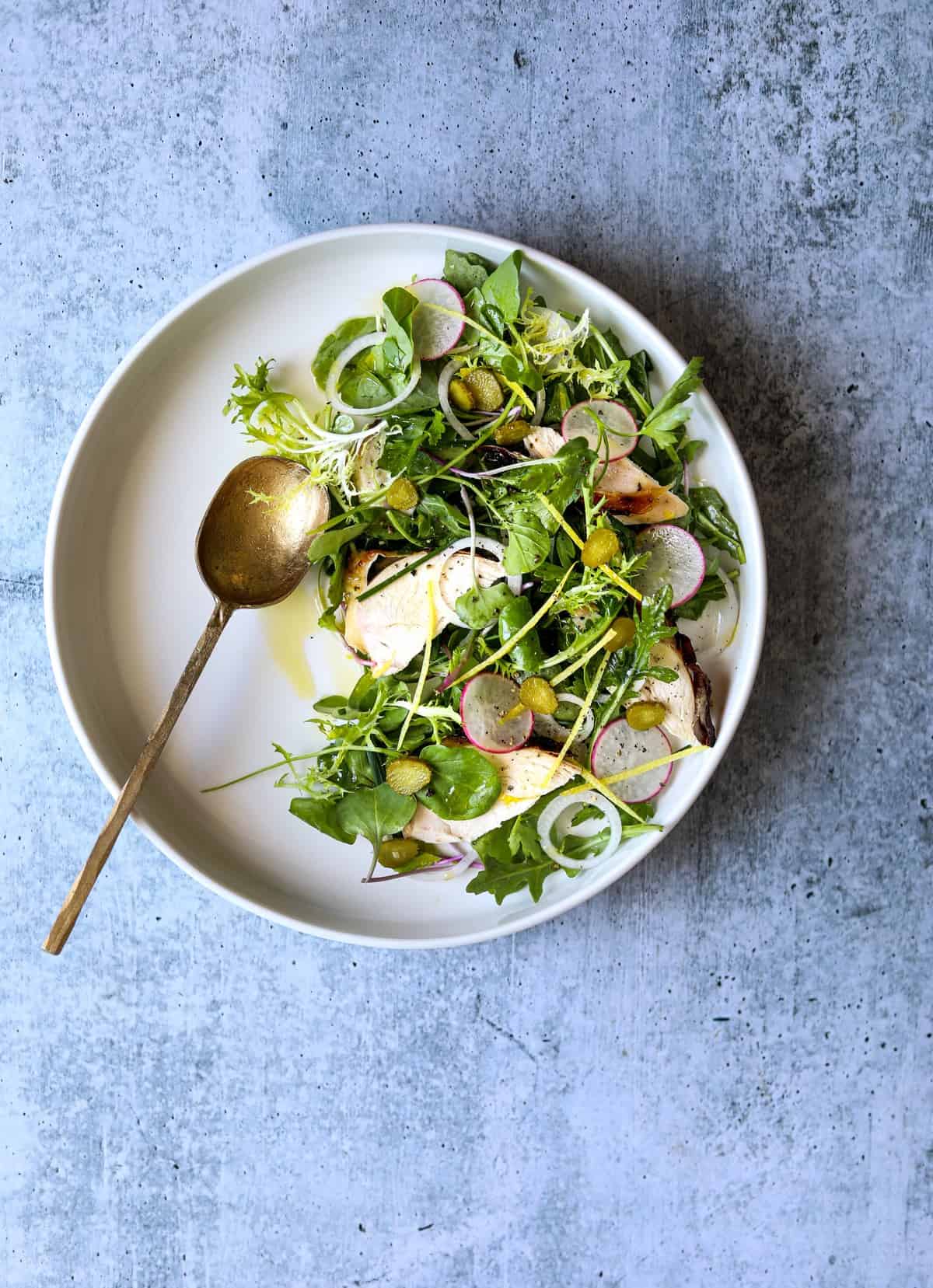 Easy Weeknight Rotisserie Chicken Salad
This easy rotisserie chicken salad is my ultimate dinner hack on busy nights when I have no time to make dinner from scratch. I love to bring home a store-bought a rotisserie chicken and turn it into a full meal. We're currently in that stage of the summer in Los Angeles where it's way too…
Frisée Salad with Bacon, Croutons and Soft Boiled Egg
Frisée salad with bacon, croutons and soft boiled egg is the perfect dish for breakfast, lunch or dinner! This frisée salad is like a very sophisticated breakfast for dinner. The warm, crispy bacon, soft boiled egg, toasty croutons, and bitter frisée lettuce really come together in a magical way! Soft boiled eggs are so quick…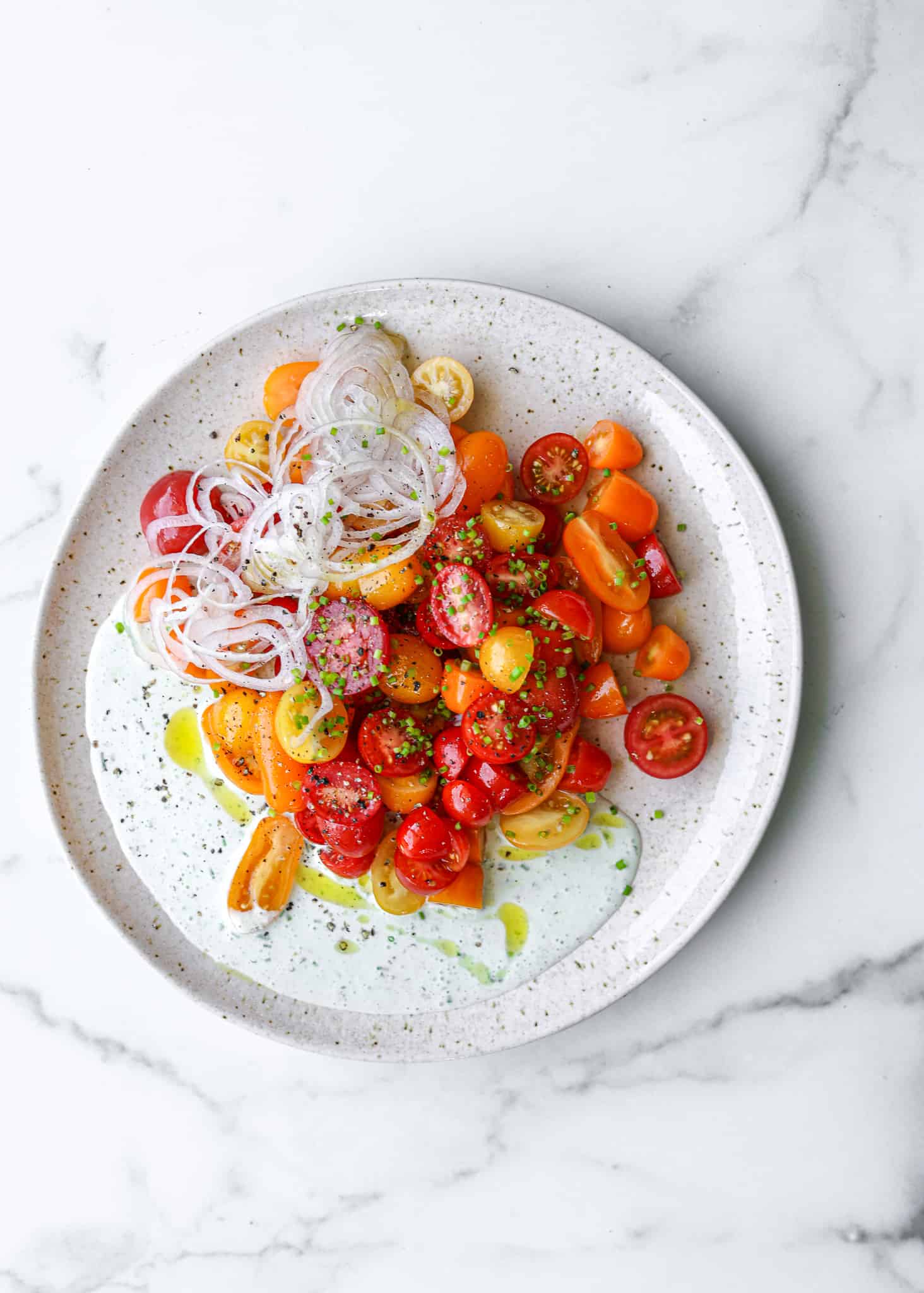 Tomato Salad with Buttermilk-Basil Dressing
This creamy tomato salad with buttermilk-basil dressing is going to light up your summer dinner menu! If you're curious about buttermilk-basil dressing let me just clear that up for you. It's basically ranch for grown-ups! It's creamy, tangy, garlicky and infused with fresh basil. It's the perfect dressing to toss with sweet peak-season summer tomatoes!…
Don't forget to comment below and leave this recipe a five-star review!