This light and healthy faux fried rice is made with fluffy quinoa, golden brown, crispy garlic and ginger, caramelized shallots, scallion, soy sauce, and a touch of sesame oil. Serve this easy to make, totally customizable, side dish along with shrimp, chicken, steak, or tofu for a complete meal!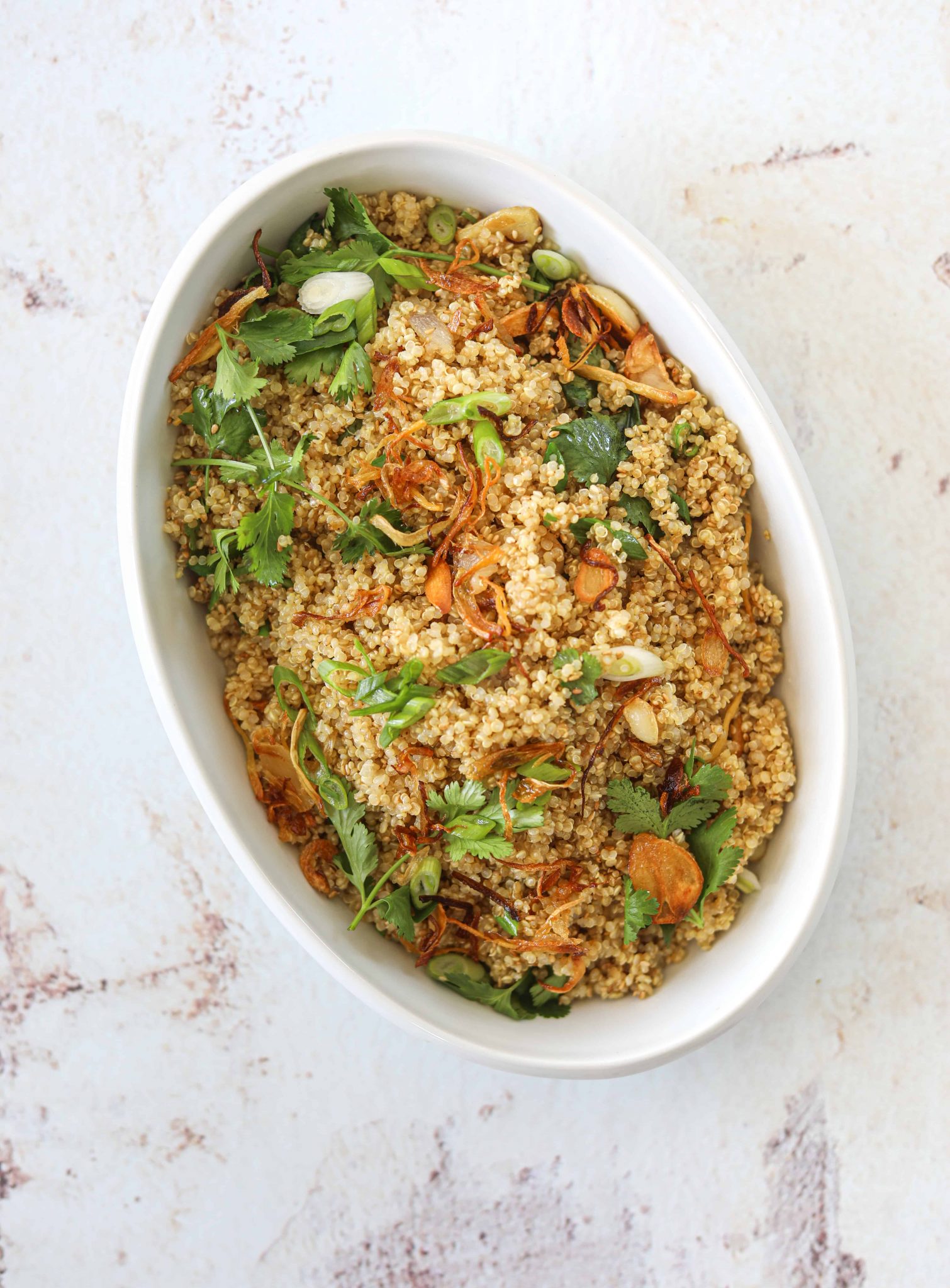 I have to tell you I really struggled to come up with a name for this recipe. Quinoa fried "rice" seemed almost redundant, but fried quinoa didn't really sound right either. So as you can see, I went with quinoa fried "rice," and I think it works, right?

I have nothing against rice, I actually love it but this healthy-ish take on fried rice that uses quinoa instead, is really delicious and a bit unexpected! The magic of this recipe lies in the trio of thinly sliced garlic, ginger, and shallot that are slowly cooked in oil until they caramelize then become golden brown and crispy. The oil is then infused with all of that garlicky, ginger, and shallot flavor, which in turn is used to stir fry the quinoa. It's so, so good, and it all happens in less than 30 minutes!
Recipe Steps:
Step One: Toss the garlic, ginger, shallot, and oil into a large skillet over medium heat. Cook, stirring often, until the garlic is barely golden and crisp, about between 5-10 minutes. Using a slotted spoon, transfer the garlic, ginger, and shallot to a paper towel-lined plate to drain; season with salt.
Step Two: Turn up the heat to medium-high add the quinoa and sesame oil, toss to combine. Continue stirring for an additional 3 minutes then, remove the skillet from the heat and pour in the soy sauce, scallions, and half of the garlic, ginger, and shallot mixture; season with salt.
Step Three: Transfer the quinoa to a platter and top with cilantro leaves, sesame seeds, and the remaining garlic, ginger, and shallot mixture. Serve immediately!
---
Easy Quinoa Fried Rice Variations:
Chicken Fried Quinoa: Dice and season 3-4 boneless skinless chicken thighs. Sauté the chicken in a separate pan then add it into the quinoa towards the end when you add in the garlic, ginger, and shallot.
Tofu Fried Quinoa: For a plant-based protein-packed fried quinoa, sauté diced tofu in a separate pan or roast in the oven. Season with soy sauce and sesame oil. Add the tofu into the quinoa mixture at the same time as the crispy garlic, shallot, and ginger.
Korean-Inspired Kimchi Fried Quinoa: Roughly chop about a cup of kimchi and stir it into the quinoa while you're sauteing. If you have it, add in a spoonful of gochujang (spicy Korean chili paste) for a bit of heat!
Veggie-Packed Quinoa Fried Rice: I recommend blanching any veggies you may want to add to this recipe. Bring a pot of salted water to a boil. Blanch whatever you like; snap peas, broccoli, asparagus, etc.. Then, drop them in a bowl of ice water to halt the cooking process before adding them to your fried quinoa. This will keep the veggies bright green and crisp.
What to serve with quinoa fried rice:
---
You may also like: