This simple and straight forward creamy bolognese sauce has a good kick of heat to it thanks to Italian Calabrian Chilis. If you're someone that likes to sprinkle crushed red pepper flakes onto your pasta, then you're definitely going to want to give this recipe a try!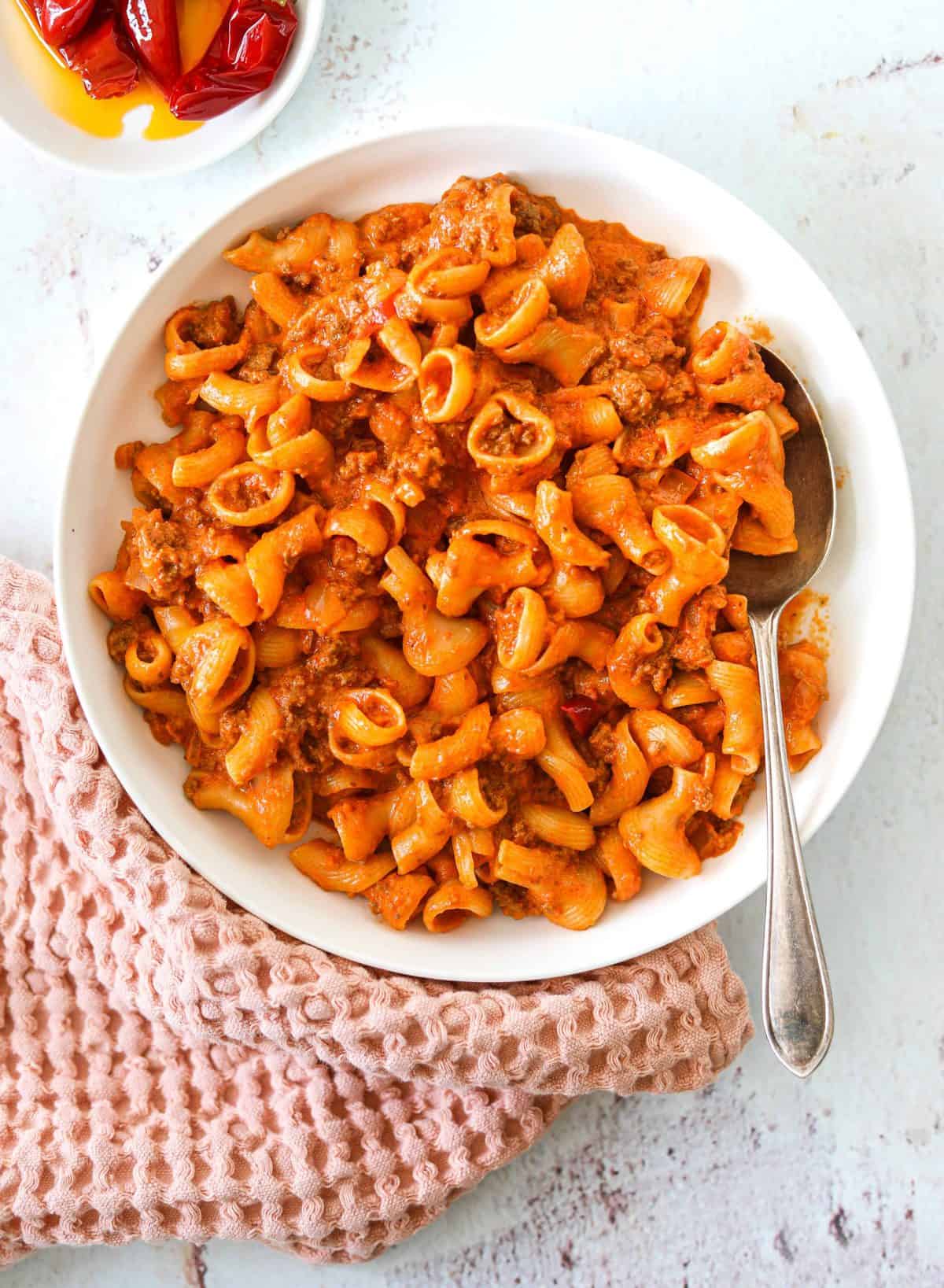 I am so into Calabrian chilis lately! They come packed in oil, which is a bonus because you can save the oil and drizzle it over so many things! Calabrian chilis add a unique smokey, sweet, slightly spicy flavor to this creamy bolognese. If you're weary of spice, start with only two peppers; you can always add more later on.

The other ingredient that makes this bolognese extra special is… heavy cream! No, this recipe isn't going to win any awards for the healthiest pasta, but it might win tastiest! A few generous glugs of cream folded into this spicy bolognese makes it so luxurious and comforting and also helps to balance out the heat. Serve creamy Calabrian chili bolognese with a simple side salad for the perfect dinner!

Give it a try; I know you're going to love it!
A Few Notes About Calabrian Chilis:
Calabrian chili peppers originate from the Calabrian region of Italy. They are harvested and sold packed in oil, made into a paste, or dried.

-Where to buy: I'm starting to see Calabrian chilis more frequently at regular grocery stores. Whole foods for sure carries them. You can also check any Italian specialty markets in your area or order online from amazon.
-Calabrian Chili Paste: Calabrian chilis are also sold in "paste" form, typically in a tube, like tomato paste. That will totally work for this recipe, start with 1 tbsp and add more depending on how spicy you like your sauce.
-Substitutions: If you can't find Calabrian chilis, but you still want to make this pasta, you can substitute, crushed red pepper, or even harissa if you happen to have it.
Check out more recipes using Calabrian Chilis:
Broccolini with Calabrian Chilis and Garlic
Five-Ingredient Spicy Sausage Cast Iron Pizza
---
Recipe Steps:
Step One: Heat the olive oil in a large, heavy saucepan until shimmering. Add in the ground beef and a generous pinch of salt. Sauté, stirring frequently and breaking up any large lumps, cook until the beef is no longer pink about 10 minutes. Next, add the onion and garlic, oregano, and chopped chilis, continue cooking until then onions become very soft about 5 minutes.
Step Two: Next, add in the tomato paste, cook for 5 minutes, stirring frequently then add in the crushed tomatoes.
Step Three: Cover and simmer over low heat for 30-45 minutes, occasionally stirring until reduced and thickened to desired consistency. Stir more often towards the end of cooking, so the sauce doesn't burn.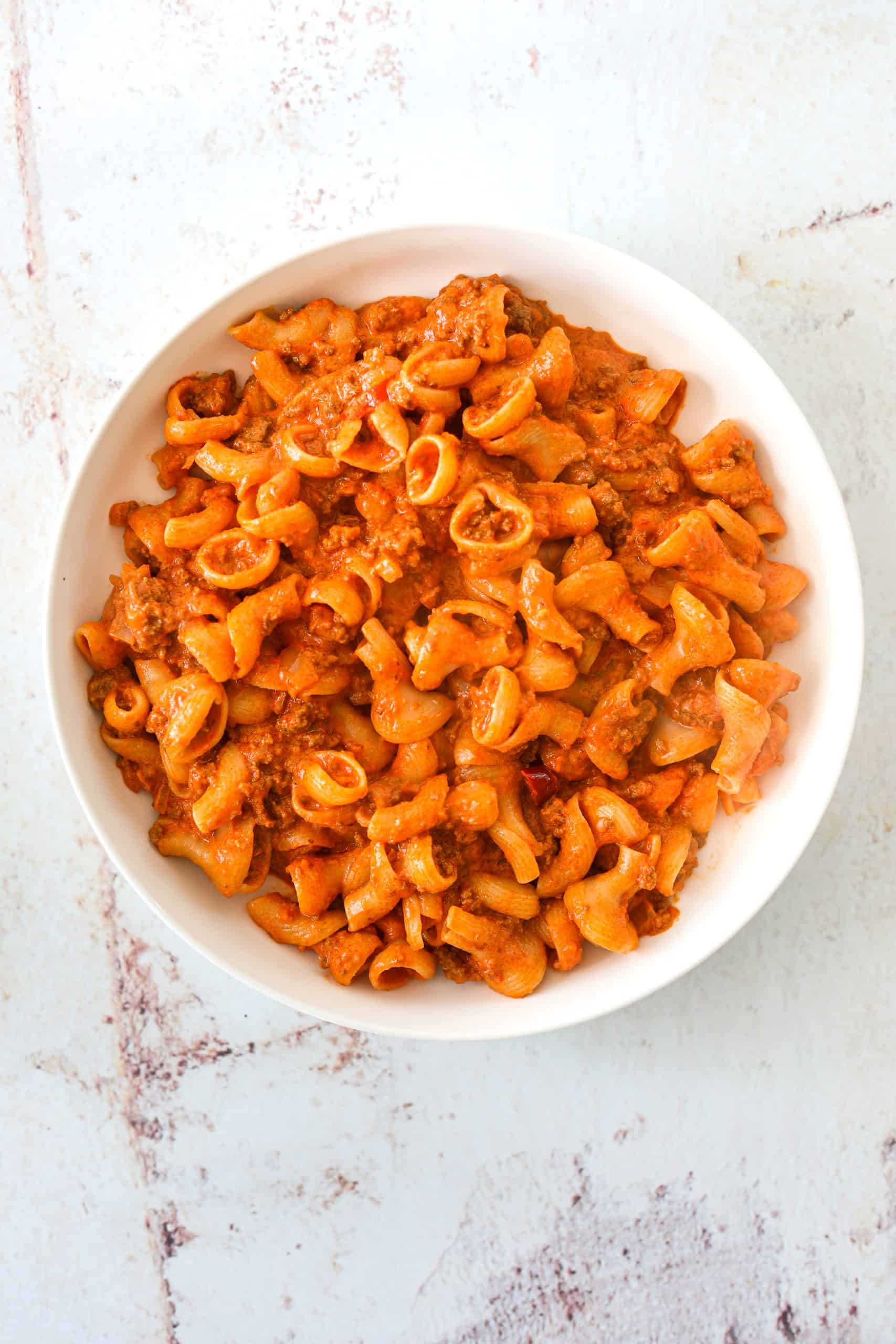 Step Four: Last, stir the heavy cream into the bolognese, taste, and season with more salt as necessary. Add in the cooked pasta. Divide between bowls, top with parmesan cheese, serve immediately! If you like extra heat, drizzle with a bit of the Calabrian chili oil.
Did you make this recipe?
Leave a review below, then snap a picture and tag me @craving_california and use #cravingcalifornia on Instagram so I can see it!
Check out more great recipes: