Pillowy soft homemade ricotta gnocchi is easier to make than you may think! Serve it with quick and easy cherry tomato confit, fresh basil, and grated parmesan cheese! Add shrimp for extra protein. Perfect for an easy weeknight meal.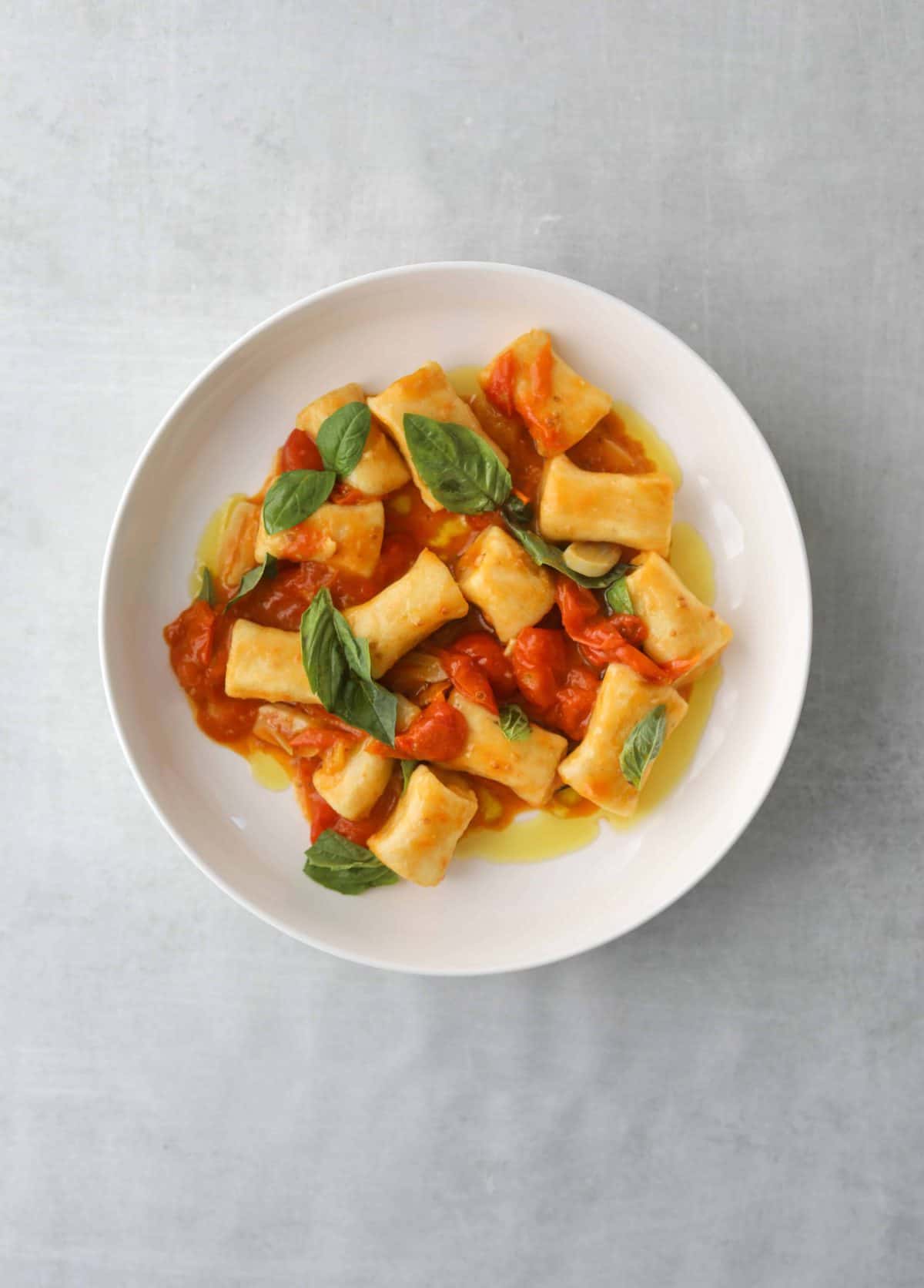 Ricotta gnocchi is so incredibly easy to make! All you need is four simple ingredients; ricotta cheese (whole milk only!), flour, egg, and parmesan. Mix these ingredients, let the dough rest, then roll, cut, and cook for two minutes in boiling water, and you're good to go! Ricotta gnocchi is light and pillowy soft making it perfect for this quick cherry tomato pan sauce with garlic and basil. You could also serve it with fresh pesto or even a Cacio e Pepe situation with lots of cracked black pepper and parmesan cheese.
I hadn't thought of gnocchi as a "quick and easy" weeknight meal before discovering this method. Usually, I equate gnocchi with the potato version that requires baking, peeling, and mashing potatoes. Potato gnocchi is such a headache and very often results in a dense, heavy dumpling if you don't make it exactly right. No thank you! Instead, give this ricotta gnocchi recipe a try, and I promise you will love it. Once you master the technique, you will be able to whip up gnocchi in a pinch!
Recipe Steps:
Step One: In a large mixing bowl, whisk together the ricotta cheese, parmesan, egg, and a pinch of salt. Then use a wooden spoon or rubber spatula to fold in the flour just until combined. Bring the dough together into a ball, wrap in plastic wrap, and let rest for 20 minutes.
Step Two: Divide the dough into 4 pieces, and roll into 1/2-inch-thick ropes on a floured surface. Cut each rope into 1-inch pieces and place on a lightly floured baking sheet. Put in the refrigerator until ready to use.
Step Three: Heat the oil in a large skillet or wide heavy saucepan over medium heat. Add the garlic, basil, tomatoes, and a pinch of salt. Reduce the heat to low and cover with a lid. Let the tomatoes simmer, stirring occasionally until they begin to burst and release their juices to form a sauce, 6–8 minutes. Remove the basil then use a fork to smash and break up the tomatoes. Taste and season with more salt if necessary.
Step Four: Bring a large pot of salted water to a boil. Cook the gnocchi in the boiling water until they float to the surface, about 2 minutes. Use a slotted spoon to transfer the gnocchi to the pan with the sauce and toss gently—divide between bowls, top with fresh torn basil and a drizzle of high-quality olive oil. Serve immediately!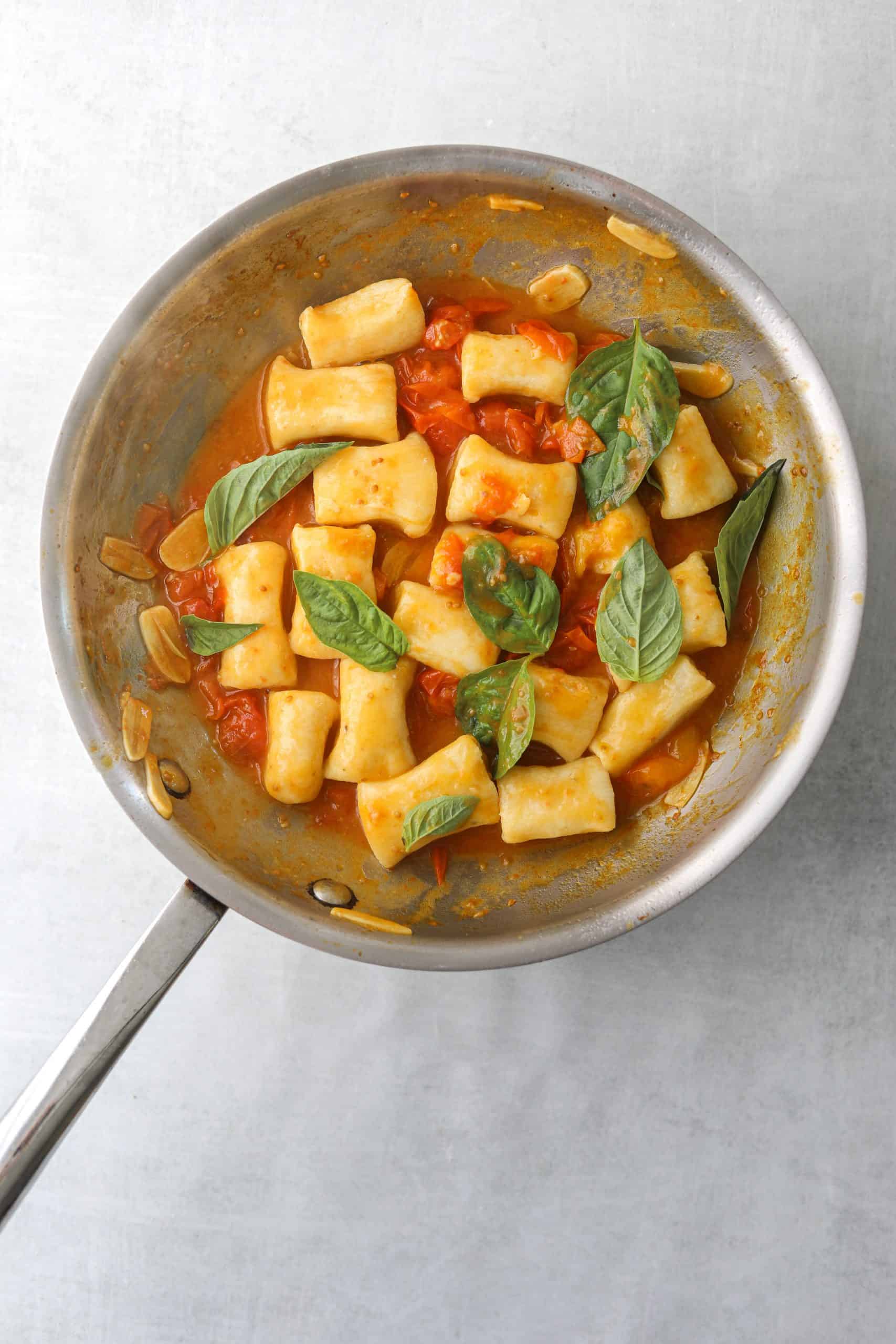 ---
Did you make this recipe?
Leave a review below, then snap a picture and tag me @craving_california and use #cravingcalifornia on Instagram so I can see it!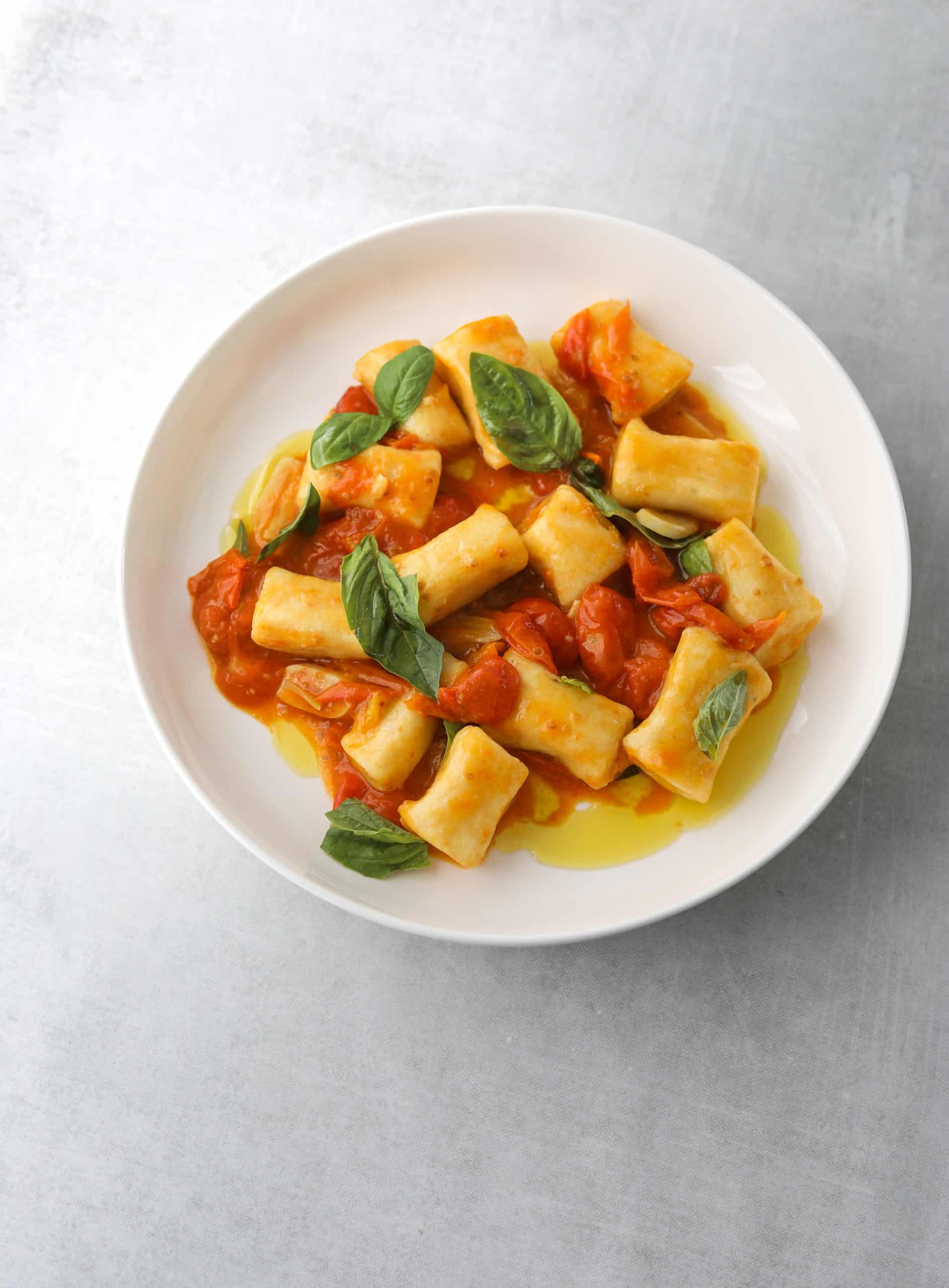 ---
Check out more great recipes: