Sauteed Broccolini with Calabrian Chilis and Garlic is the perfect spicy side dish for your next dinner!
I love sauteeing broccolini with garlic and chili. I used to always use chili flakes but recently I discovered Calabrian chilis packed in olive oil. They're spicy but also a little tangy and acidic. They complement the broccolini and garlic perfectly!
Calabrian Chilis have become more widely available at grocery stores. I've seen them at Whole Foods recently. If you can't find them at your local store you can order them here → Calabrian Chilis
---
---
Broccolini with Calabrian Chilis and Garlic
Spicy broccoli sauteed with garlic, olive oil, and Calabrian chilis.
Ingredients
1

lb

broccolini

2

whole

Calabrian chilis, rough chopped

2

cloves of garlic, thinly sliced

2

tbsp

olive oil

salt and pepper
Instructions
Bring a large pot of salted water to a boil. Trim the rough ends off the broccolini and drop them into the water. Simmer the broccolini for one minute then remove it from the pot and place it directly into an ice bath. Once the broccolini is completely cool remove it from the ice bath and place on a clean dish towel. Gently pat dry with the towel to absorb excess water.

Heat a saute pan over medium heat. Pour the olive oil into the pan along with the garlic. Saute the garlic until golden brown and aromatic then add the chilis and broccolini. Saute the broccoli with the garlic and chili for about two minutes until heated through. Season with salt and pepper. Transfer to a platter and serve immediately!
---
If you love Broccolini with Calabrian Chilis and Garlic, check out more great recipes →
Bucatini with Sun-Dried Tomato Pesto
Bucatini with sun-dried tomato pesto is the perfect new recipe to add to your repertoire! Who says pesto has to be made with basil and pine nuts? This recipe for sun-dried tomato pesto is breaking all the rules. Sun-dried tomatoes are packed with rich and savory umami flavors. When you blend them with roasted almonds,…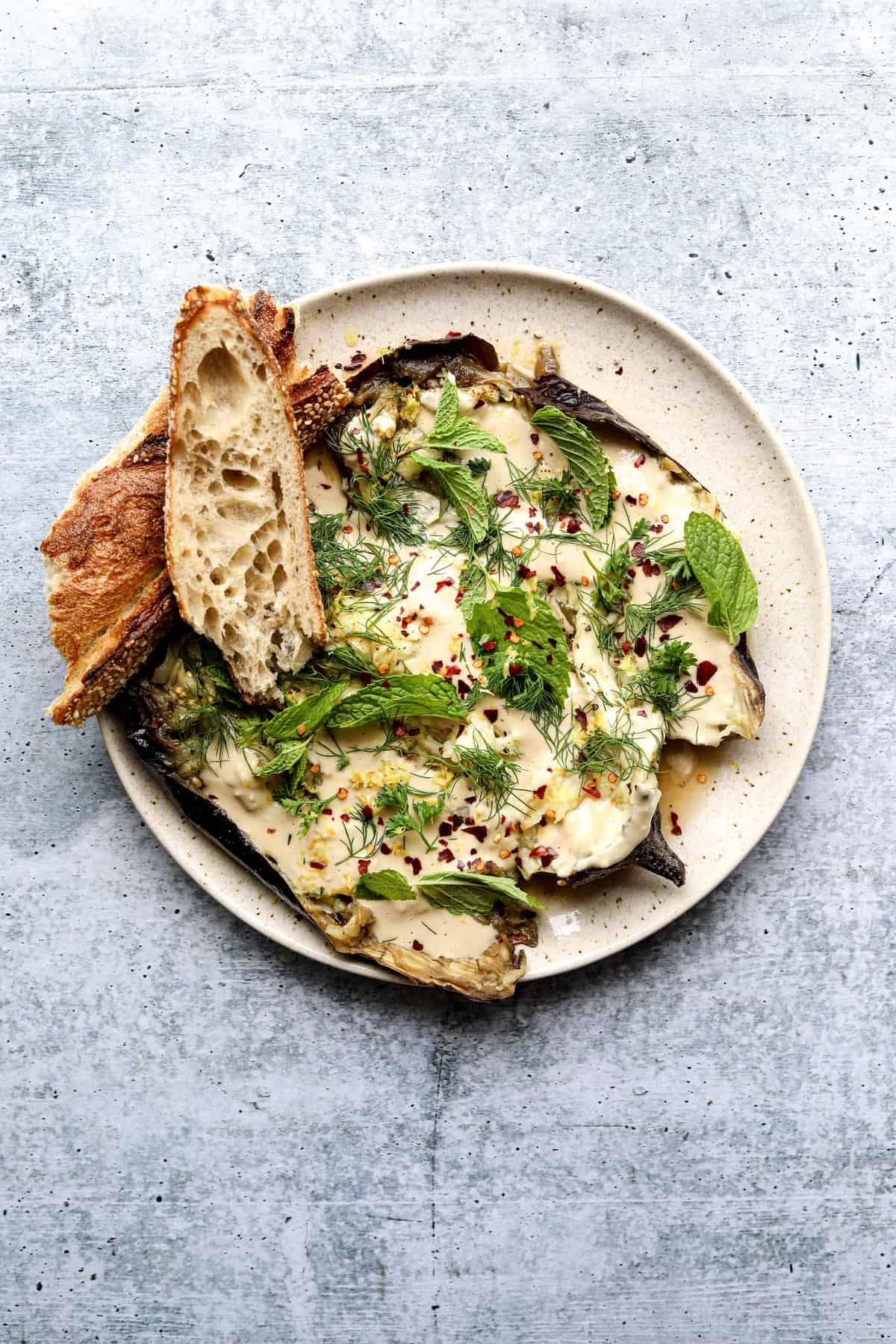 Whole Roasted Eggplant with Garlic Tahini
Whole Roasted Eggplant with Garlic Tahini is the perfect veggie appetizer! This recipe for whole roasted eggplant with garlic-tahini is like a deconstructed baba ganoush! I serve it with toasted baguette and dip the bread into the warm eggplant and tahini sauce. You could also serve this as a side dish with roasted chicken, and…
Orecchiette with Broccoli Rabe and Sausage
This quick and easy pasta recipe is a great one to have in your dinner rotation. It's a crowd pleaser and a great way to introduce new vegetables to kids. Broccoli rabe or rapini, tends to be really bitter. Blanching it first cuts the bitterness and sautéing it with the fat from the sausage, and…
Don't forget to comment below and leave this recipe a five-star review!