Toasted cracked black pepper and pecorino romano cheese folded into creamy, buttery pureed cauliflower. Cacio e Pepe mashed cauliflower is the perfect side dish! Serve with roast chicken or steak for a complete meal.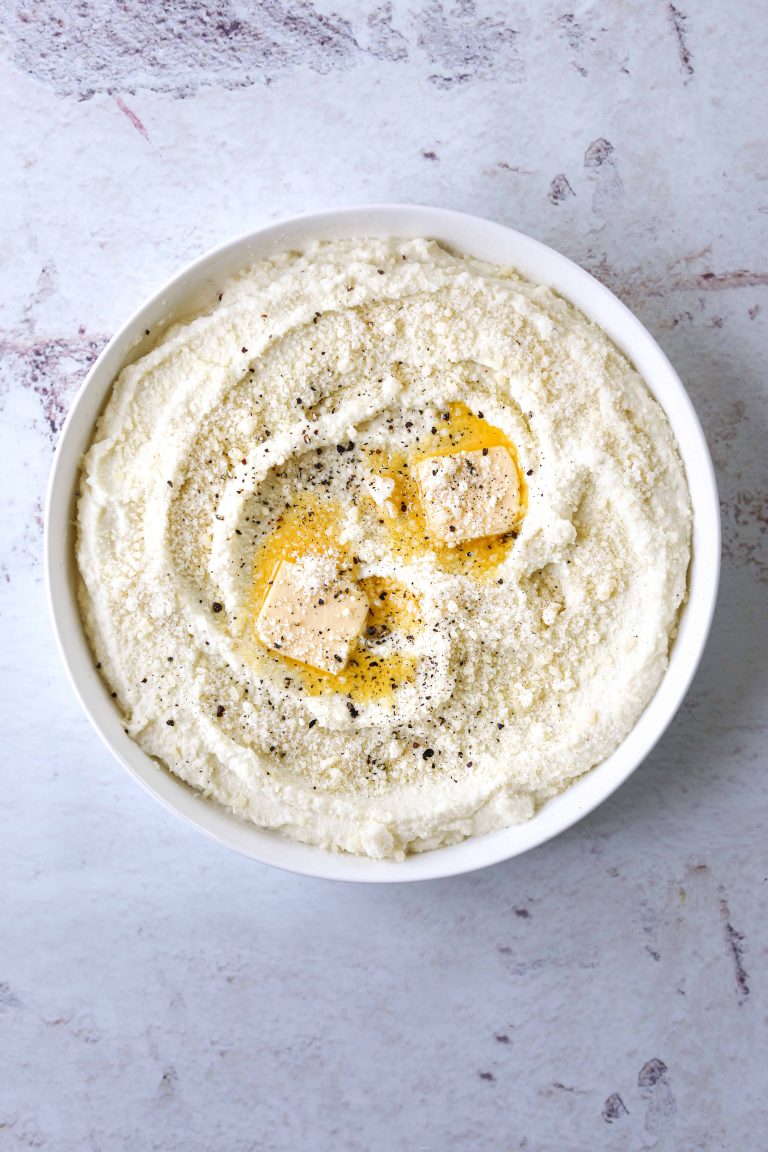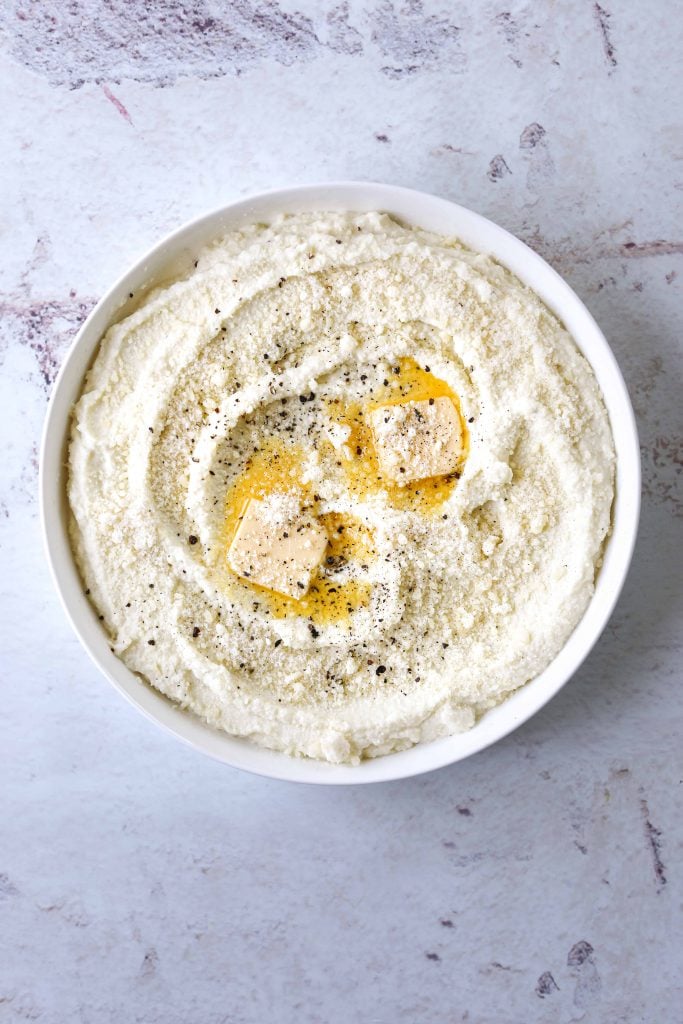 I used to make mashed cauliflower weekly when I was a private chef for a celebrity client on a low-carb, keto diet. My own diet definitely couldn't be described as "low-carb" quite the opposite actually, but that didn't stop me from falling in love with this recipe for creamy, buttery cacio e pepe mashed cauliflower! Cauliflower lends itself perfectly to being mashed or pureed with butter, cheese, and cream. This side dish is a great low-carb alternative to mashed potatoes.
What is Cacio e Pepe?
Cacio e Pepe literally translates to "cheese and pepper." Typically cacio e pepe is a buttery pasta dish with bucatini, freshly cracked black pepper, pecorino romano cheese, and a little pasta water.
Recipe Steps:
Step One: Cut the cauliflower in half. Remove and discard any leaves or green stems. Finely chop each half into small pieces.
Step Two: Place a large pot over medium heat. Add the butter and a few generous turns of freshly cracked pepper. As the butter melts the pepper will "bloom" and become aromatic. Grate the garlic into the melted butter then add in the chopped cauliflower. Season with a pinch of salt then sauté the cauliflower for 5 minutes, stirring often.
Step Three: Pour the cream into the pot over the cauliflower. Bring to a simmer then cover and turn the heat to low. Cook until the cauliflower is tender, stirring occasionally, about 10 minutes. Turn off the heat and sprinkle in the cheese.
Step Four: Use a potato masher, blender, or food processor to mash/blend the cauliflower to your desired consistency. Taste and season with more salt as necessary.
Step Five: Pour the cauliflower mash into a large serving bowl. Top with pecorino cheese, a few pats of butter (optional) and freshly cracked black pepper. Serve immediately!
What to serve alongside Cacio e Pepe Mashed Cauliflower?