Perfectly ripe, stone fruit and fresh blackberries baked into a creamy, custard base with almond extract. Dust generously with powdered sugar, serve warm or room temperature.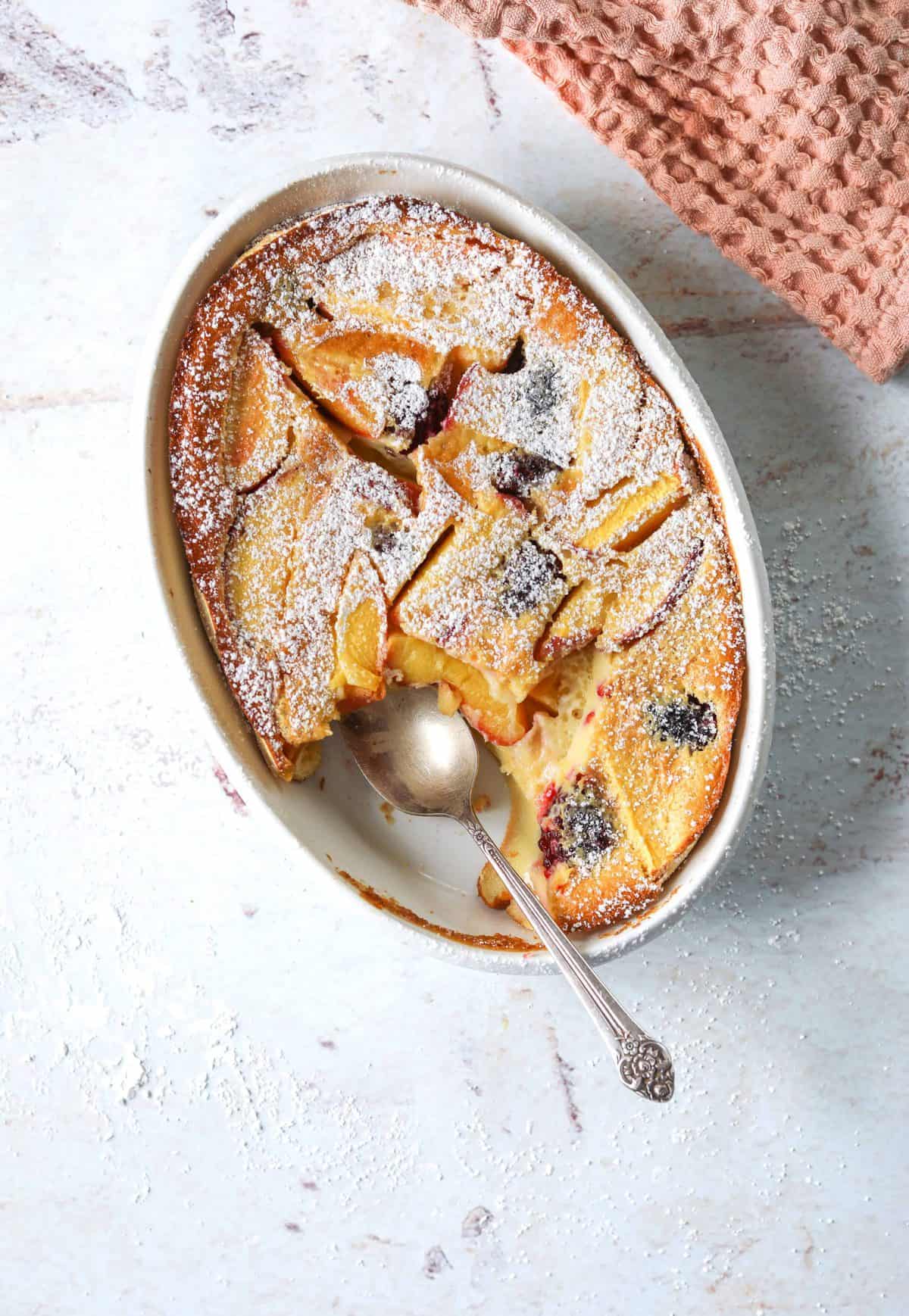 This delightful summer dessert is the perfect sweet treat to cap off your next dinner party! I love clafoutis because it's rustic, very easy to make, and can be prepared in advance. It's also not super-sweet. Most of the sweetness comes from the fruit, which is why it's important to select ripe, in-season fruit. This recipe can be made with peaches, nectarines, plums, apricots, cherries, anything that you like!
So what exactly is a clafoutis?
A Clafoutis is a baked French dessert. The base is a batter similar to crepe batter; it's made up of milk, cream, eggs, sugar, and flour. When baked, it has a custard-like texture (similar to flan) but is firm enough to hold onto the juices from the stone fruit and berries. Serve it warm or room temperature dusted with powdered sugar.
Tips and Tricks for this Recipe:
Bring all of your ingredients to room temperature before making this recipe. This will give your clafoutis a little extra lift and ensure that it is light and fluffy.
Pan Size: I wrote and tested this recipe with a 9-inch oval casserole dish. That being said, clafoutis is versatile and easily adaptable to different pan sizes and shapes. A cast-iron pan, rectangle casserole dish, or a ceramic pie pan will all work just fine. Keep an eye on the time when baking. If you're using a larger pan the clafouti will take less time to cook. Start checking for doneness after 30 minutes.
Pour your wet ingredients into the blender first, followed by the dry. This will ensure a smooth, pourable batter, with little to no need to stop and scrape down the blender.
Fruit: Clafoutis is traditionally made with un-pitted cherries. This recipe calls for a mixture of stone fruit; you could use peaches, cherries, nectarines, plums, or apricots. I like to use a variety of different fruits and I throw some blackberries in there too!
How to Make a Gluten-Free Stone Fruit Clafoutis:
Great news! This recipe is very simple to make gluten-free. All you have to do is substitute a gluten-free flour blend for the all-purpose flour. I really like the brand Cup4Cup, Bobs Redmill has a good GF flour as well.
Recipe Steps:
Step One: Put a 9-inch baking dish into the oven and preheat to 350.
Step Two: Pour the wet ingredients: eggs, milk, cream, and almond extract into a blender or food processor followed by the dry ingredients: flour, sugar, and salt. Blend on high for 10-15 seconds until the batter is smooth and pourable.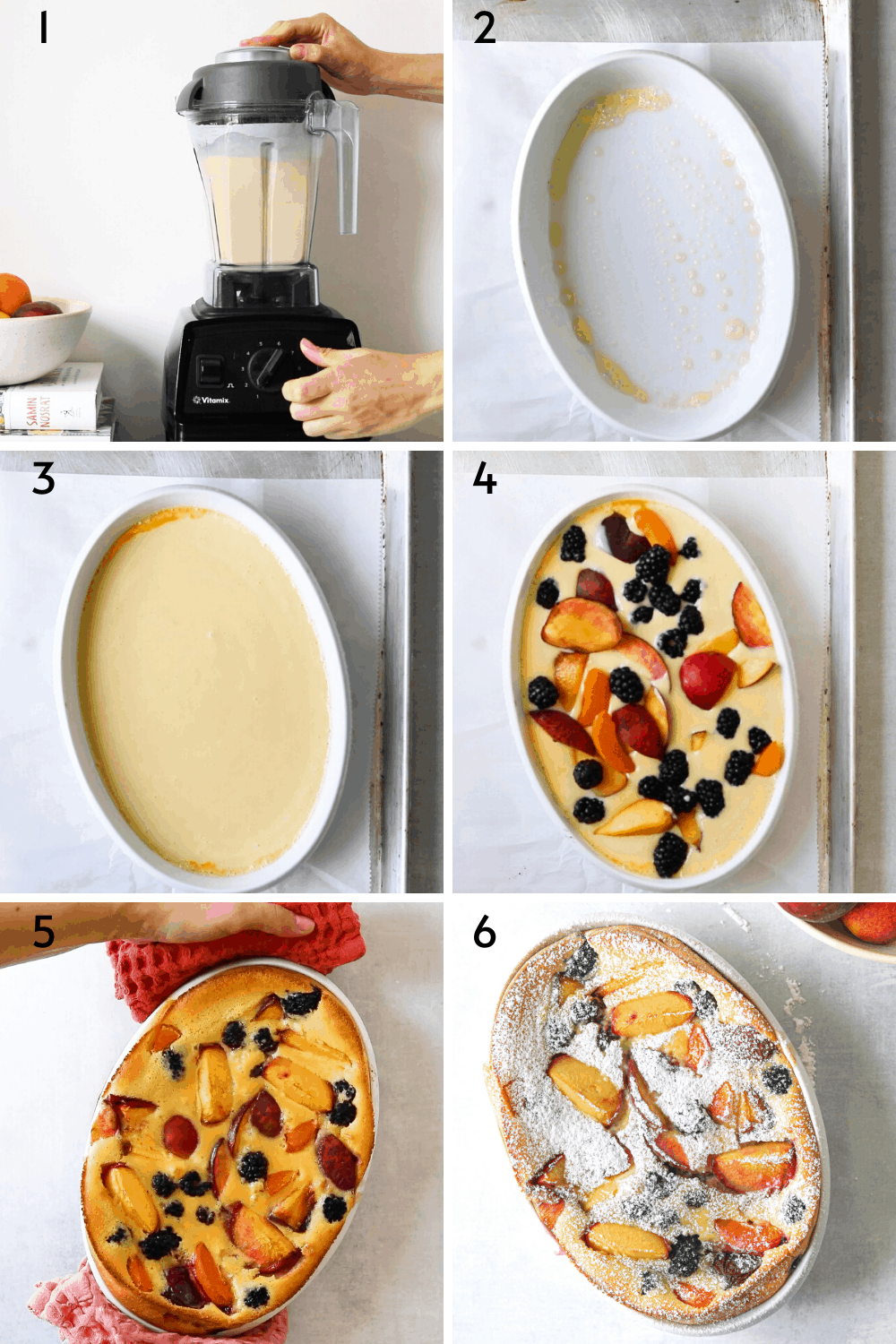 Step Three: Take the pre-heated pan out of the oven, brush with butter. Pour the batter into the prepared pan. Top evenly with the fruit.
Step Four: Bake for 40-45 minutes, until the clafoutis, is puffed, set, and golden brown, a knife poked in the center should emerge relatively clean. Let cool slightly. Dust with powdered sugar, serve warm.
---
Watch the video for how to make stone fruit clafoutis:
Check out more delicious desserts:
---
Did you make this recipe?
Leave a review below, then snap a picture and tag me @craving_california and use #cravingcalifornia on Instagram so I can see it!
Check out more great recipes: