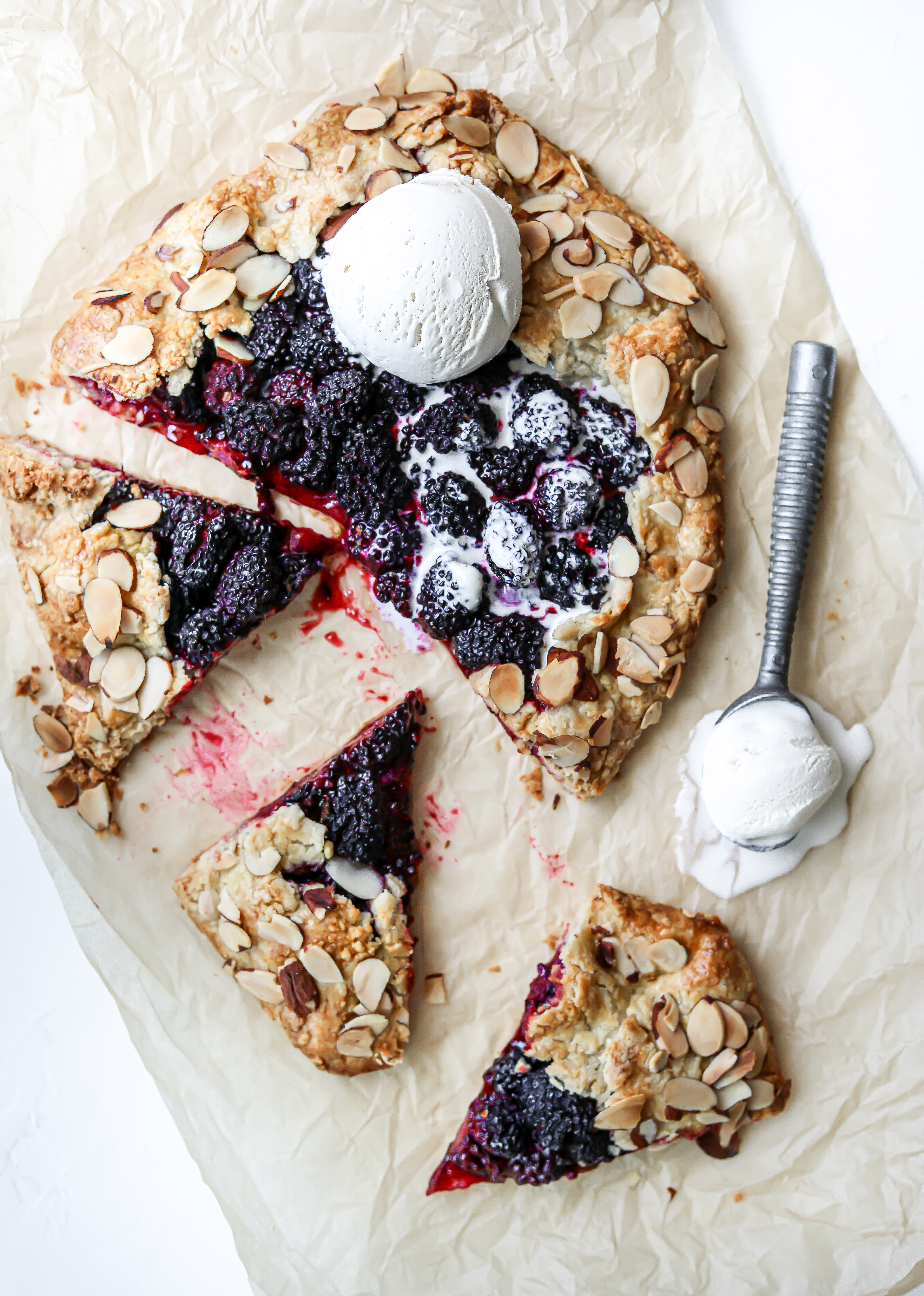 I love, love, LOVE making crostatas in the summer! There are so many beautiful fruits and berries in season begging to be wrapped in flakey pie dough and topped with ice-cream! This Blackberry Almond + Crostata is the perfect dessert to serve all summer long!
A crostata is like low maintenance pie. It's rustic and un-fussy. It doesn't need to be a specific shape or have perfectly crimped edges. Feel free to try different shapes or make mini individual crostatas. This recipe is really flexible.
Notes for successful flakey pie crust:
Don't overwork the dough. Less is more. There's no kneading in pie crust. Your dough should be shaggy with visible specks of cold butter running through it.
Keep your ingredients COLD! I like to but everything in the freezer right before I make my pie crust. That includes butter, flour, salt, and sugar.
Variations:
-Any berries, cherries or stone fruits will work with this recipe! Feel free to mix it up.
-Make it vegan: substitute my favorite vegan butter from Mykonos
-Make mini, individual crostatas. This recipe will make approximately three mini blackberry and almond crostatas.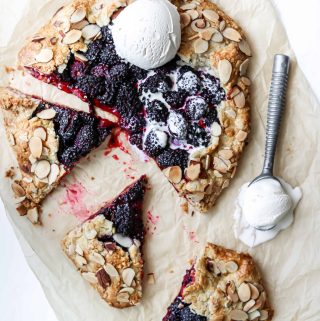 Blackberry and Almond Crostata
Flakey, crumbly almond crust wrapped around a sweet blackberry filling!
Print
Pin
Rate
Ingredients
Almond Crust:
1 3/4

c

all purpose flour

1/4

c

almond flour

1

tbsp

sugar

1

tsp

salt

8

tbsp

cold butter cubed

3-4

tbsp

ice water

1/4

c

slivered almonds

1

egg

whisked with a splash of water
Filling:
3

pints

blackberries

1/4

c

sugar

1

tbsp

cornstarch

2

tbsp

butter cubed
Instructions
To make the crust:
In a large bowl whisk together the flour, almond flour, salt and sugar. Next, use your fingers to work the butter into the flour mixture until the flour has a coarse, mealy texture similar to bread crumbs.

Drizzle in half the ice water (no ice). Begin to gently bring the dough together until you can form it into a ball. If you need to, add in more water, a tablespoon at a time. This is the part in the crust making process that you don't want to overwork the dough. The formed dough should be loose and shaggy not completely worked together like bread dough.

Turn the dough onto a piece of plastic wrap, press it into a flat disk. Wrap in plastic and let rest in the refrigerator for one hour. Remove from the fridge 10 minutes before your ready to roll it out.
Assembling the crostata:
Pre-heat the oven to 425. In a large bowl toss the blackberries with the sugar, cornstarch and butter.

Roll the pie crust out to approximately 1/4in thick. I like to roll it between two sheets of lightly floured parchment paper. Then I remove the top sheet and transfer the bottom piece with the crust to my sheet tray for baking.

Next, pile the berry mixture in the center of the rolled out dough. Fold up the edges of the dough around the the berries. Brush the edges with the beaten egg and sprinkle with slivered almonds.

Put the crostada in the oven and immediately turn the temperature down to 350. Bake for 50-60minutes or until the edges of the crostata are golden brown. Remove from the oven and let cool. Serve with vanilla ice cream!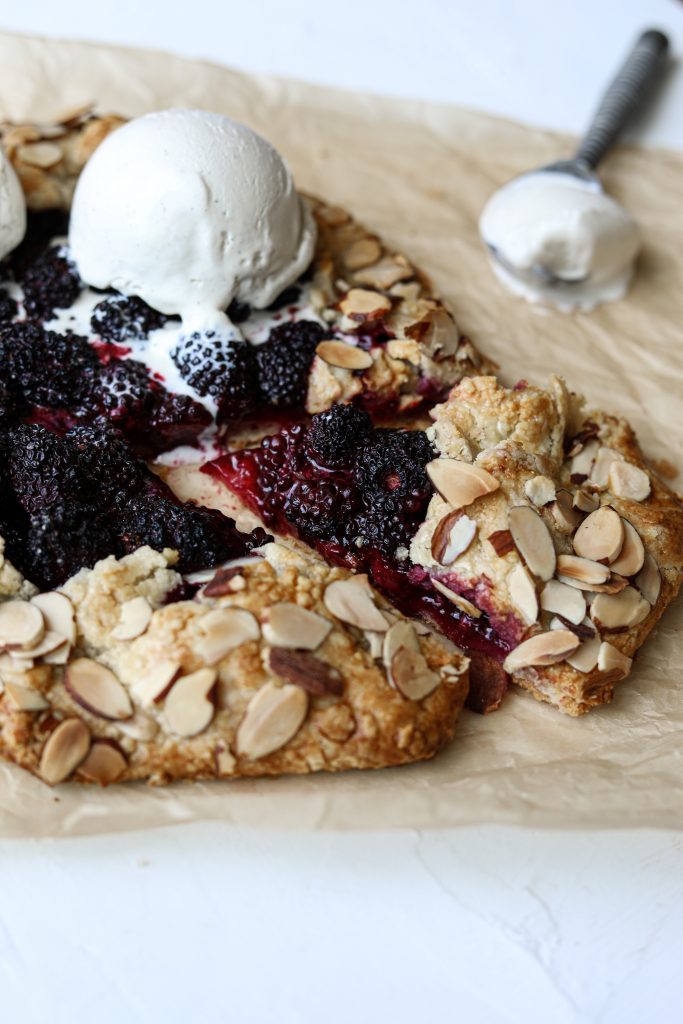 You may also like: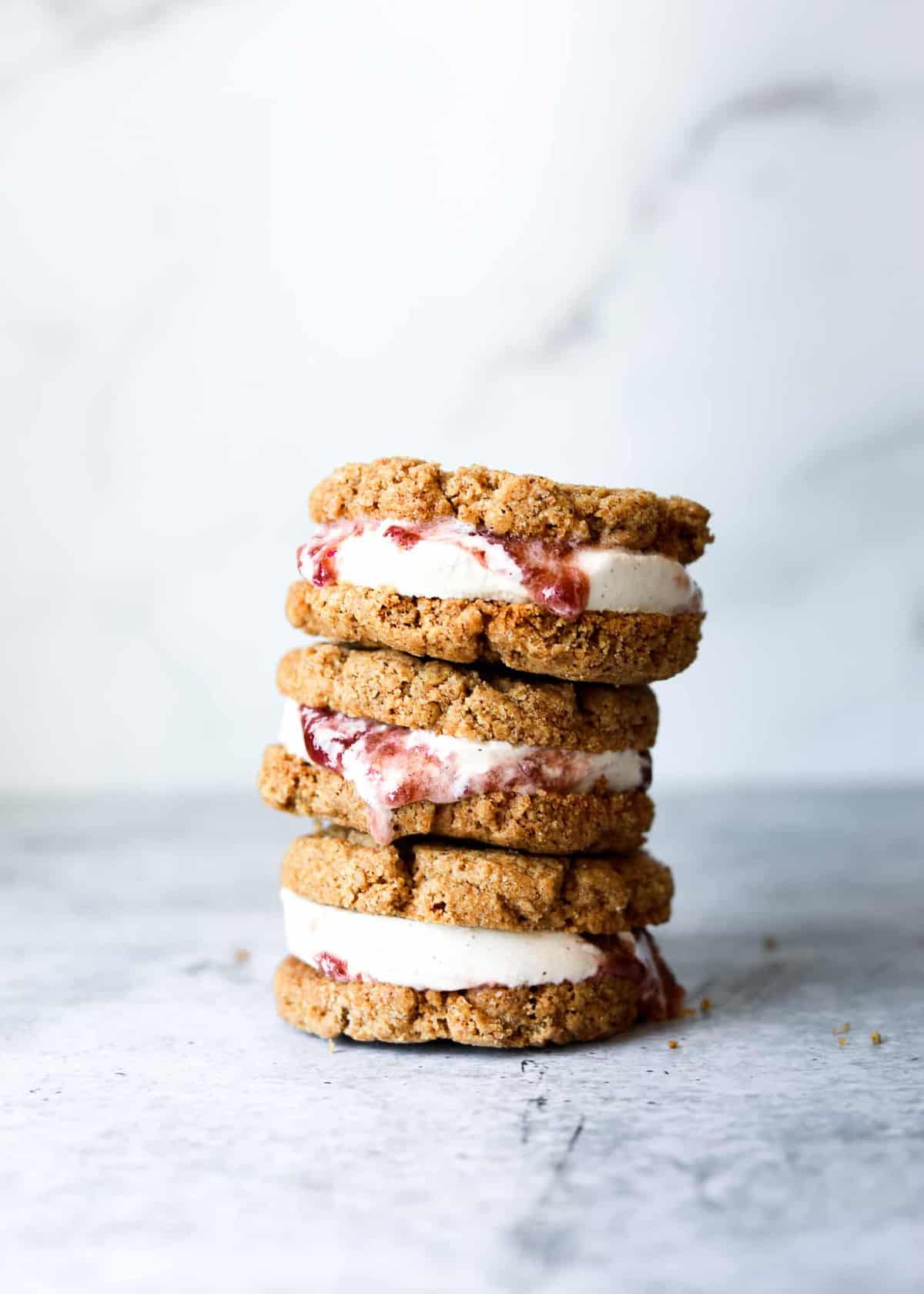 Strawberry Brown-Butter Ice Cream Sandwiches
This may be my most indulgent recipe to date! Vanilla ice cream and strawberry jam sandwiched between brown butter cookies! OMG! The best part? This recipe is way easier to make than it looks! I used store-bought ice cream and strawberry jam so the only technical part is making the cookies. These strawberry brown butter…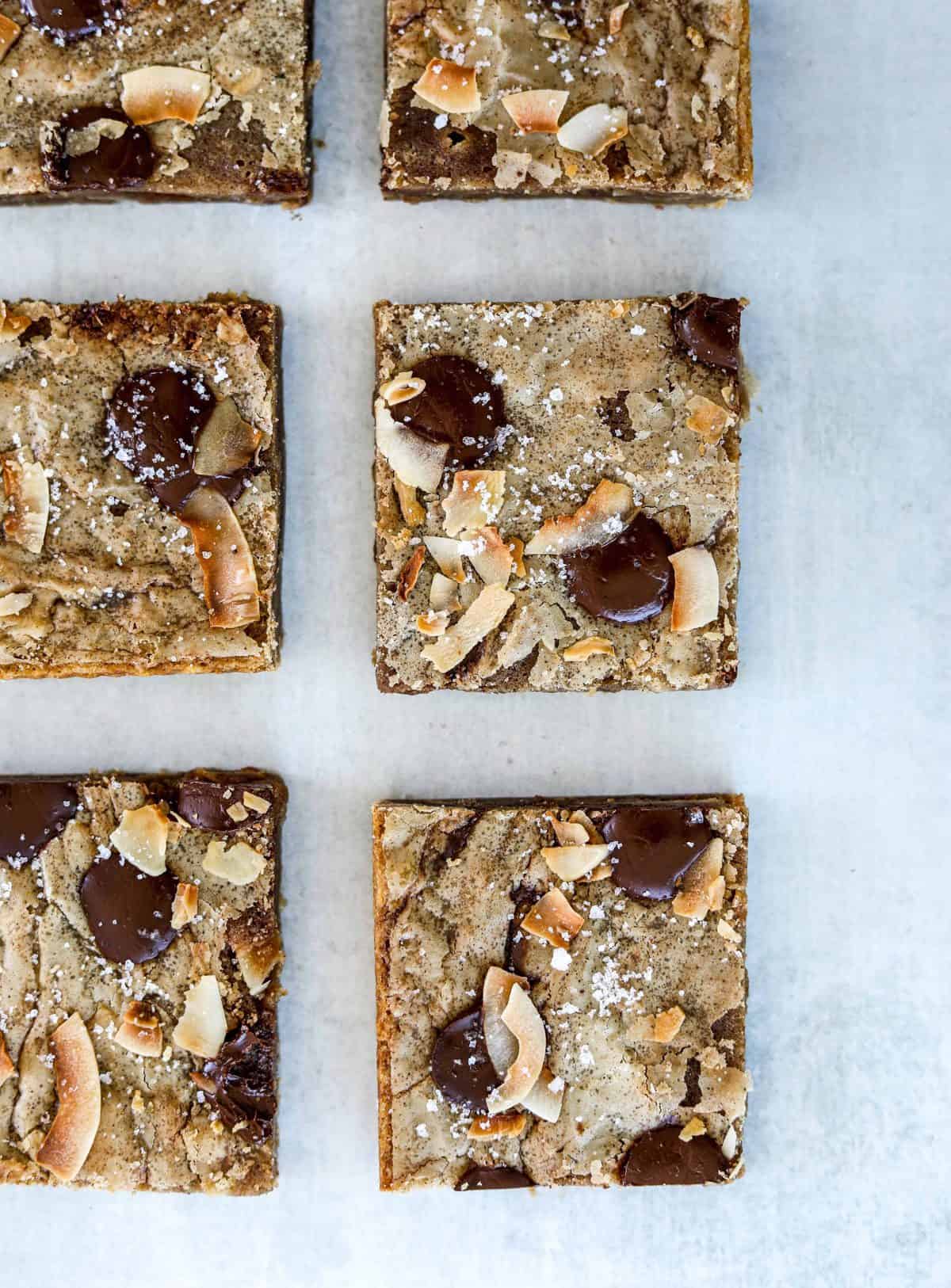 Toasted Coconut Chocolate Chip Blondies
Toasted coconut chocolate chip blondies are the perfect way to start your weekend! Browned butter, toasted coconut, chocolate chips, and flaky sea salt. Delicious and easy, but be warned these chocolaty, chewy blondies are dangerously addicting! I don't even want to tell you how many of these blondies I've eaten this week during the recipe testing process,…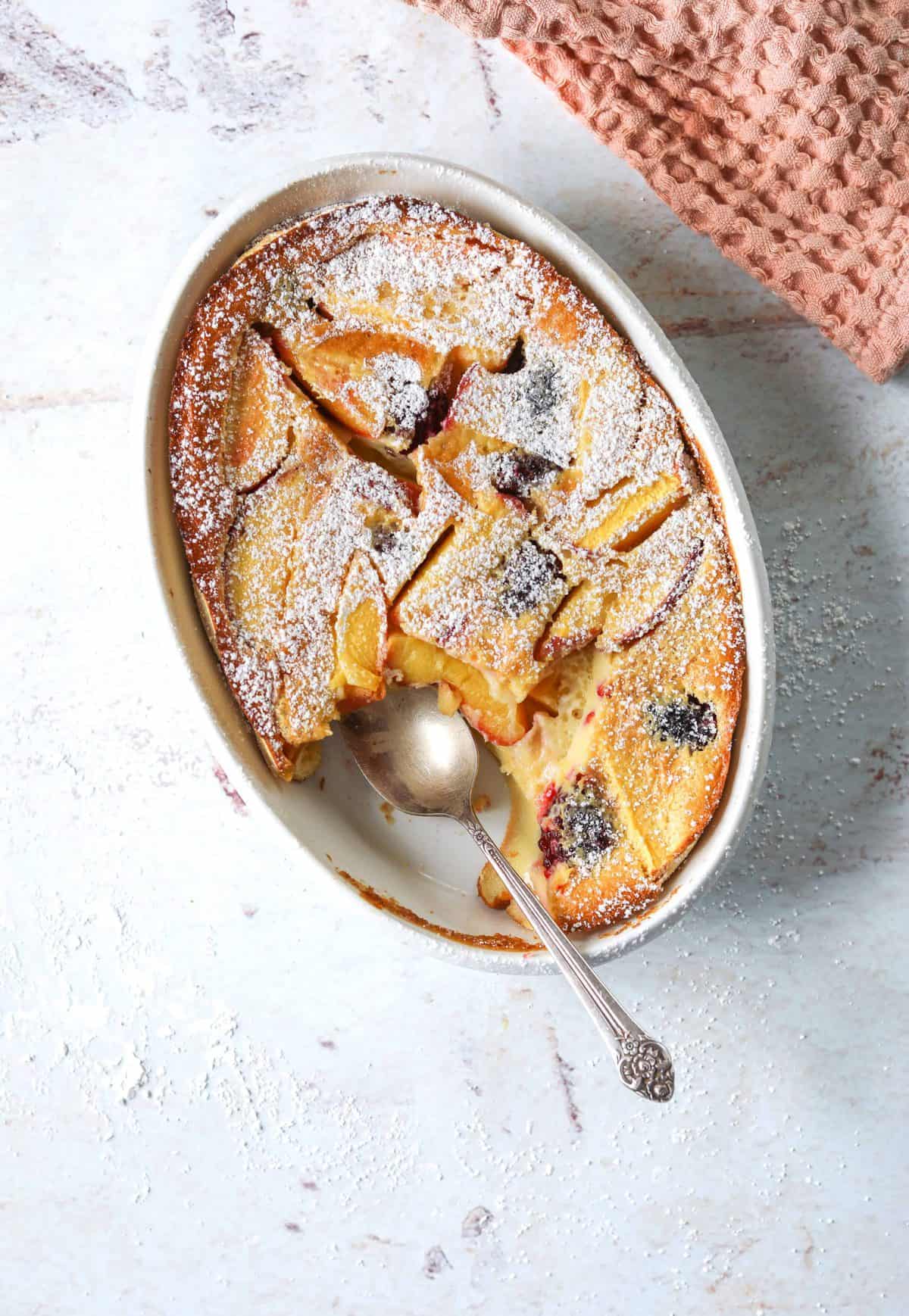 Stone Fruit Clafoutis
Perfectly ripe, stone fruit and fresh blackberries baked into a creamy, custard base with almond extract. Dust generously with powdered sugar, serve warm or room temperature. This delightful summer dessert is the perfect sweet treat to cap off your next dinner party! I love clafoutis because it's rustic, very easy to make, and can be…