Burrata Salad with Prosciutto and Nectarines
Creamy burrata, sweet nectarines, fresh tomatoes, and salty prosciutto make for the perfect summer salad!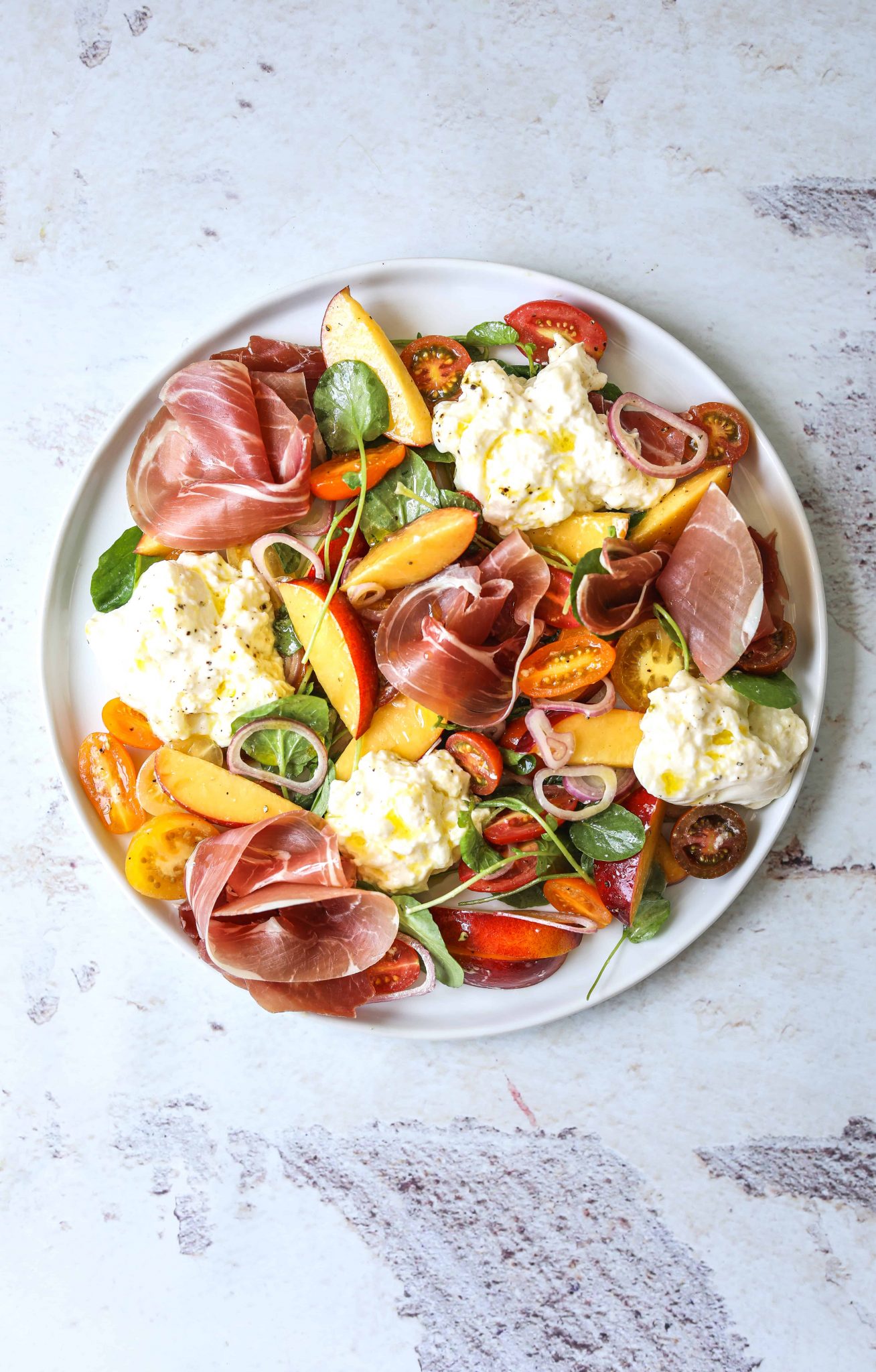 Is it even a summertime dinner if you're not having some variation of burrata salad? I've had a lot of people asking me lately, "what do I bring to a pot-luck barbecue?" Most likely other people will have the potato salad, coleslaw, chips, and dip situation covered. Why not bring this burrata salad with prosciutto and nectarines? It's so quick to assemble, just bring the ingredients with you and throw it all on a platter when you get there. Trust me, people will be SO impressed.
What is burrata?
If you've never tried burrata before you're in for a treat! Burrata is a soft shell of Italian cow-milk mozzarella wrapped around a creamy center. It's rich and indulgent and the perfect accompaniment to ripe summer tomatoes and nectarines. Burrata salad is one of the things I look forward to most when summertime rolls around!
Tips for Burrata Salad with Prosciutto and Nectarines:
-If you can't find ripe nectarines, peaches would be lovely in this salad as well. Go with whatever is the best quality at the market that day.
-The same goes for the burrata if you can't find burrata substitute high-quality mozzarella.
–Freshly sliced prosciutto is always better than the prepackages kind. Head to the deli counter for freshly sliced prosciutto!
Recipe Steps:
Step One: In a large bowl whisk together the vinegar, dijon, and olive oil. Season with salt and pepper.
Step Two: Place the watercress, tomatoes, shallot, and nectarines in the bowl. Gently toss with the dressing.
Step Three: Arrange the salad on a large platter or divide between bowls. Top with the burrata and prosciutto. Season with salt and pepper, serve immediately!
What to serve with Burrata Salad:
Five- Ingredient Grilled Chicken
Swordfish Kebabs
Oven-Roasted BBQ Salmon
Creamy Calabrian Chili Bolognese
Ricotta Gnocchi
---
If you love Burrata Salad with Prosciutto and Nectarines try these other great recipes! →