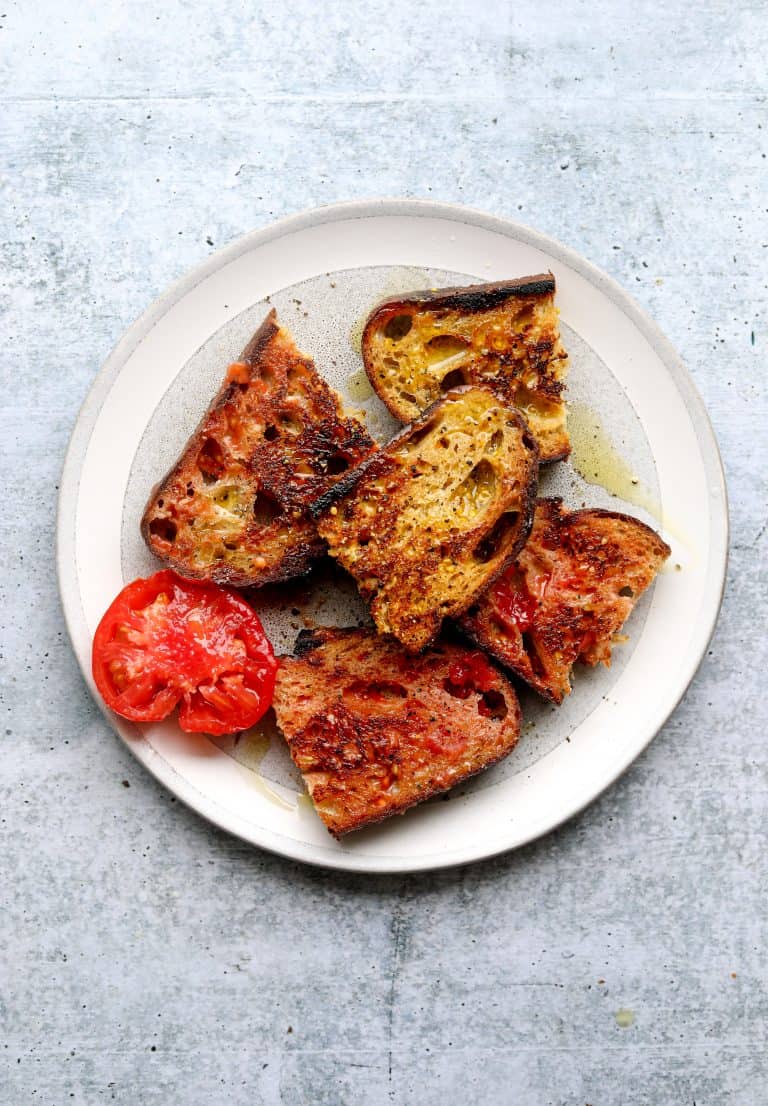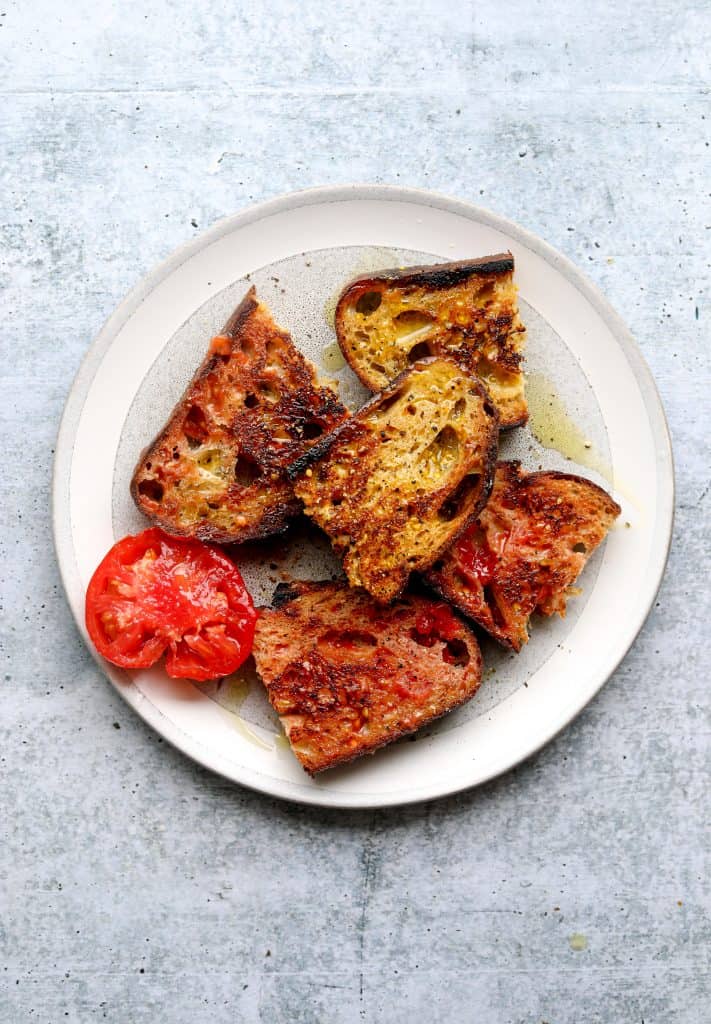 The summer before my senior year of high school I conned my parents into sending me to Spain for a Spanish language immersion program. The experience was one I'll never forget! Spanish people know how to live! They have the best taste in music, dancing, food, and wine. Not to mention; I could really behind the afternoon siesta culture. I can't wait to go back one day!
Luckily, this pan con tomate (bread with tomato) takes me straight back! This recipe is the perfect example of when you have great ingredients you don't need to do much to them to make them taste incredible.
I make this recipe in a cast iron pan on a stove top but if you have access to a grill, by all means, use it!
Serve this pan con tomate with steamed mussels, Spanish chorizo and a cold glass of dry white wine!
---
---
Pan con Tomate
A classic Spanish appetizer of ripe summer tomatoes served over garlic-rubbed bread.
Ingredients
4

thick slices

crusty sourdough bread

2

large

heirloom tomatoes

2

large cloves

garlic

olive oil for drizzling

sea salt and freshly cracked pepper
Instructions
Heat a large cast iron pan on medium high heat. Add a few tbsp of olive oil to the pan and toast each slice of bread on both sides until golden brown.

Cut the garlic cloves in half and rub each piece of toasted bread with half a clove of garlic.

Next, slice the tomatoes in half and rub each piece of bread with half a tomato. Generously squeeze as much of the pulp and tomato juices as you can onto the bread.

Season each slice of pan con tomate with salt, pepper and a drizzle of olive oil. Serve immediately!
---
If you love Pan con Tomate you'll love these other great recipes! →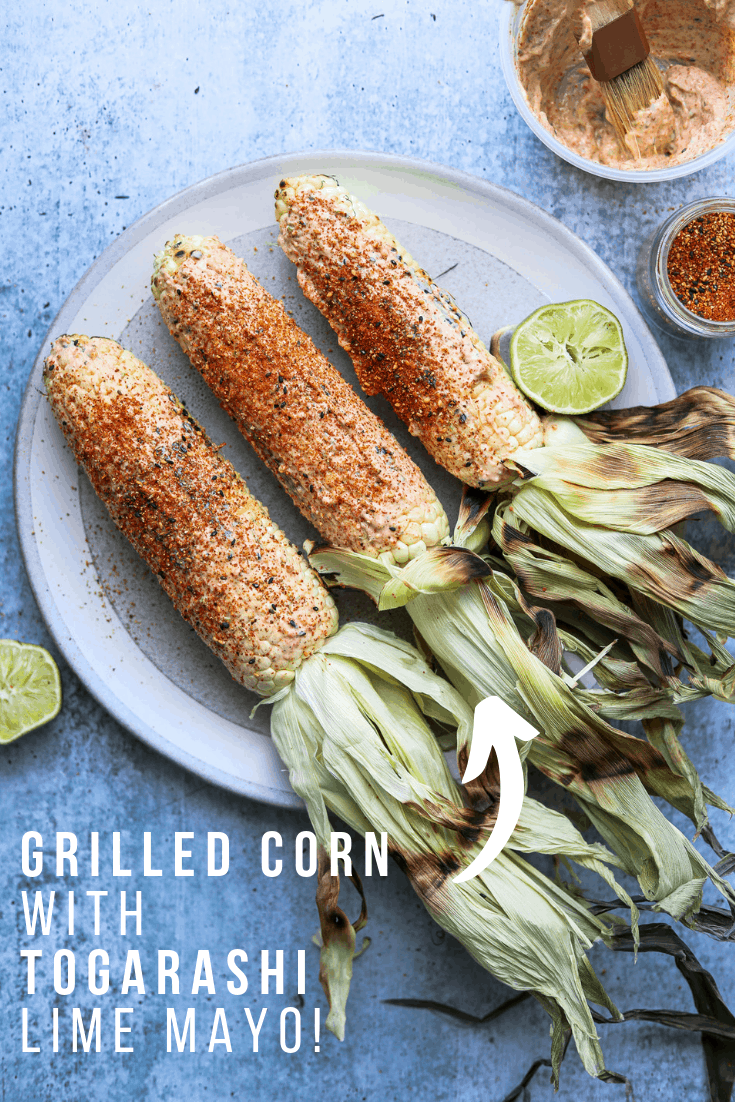 Grilled Corn with Togarashi-Lime Mayo
Grilled corn with togarashi-lime mayo is going to be the star of your next BBQ! Corn on the cob straight from the grill, slightly charred and slathered in spicy and tangy togarashi-lime mayo! This side dish will blow everyone away at your next BBQ! I was inspired by my favorite Mexican style street corn with…
Burrata Salad with Prosciutto and Nectarines
This burrata salad with prosciutto and nectarines is going to be your new summer staple! Is it even summer if you're not having some variation of burrata salad at every meal? I've had a lot of people asking me lately "what do I bring to a pot-luck barbecue?" Most likely other people will have the…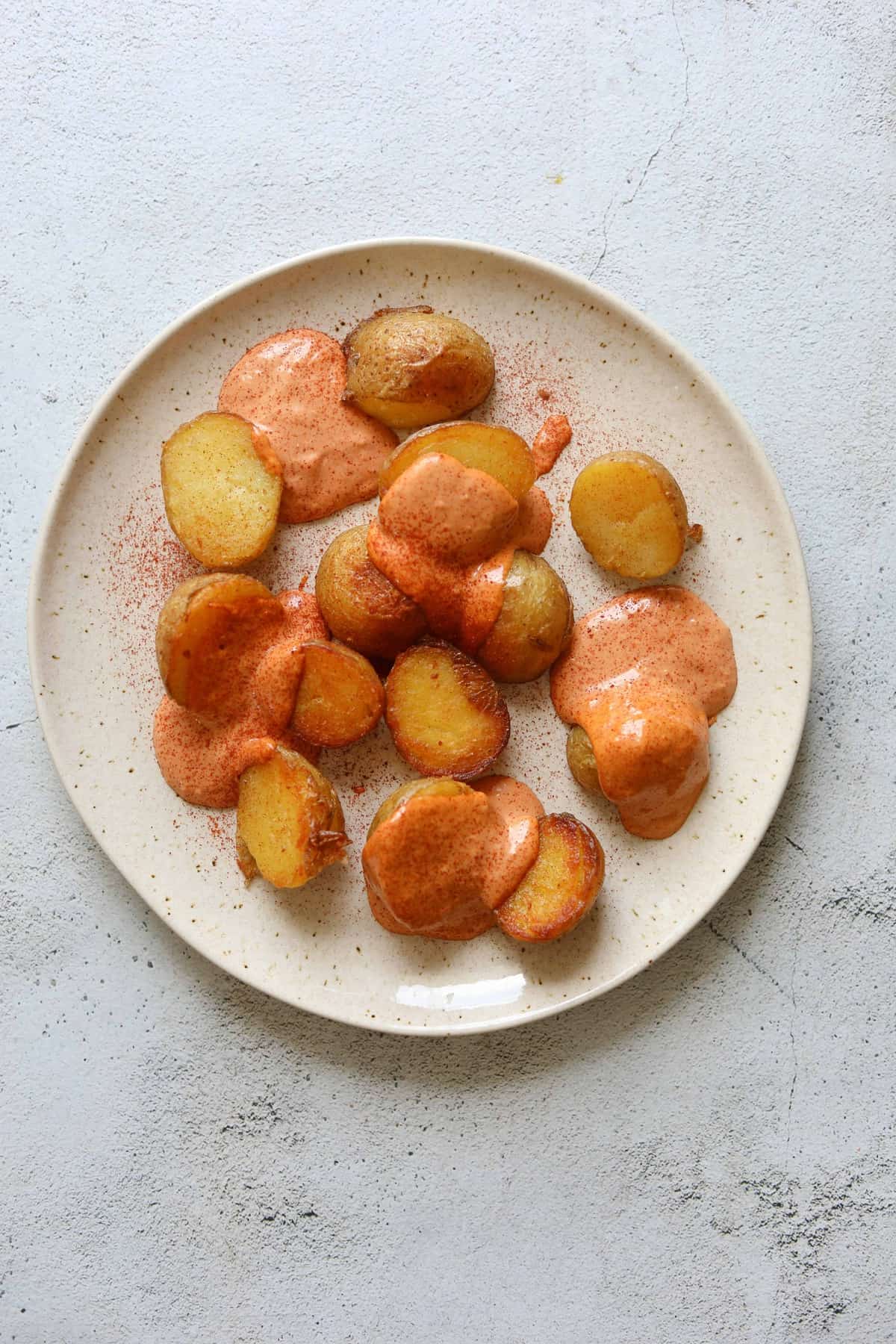 Oven-Roasted Patatas Bravas with Smokey Tomato Aioli
This recipe is inspired by one of my favorite Spanish tapas, Patatas Bravas. Crispy oven-roasted potatoes topped with smokey tomato aioli! Patatas Bravas is a very typical Spanish Tapa. They're usually fried potatoes topped with two different sauces; a tomato sauce, and aioli. My version switches up a few things. First of all, I avoid…
---
Don't forget to leave a comment and five-star review!