Flakey, tender, buttery pie crust is easier to make than you might think! This fool-proof recipe will teach you how to make pie crust both in a food processor and by hand!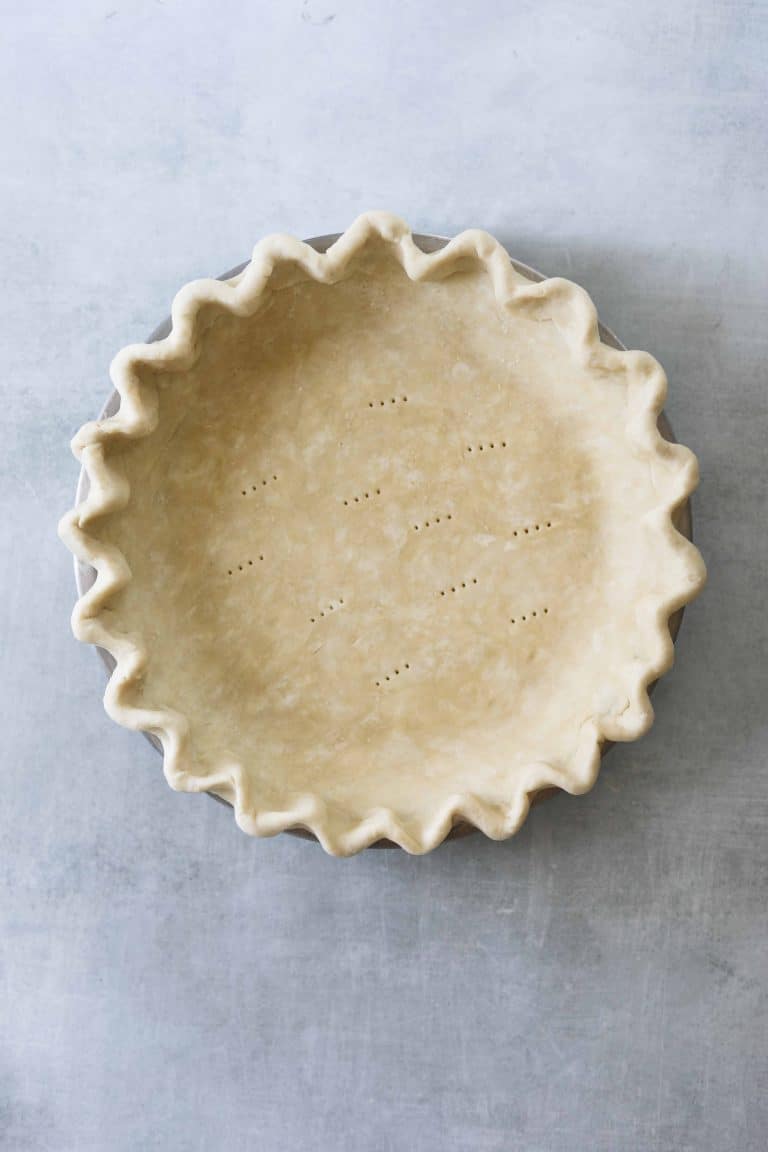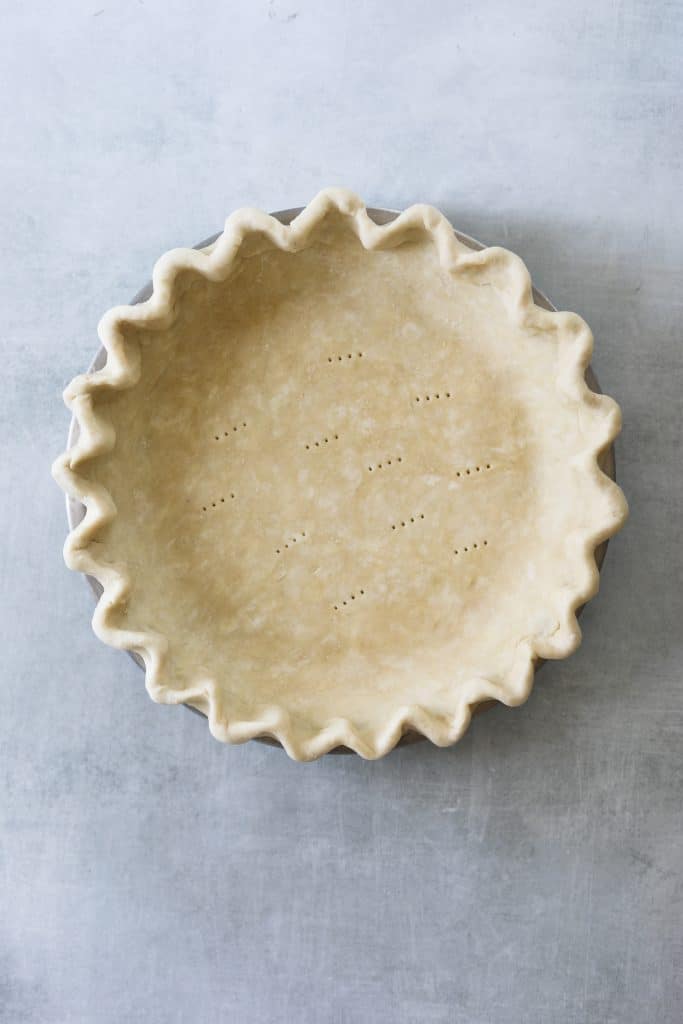 Once you learn to master the art of making pie crust from scratch you will never want to go back to store-bought! I'm going to let you in on a little secret: it's not that hard! I have outlined two different methods below for making pie crust. You can either use a food processor or making it by hand.

The benefit of using the food processor is it's super quick and yields a very consistent pie crust. It's also my preferred method during the holidays because it's great for baking 2-3 batches at one time.

If you like to get a little more hands-on with your baking you can very easily make pie dough by hand. When making pie crust by hand I like to freeze and then grate the butter on a box grater for more even butter distribution.
What types of pies can I use this crust recipe for?
Almost any! This is the recipe I use for all of my Thanksgiving pies like apple, pecan, and pumpkin. You can also use this recipe for savory pies, crostatas, galettes, hand pies, etc.
---
How to Make Pie Crust in a Food Processor:
Pulse the dry ingredients together.
Add in the cold cubed butter then pulse 3-4 times until the mixture resembles coarse wet sand.
Next, pour in the ice-cold water/vinegar mixture. Pulse 5-10 more times until the dough holds together when you press it in the palm of your hand.
Turn the mixture out onto a work surface and use your hands to form a disk. Wrap the dough disk tightly in the plastic wrap and refrigerate for at least 2 hours to allow the dough to hydrate and rest.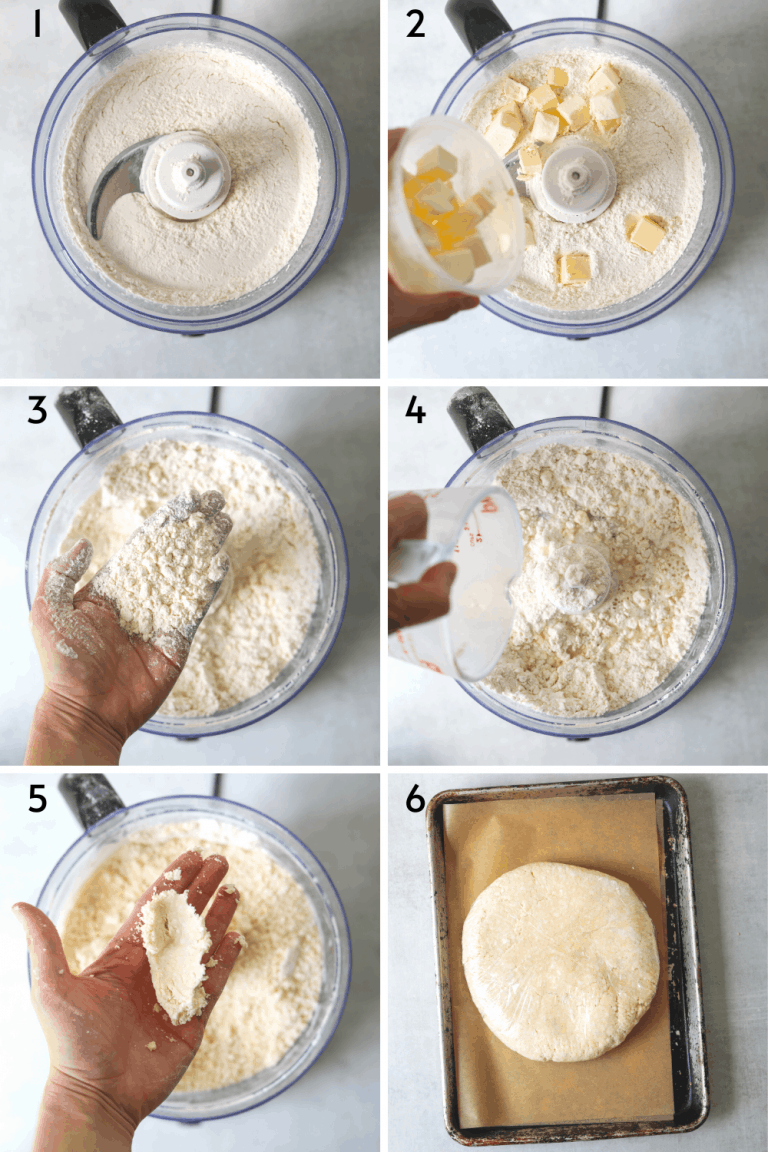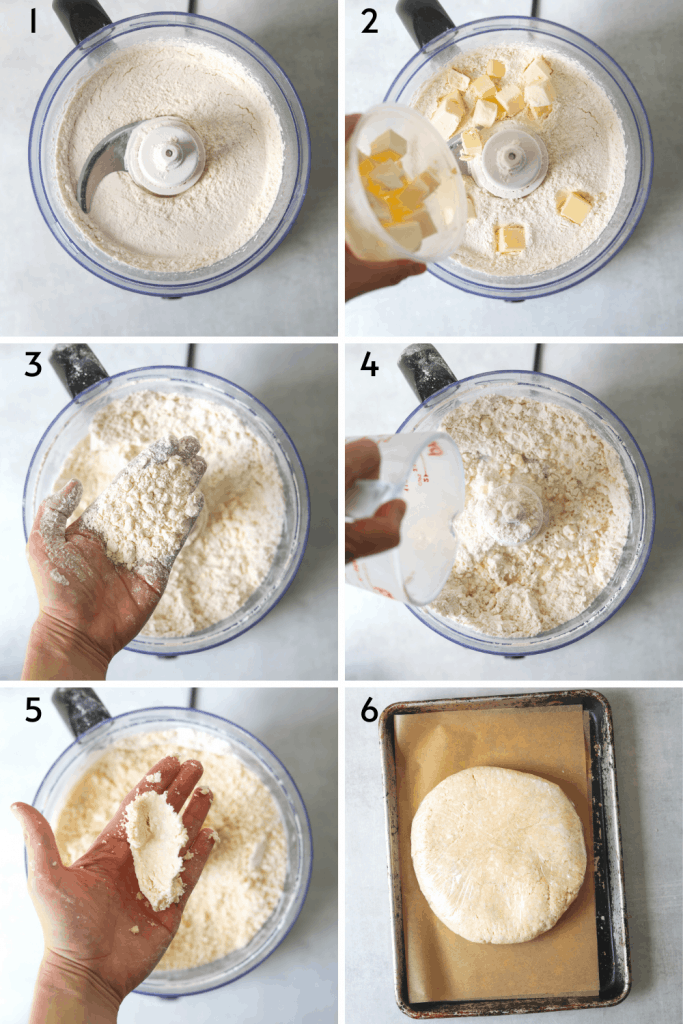 Watch this video to learn how to make flakey pie crust by hand:
Recipe Tips + Tricks:
Pre-Chill your ingredients, especially if it's warm in your kitchen! Throwing the ingredients (and even your mixing bowl or food processor blade) in the freezer for 10-15 minutes is one extra step to ensure your butter stays cold throughout the dough-making process.
It's all about the butter! For the best flavor, I use high-quality European butter. European butter has a higher fat content and less water than regular butter. Using a higher fat butter results in a tender, flakey pie crust.
Work Quickly! In order to keep the butter and other ingredients cool you will want to make the dough as quickly as possible and get it back in the refrigerator to chill and rest.
Recipe FAQs:
Why should you put vinegar in the pie crust? Vinegar helps prevent the formation of gluten which makes for a tough crust. You won't notice the flavor after the crust is baked, I promise!
What makes the crust flakey? Flakiness comes from the cold, solidified butter in the recipe. During baking, the butter melts away, leaving air pockets that create buttery, flakey layers of golden-brown crust.
Why is chilling the dough so important? Can I skip this step? You cannot skip this step! Chilling the dough is important because it gives the butter time to re-solidify and for the dough to hydrate. If you've ever had a pie crust become greasy or shink it likely could have been prevented by an extra hour of refrigeration.
Can pie dough be prepped ahead of time? Pie dough can be made 3 days ahead. Keep chilled, or transfer to a resealable plastic bag and freeze for up to 3 months. Thaw overnight in the refrigerator before rolling out.
---