Peel n' eat shrimp tossed with Old Bay seasoning is a staple in my home town of Annapolis, Maryland. Be prepared to get messy! These saucy, spicy shrimp should be eaten with your hands!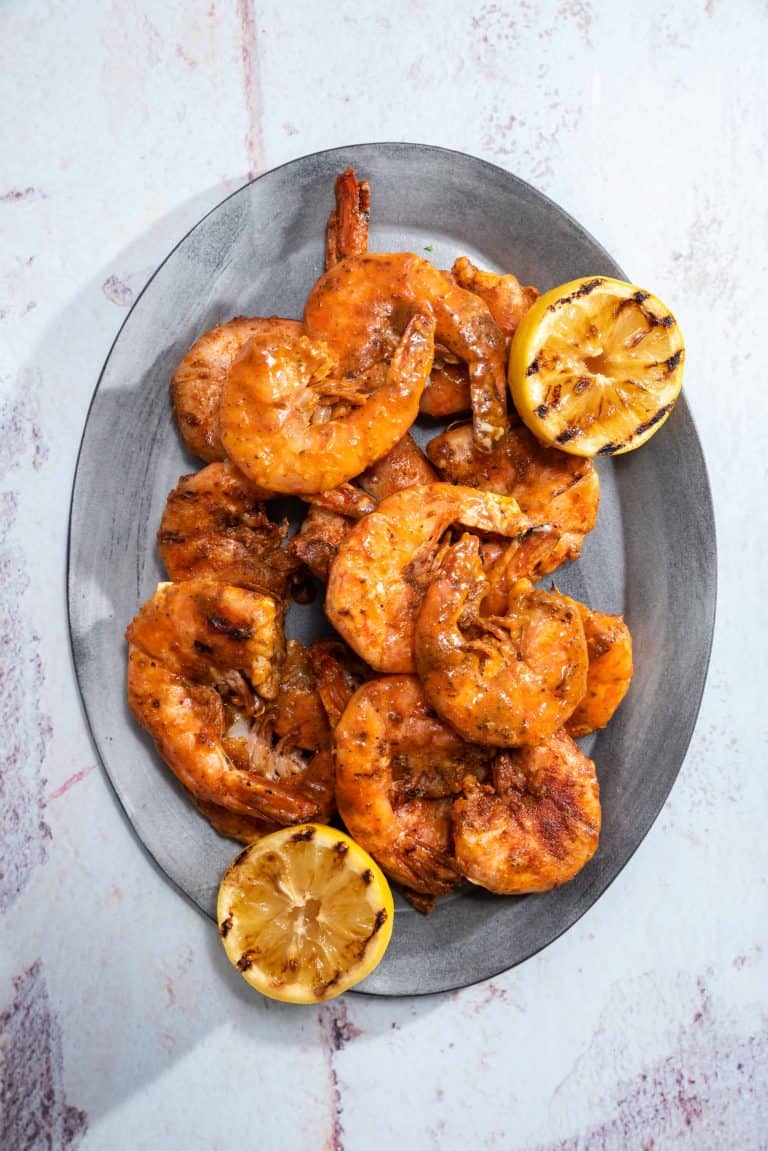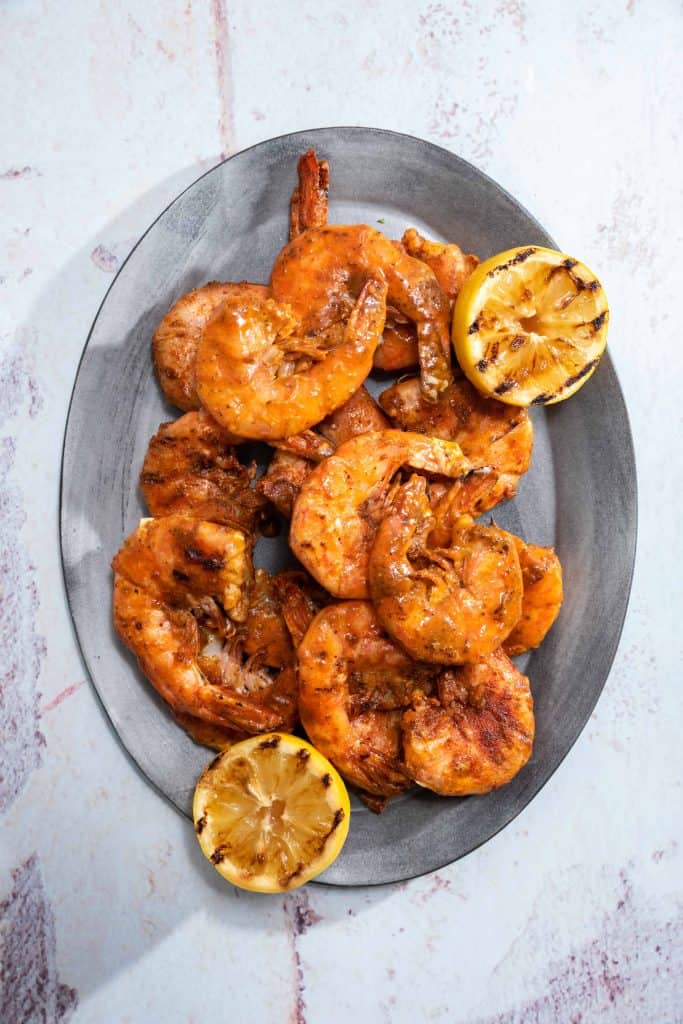 While I've called California my home for over ten years I still have a lot of love for my hometown of Annapolis, MD. In Maryland, I grew up eating oysters on the half shell, blue crabs, and peel n' eat shrimp. Peel n' eat shrimp are traditionally steamed, however in this recipe, I throw them on the grill instead which gives them a little bit of char and a slightly smokey flavor. You can make these on a gas, charcoal, or stove-top grill. Serve them with a crusty baguette, cold beer, and plenty of napkins!
Ingredients You'll Need:
Shrimp: Use any size you like. Frozen shrimp work great for this recipe, just defrost them beforehand.
Old Bay: Old Bay is a zesty blend of herbs and spices with paprika, celery seed, mustard, red and black pepper. If you can't find it locally, you can order it online.
Butter: Peel n' eat shrimp don't typically contain butter, but I think it's a nice touch and balances out the spicy Old Bay.
Lemon: cuts the saltiness of the old bay and adds brightness and acidity.
How to devein shrimp with scissors:
Use kitchen scissors to cut the shell along the back of the shrimp towards the tail, slicing into the flesh at the same time to expose the vein. Lift the vein out and rinse the shrimp under cold water.
Recipe Steps:
Step One: Preheat a grill over medium/high heat. You can use gas, charcoal, or a stove-top grill.
Step Two: In a large mixing bowl, toss together the shrimp and oil. Grill the shrimp for 1-2 minutes on each side until they turn pink, and the shells are slightly charred. Remove the shrimp and grill the lemons on the cut side, just until you get some nice grill marks, about 1 minute.
Step Three: Transfer the grilled shrimp to a large bowl and toss with the butter, old bay seasoning, and juice from half a grilled lemon. Toss until the butter is melted and evenly coats the shrimp.
Step Four: Serve warm with additional grilled lemon, and lots of napkins!
Salads and Sides to Pair with Grilled Peel n' Eat Shrimp
Corn Salad with Arugula and Blue Cheese
Couscous Salad with Feta and Avocado
Green Panzanella with Avocado and Snap Peas
Burrata Salad with Prosciutto and Nectarines
Grilled Corn with Togarashi-Lime Aioli
Heirloom Tomato Salad with Basil-Buttermilk Dressing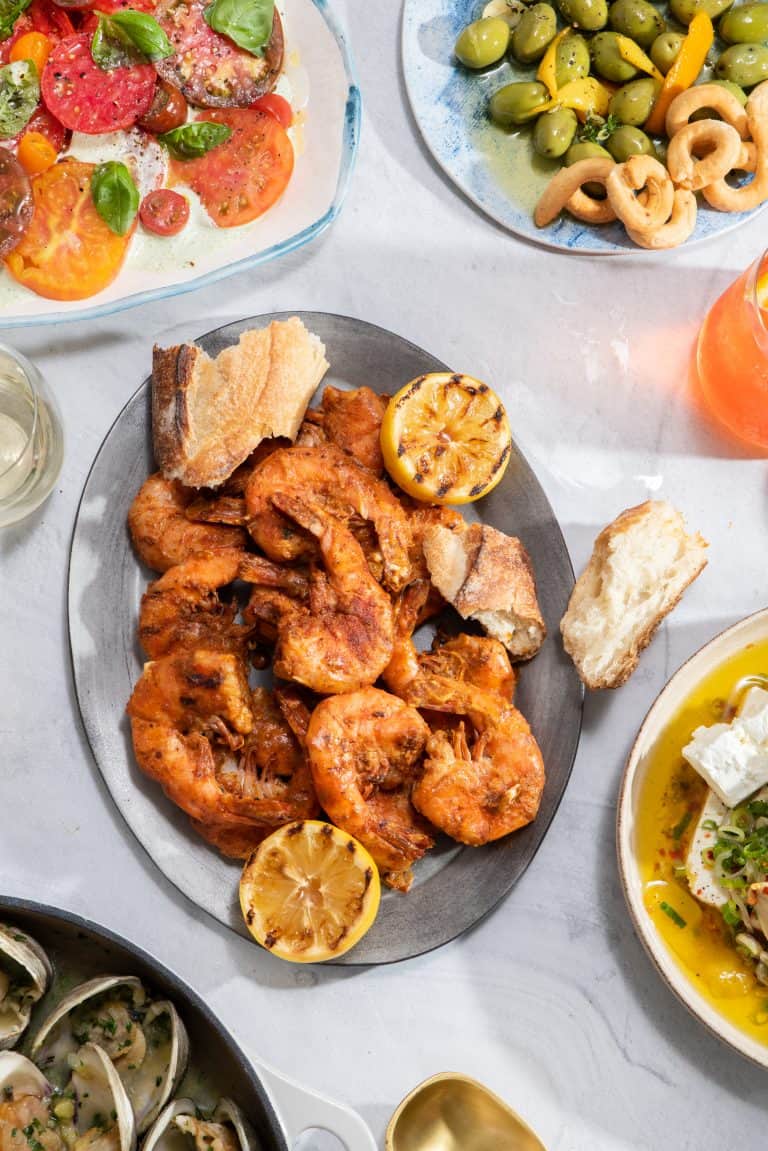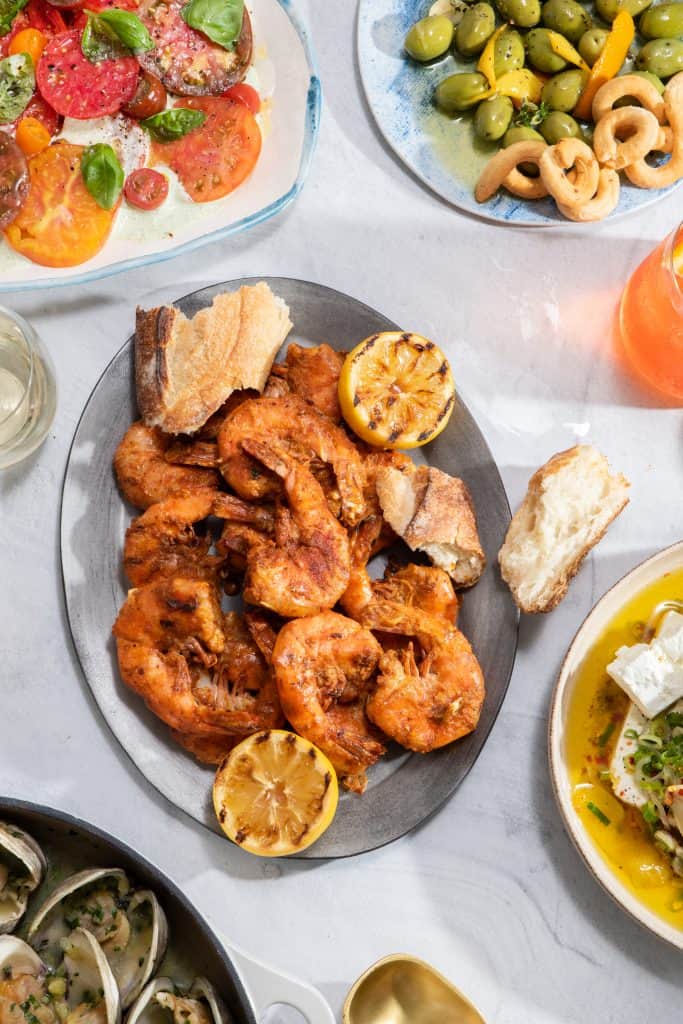 ---
Did you make this recipe?
Leave a review below, then snap a picture and tag me @craving_california and use #cravingcalifornia on Instagram so I can see it!
Check out more recipes you will love: