Garlicky, buttery, steamed clams with white wine, shallot, fresh parsley, and lemon juice. Serve with a crusty baguette or grilled sourdough bread!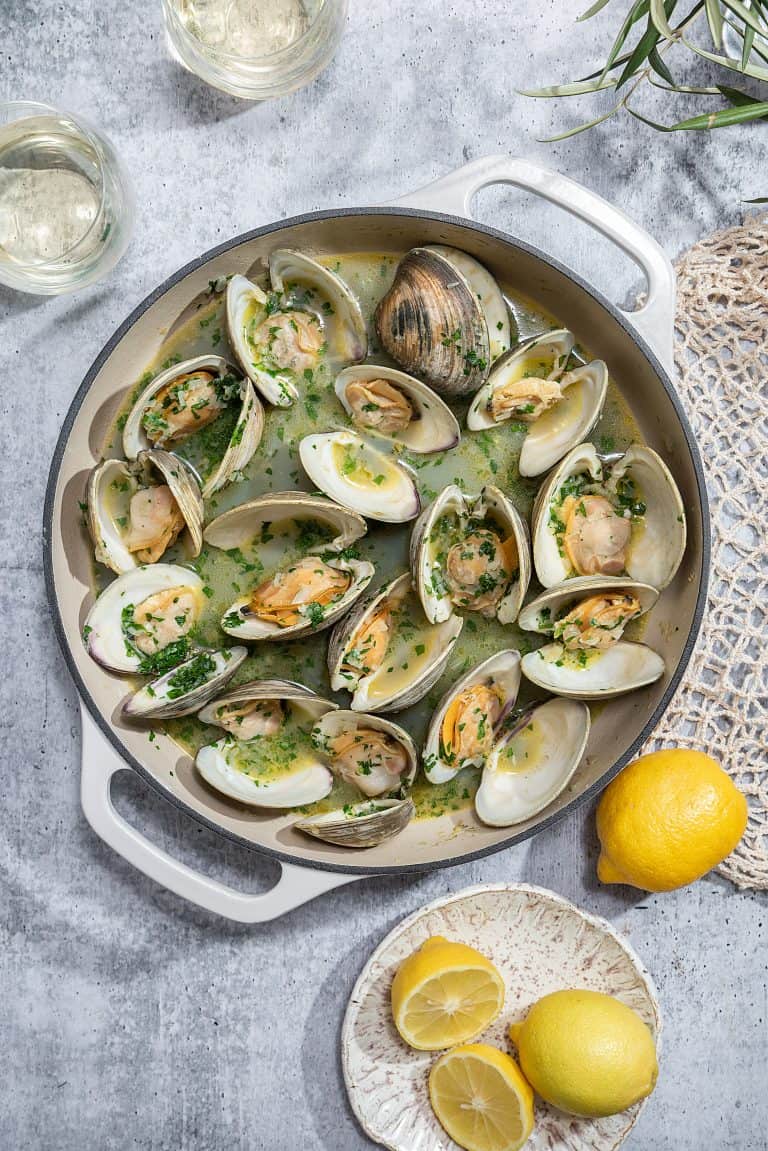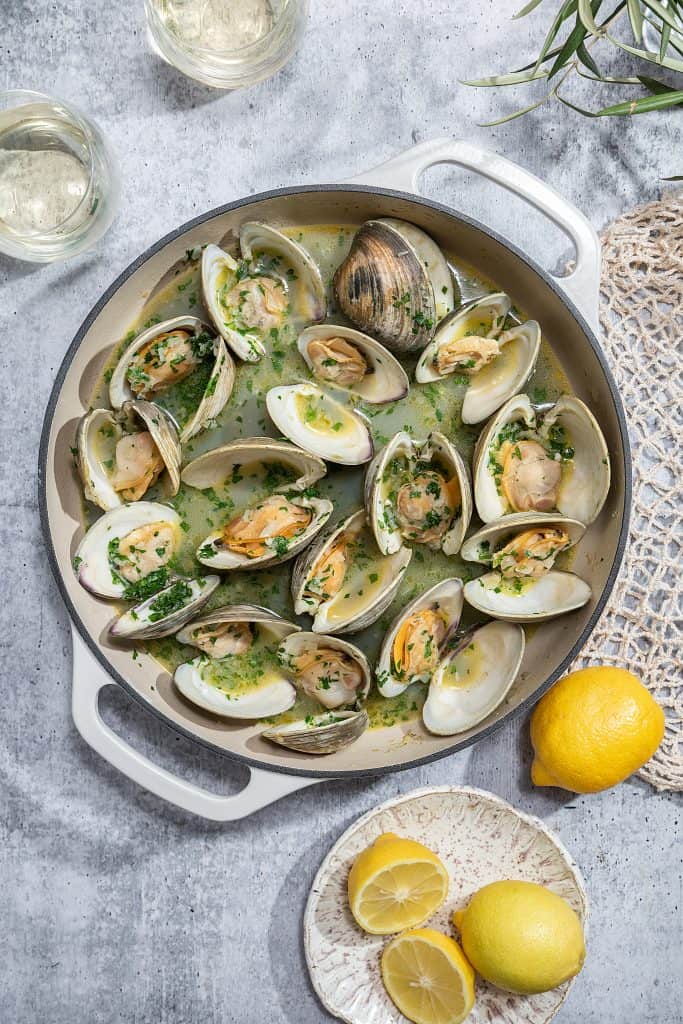 Ingredients You'll Need:
Clams: Look for manilla, littlenecks, cherrystone, or steamers. When you buy fresh clams make sure that they are tightly closed, or that they close up quickly when you tap on them. Clams that are open are dead and should not be eaten.
White Wine: Use a dry white wine. Pinot Grigio, Sauvignon Blanc, Sancerre, etc.
Butter: Olive oil can be substituted for a dairy-free version.
Lemon: Adds a touch of acidity to the salty, buttery clams.
Parsley: Adds a touch of freshness to the dish.
Garlic: Fresh garlic only, never jarred!
Shallot: You can substitute onion if needed. Just be sure to chop it finely.

Recipe Steps:
Step One: Purge the clams in cold water.
Step Two: In a large pot (that has a lid), melt half the butter over medium heat. Add the garlic and shallot to the pot, sauté until fragrant about 1-2 minutes.
Step Three: Add the white wine, bring to a boil. Next, add the clams and remaining butter. Cover and steam until the clams have opened (about 7-10 minutes).
Step Four: Squeeze half a lemon over the steamed clams and sprinkle with the chopped parsley. Serve with warm, toasted baguette.

Recipe FAQ:
What type of clams can I use for this recipe? Smaller clams tend to be better for steaming. Look for manilla, littlenecks, cherrystone, or steamers.
How long should you steam clams? You should steam clams until they are fully open and not a minute longer. The time this takes will vary depending on the size of your clams. This could take 5-10 minutes.
What type of wine should you use? Use a dry white wine. Pinot Grigio, Sauvignon Blanc, Sancerre, etc.
How do you make the clams tender? The number one way to achieve tender, juicy, not-tough clams is to not overcook them.
Should you soak the clams before cooking? Soaking the clams, or "purging" them helps get rid of some of the sand or grit they may be holding onto. Soak them in cold water for 20 minutes and the clams will spit out the sand trapped in their shells.
Can you use canned clams? Not for this recipe. If you want to make linguine with clam sauce canned clams are just fine for that. Should I share a linguini with clams recipe?
What to Serve with Steamed Clams:
Roasted Japanese Sweet Potatoes with Miso Butter
Spring Couscous Salad with Feta, Avocado & Fresh Herbs
Farro Salad with Fennel, Feta and, Crushed Olives
Avocado Panzanella with Snap Peas + Feta Cheese
Tomato Salad with Buttermilk-Basil Dressing
Did you make this recipe?
Leave a review below, then snap a picture and tag me @craving_california and use #cravingcalifornia on Instagram so I can see it!
Check Out More Great Recipes: