30+ Summer Meal Ideas–California Style!
Summer starts now! Make the most of the season's fresh produce with recipes you can whip up both on and off the grill as well as expertly paired sides and salads. Whether you're firing up the grill or planning a low-key backyard picnic–this list is brimming with recipes for your most delicious summer yet!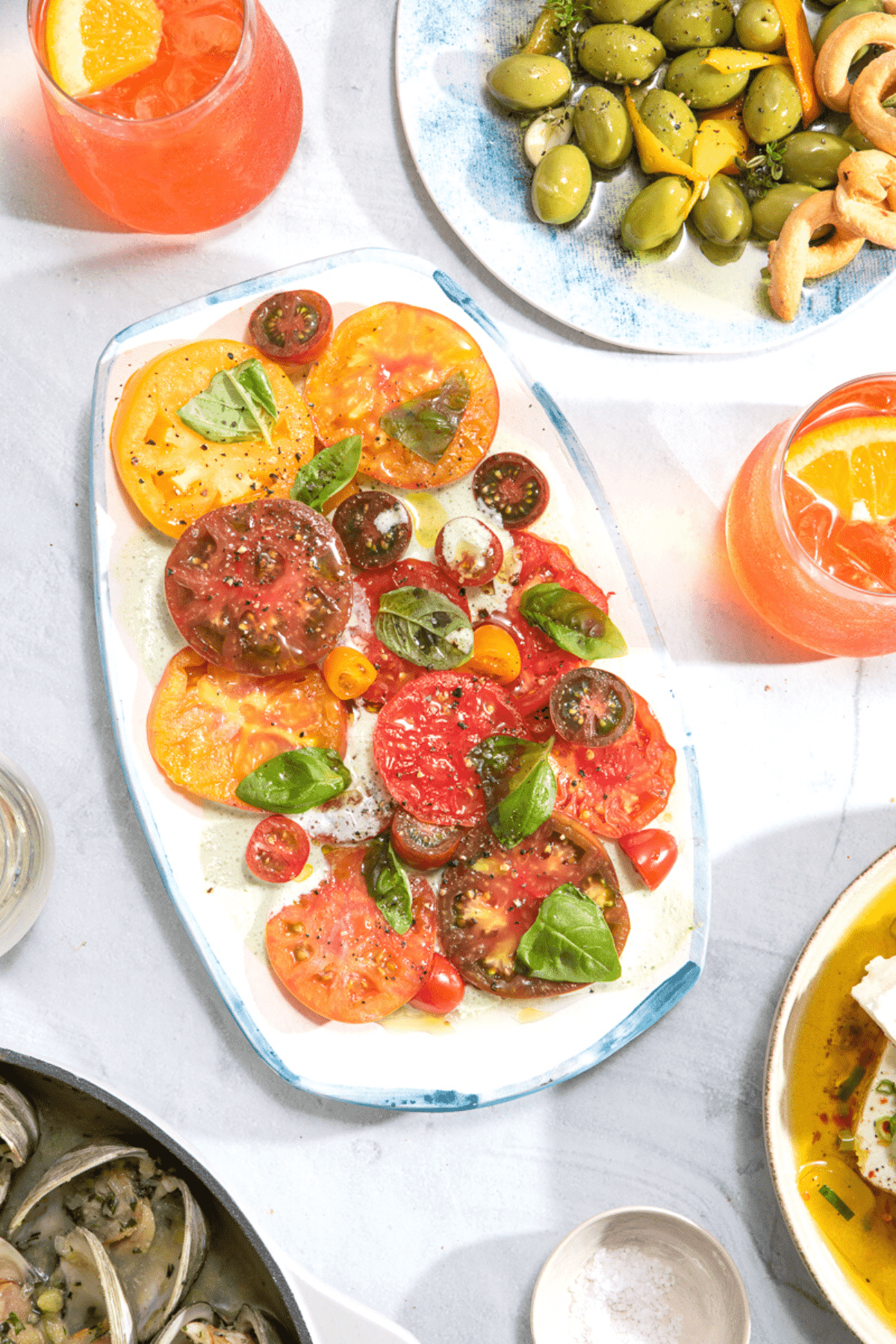 Main Dishes On (and Off) The Grill:
Grilled Peel n' Eat Shrimp with Old Bay
Be prepared to get messy! These saucy, spicy shrimp should be eaten with your hands!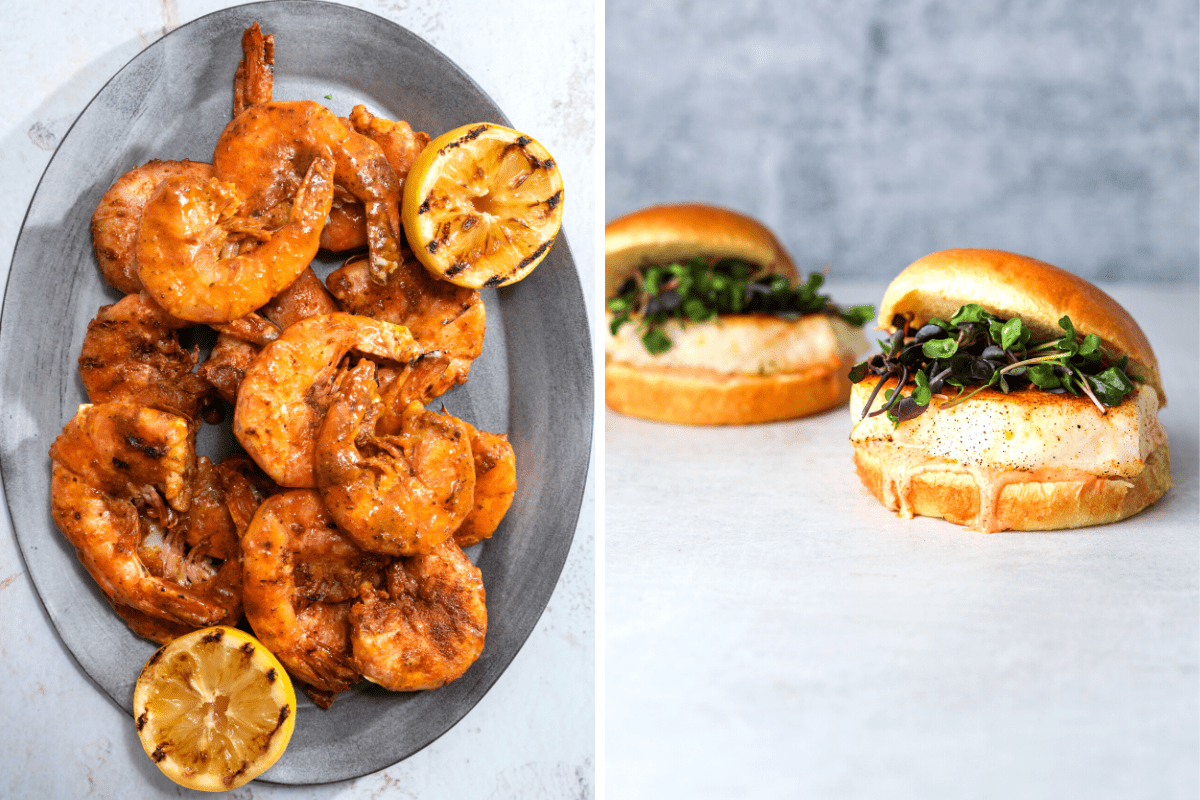 Halibut Burgers with Spicy Sriracha Aioli
Pan-seared halibut slathered in spicy, sriracha aioli, topped with fresh microgreens and sandwiched between a super-soft brioche bun…need I say more?
Yogurt Marinated Chicken with Harissa and Garlic
Yogurt marinated chicken is perfect for summertime dinners and backyard BBQs. Serve with Creamy Tzatziki, Spicy Zhoug Sauce and Greek Orzo Salad.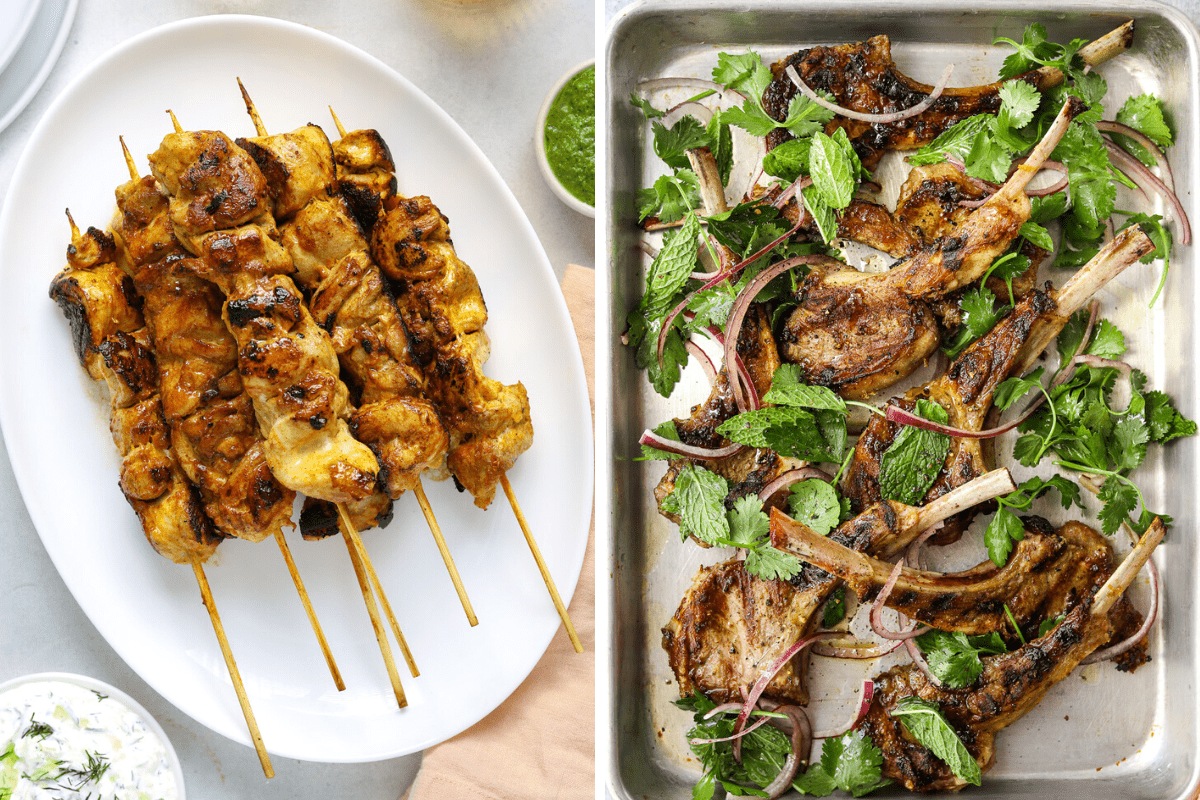 Grilled Lamb Chops with Herb Salad
Fresh and minty herb salad perfectly compliments these smokey, fatty grilled lamb chops!
Carne Asada Street Tacos
Tacos on the grill ALWAYS hit the spot! These marinated carne asada tacos are the perfect BBQ alternative to burgers and hot dogs.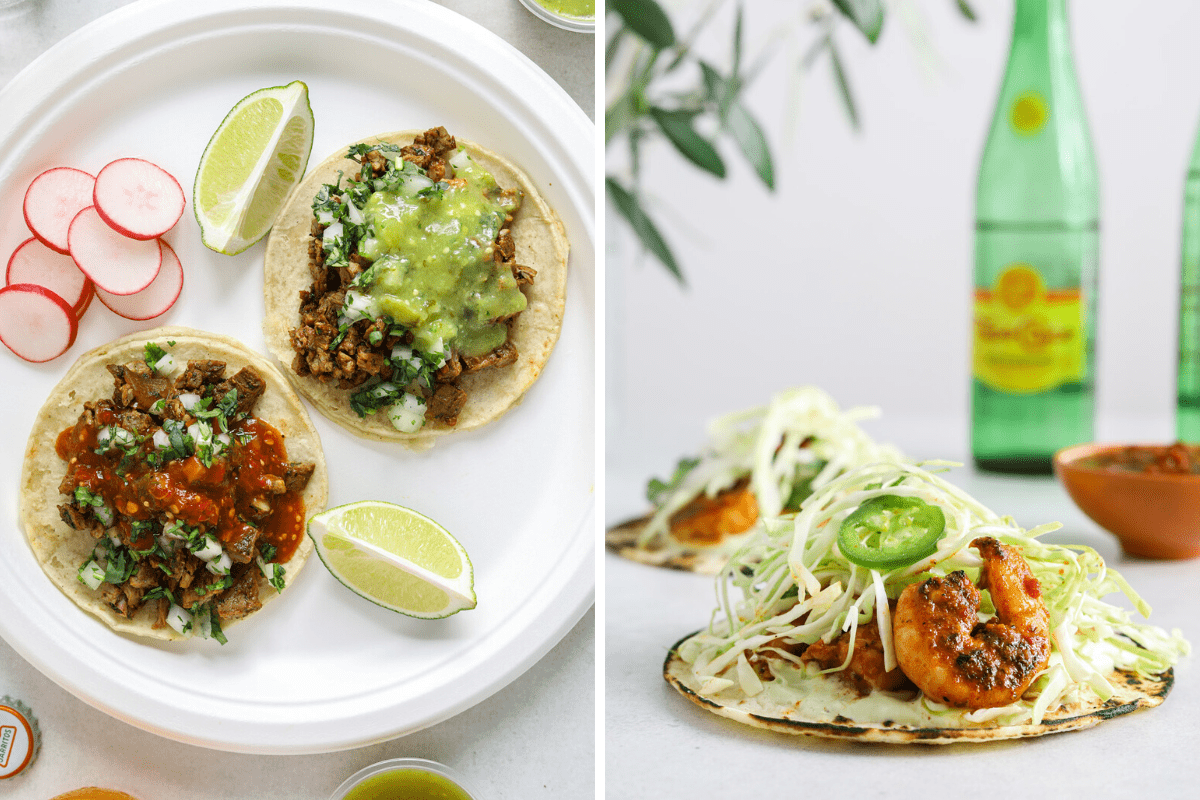 Chipotle Shrimp Tacos
Spicy chipotle marinated grilled shrimp piled high with tangy jalapeño slaw and to cool it all down.. creamy avocado crema! All together, this combo is absolutely delicious–and the best part–the shrimp cooks in just a few minutes!
More Main Dishes:
Vibrant Summer Salads:
Zesty Italian Pasta Salad
Every backyard BBQ needs pasta salad and this one is my go-to.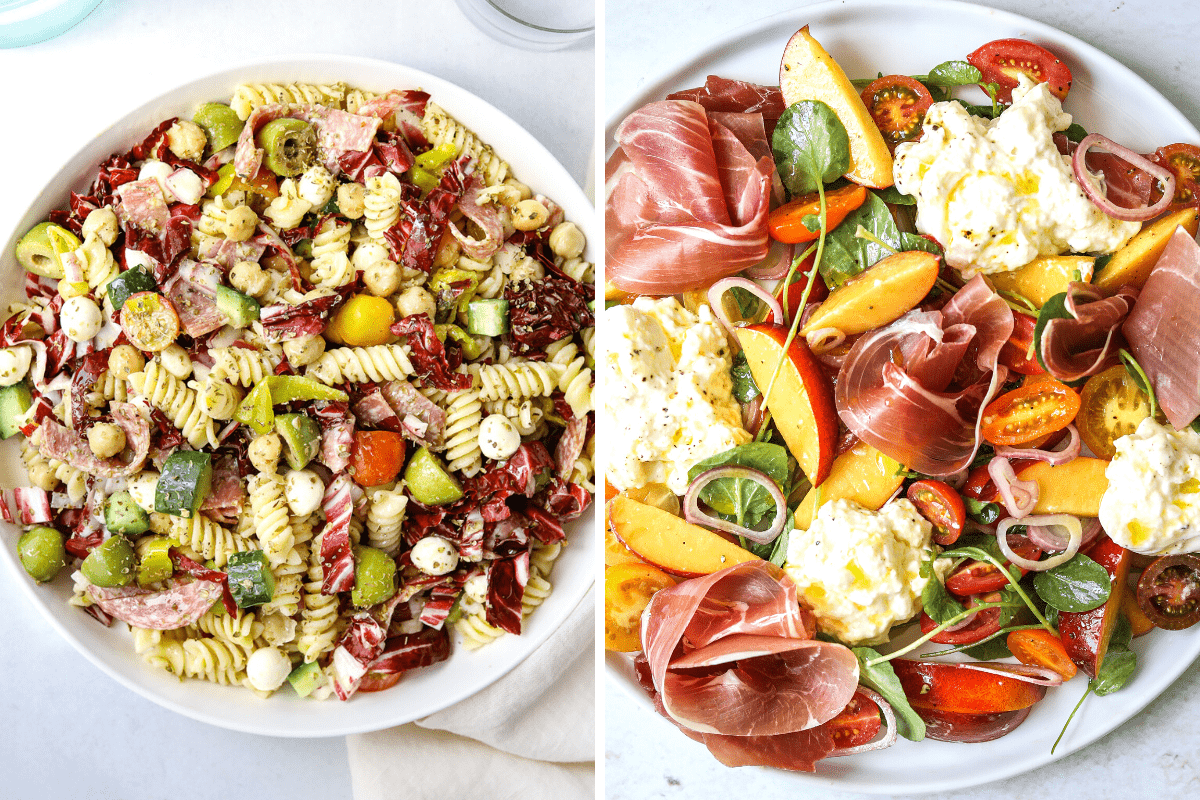 Burrata Salad with Prosciutto and Nectarines
I promise you this salad tastes just as good as it looks. Here's the low-down: creamy burrata, sweet nectarines, fresh summer tomatoes, and salty prosciutto drizzled with olive oil and a light vinaigrette. What are you waiting for?
Warm Grilled Vegetable Salad with White Beans and Feta
Summer veggies grilled to perfection and tossed with white beans, creamy feta cheese and zippy a lemon vinaigrette. This hearty salad is especially perfect for vegetarians.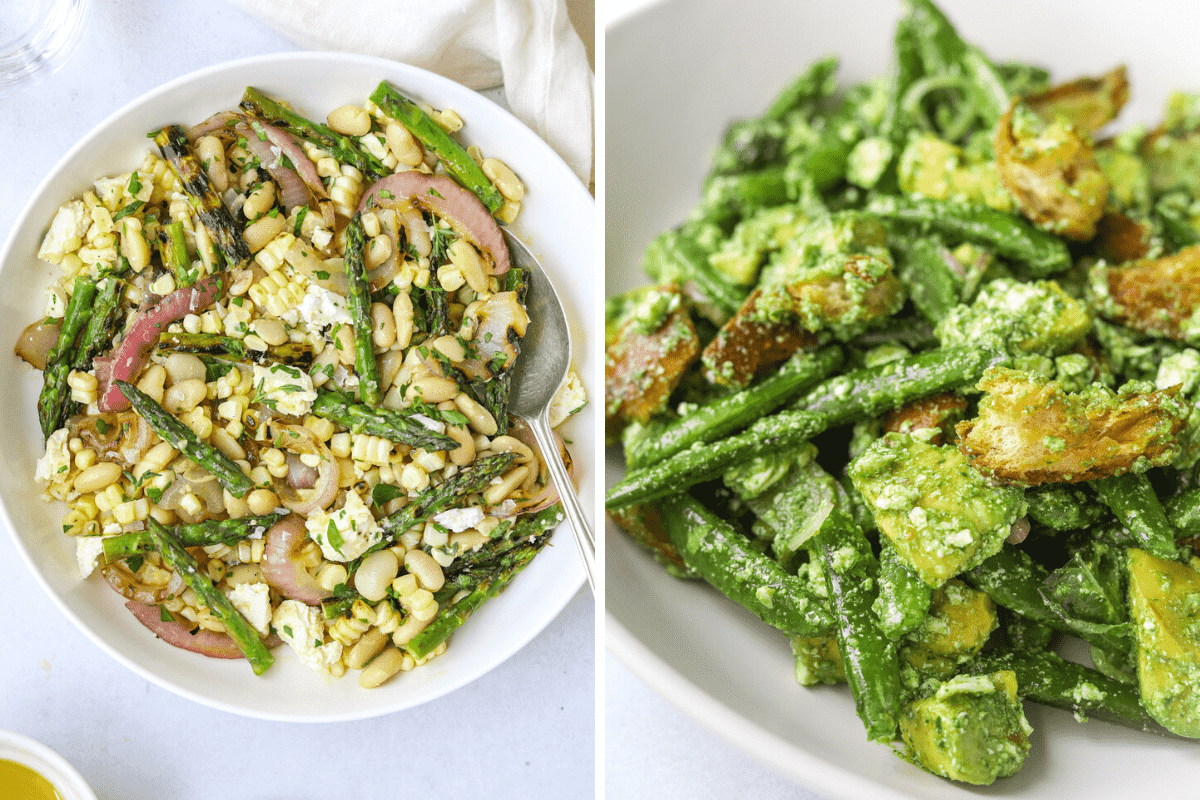 Avocado Panzanella with Snap Peas and Feta Cheese
This is not your traditional Panzanella salad! This twist on an old classic is made with crisp, sweet snap peas, creamy avocado, and feta cheese, all tossed with toasted bread and basil vinaigrette!
Grilled Shrimp Caesar Salad
Old Bay grilled shrimp with crispy romaine lettuce, garlicky croutons and creamy homemade caesar dressing. You really can't go wrong with this one!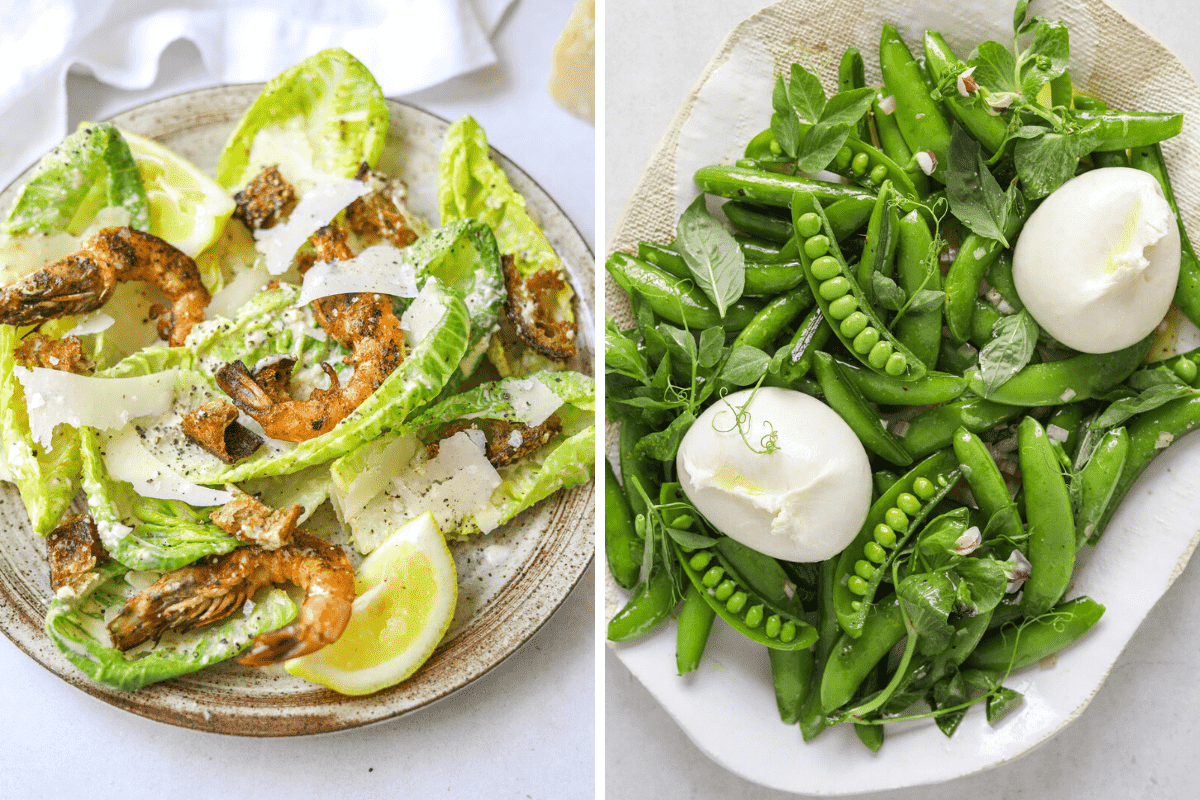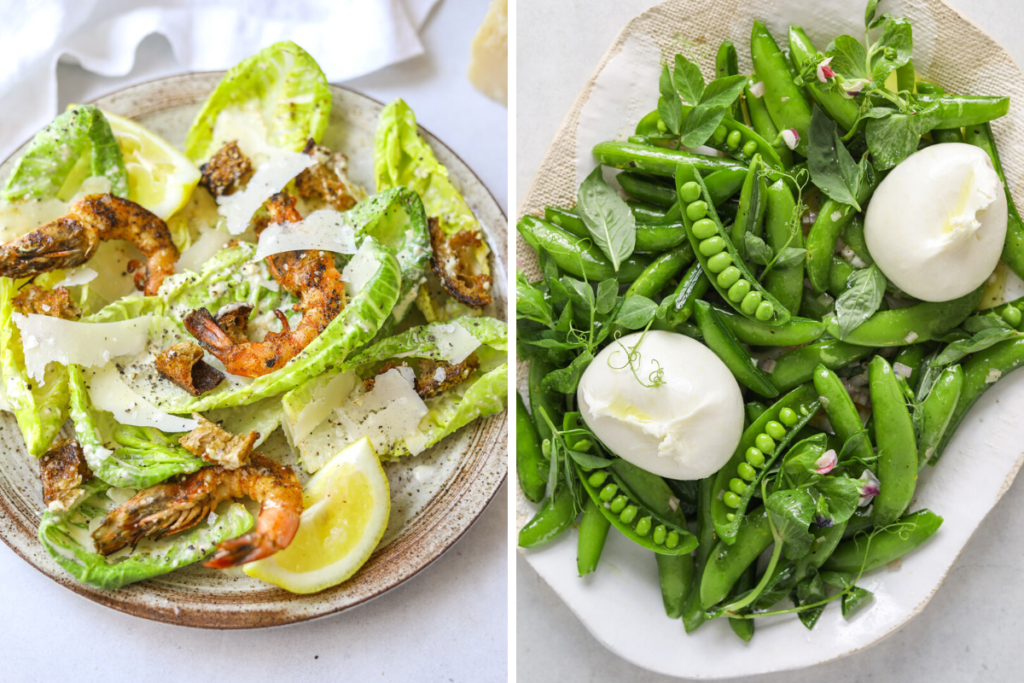 Snap Pea and Burrata Salad
Sweet sugar snap peas tossed with lemon juice, olive oil and fresh basil then topped with decadent and creamy burrata cheese! This elegant salad makes the perfect start to a summertime backyard dinner!
More Summer Salads
Seasonal Sides:
Cacio e Pepe Zucchini
Tender, charred summer squash generously seasoned with cracked black pepper, grated parmesan cheese and lemon zest… Cacio e Pepe Zucchini is the standout summer side dish!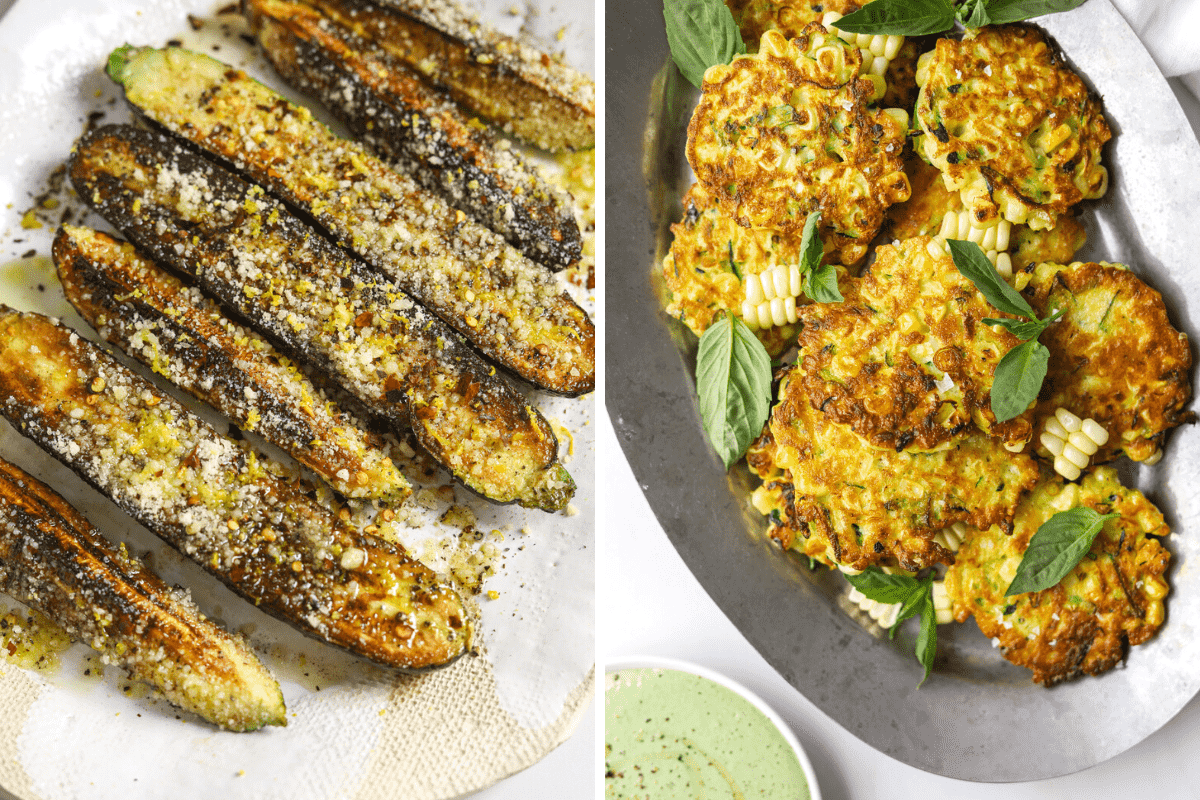 Corn and Zucchini Fritters with Green Goddess Dip
Crispy corn and zucchini fritters are SO easy to make and incredibly delicious. Dip them in cool and creamy green goddess dip made with sour cream, basil, scallion, and garlic.
More Seasonal Sides:
Hungry for MORE? Check out all of Craving Californias *Summer Recipes* and *Grilling Recipes*.
I love to hear from readers and always do my best to respond to each and every comment. If you make this recipe be sure to leave a comment and/or give it a rating! Don't forget to follow along on Pinterest, Facebook, and Instagram for all the latest updates!