This sweet and smokey oven-roasted barbeque salmon is super simple to make, you don't even need a grill and it's ready in under 30 minutes!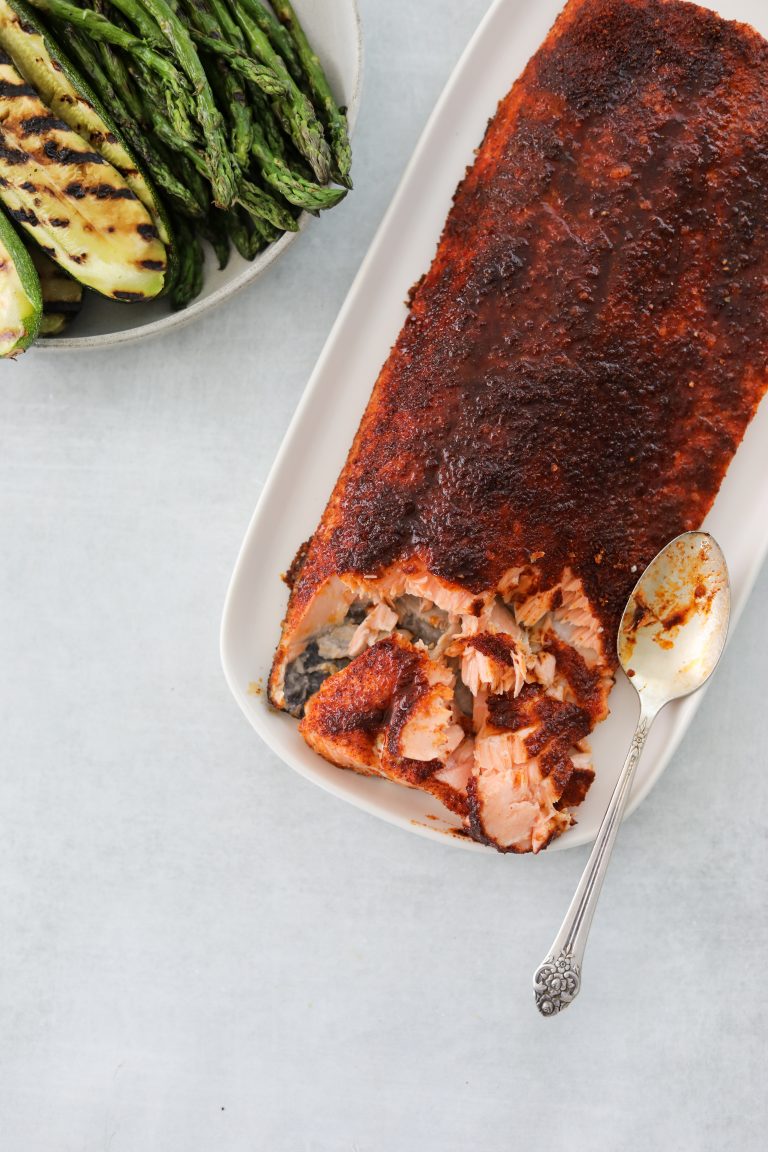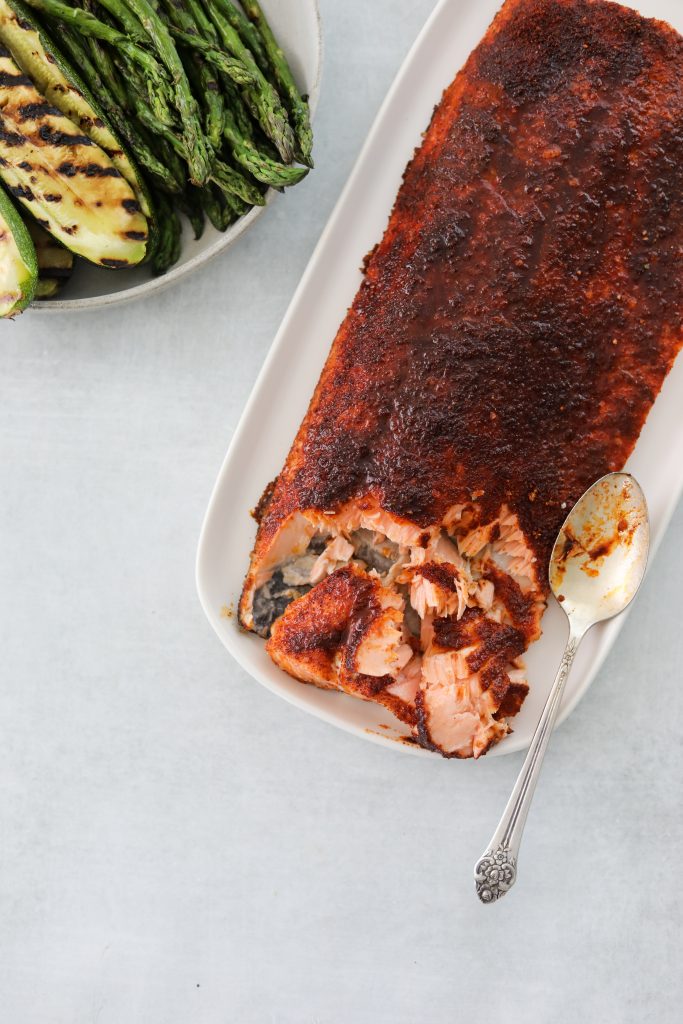 Oven-roasted bbq salmon is the perfect main course for all your favorite bbq side dishes! The best part? You don't even need a grill or bbq. Just let your oven and this flavor-packed spice rub to all the work! I make this recipe almost weekly, it's just that good.
---
Five Reasons You're going to love this recipe:
It's super quick and quite honestly foolproof to make! It takes five minutes to prep and only 20-25 minutes to bake.
It's flavor-packed! You will be surprised how sweet, smokey, and flavorful this salmon is. The BBQ spice rub is made with smoked paprika, brown sugar, cumin, garlic, and onion powder.
You don't need a grill or BBQ! Hooray for all of us in tiny apartments with no back yard!
You can serve it so many different ways. It goes great with classic BBQ side dishes or on top of a Ceasar salad.
It's perfect for meal prep! Oven-Roasted BBQ salmon will stay fresh in the fridge for up to three days!
Recipe Steps:
Step One: Whisk together the BBQ Spice Rub.
Step Two: Brush the salmon with olive oil then season with salt and pepper.
Step Three: Coat the salmon generously with the spice rub then bake for 20-25 minutes. Serve warm or room temperature.
Recipe notes:
-You don't have to use one big piece of salmon. If you prefer, you can make this recipe with individual portions. Just cut back on the baking time. Start with 10-15 minutes.
-I typically make a double or even triple batch of the spice rub, that way I always have some extra on hand!
-Layer the spice rub on thick. It will form a flavorful crust as the salmon bakes.
---
What to serve with Oven-Roasted BBQ Salmon:
Cacio e Pepe Mashed Cauliflower
Whipped Japanese Sweet Potatoes
Couscous Salad with Feta, Avocado, and Fresh Herbs
Farro Salad with Fennel, Feta and Crushed Olives
---
Did you make this recipe?
Leave a review below, then snap a picture and tag me @craving_california and use #cravingcalifornia on Instagram so I can see it!
Check out more great recipes: