This light and fresh sugar snap pea salad is served with creamy burrata and lots of fresh herbs! Serve with grilled meat or fish for a complete spring/summer dinner!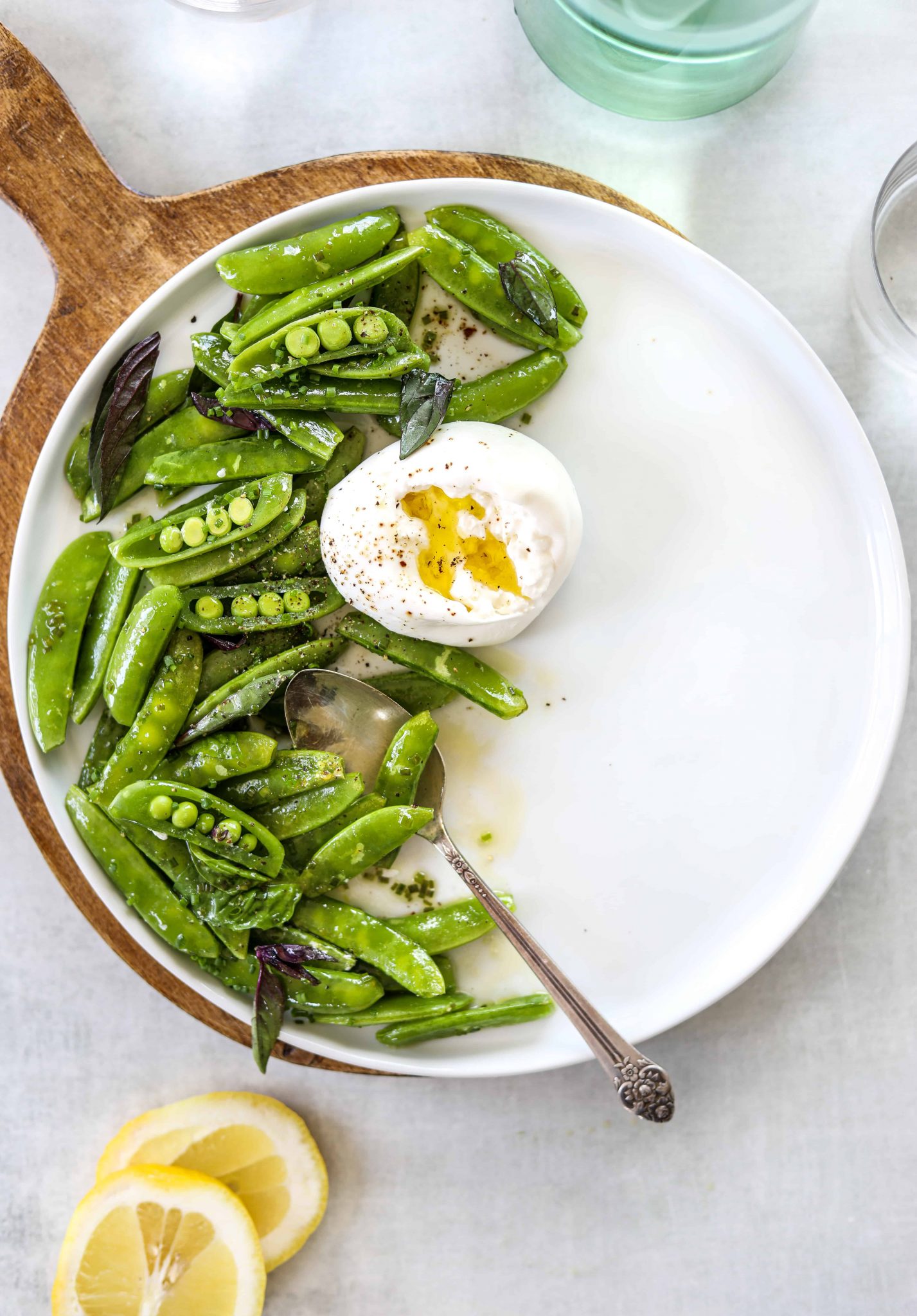 If you're looking for the perfect fresh salad to serve at your next barbecue or alongside creamy pasta or roasted salmon, this is the salad you need! Even with the addition of creamy burrata, this salad remains light and fresh. When in season (early spring to mid-summer), snap peas are crisp, super sweet, and vibrantly green making them the perfect base for a lemony vinaigrette.
How to clean and prep snap peas:
It's really important to clean the snap peas thoroughly and remove the stems and long string that runs down the seam. To do this hold a paring knife in one hand and the snap pea in the other, with the inside curve of the pod facing you trim the top of the pea and pull off the tough string that runs along the length of the pod. I find this task to be very meditative. Sometimes grocery stores sell them pre-trimmed, but I do not recommend this, they never seem to get it right.

To cut a "window" in a snap pea: Cutting off one side of a snap pea pod creates a window revealing a perfect little stack of peas, or sometimes a few sad shriveled up peas in which case start over.
For this salad, I like to cut a window in 8-10 peas and scatter them on top of the salad, this is totally optional, and just for presentation, they certainly don't taste any different. To do cut a window, choose which side of the pod you want to remove then run a sharp paring knife along the entire perimeter. Use the tip of the knife to pry open and pop off the side to reveal the peas inside!
Recipe Steps:
Step On: In a large bowl make the dressing by whisking together the lemon juice, olive oil, and chives. Toss the snap peas and basil leaves in the dressing, season with salt and pepper.

Step Two: Remove the burrata from the brine. Loosely tear it in half and place it on a large platter. Top the burrata with the dressed snap peas. Spoon a little extra dressing over the salad and around the plate. Season with a bit of sea salt and a couple turns of fresh cracked pepper. Serve immediately!  
---
---
What to Serve with Snap Pea and Burrata Salad:
Oven-Roasted BBQ Salmon
One-Pot Chicken with Orzo & Feta
Roast Chicken with Toasted Bread Salad
Creamy Calabrian Chili Bolognese
Roasted Cauliflower Carbonara
Check out more great recipes: