A zesty and fresh, chilled Israeli couscous salad with avocado, snap peas, and fresh herbs. Serve it as a side dish to grilled meat or fish or all on its own as a healthy and hearty lunch!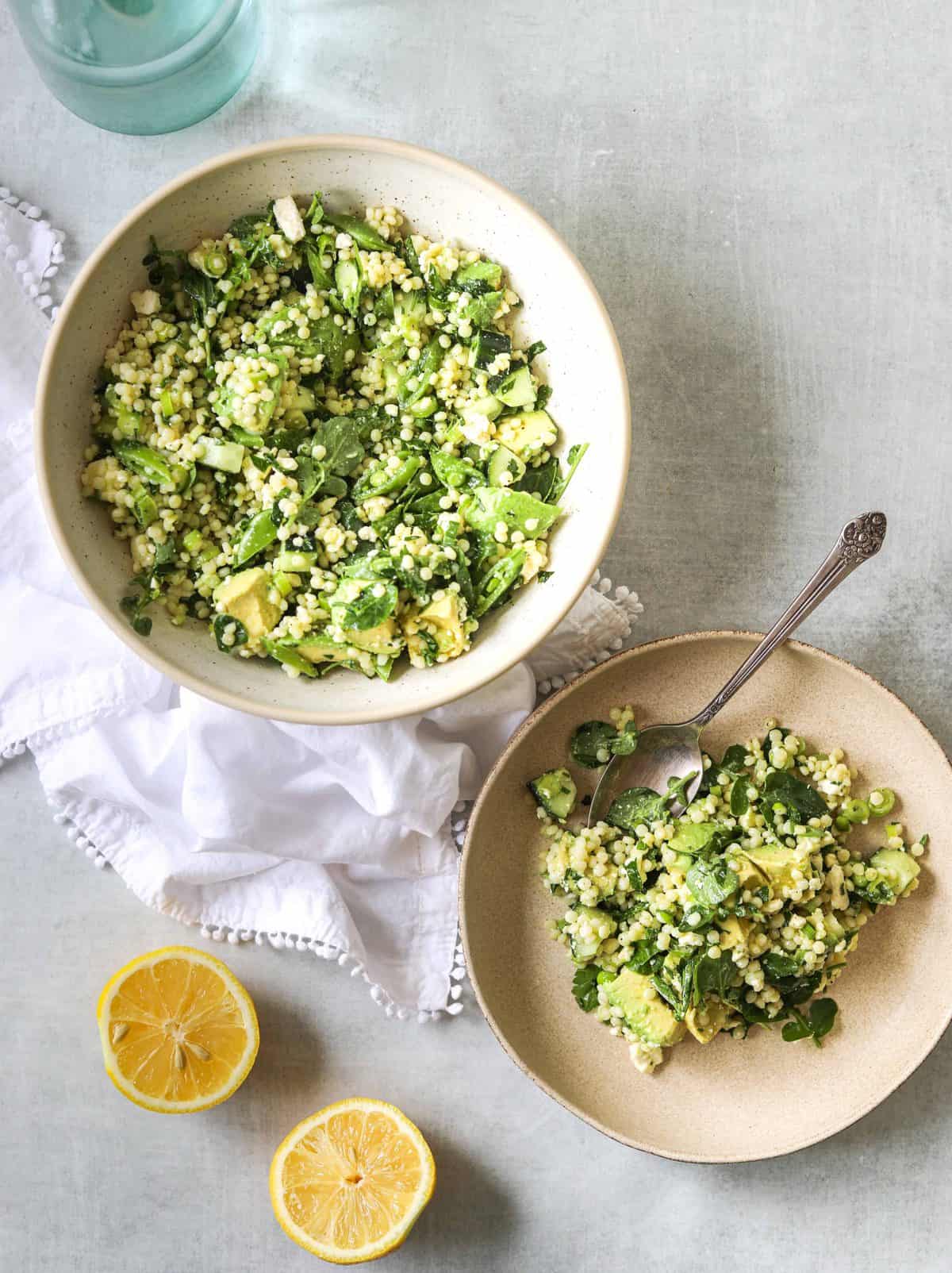 This recipe was inspired by a recent trip to the farmers market. It's totally fair to say I got a little carried away grabbing all of the beautiful spring produce I laid my eyes on, watercress, snap peas, cucumber, parsley scallions… it's a lot. That being said, I want you to know that this salad is infinitely adaptable. Any fresh herbs will work; for instance, if you already have dill, basil, or fresh oregano on hand no need to run to the store for parsley. As for snap peas, quickly blanched asparagus, green beans, zucchini will all work as a substitute. Please feel inspired to adapt and adjust this recipe as needed.
What is the difference between Israeli/Pearl couscous and regular couscous?
Moroccan couscous is made up of teeny-tiny grains of semolina and flour. This type of couscous cooks very quickly in about 3-5 minutes.
Israeli or "pearl" couscous is also made of semolina and flour, but the granules are much larger, about the size of peppercorns. Israeli couscous has a hearty, chewy, texture that makes it perfect for tossing with veggies, herbs and zesty vinaigrettes!
Is couscous a grain or pasta?
Despite a popular misconception that couscous is a type of grain, it is actually a type of pasta made of semolina and flour that is moistened and tossed together until it forms little balls.
How to cook Israeli Couscous:
For this type of salad Israeli couscous can be cooked like pasta. Bring a pot of salted water to a boil, drop in the dried couscous, then simmer for 8-10 minutes until al dente. Drain and toss with a little olive oil to keep from sticking.
---
Recipe Steps:
Step One: Cook the couscous in a pot of salted, boiling water. Drain and rinse with cold water, then toss with a little olive oil to keep it from sticking.
Step Two: In a large bowl toss together all of the chopped veggies and herbs followed by the couscous. Toss all of the ingredients together then drizzle in the olive, lemon juice, and feta. Toss until evenly combined. Season with salt and pepper, divide between bowls and serve.
Gluten-free substitutions to couscous:
-Quinoa
-Wild Rice
-Gluten-Free Pasta: look for a small shape like orzo.
-Chickpeas: Two cans of chickpeas, drained and rinsed well can be substituted for the couscous.
---
Did you make this recipe?
Leave a review below, then snap a picture and tag me @craving_california and use #cravingcalifornia on Instagram so I can see it!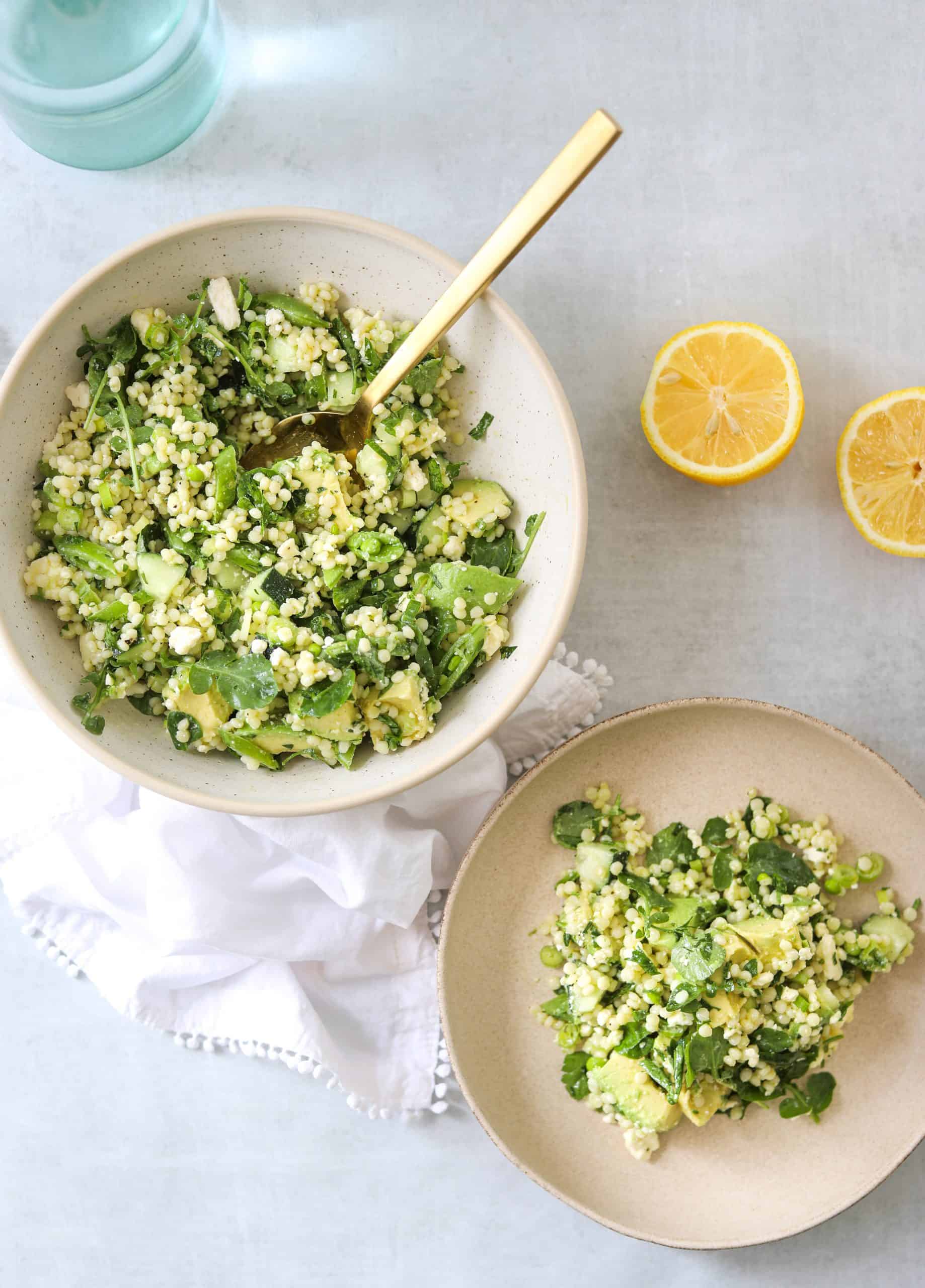 ---
Check out more great recipes: