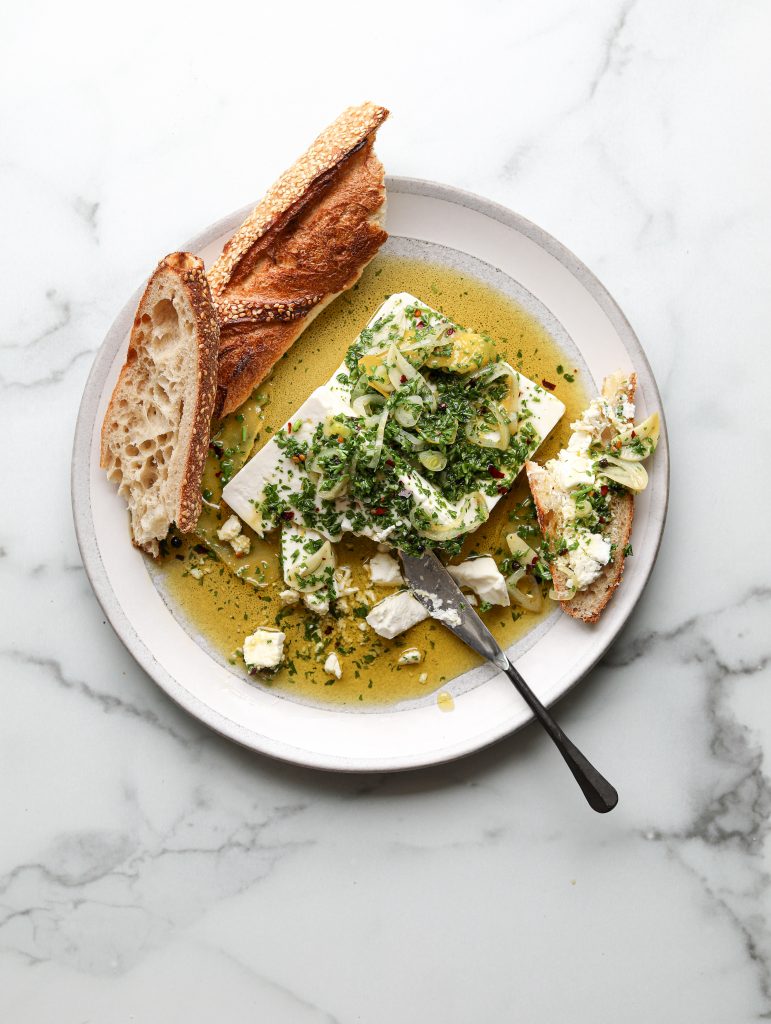 Marinating feta with lemon and olive oil is one of my favorite ways to upgrade an already delicious cheese! I served this a few nights ago when we had friends over for a happy hour and it was a huge hit! It pairs perfectly with a crisp glass of white wine (or rosé) and a toasty baguette!
The steps are really simple. First, you infuse the olive oil with tons of flavor. I'm using shallot, garlic, lemon, pepper and chili flake. If you don't like spice feel free to omit the chili flake. After the oil is infused and cooled you pour that over the feta and let it marinate in all the delicious flavors you steeped into the olive oil.
Types of Feta Cheese:
There are many different types of feta cheese at the grocery store; Greek, French, Bulgarian to name a few. They may be made from sheep, cow or goat's milk. They're all delicious! My number one recommendation would be to try to find a feta that is packed in brine. They tend to be the most flavorful and have the best texture. Just make sure you take it out of the brine and drain it on a paper towel for a few minutes before you marinate it.
---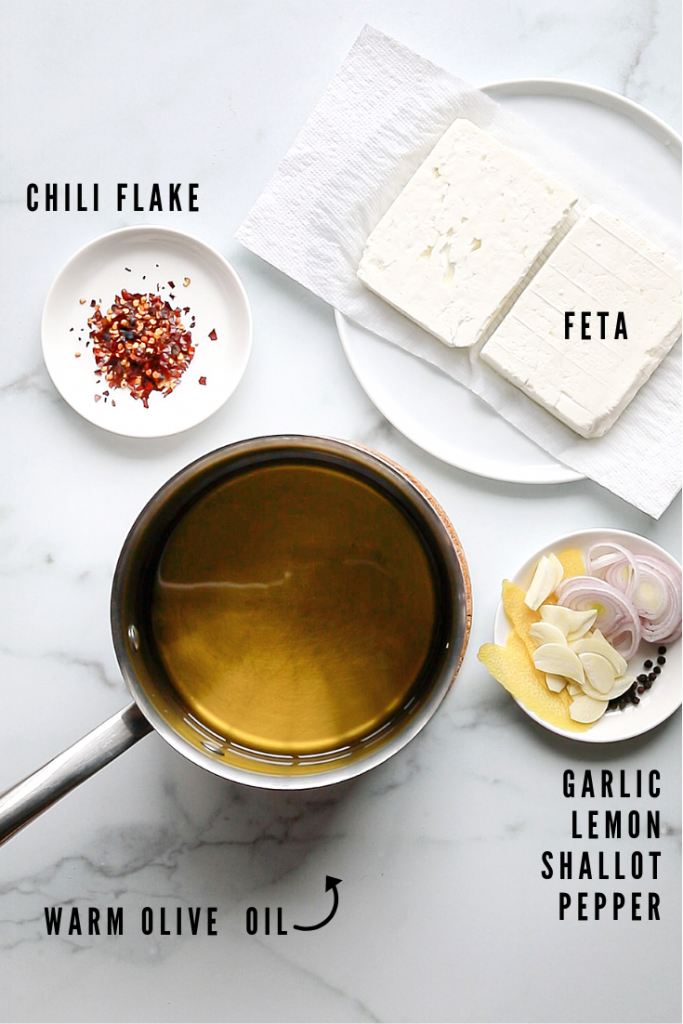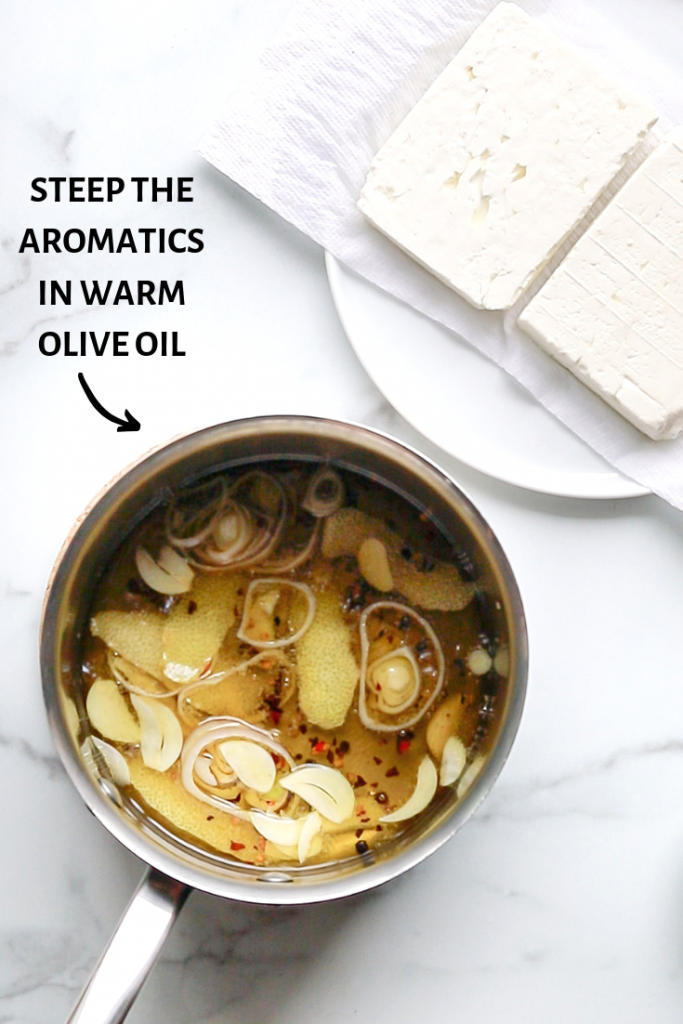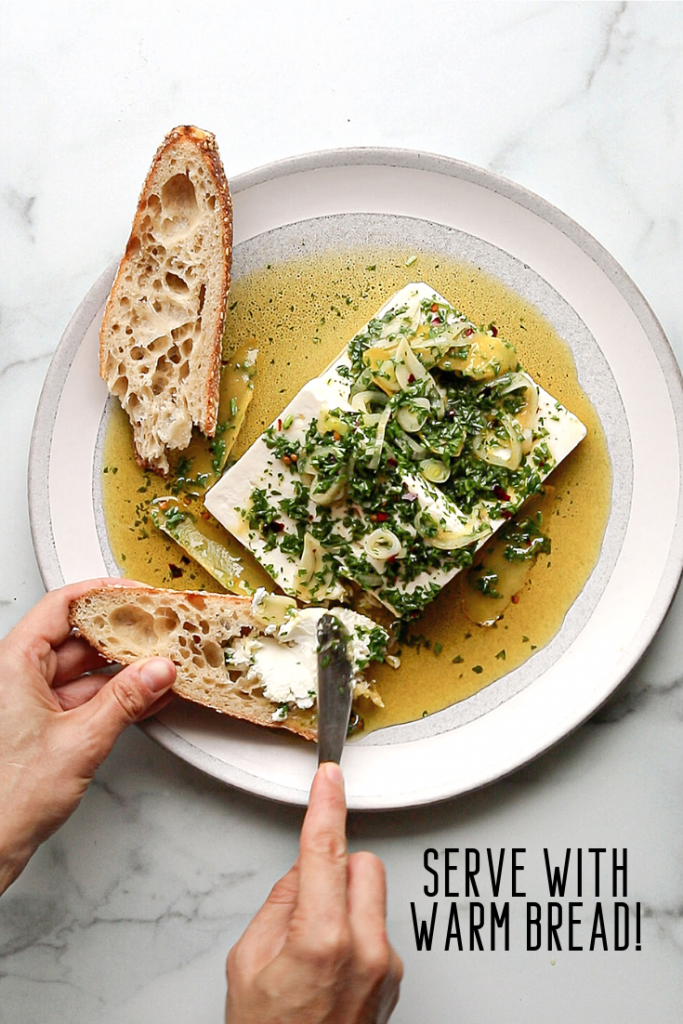 Â
Marinated Feta with Lemon + Olive Oil
Creamy, garlicky marinated feta perfect for serving with a toasted baguette!
Ingredients
10

oz

feta cheese

1

c

high quality olive oil

1

tbsp

peppercorns

1

lemon

1

shallot, thinly sliced

1/4

c

parsley, finely chopped

1

tsp

chili flake
Instructions
In a small sauce pan over medium heat warm the olive oil just until its hot. Turn off the heat and pour in the garlic, shallot, pepper, chili flake and lemon. Let the oil cool to room temperature. As it cools the flavors will infuse into the oil.

When the infused olive oil is cool add in the parsley. Pour the oil over the feta cheese. You can serve it right away or let it marinate for up to 3 days in the refrigerator. Serve room temperature with toasted baguette or crackers.
Check out more great recipes: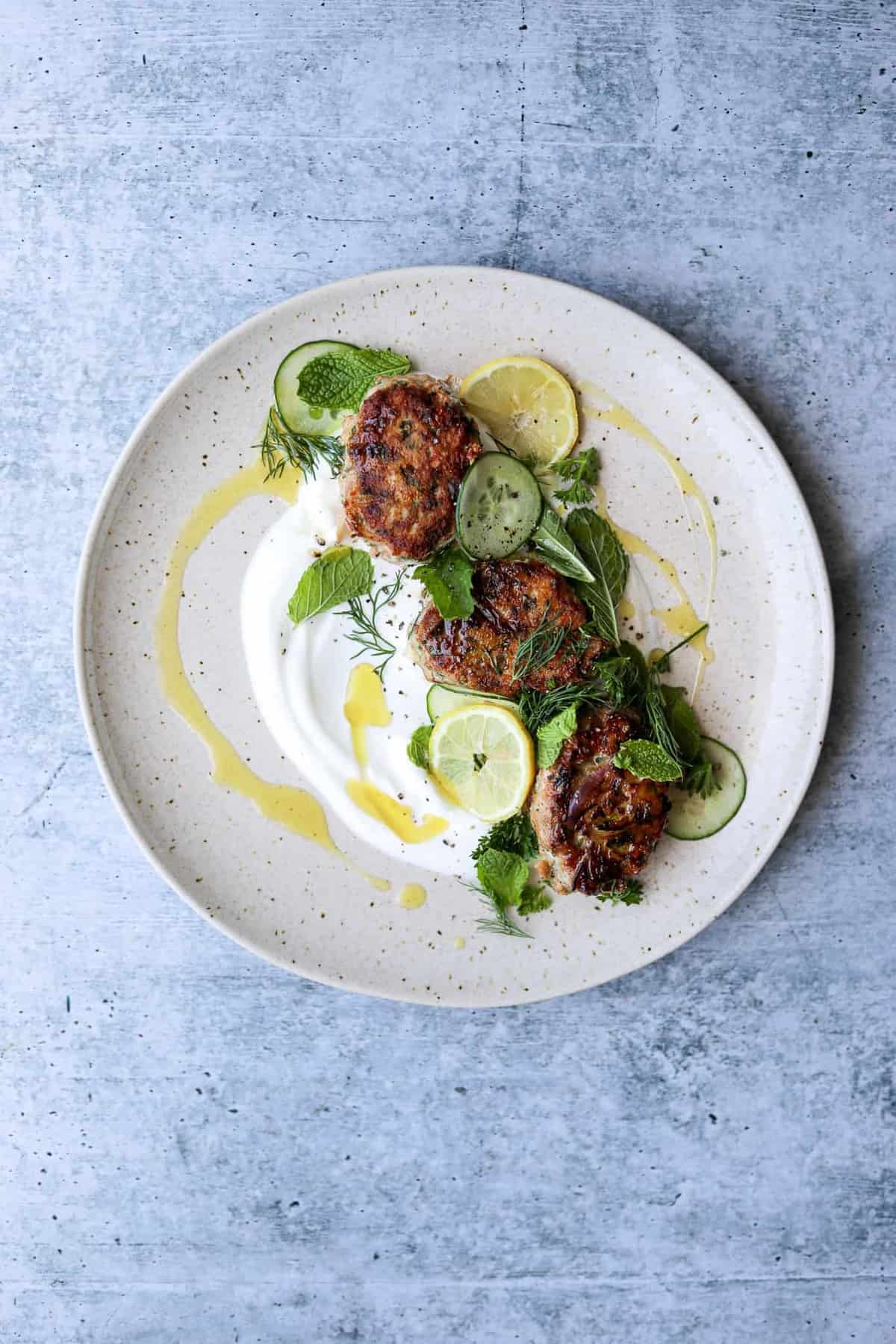 Chicken Koftas with Yogurt and Herb Salad
This recipe for chicken koftas with yogurt and herb salad is the perfect dish to impress at your next dinner party! Koftas are a middle eastern spiced meatball. I love the combination of dried spices and fresh herbs. They're super rich and flavorful so I like to serve them with tangy Greek yogurt and fresh…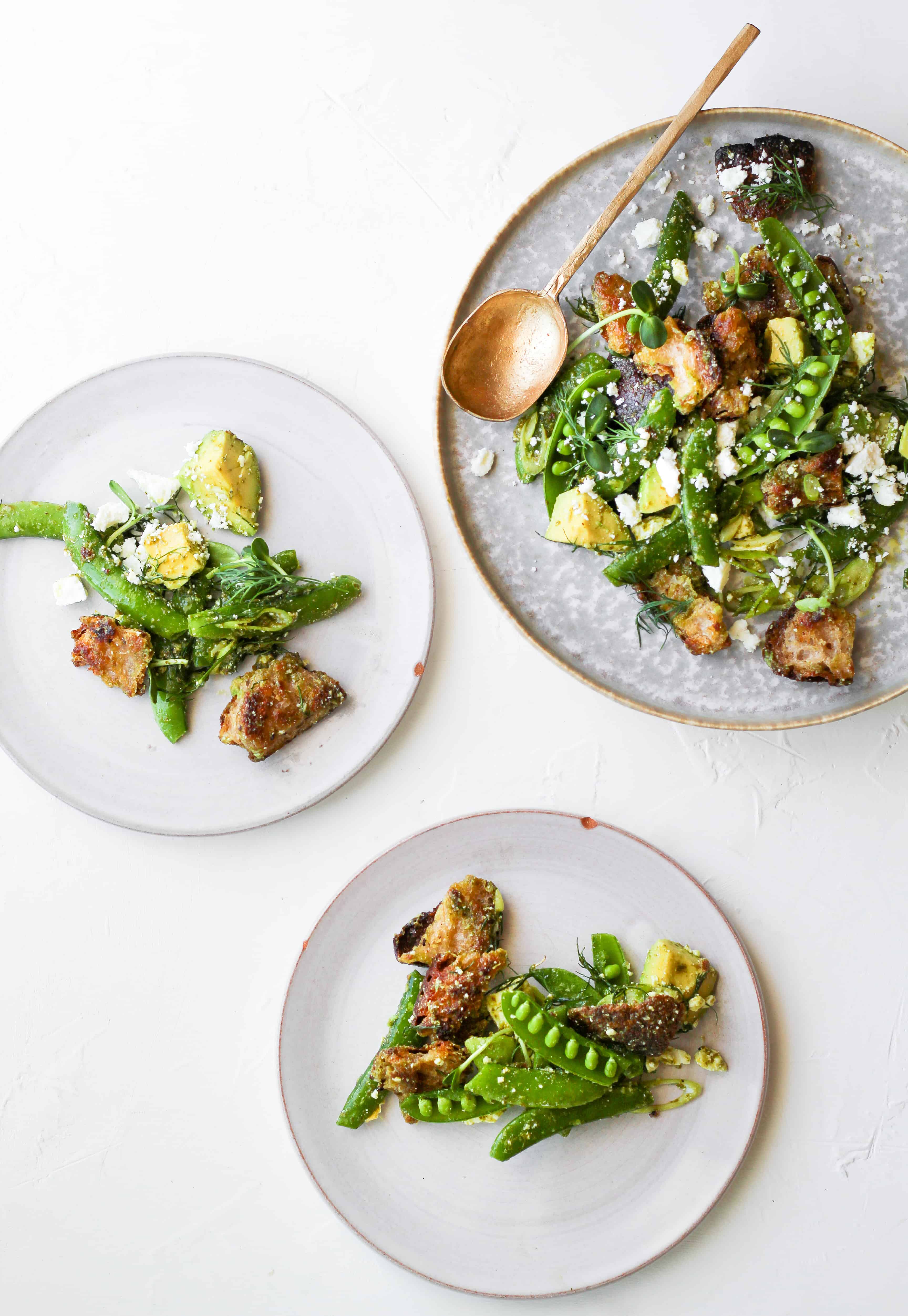 Green Panzanella with Snap Peas + Avocado
Alternate recipe title: "Avocado Toast Salad." No, seriously though this salad is everything. I'm sure I've said this before but salads are just better with a little bread and cheese in them, right? That's where this green Panzanella with spring peas and avocado comes in! I used to overlook sugar snap peas in the past…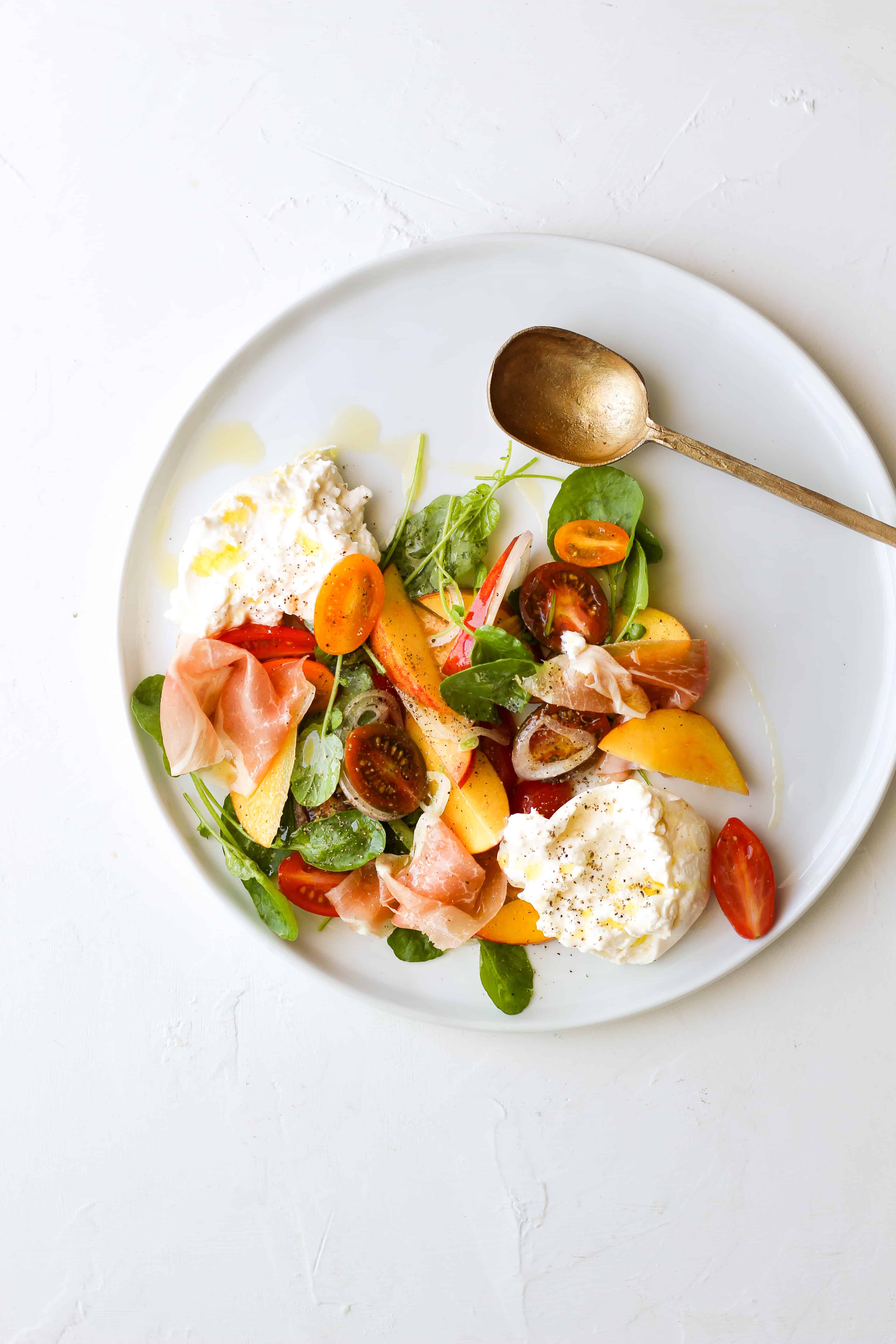 Burrata Salad with Prosciutto and Nectarines
This burrata salad with prosciutto and nectarines is going to be your new summer staple! Is it even summer if you're not having some variation of burrata salad at every meal? I've had a lot of people asking me lately "what do I bring to a pot-luck barbecue?" Most likely other people will have the…
If you like this recipe please leave it a 5-star review and comment below!