Eggs en Cocotte is the perfect recipe for slow, cozy, weekend mornings! Once you master this simple recipe for cheesy, custardy baked eggs, you're going to want to make it all the time!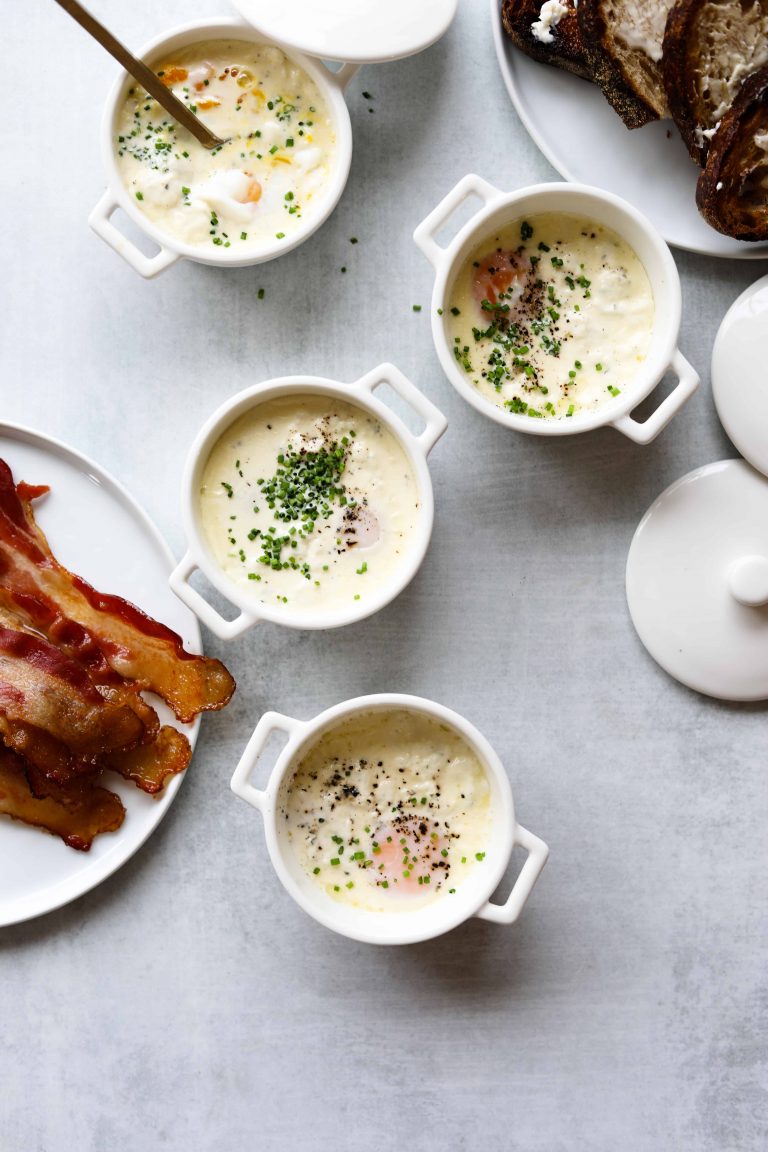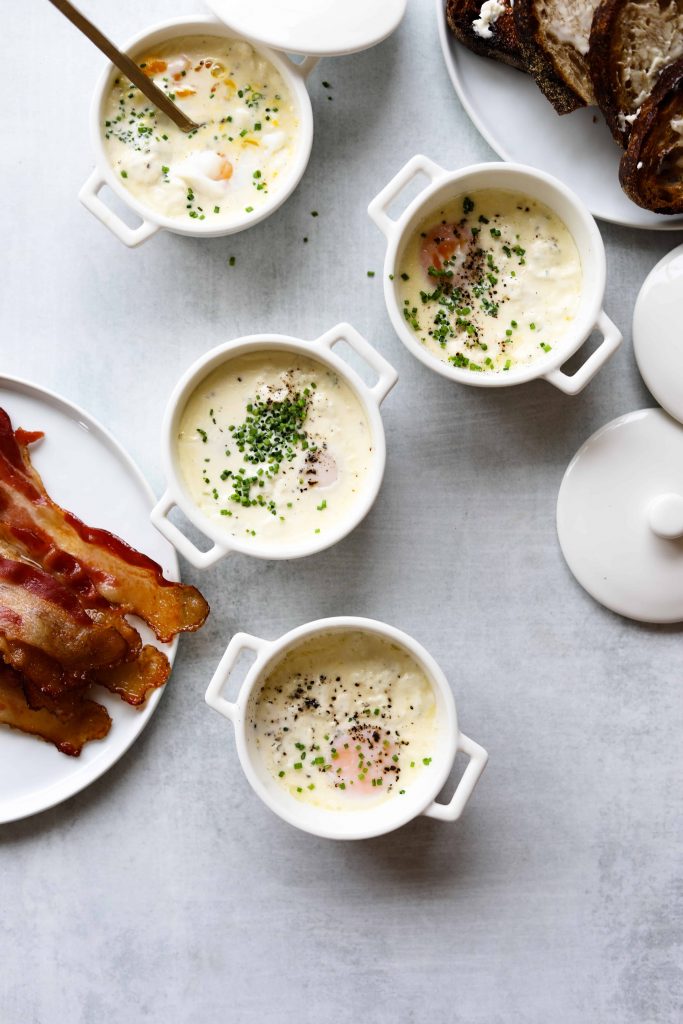 There is something seriously magical about slowly cooking eggs in individual pots of cream and cheese! Eggs en Cocotte or shirred eggs as they're sometimes called are prepared in ramekins and baked in a water bath resulting in creamy, custardy eggs perfect for dipping or spreading on buttery toast!

This recipe is rich, indulgent and worth every creamy bite! I serve eggs en cocotte for brunch with bacon, toast, fruit and a peppery, lemony salad.
---
Tips for Eggs en Cocotte (Baked Eggs) →
Bake the eggs in a bain-marie: A bain-marie is a water bath that creates even, gentle heat around whatever your baking. Cheesecakes and custards are typically baked in a bain-marie.

To set up your bain-marie pre-heat your oven to 350. Bring a kettle of water to a boil. Set your prepared, egg-filled ramekins inside a high-sided baking dish. Pour the boiling water into the dish until it reaches 3/4 up the sides of the ramekins. Cover the baking dish in foil (or use individual lids if your ramekins come with them.)

How to know when your eggs are "done." Egg doneness is so much of personal preference. I like my egg whites fully set with a soft gooey, jammy yolk. I recommend setting a timer for 12 minutes to start. After 12 minutes, have a peek at your eggs. The cream should be just barely bubbling around the sides and if you give the ramekins a gentle shake there will be a slight wobble on top. Not there yet? Close the oven and check them again in two minutes. Continue until your eggs are just how YOU like them!
---
You can use one or two eggs depending on the size of your ramekins.
I love Boursin cheese but you can use any kind you like here!
Cooking times really to vary greatly depending on how you like your eggs. I've found that 12-15 minutes is good for runny yolks, 20-25 minutes for jammy, firmer yolks.
---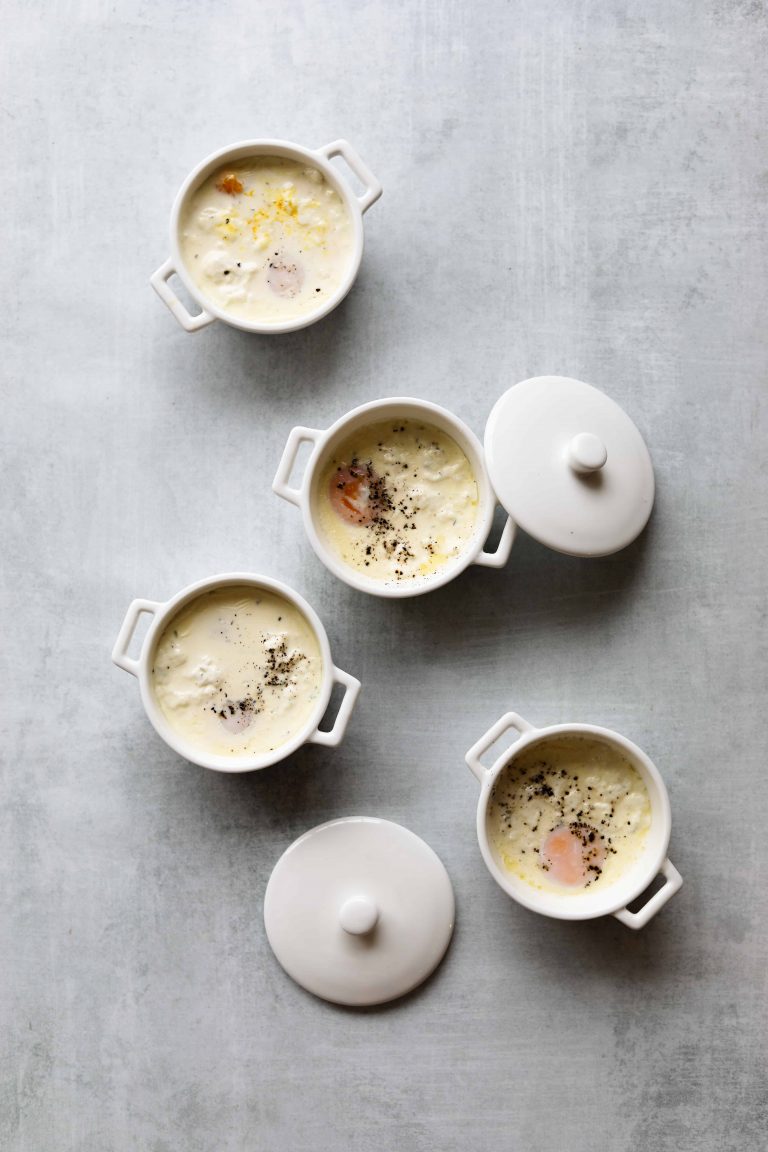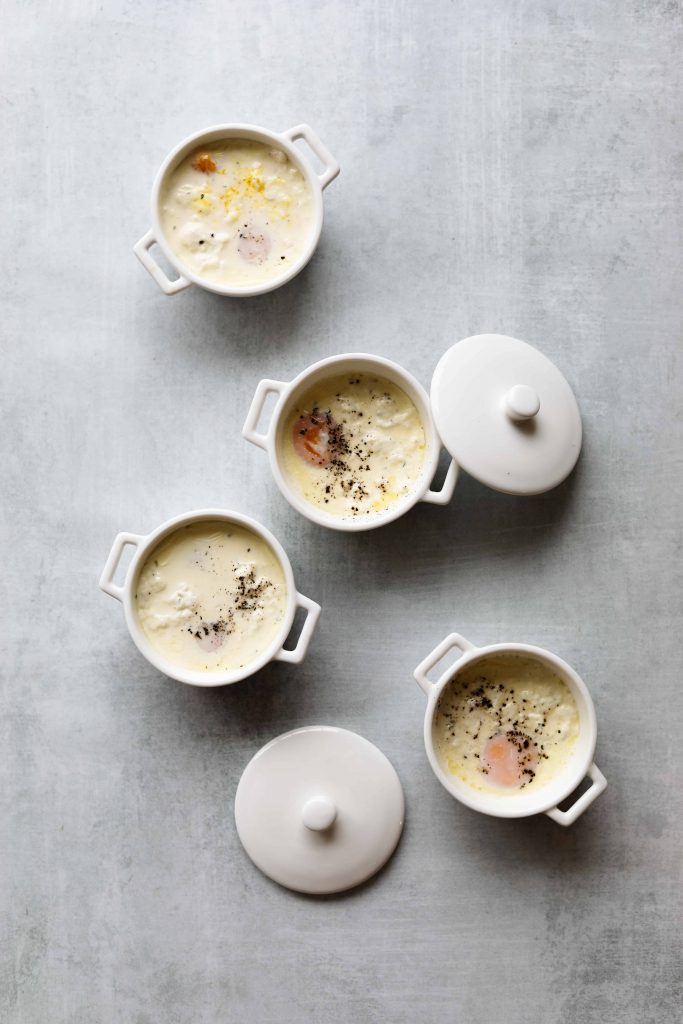 If you love Eggs en Cocotte, check out more great recipes→