20+ Wholesome, Low-Effort Dinners to Kick Off the New Year!
Close that delivery app—you've got this! If you're the kind of person that likes to start the new year with healthy meals that are big on flavor and not too complicated then you've come to the right place. I've rounded up 20 of my favorite quick and nutritious dinner recipes that will guarantee you start this year feeling your best inside and out.
1. Za'atar Chicken and Hummus Bowls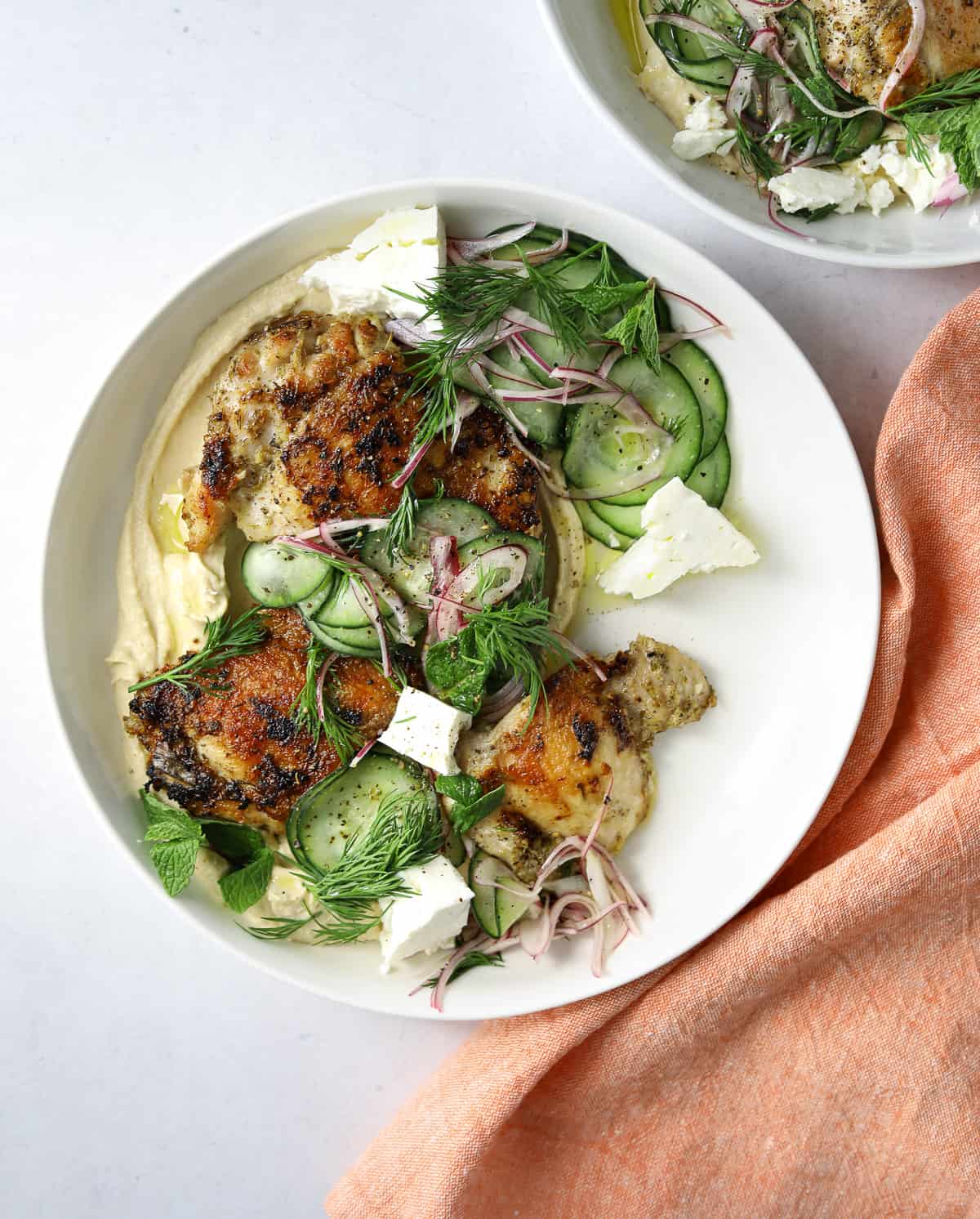 Za'atar Chicken and Hummus Bowls with cucumber and herb salad makes a great quick and healthy lunch or dinner option!
---
2. Superfood Salmon Salad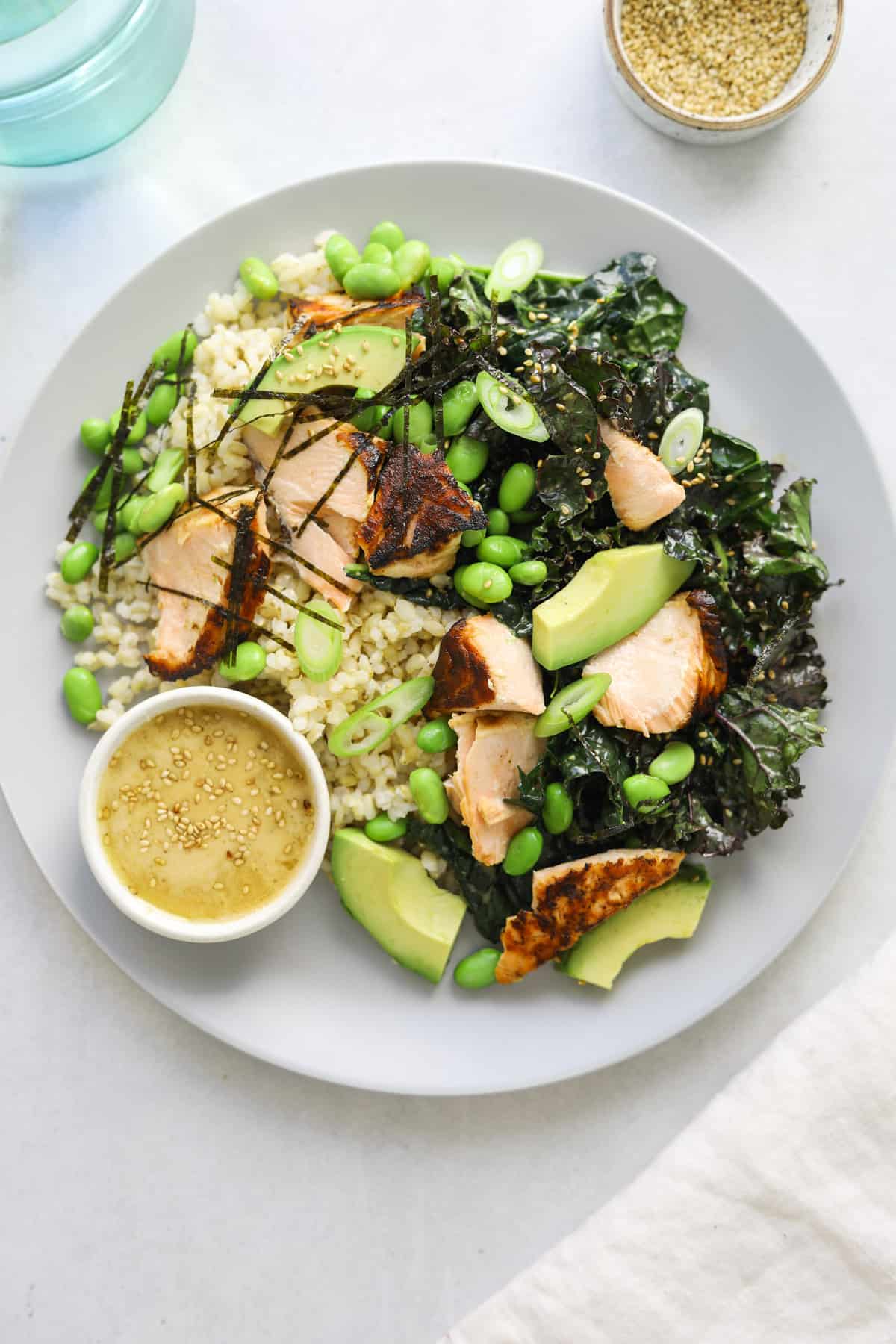 This hearty salmon salad with brown rice, edamame, and ginger-miso dressing is packed with flavor! Savor this well-seasoned combination because it is *sure* to become a go-to recipe.
---
3. Quinoa Fried "Rice"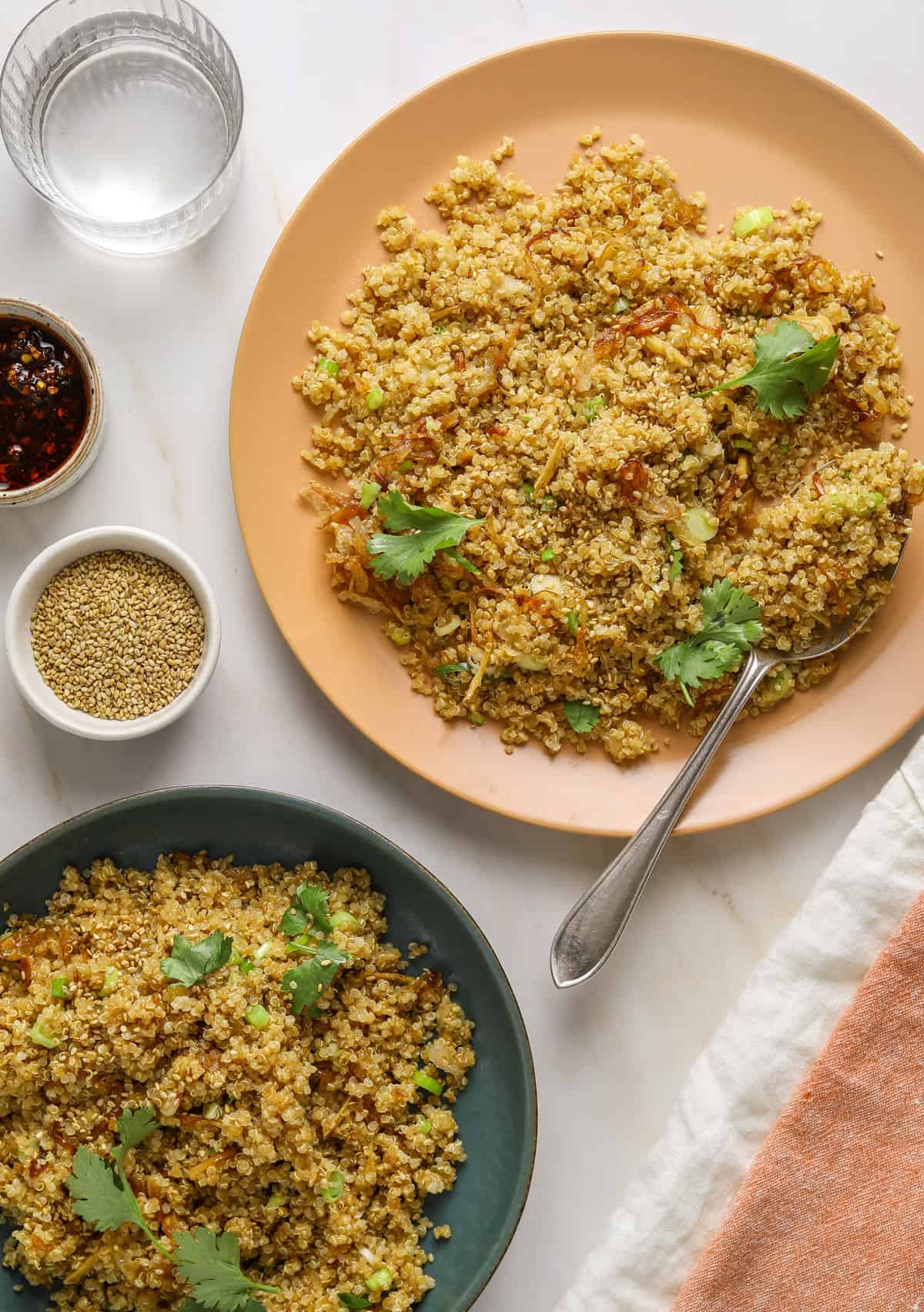 This warm bowl of crispy fried quinoa, ginger, garlic and shallot will warm you up and awaken your senses!
---
4 & 5. Cauliflower Gnocchi & Chicken Thighs with Citrus-Cilantro Salsa Verde
There's been a lot of buzz around Trader Joe's cauliflower gnocchi! I finally tried it out and to my surprise, it's so good and incredibly versatile. Toss it with corn, tomatoes and zesty basil vinaigrette for a delicious, low-carb dinner!
Crispy, charred Chicken Thighs with Citrus Cilantro Salsa Verde pack a powerful punch of fresh, herby citrus flavor that will brighten up your January! Serve with cauliflower rice on the side.


---
6. Prosciutto Wrapped Halibut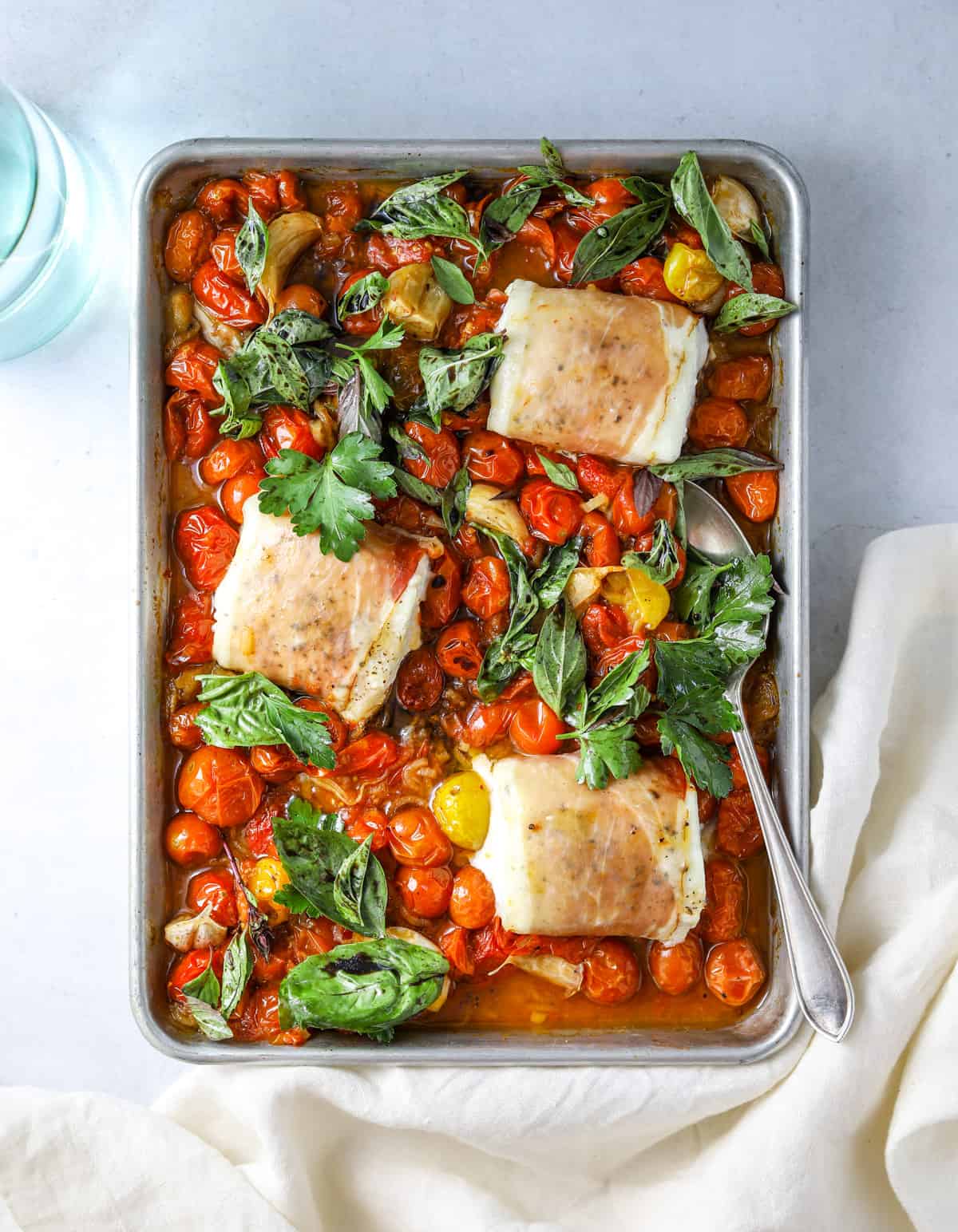 Who doesn't love a healthy sheet pan dinner? This prosciutto wrapped halibut with slow-roasted tomatoes is a wholesome meal that's sure to satisfy!
---
7. Warm Kale and Quinoa Salad with Roasted Mushrooms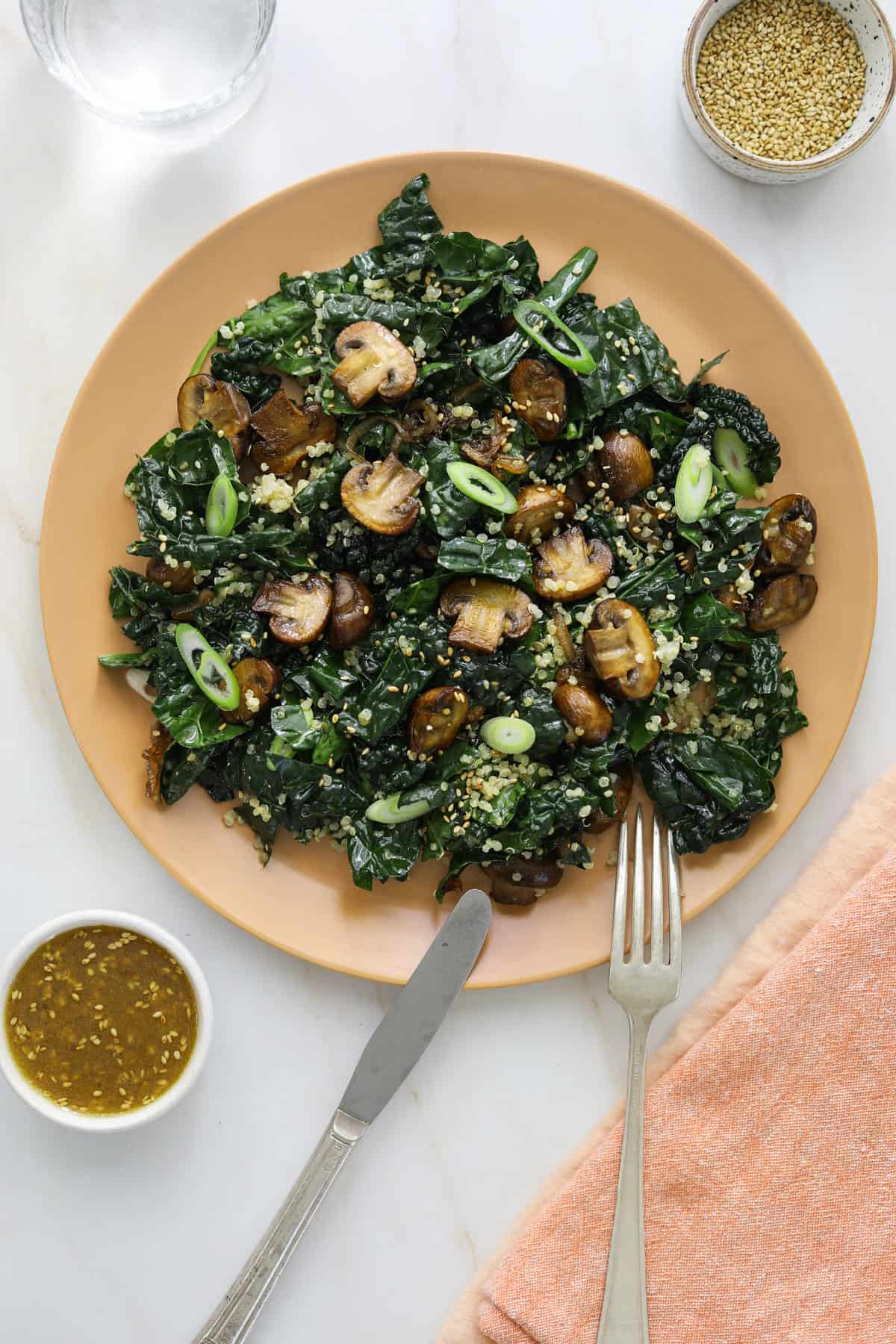 When the weather is cold and dreary this warm Kale and Quinoa Salad with Roasted Mushrooms with keep you nourished and satisfied.
---
8. Tomato and White Bean Soup with Sausage, Swiss Chard and Parmesan Broth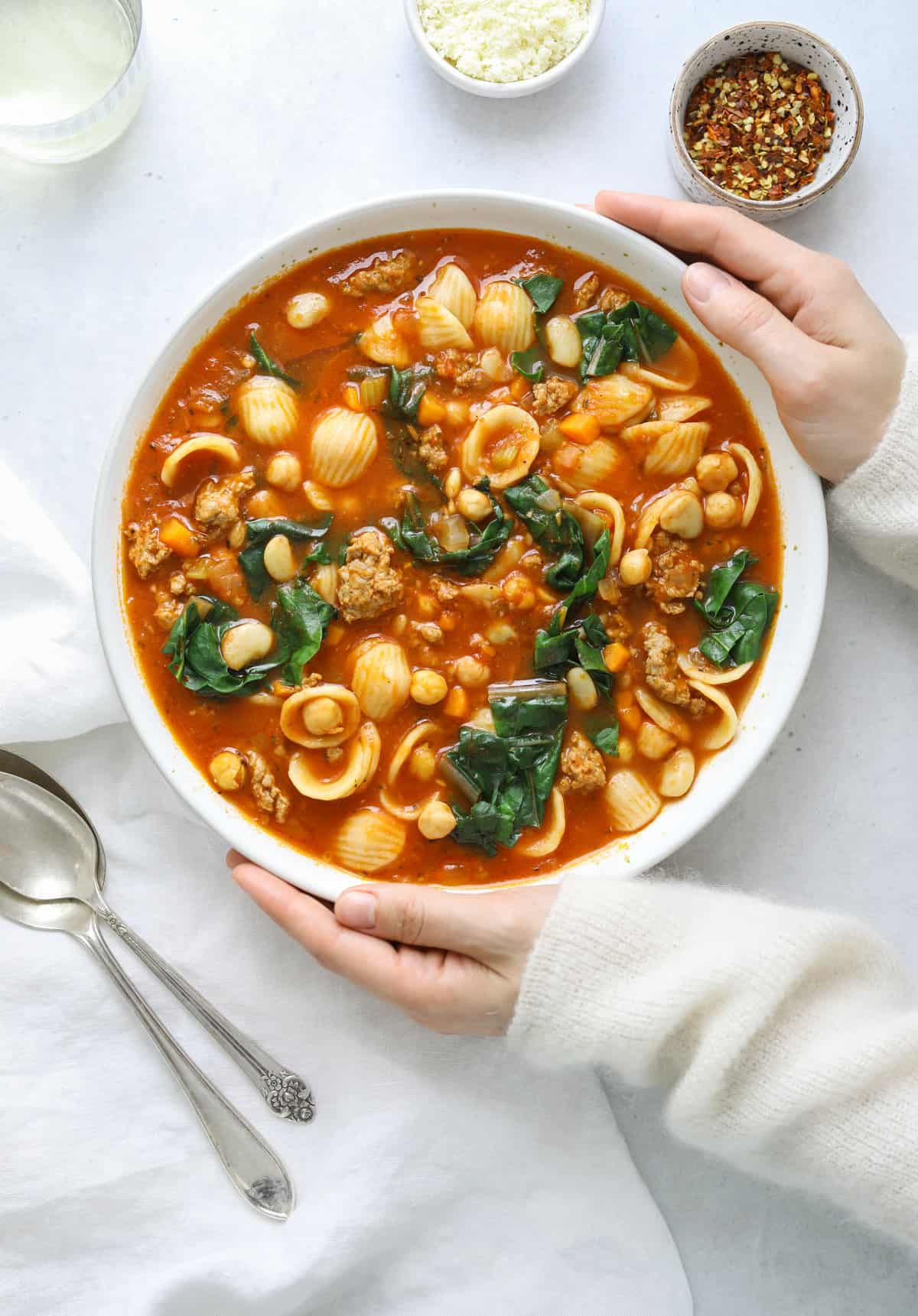 Hearty, healthy and satisfying this Tomato and White Bean Soup soup pairs very well with a glass of white wine and it'll transport you straight to Italy. No passport needed!
---
9 & 10. Five Spice Blackened Salmon & Grilled Shrimp Caesar
Packed with hearty cabbage, sliced apple and creamy dressing this Chinese 5-Spice Blackened Salmon salad can do no wrong!
This Caesar Salad recipe is the real deal! Made from scratch with anchovies, garlic, lemon juice and parmesan cheese, just like your favorite steak house. Add grilled shrimp on top for added protein!
---
11. Citrus and Fennel Roasted Chicken Thighs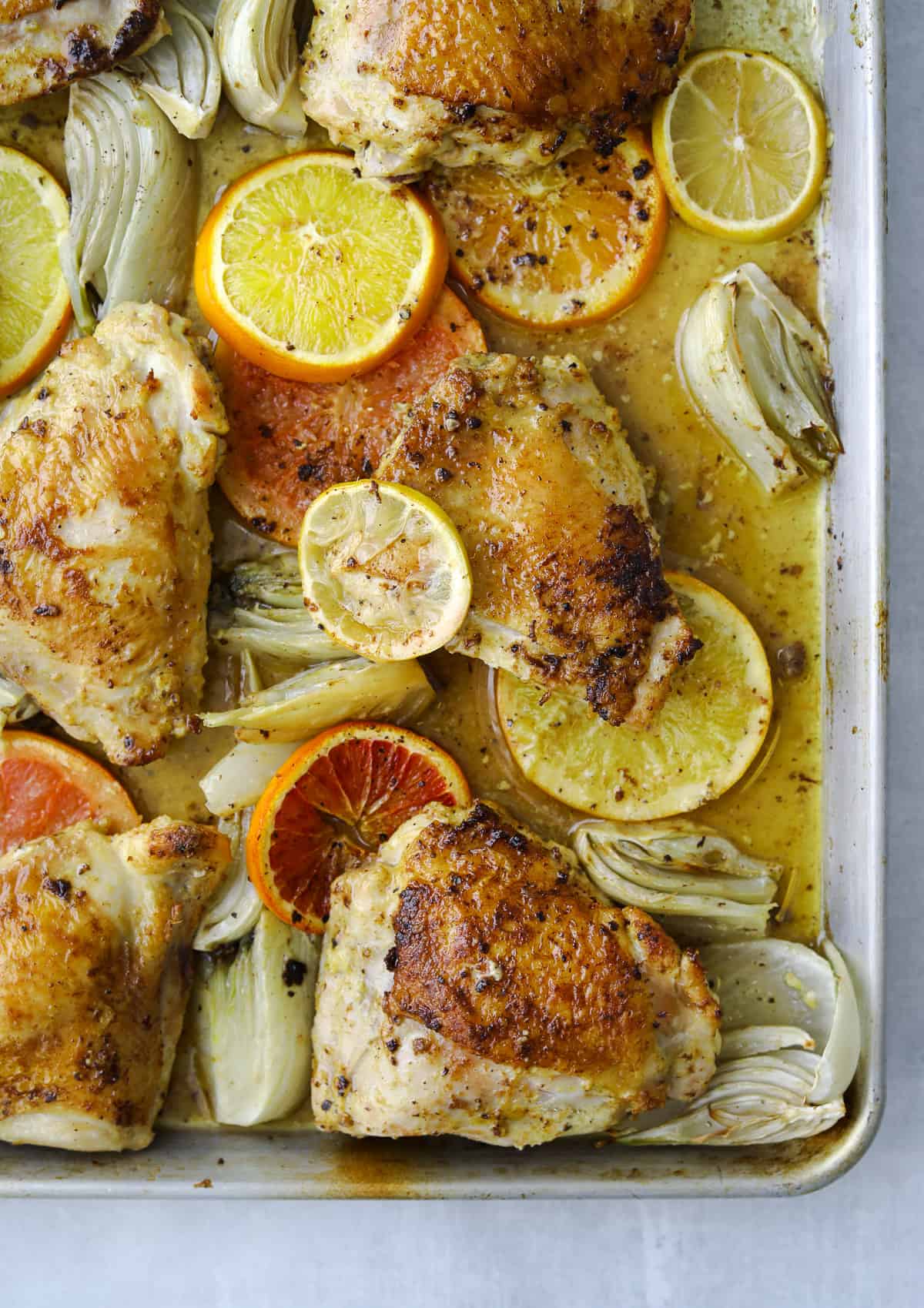 Something about this combo of crispy golden brown roasted chicken thighs, fennel and citrus keeps me coming back for more! Pair it with Whipped Japanese Sweet Potatoes or Herby Salad.
---
12. Smokey Paprika Chicken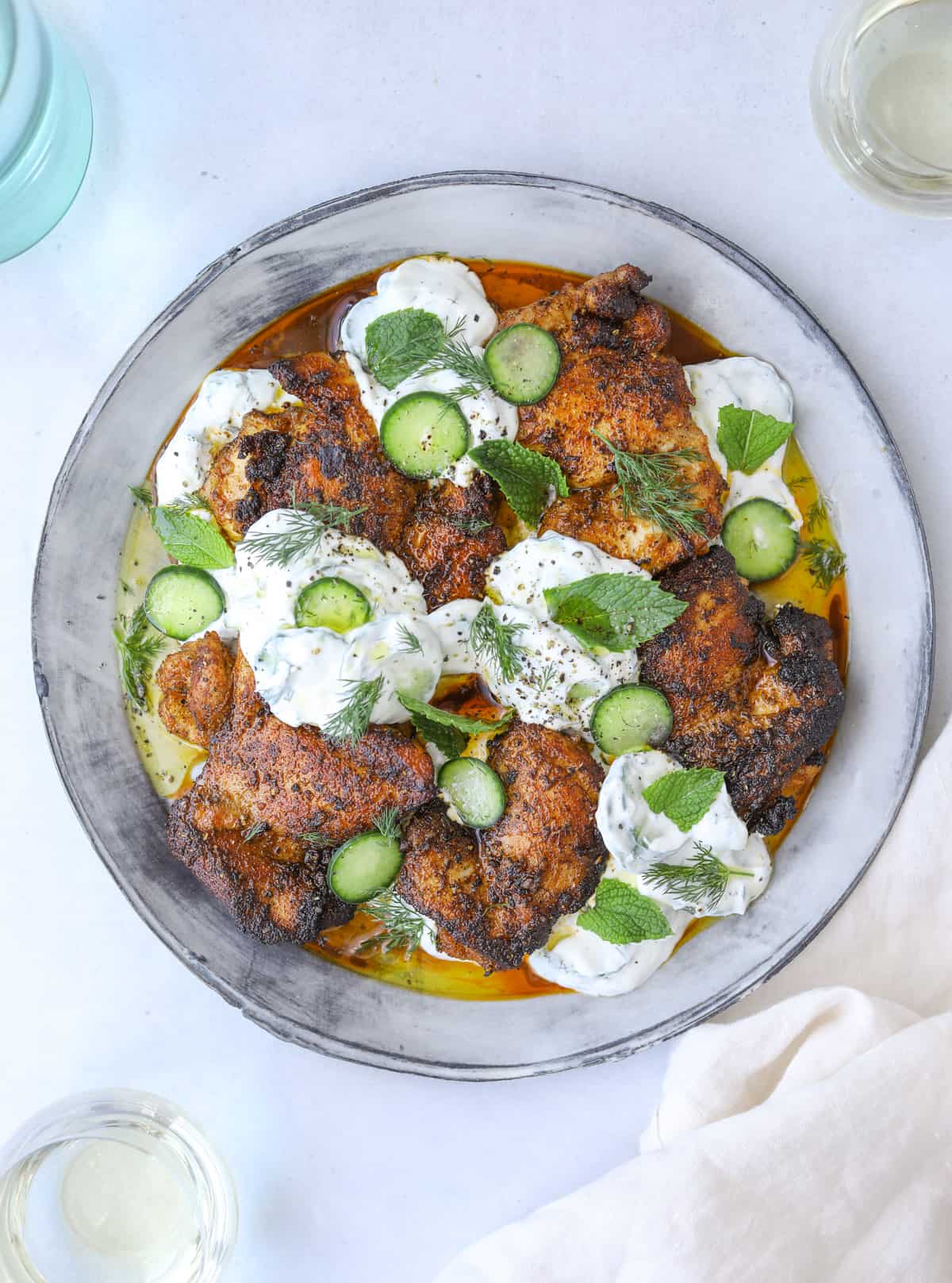 The richness of these smoked paprika marinated chicken thighs is unbeatable when paired with cool and creamy cucumber tzatziki! Serve with fluffy quinoa on the side.
---
13. 5-Ingredient Crispy Skin Branzino with Watercress Salad
A complete meal with only five-ingredients…need I say more? This Crispy Skin Branzino is light, healthy and oh so easy to make!
---
14. Rotisserie Chicken Noodle Soup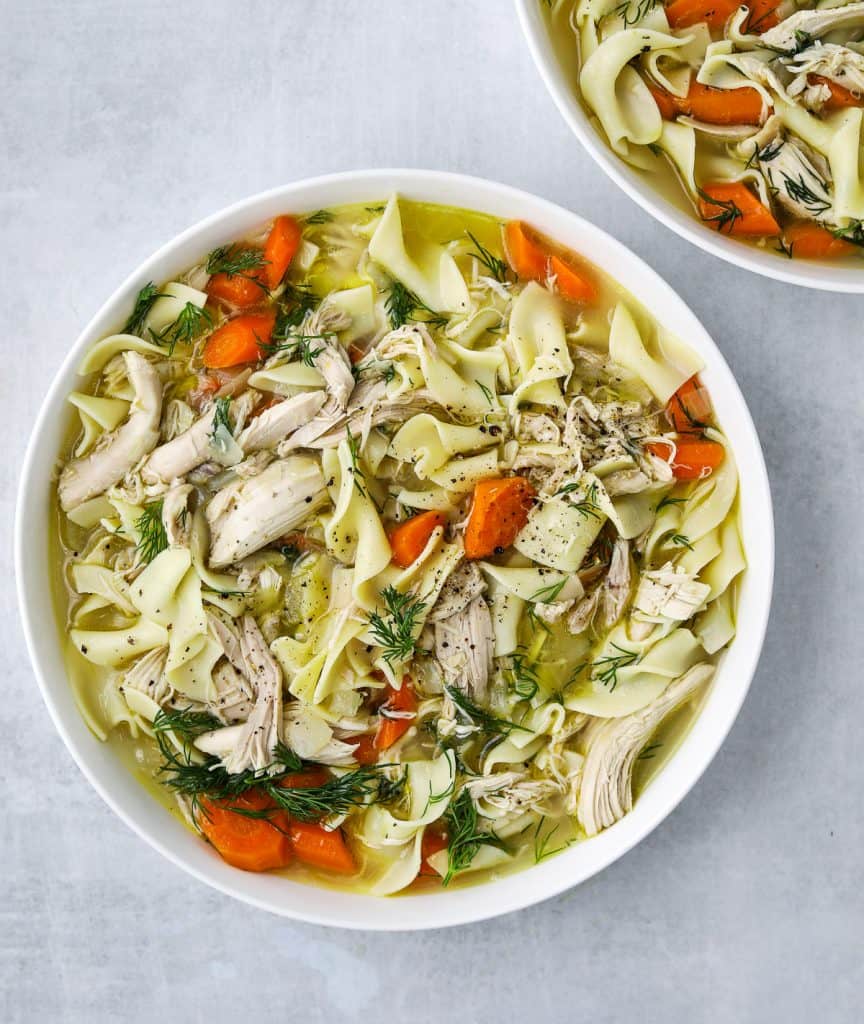 I love a rotisserie chicken dinner hack and this one is my all-time favorite. Rotisserie Chicken Noodle Soup is easy to make and super-nourishing!
---
15 & 16. Farro Salad with Steak and Feta & Dairy-Free Wild Mushroom Soup
Another 5-Ingredient wonder: Steak and Farro Salad with Feta and Arugula. This one's perfect for meal prep. Make a double batch for dinner then pack up the leftovers for lunch throughout the week!
This warming mushroom and wild rice soup is oh so rich and creamy––without the cream! That's right, this dairy-free soup is enriched with coconut milk, chicken stock, garlic and thyme.
---
17. Creamy Vegan Tomato Soup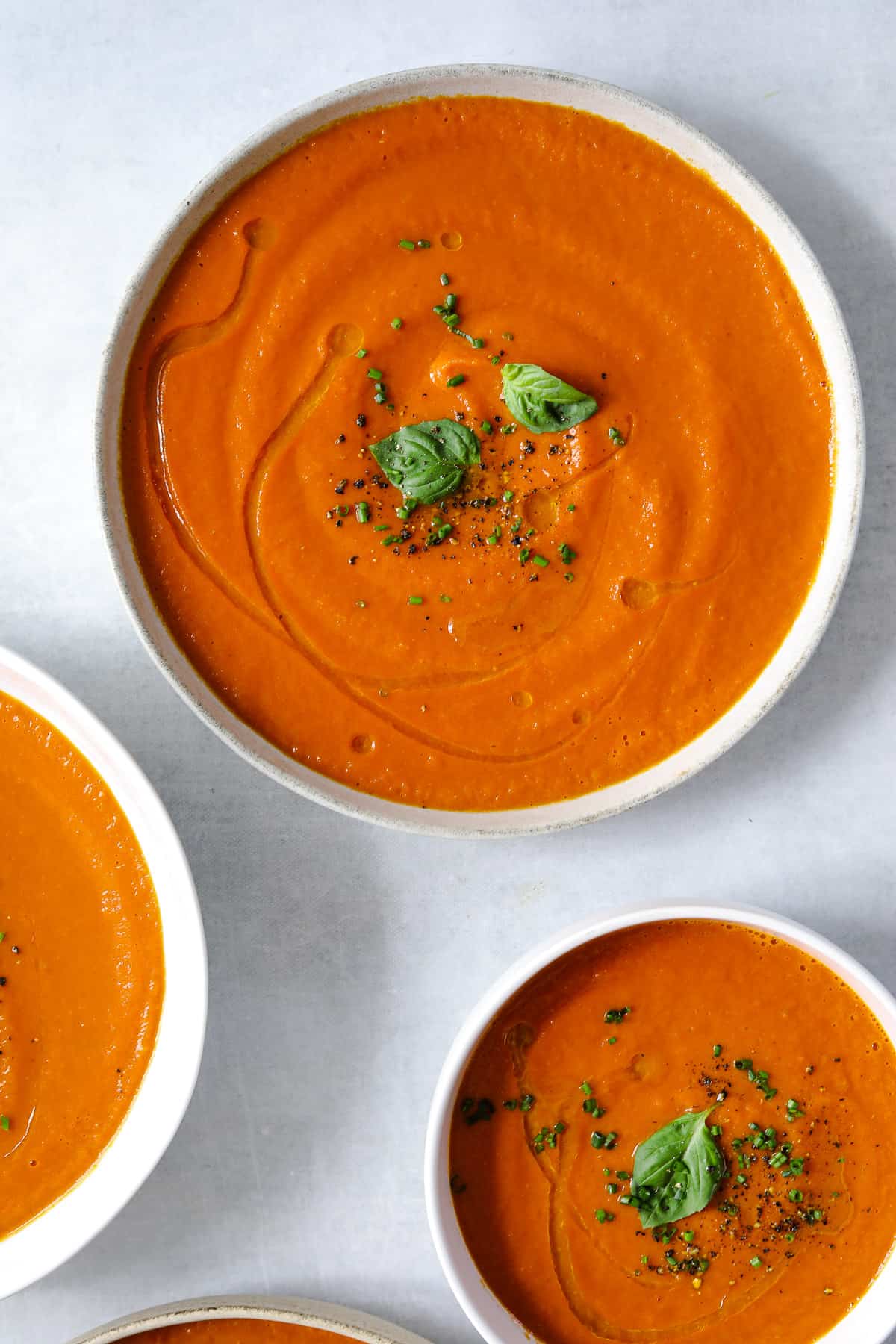 If you've ever been sick, you know that soup has healing super powers. This Vegan Tomato Soup is no exception.
---
18. Creamy Coconut Salmon Curry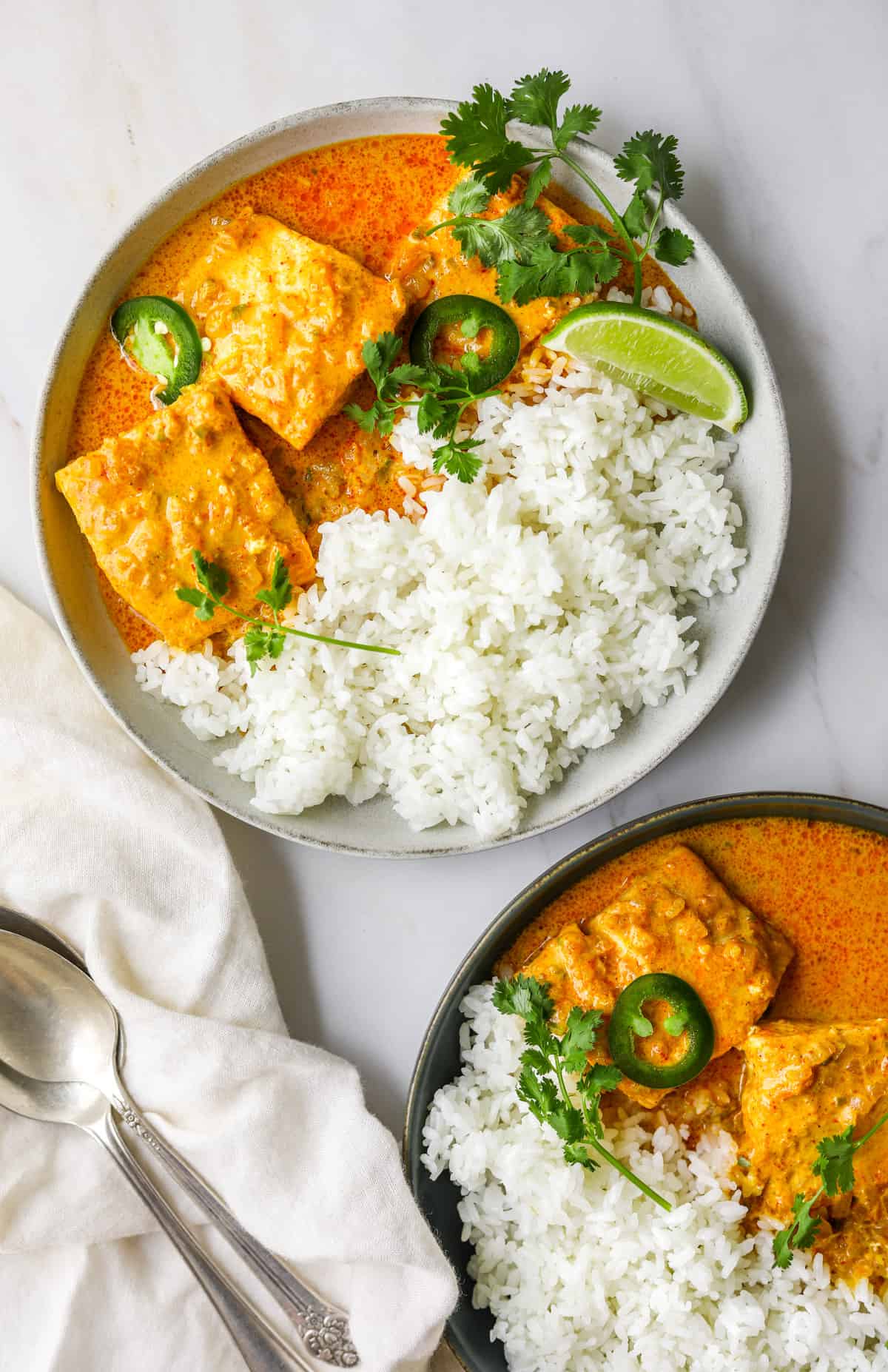 Loaded with anti-inflammatory rich turmeric and fresh ginger this Coconut Curry Braised Salmon will have dinner on the table in less than 30 minutes and the leftovers are just as delicious the next day!
---
19. Miso-Ginger Chicken Salad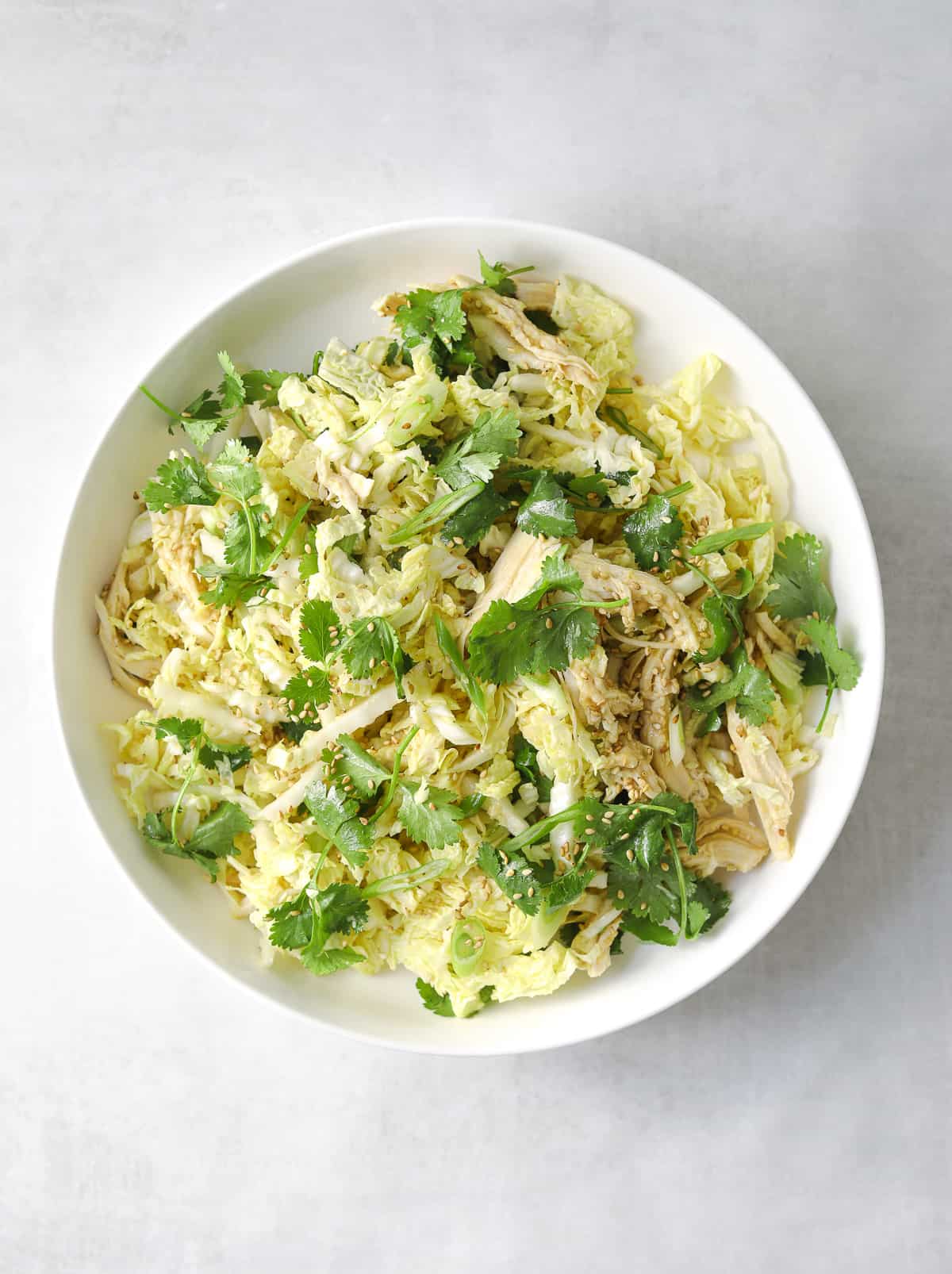 This salad is all about the dressing! Pro tip: make a double batch of this Miso-Ginger Dressing and keep in the fridge for salads all week long!
---
20. Slow-Roasted Salmon with Green Olive Salsa Verde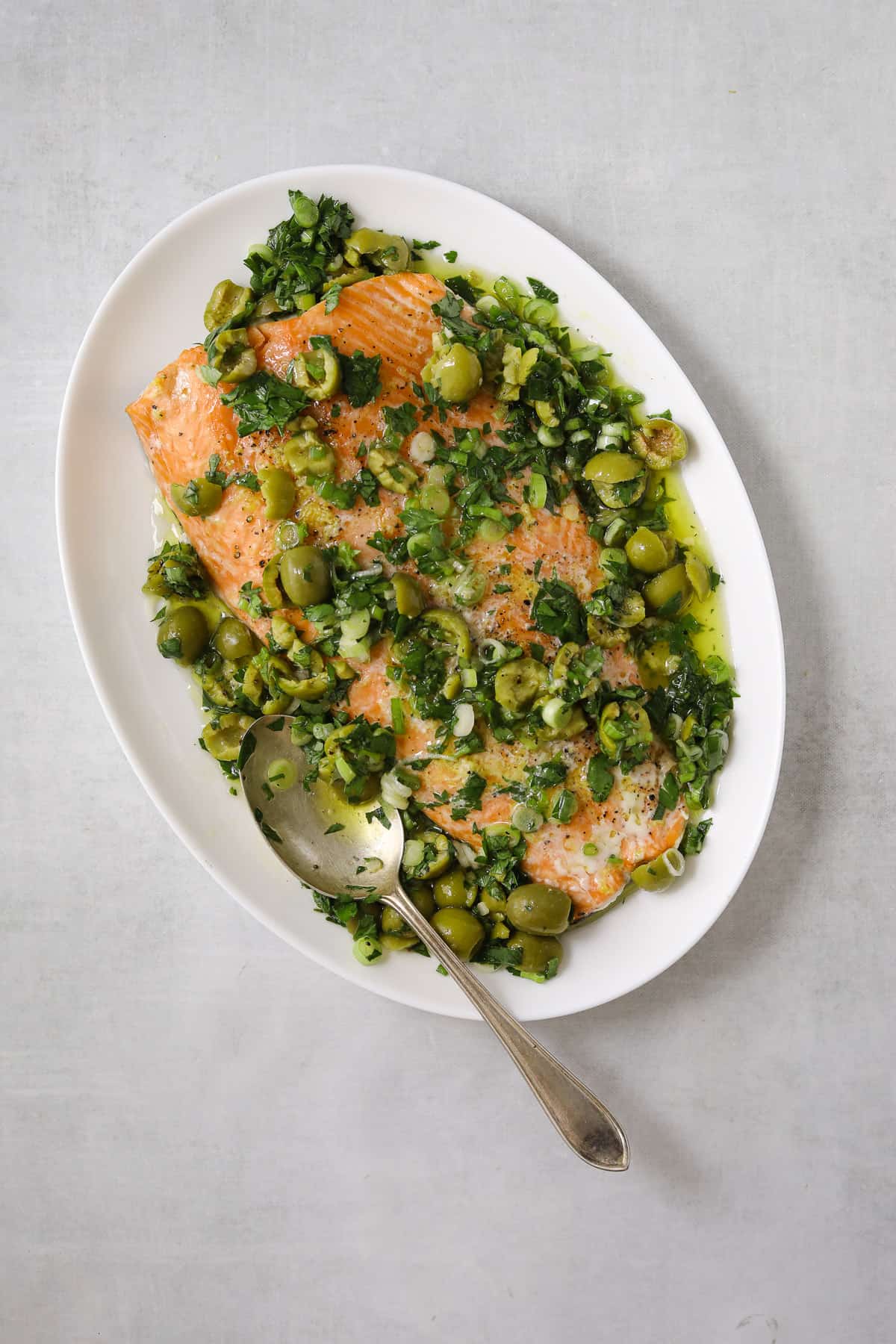 A Craving California classic, Slow-Roasted Salmon with Green Olive Salsa Verde is the perfect meal to brighten up your January. Serve with Caramelized Root Vegetable Mash for a compete meal packed with healthy ingredients!
21. Sautéed Cabbage with Garlic, Ginger and Chili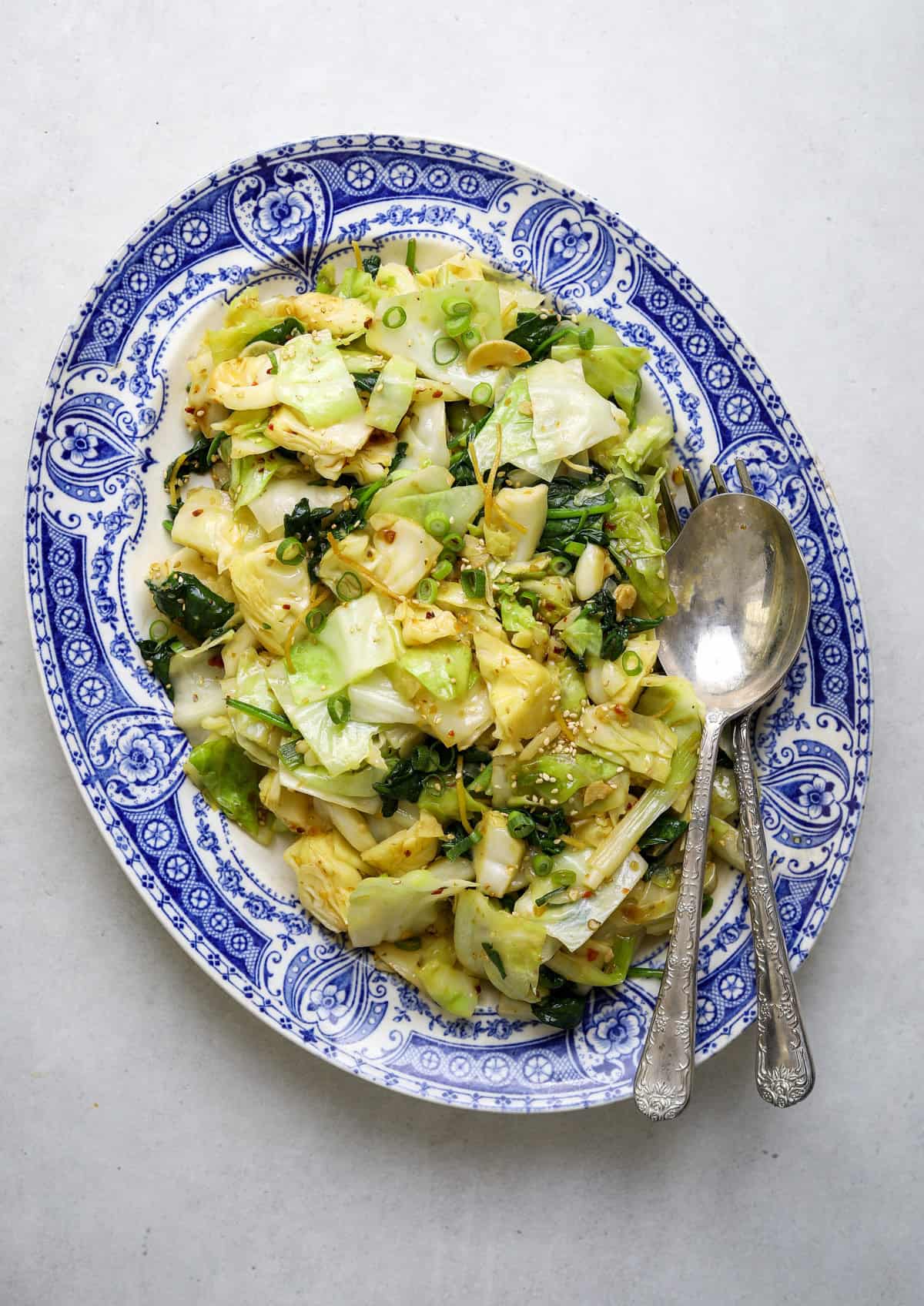 Once you have your mise en place assembled and your pan hot, this dish is ready in no time! With help from flavor-forward ingredients like; ginger, garlic, scallion and chili oil, an ordinary head of cabbage transforms into something spectacularly flavorful. As an added bonus, leftovers are fantastic for the next day's breakfast served over steamed rice and topped a poached egg!
Looking for more cold-weather recipes? Check out this round up of 15 Warm and Cozy Fall Dinners.