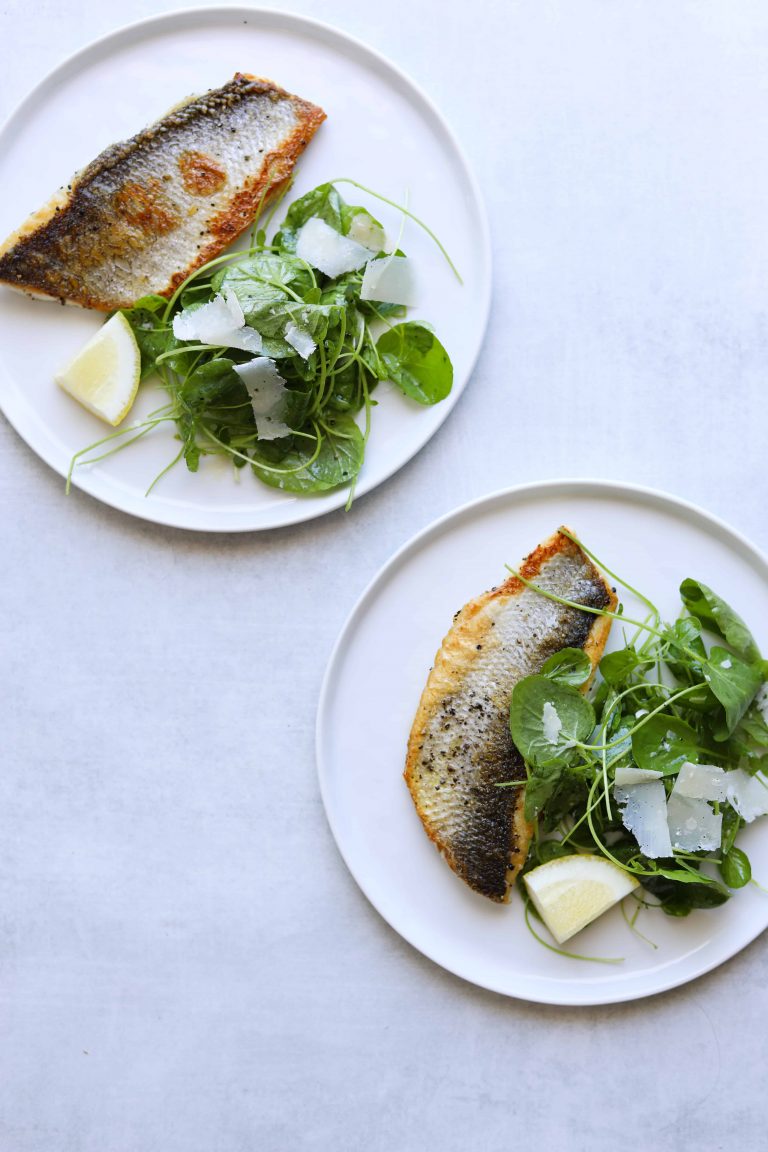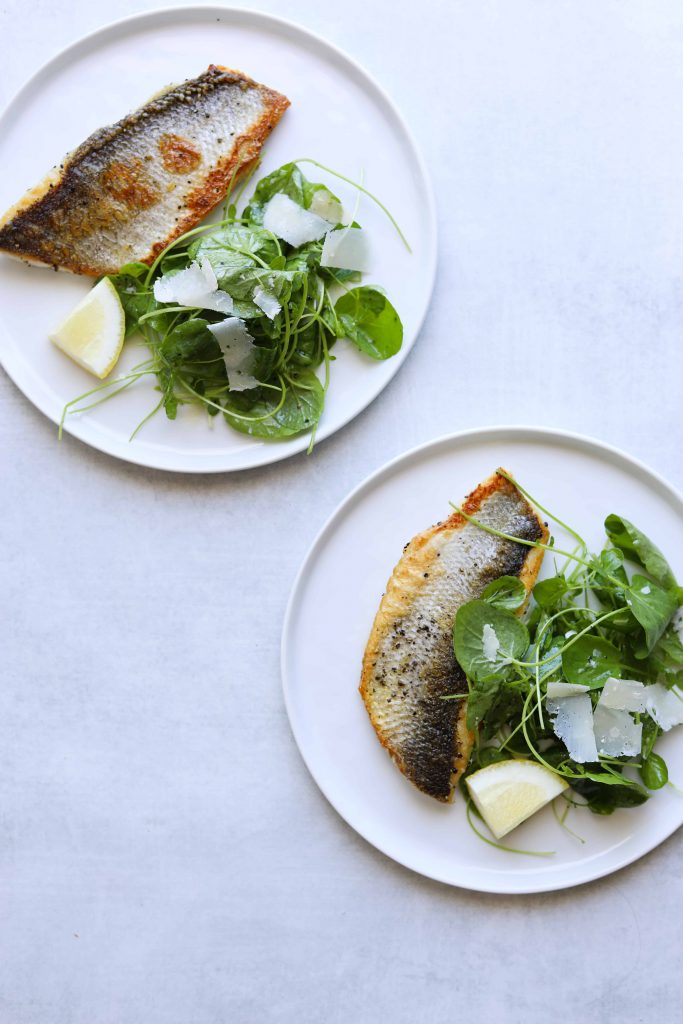 Five-ingredient crispy skin branzino is super simple and takes less than 10 minutes from start to finish!
This recipe is the perfect option for a quick dinner. Branzino cooks in under 5 minutes and pairs perfectly with this peppery watercress salad with lemon and parmesan!
About Branzino:
Branzino is one of my favorite types of fish to cook at home. It's typically sold whole at the fish counter, which is ideal because whole fish stays fresher longer. I ask my fishmonger to filet it for me. As soon as you bring the filets home, take them out of the paper they're packaged in and transfer them to a paper towel-lined tray, cover with a second piece of paper towel and put it in the fridge. Storing your fish this way will keep it fresher longer.
How to get crispy skin:
The key to crispy skin branzino, or any fish, is starting with dry fish, in a hot pan and then not flipping the fish until the skin golden brown!

-Pat your fish dry with a paper towel before searing
-Use a cast-iron pan on high heat. Add just a touch of oil, when the oil smokes gently place the fish, skin side down, in the pan.
-Don't move it. Let the fish cook for two minutes before you flip it!
---
Five-Ingredient Crispy Skin Branzino Step, by Step →
---
---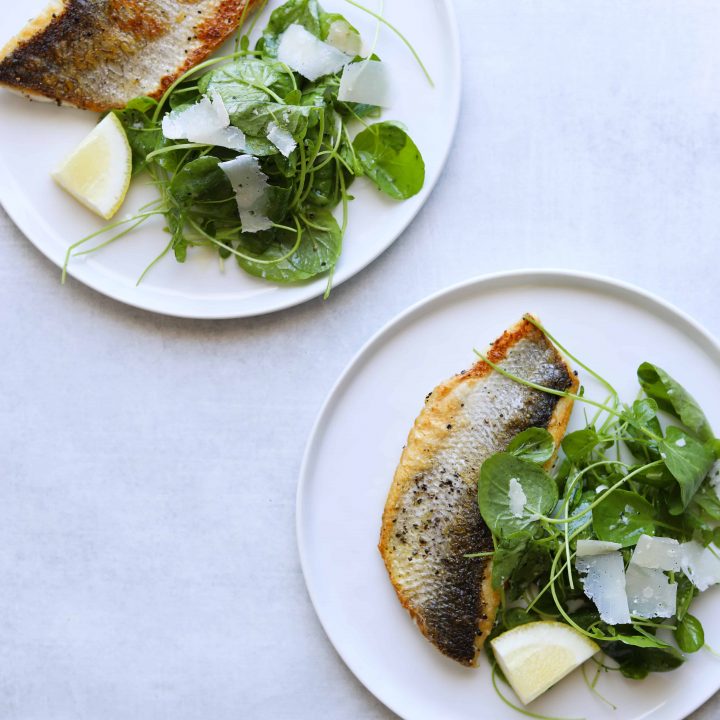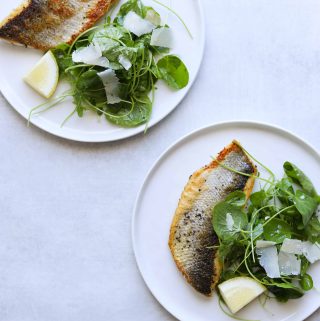 Five-Ingredient Crispy Skin Branzino
Crispy branzino with peppery watercress salad!
Print
Pin
Rate
Ingredients
2

filets

branzino

1

lemon

1

bunch

watercress

1

hunk

parmesan

1

tsp

dijon

3

tbsp

olive oil

neutral oil like avocado

just a splash for cooking the fish

salt and pepper
Instructions
Heat a cast-iron skillet on medium/high heat. Season both sides of the branzino with salt and pepper. Add a splash of neutral oil to the pan. When the oil begins to smoke, gently place the fish in the pan skin side down. Cook the fish on the skin side for two minutes, then flip the fish to the flesh side just for 10 seconds. Remove from the pan and transfer to a plate skin side up.

In a small bowl whisk together the dijon, olive oil, and juice from half a lemon. Toss the watercress with dressing. Use a vegetable peeler to shave parmesan into the salad. Season with salt and pepper.

Divide the branzino filets between two plates, top with salad and serve with a slice of lemon on the side. Enjoy immediately!
---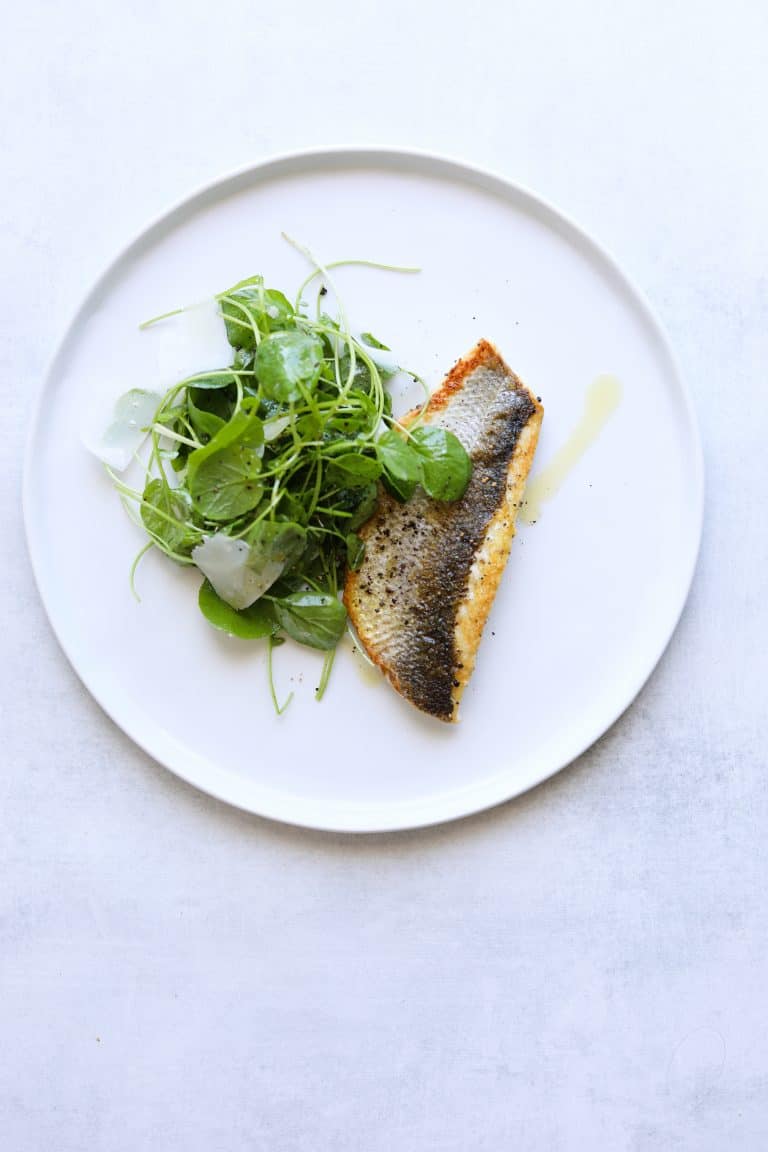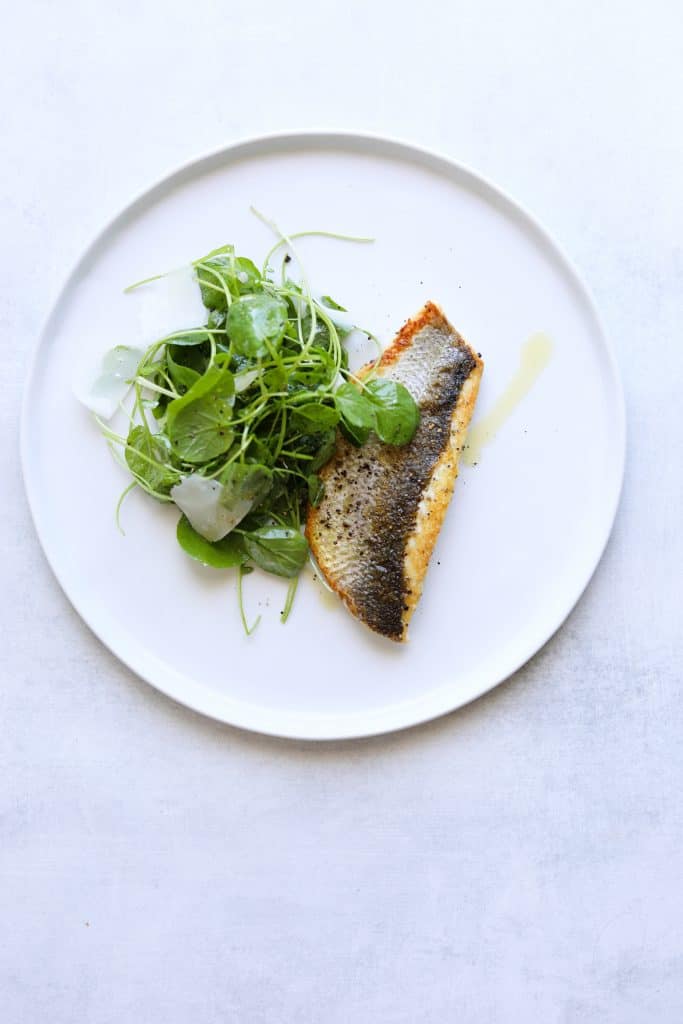 ---
If you love Five-Ingredient Crispy Skin Branzino, check out more great recipes →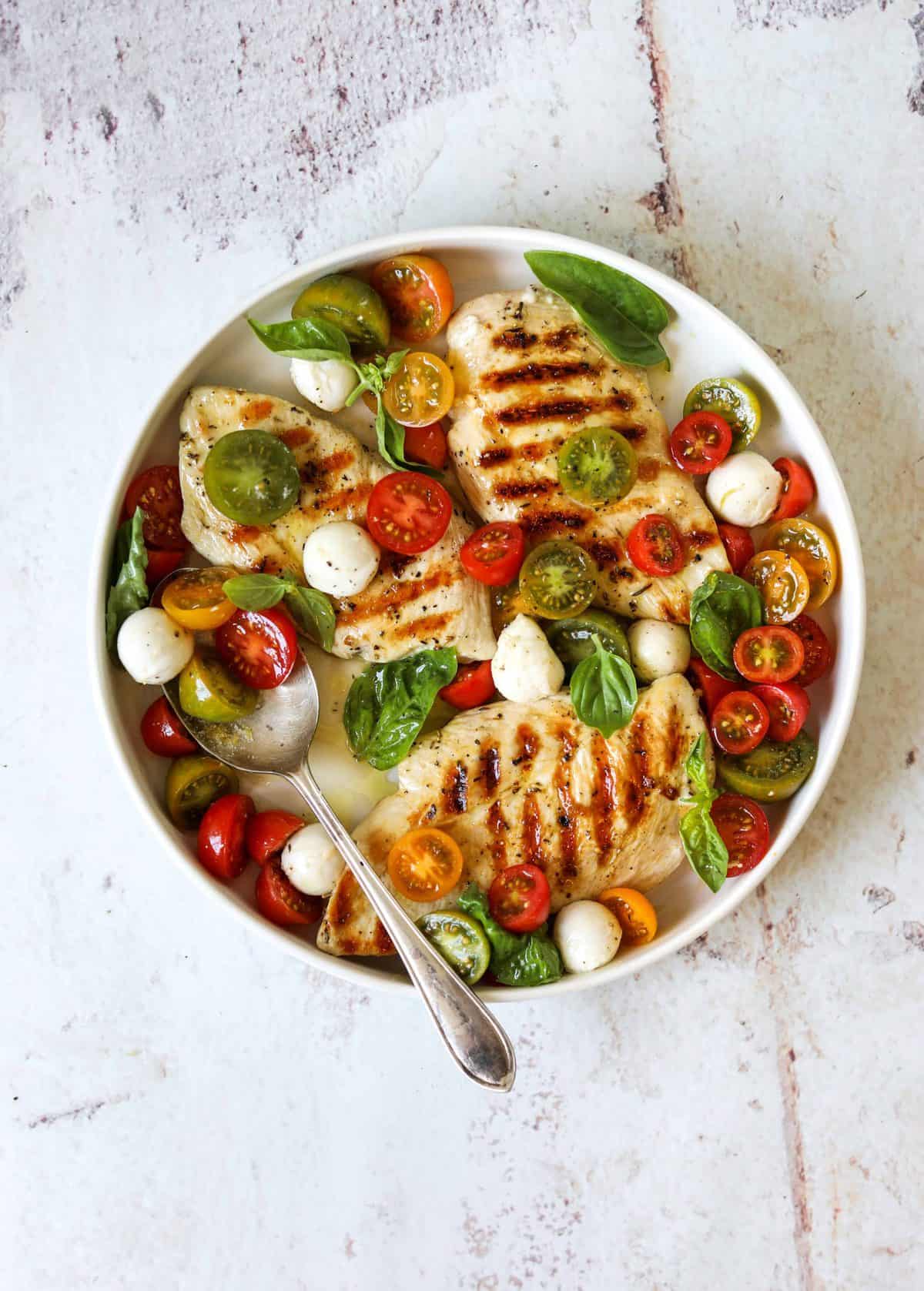 Grilled Chicken with Marinated Tomatoes and Fresh Mozzarella (5-Ingredients!)
This light and fresh grilled chicken is topped with balsamic marinated tomatoes, fresh basil, and creamy mozzarella cheese. Not to mention, you only need five simple ingredients to pull off this healthy dinner! This quick and easy five-ingredient dinner is the perfect recipe for when you're craving something healthy, fresh, and super-satisfying! Sweet cherry tomatoes…
Slow-Roasted Salmon with Green Olive Salsa Verde
This recipe for slow-roasted salmon with green olive salsa verde is 100% foolproof! By far, the most common cooking questions I get are about how to prepare fish at home. I get it, it can be intimidating! Fish generally cooks really fast which is great if you're in a hurry but it can also lead…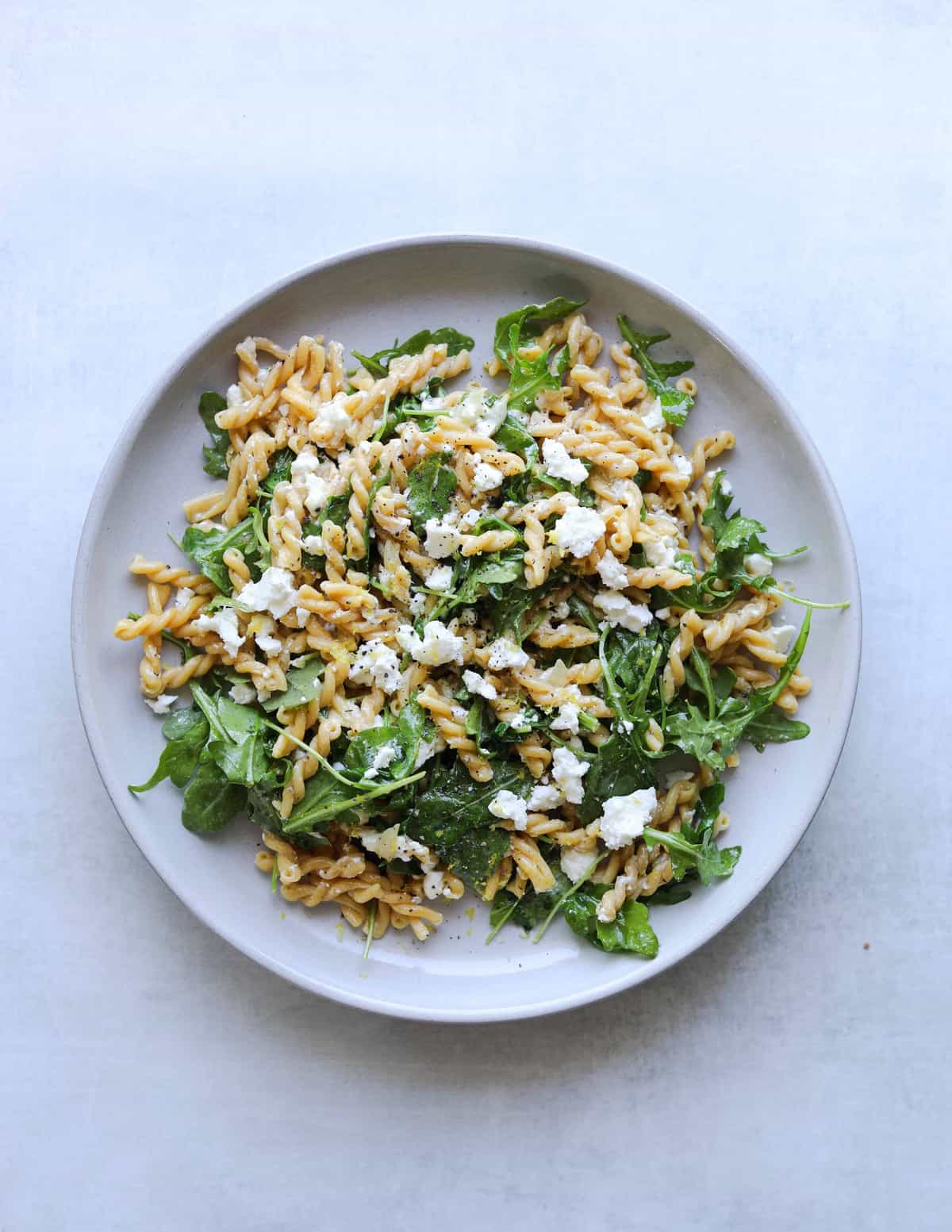 Five-Ingredient Chickpea Pasta with Arugula + Feta
I was a little bit skeptical when I first heard about pasta made from chickpeas. Do we really need another gluten-free pasta option? Well, it turns out yes we do! I really like it! This recipe is one of my favorite ways to eat chickpea pasta, just a few simple ingredients; lemon, arugula, feta, and…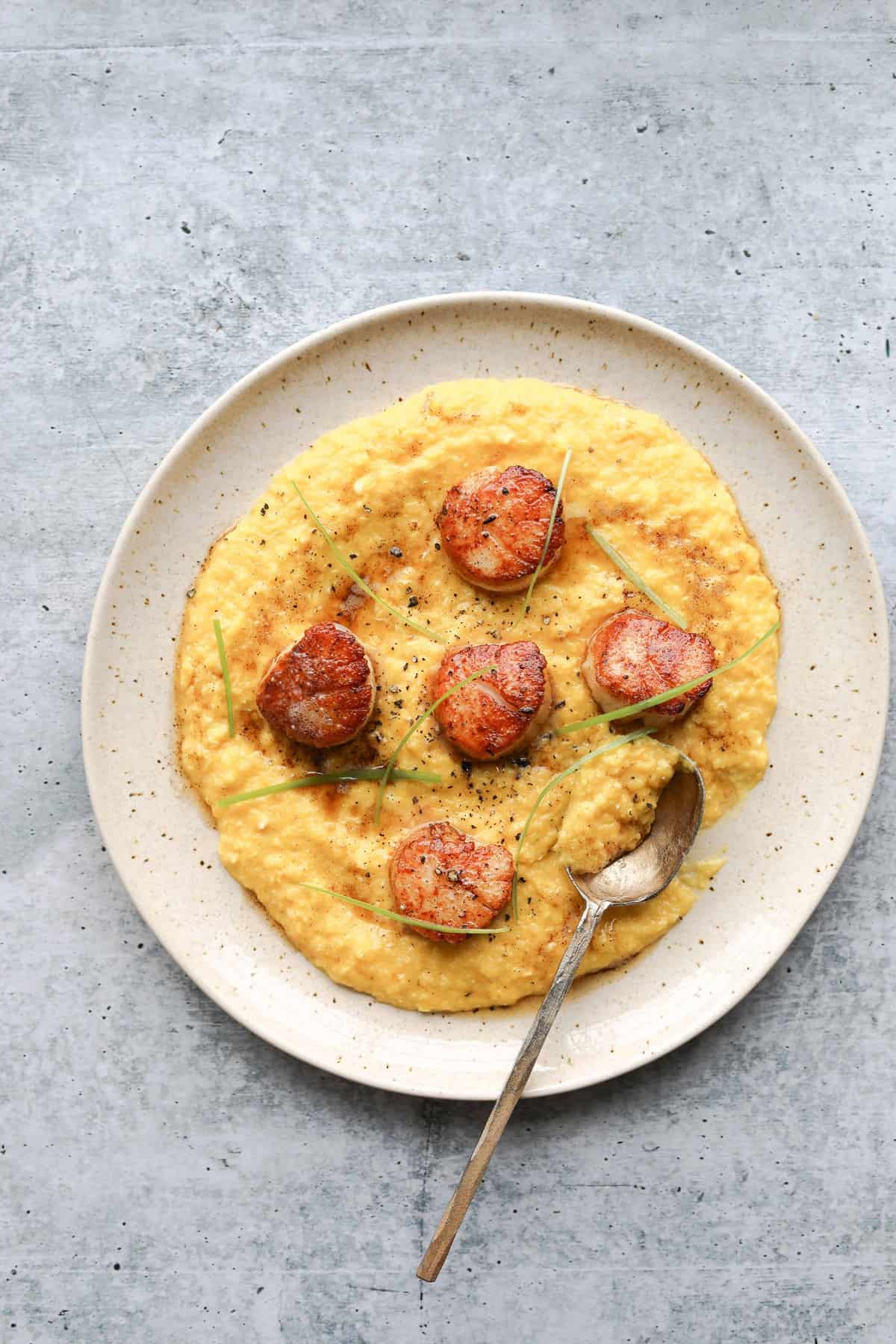 Creamy Corn Porridge with Seared Scallops + Brown Butter
This recipe for Creamy Corn Porridge with Seared Scallops and Brown Butter is the perfect meal for a summer date night! This dish really is something special. Creamy sweet corn porridge and seared scallops drizzled with brown butter. It's rich and flavorful but not overly indulgent. I finish the dish with a few turns of…