This recipe for slow-roasted salmon with green olive salsa verde is 100% foolproof!
By far, the most common cooking questions I get are about how to prepare fish at home. I get it, it can be intimidating! Fish generally cooks really fast which is great if you're in a hurry but it can also lead to a dry overcooked dinner if you're not careful. On top of that, fish is expensive so you really don't want to mess it up. With this recipe, I'm slowing things down. We're cooking the salmon at a low temperature for longer. The result is moist, juicy fish that comes out perfect every time! Check out my tips below for buying fish and testing it for doneness.
How to buy fresh fish:
Buying fish from the seafood counter can be an intimidating process. Here are a few tips to always leave the store with the best quality piece of fish.
The fishmonger (the person working behind the seafood counter) is there to help you! Don't be afraid to ask them for exactly what you want. If you don't know what you want tell them what you're making or show them a recipe and they will point you in the right direction. They can also perform butchery tasks like removing pin bones, removing skin and portioning fish.
When ordering salmon I always ask for "center cut." The center cut is literally the center of the filet and the thickest part of the fish. I personally don't care for the tail end, which is what they will usually try and give you if you don't specify.
Ask the fishmonger what's freshest! They will let you know what came in that day or whats from the day before. If the salmon doesn't look great that day you can make this recipe with cod, halibut or swordfish.
How to know if your fish is fully cooked:
To check if fish is cooked, take a metal skewer, or the tip of a knife and stick it into the thickest part of the fish Count to 5 then carefully take the skewer out and hold it against your lip –if it's nice and warm, the fish is cooked. These cake testers are perfect for testing fish doneness → Cake Testers
---
Slow-Roasted Salmon before + after:
Just a warning- you're going to want to pour this green olive salsa verde over everything!
---
No need for knives! Gently flake the slow-roasted salmon apart into portions and let the salsa verde sink into all the crevices.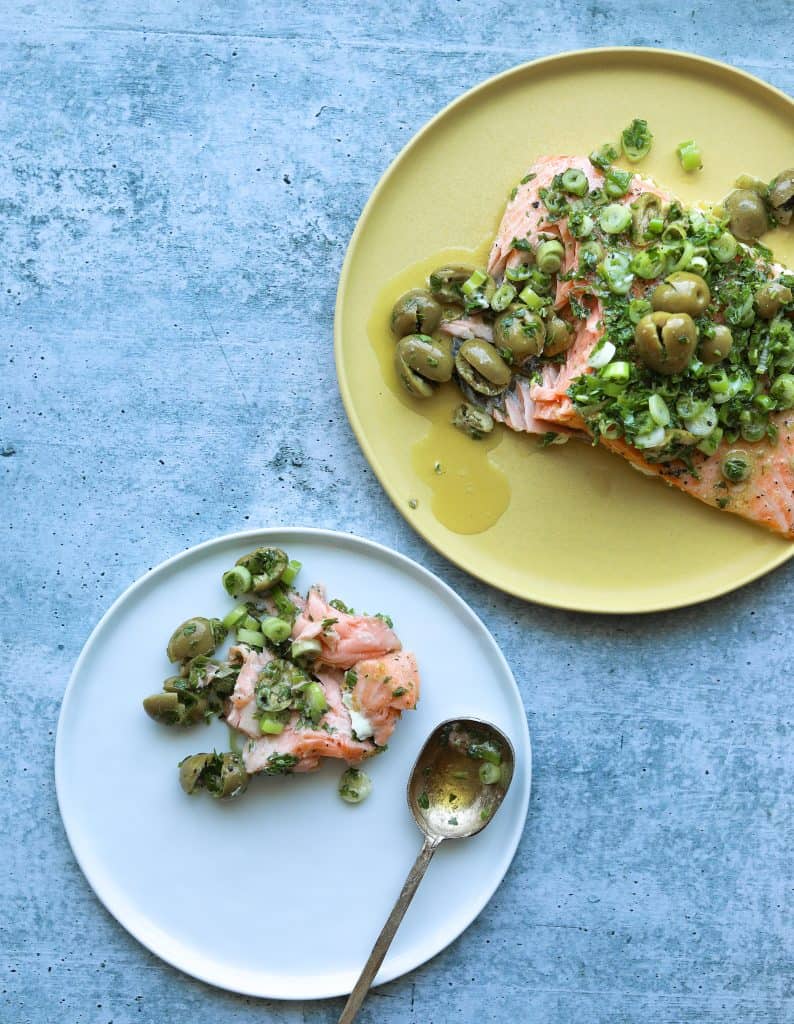 ---
If you love Slow-Roasted Salmon with Green Olive Salsa Verde, check out these other great recipes →
Don't forget to leave this recipe a five-star review!