Toasted Coconut Lime Rice
Fluffy steamed rice with crispy toasted coconut and a hint of lime zest! Perfect for serving alongside chicken, shrimp or your favorite curry!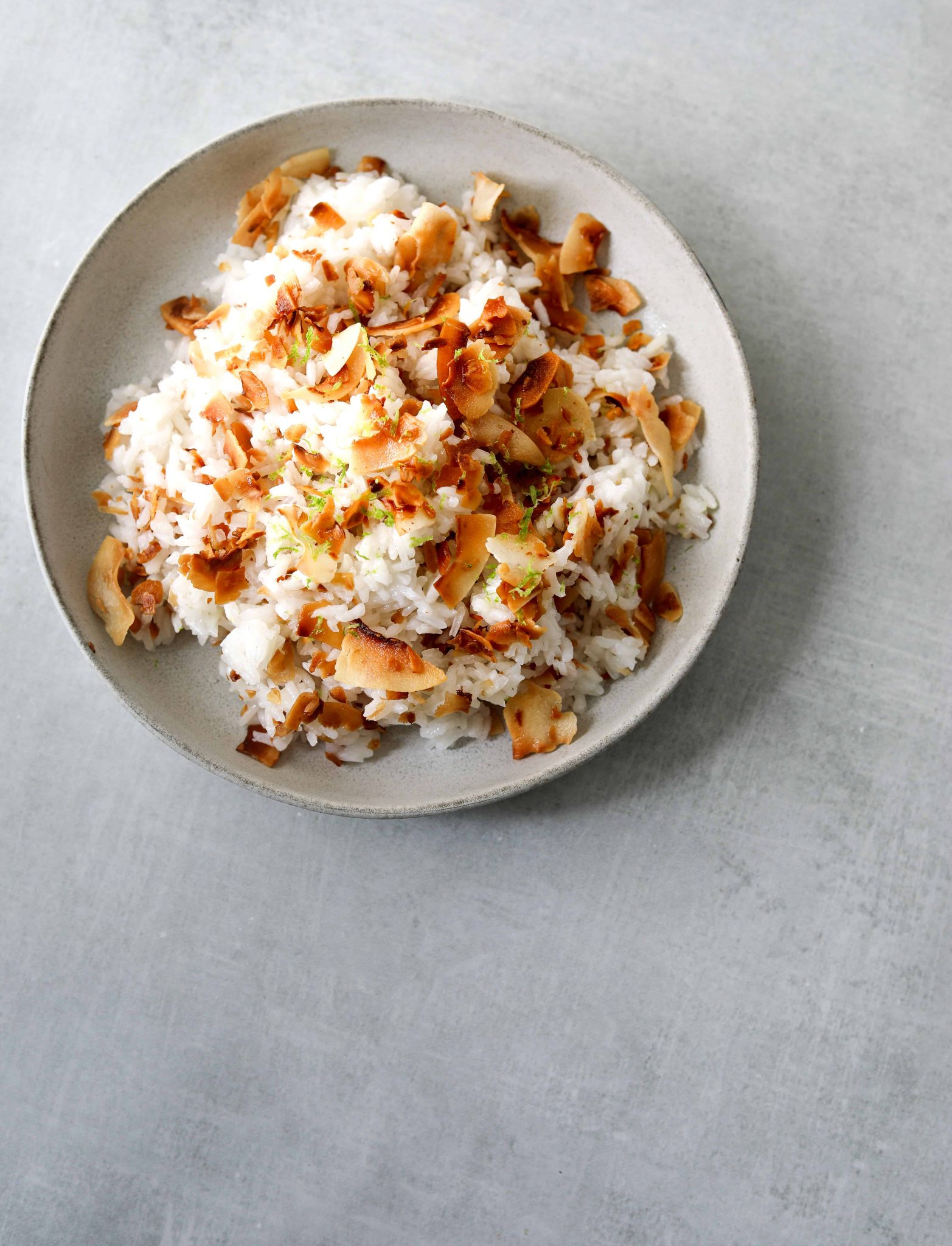 This toasted coconut lime rice if one of my favorite side dishes. I make rice a few times a week and this recipe is a great way to mix it up. Serve it alongside curry, chicken satay, grilled shrimp or any type of kebab!
Tips for Perfectly cooked Rice:
Rise your rice– Wash away the starchy powder that would otherwise make the grains of rice clump up and stick together.

Simmer: Find the lowest possible simmer setting on your stove. Some stoves even have a special simmer burner that's smaller. If you have that use it.

Don't lift the lid- Rice is cooked by steaming. If you lift the lid you mess with the steam. Don't do it!

Fluff with a fork– Use a fork to gently fluff the rice. Don't stir or over mix or the individual grains will break and the rice will become mushy.

Recipe Steps→
Step one: Rinse the rice and cook until tender and fluffy.

Step two: Toast the coconut flakes in the coconut oil until evenly golden brown.
Step Three: Fluff the rice with a fork, add in the lime zest and coconut flakes. Serve immediately!
---
Storing + Reheating Toasted Coconut Lime Rice→
Storing: Toasted coconut lime rice can be stored in a tightly sealed container in the refrigerator for up to five days. Just know that the coconut will not be as crisp but it's still delicious.

Reheating: To reheat in the microwave, sprinkle a bit of water on top of the rice, then drape a damp paper towel over the bowl before heating it, to make sure it doesn't dry out. You can also reheat it in a pot: give it a generous sprinkle of water, and heat with the lid on over low heat for 3-5 minutes.

Check out more great recipes→