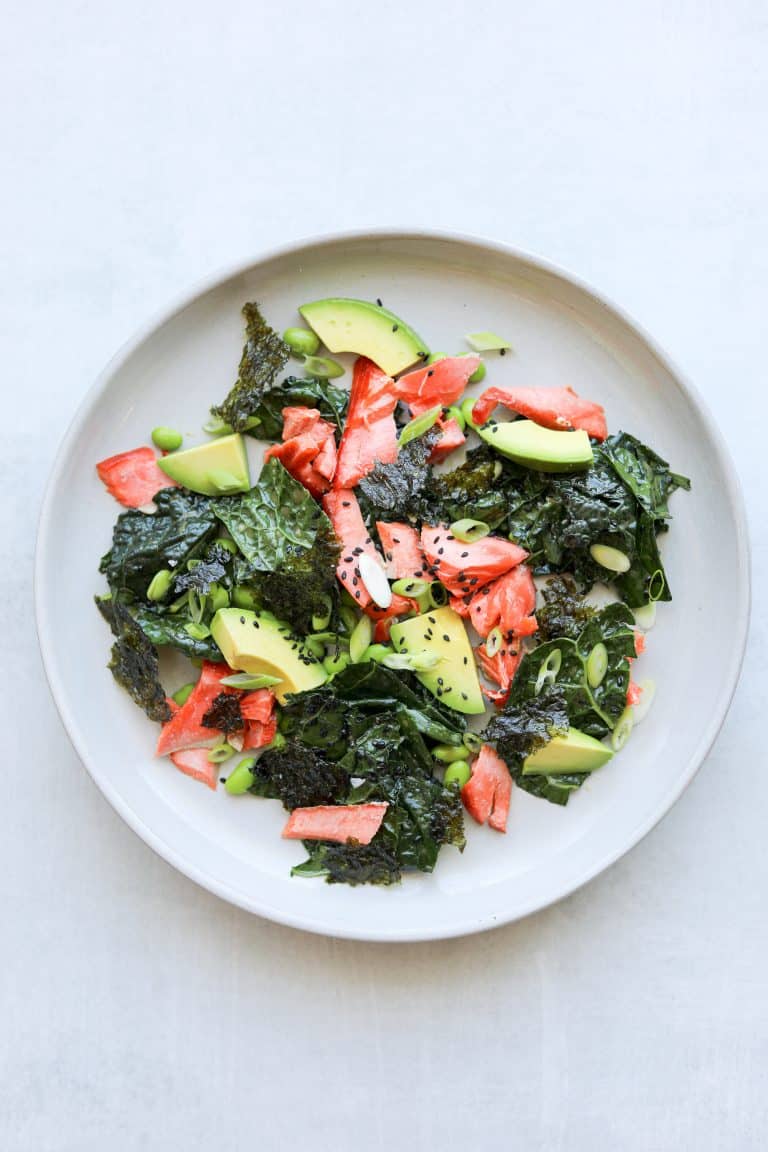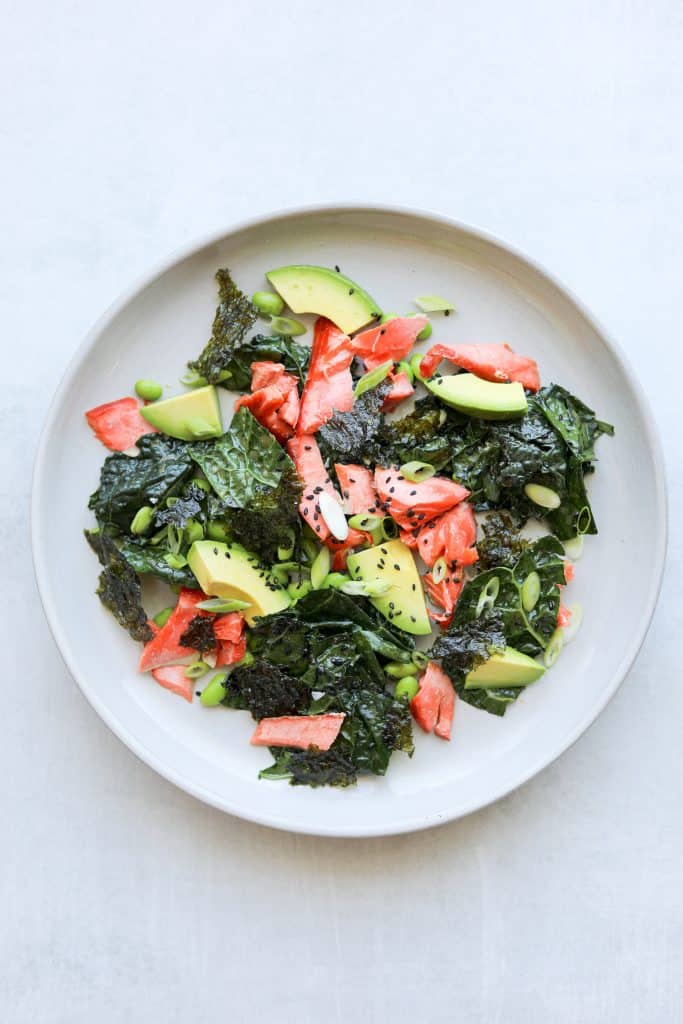 This superfood salmon salad makes for a healthy and delicious lunch or dinner!
This salad is the perfect meal to reset after a weekend of indulging! It's packed with nutrient and antioxidant dense "superfoods" like wild salmon, kale, seaweed, and edamame.
---
Superfood Salmon Salad Ingredients:
Seaweed: I crush a few sheets of nori over this salad for some extra crunch and saltiness. I used one of the small individual packs of "seaweed snacks" but you can also use regular sushi nori and toast it yourself.
Edamame: Frozen, shelled edamame is something I always have on hand in the freezer. It's a great source of protein, iron, and calcium. It defrosts quickly and can be tossed in salads or rice bowls!
Wild Salmon: If you can (I know it's expensive) always opt for wild salmon. If it's out of your budget, responsibly farm-raised salmon will totally work.
Avocado: My favorite salad topper! Avocados are full of healthy fats, and antioxidants. Oh, and they're absolutely delicious!
Miso is a fermented food, meaning it contains live, active cultures of (good) bacteria. It has a rich salty flavor and creaminess salad dressing that coats all the other ingredients really well.
---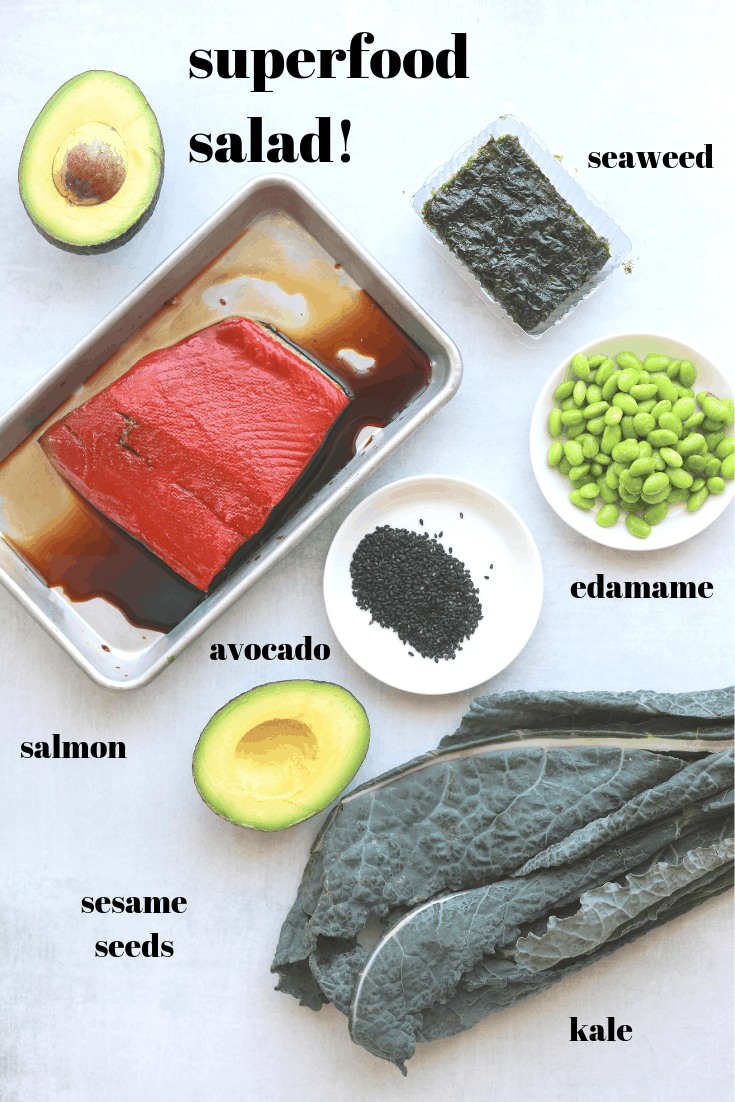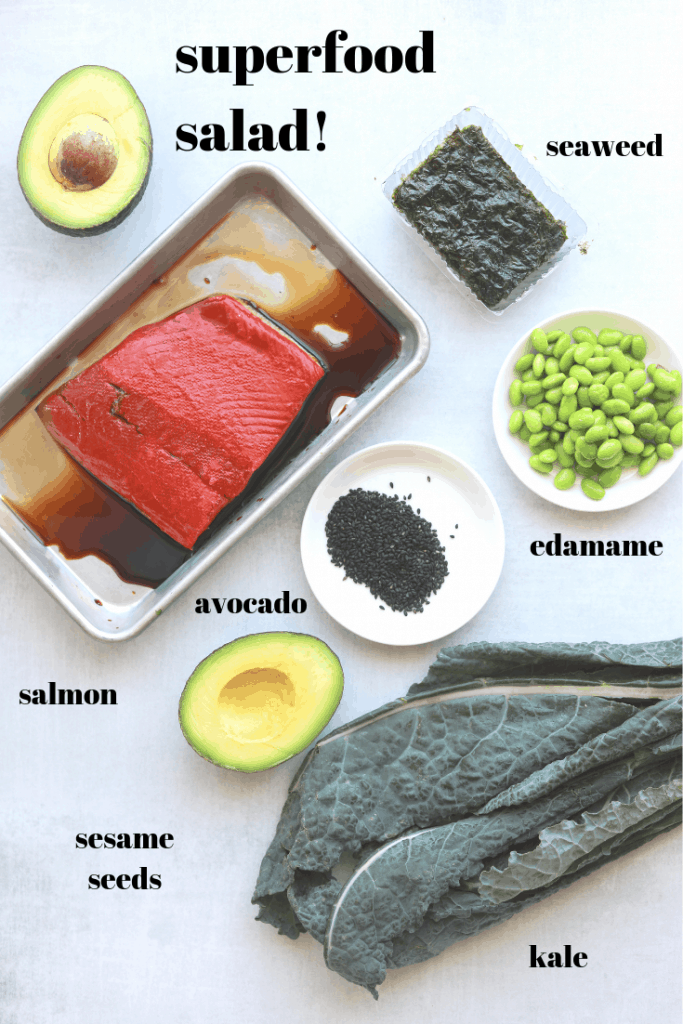 Superfood Salmon Salad
A healthy and delicious kale salad with salmon, edamame and avocado!
Ingredients
8

oz

wild salmon

1

bunch

lactinato kale stems removed and washed well

2

tbsp

soy sauce

2

scallions, thinly sliced

1

c

edamame

1

pack

seaweed snacks or 1 sheet of nori

1

tbsp

sesame seeds
Miso-Honey Dressing:
1

tbsp

white miso

1

tbsp

honey

3

tbsp

rice wine vinegar

3

tbsp

olive oil

1

clove

garlic, grated
Instructions
Place the salmon in a bowl and pour the soy sauce over it. Let sit for ten minutes. Heat a saute pan over medium/low heat. Add a splash of oil to the pan. Cook the salmon for 3-4minutes on each side until cooked through. Remove the salmon from the pan and set aside. Make the dressing.
Dressing:
Whisk all of the ingredients together in a small bowl.
Assembling the salad:
Tear the kale into bite-sized pieces and place in a large bowl. Massage the dressing into the kale with your hands. Next toss in the edamame, sesame seeds, scallion and avocado. Toss all of the ingredients with the dressing. Divide the salad between two plates. Break apart the salmon with a fork and pour a spoonful of the dressing over it. Top each salad with salmon and crumbled seaweed. Serve immediately!
If you love Superfood Salmon Salad, check out more great salad recipes →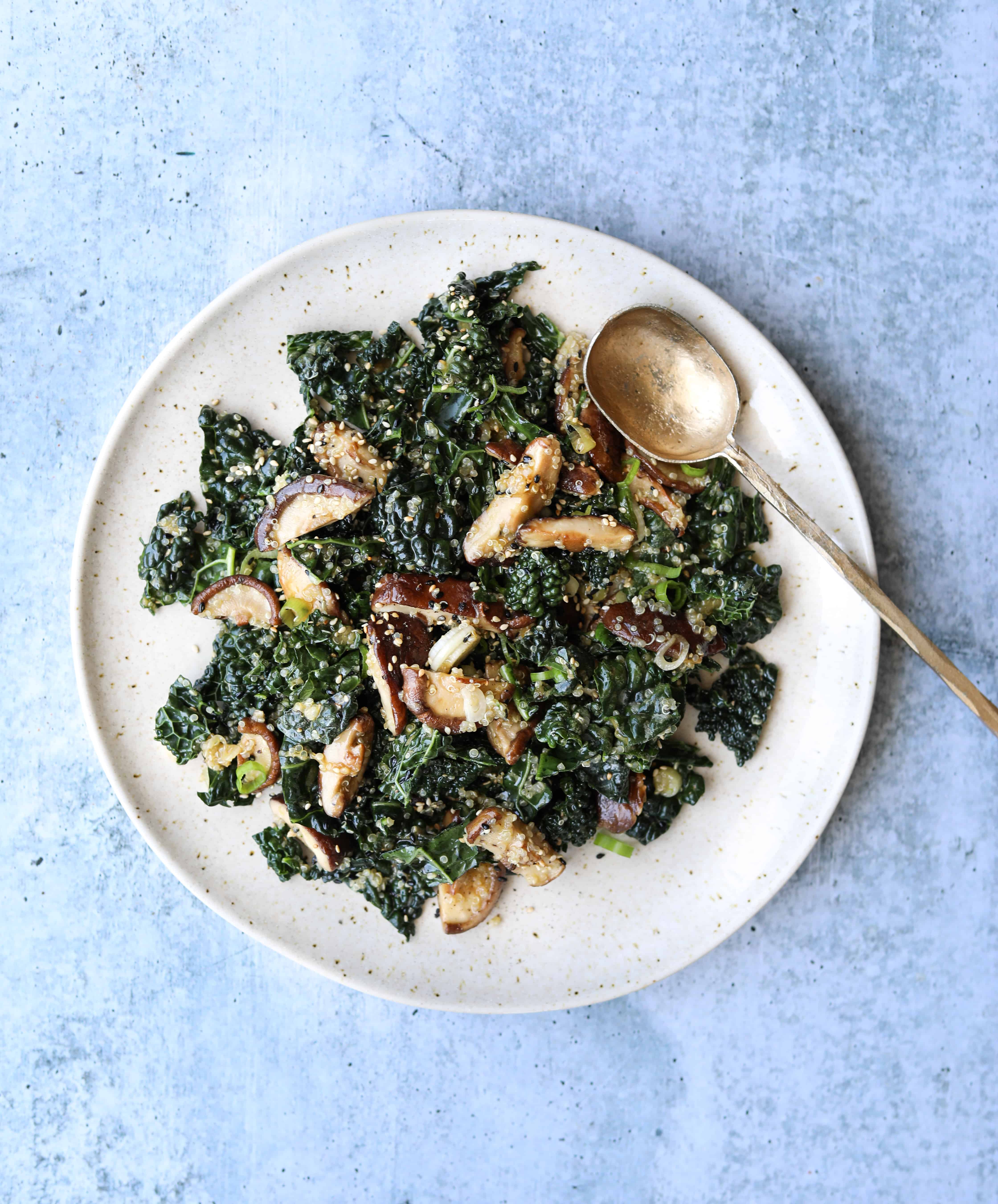 Kale and Quinoa Salad with Shiitake Mushrooms
It doesn't get any more California than a Kale and Quinoa Salad! This kale and quinoa salad with shiitake mushrooms is packed with umami flavor! The kale and quinoa together make a hearty and filling salad, perfect for packing up for a lunch at the office. The garlic-soy dressing is a staple in my fridge…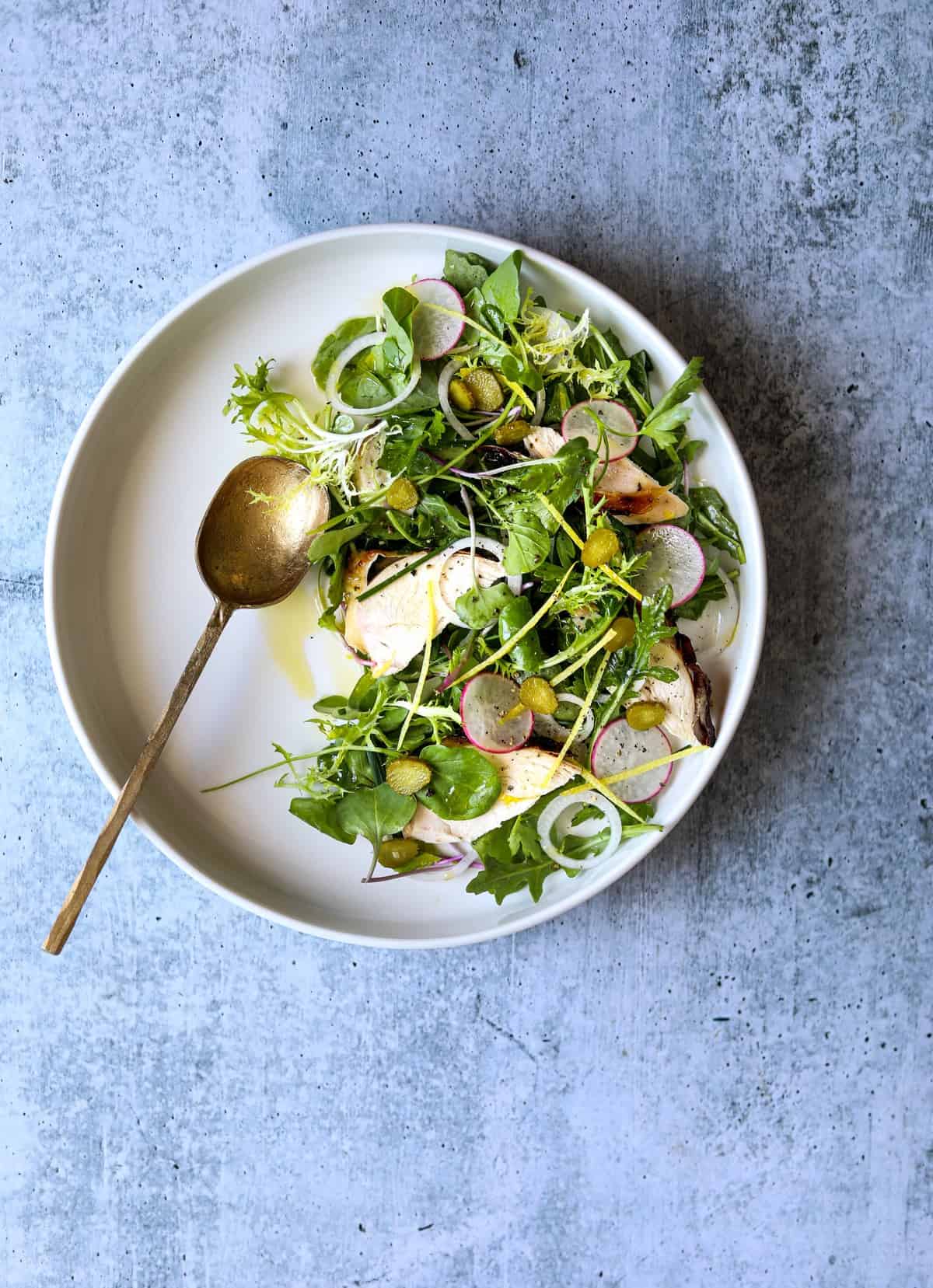 Easy Weeknight Rotisserie Chicken Salad
This easy rotisserie chicken salad is my ultimate dinner hack on busy nights when I have no time to make dinner from scratch. I love to bring home a store-bought a rotisserie chicken and turn it into a full meal. We're currently in that stage of the summer in Los Angeles where it's way too…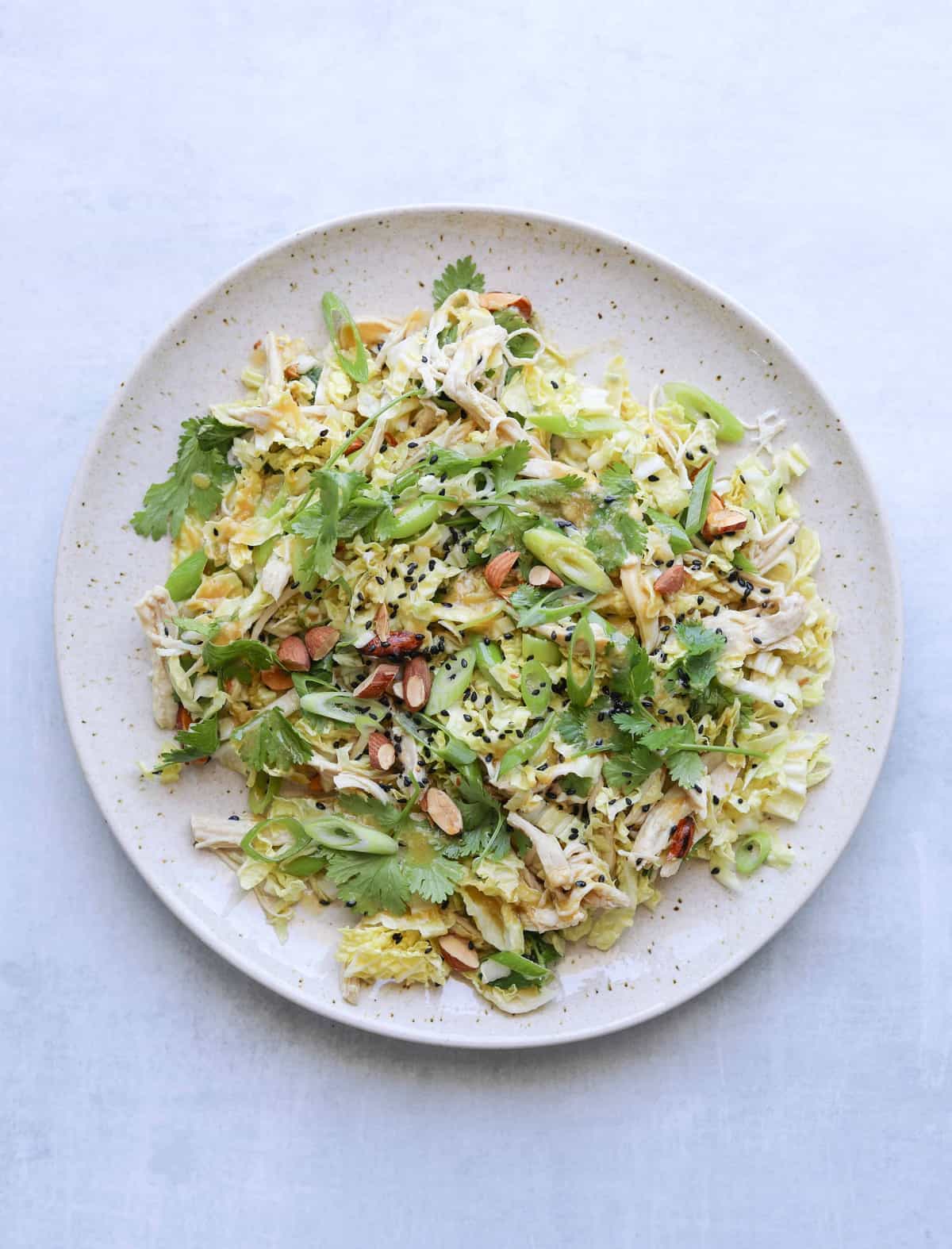 Miso-Ginger Chicken Salad
Miso-ginger chicken salad is healthy, hearty and flavor-packed! This crunchy, tangy, slightly sweet chicken salad is packed with good stuff my body needs, and nothing that is doesn't. You know I love all the pasta, bread, butter, and cheese but sometimes I need a meal to lighten things up and this salad is one of…