Moist and juicy turkey burgers filled with zucchini, feta cheese, cumin, and green onion. Serve these healthy and delicious burgers on a brioche bun, lettuce wrap, or alongside a simple salad.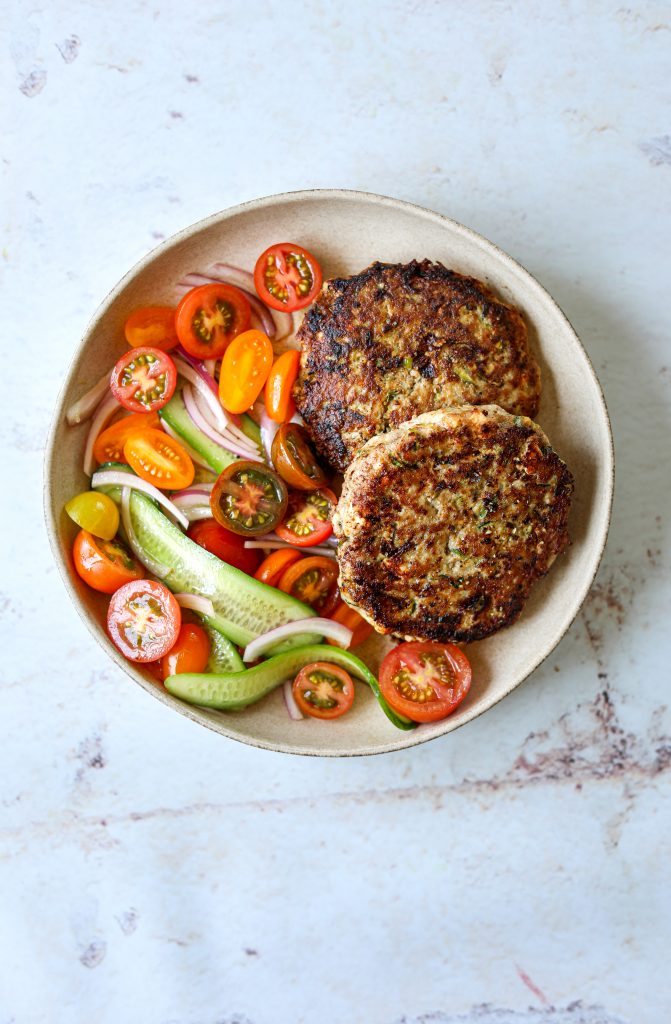 These easy to make turkey burgers with zucchini and feta are one of my go-to weeknight meals. They are super versatile and can be served on a bun, lettuce wrap, or alongside a bright and fresh side salad. These burgers are great for meal prepping, too, as they can be stored in the refrigerator for up to four days or in the freezer for up to one month!
---
How to make moist and juicy turkey burgers:
-Start with cold ingredients: Cold ingredients ensure that the gelatin and fat in the turkey are solidified which gives the burgers a light and springy texture rather than dense and dry.
-Don't over-mix: Overmixing is a common mistake. Once the ingredients are mixed in, stop. Remember, the burgers are going to be mixed more as you're shaping them into patties.
-Add moisture-rich ingredients: In this case, we're using grated zucchini and feta cheese.
-Don't overcook: Cook your turkey burgers to an internal temperature of 155 to 160 F.
-Let them rest for 5 minutes: Letting your burgers rest after cooking allows the temperature and juices to redistribute and settle.
How to keep turkey burgers from falling apart:
Use and egg! Eggs act as a binder that will hold the burgers together.
Once you place the turkey burgers in the pan, don't touch them. Let the burgers cook and caramelize for at least three minutes. This will ensure that your burgers stay together when you go to flip them.
How to Freeze and Reheat:
Follow steps 1-3 in the recipe steps then line a baking tray with parchment paper and arrange the cooked turkey burgers in a single layer on the tray.
Place the tray into the freezer for 1 hour, or until solid.
Once frozen wrap each burger individually in plastic wrap then place the wrapped burgers in a freezer-safe container and keep for up to one month.
To re-heat: Remove the burgers from the plastic wrap and place on a baking sheet, cover with foil and bake in a 300-degree oven for 15 minutes, or until heated through.
Recipe Steps:
Step One: Shred the zucchini on a box grater. Place the shredded zucchini in a colander set over a bowl and sprinkle lightly with salt. Allow the zucchini to stand for 10 minutes. Using your hands, squeeze out as much liquid from the zucchini as possible. Transfer the zucchini to a large bowl.

Step Two: Mix together the shredded zucchini, feta, egg, onion, and cumin. Season with freshly cracked black pepper and a pinch of salt. Divide the mixture into four equal portions and mold each portion into a burger patty.
Step Three: Heat a cast-iron pan over medium-high heat. Add a glug of olive oil to the pan, just enough to coat the surface. Cook the burgers two at a time until golden brown on both sides and cooked through. About 3 minutes per side.
Step Four: Serve the turkey burgers either with a bun, lettuce wrap, or a simple salad.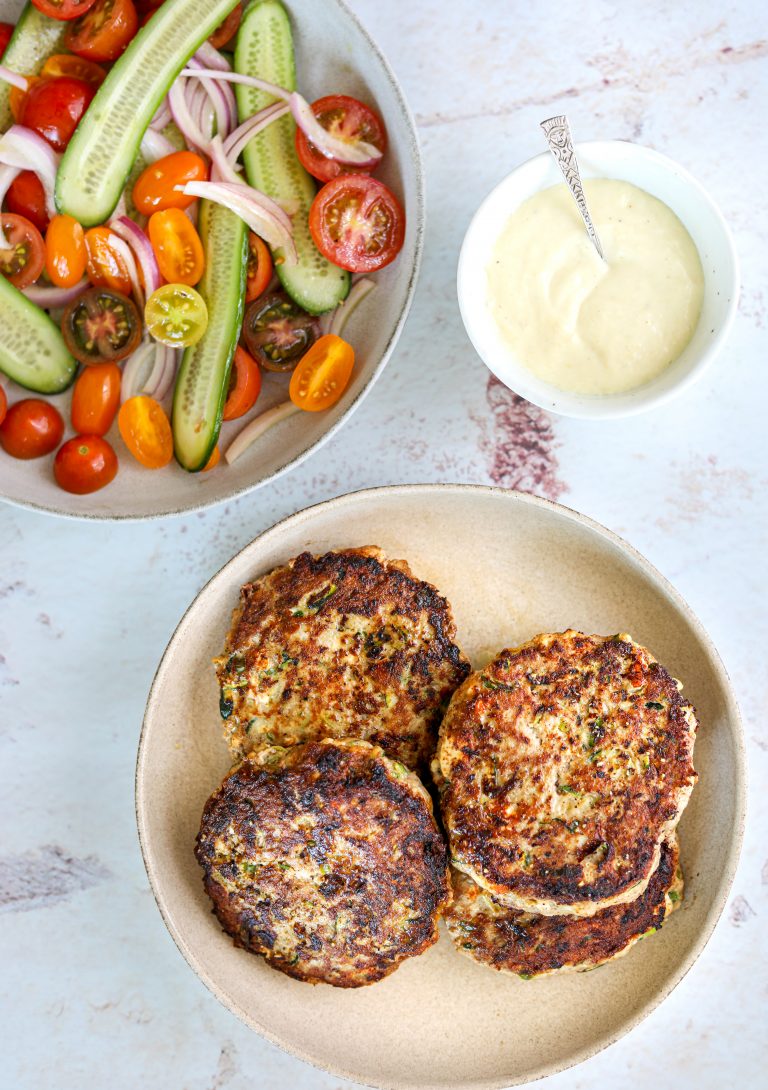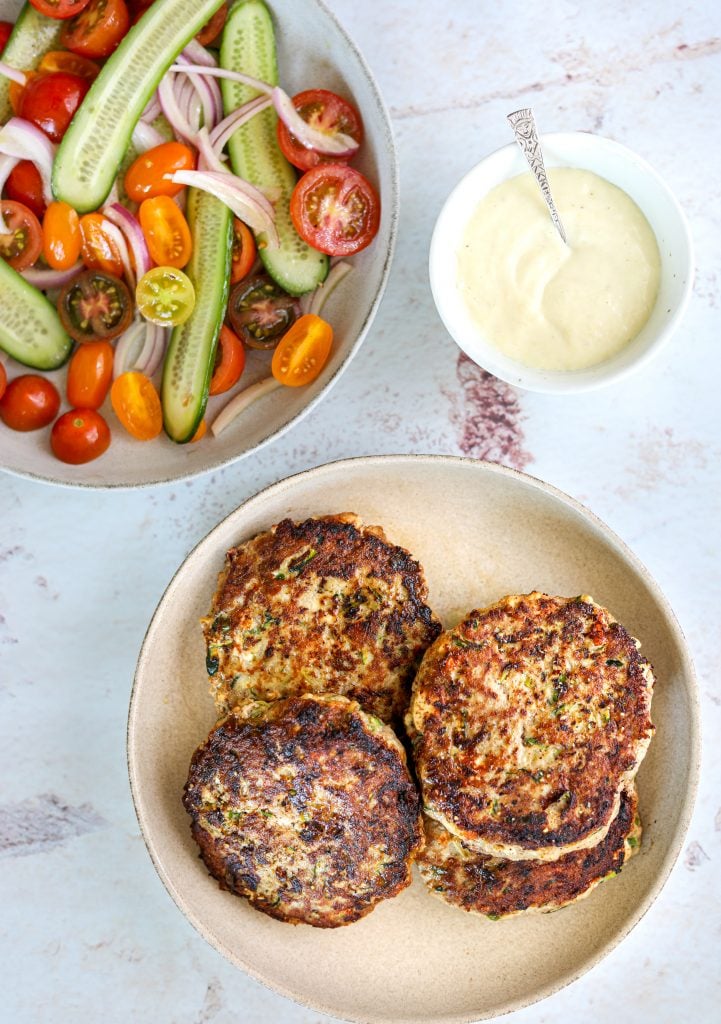 ---
How to Serve Turkey Burgers with Zucchini and Feta:
On a Bun: I love a super-soft brioche bun for any kind of burger.
Lettuce Wrap: Butter lettuce makes a great lettuce wrap if you're looking for a low-carb or gluten-free option.
A simple salad: Simple chop up some fresh tomatoes, cucumber, and red onion toss with olive oil, vinegar, and a little salt for one of my all-time favorite side salads.
Condiments + Sauces:
Hummus
Lemon + Garlic Aioli
Green Goddess
Garlicky Labneh + Tahini
You may also like: