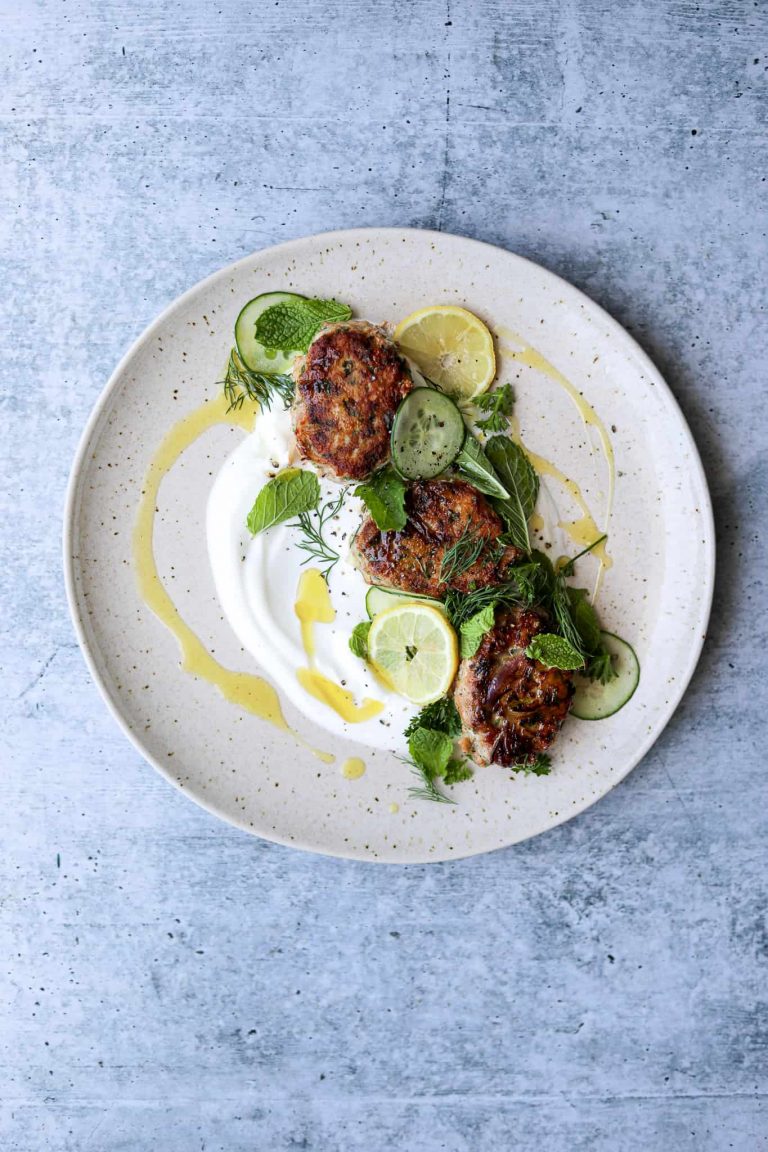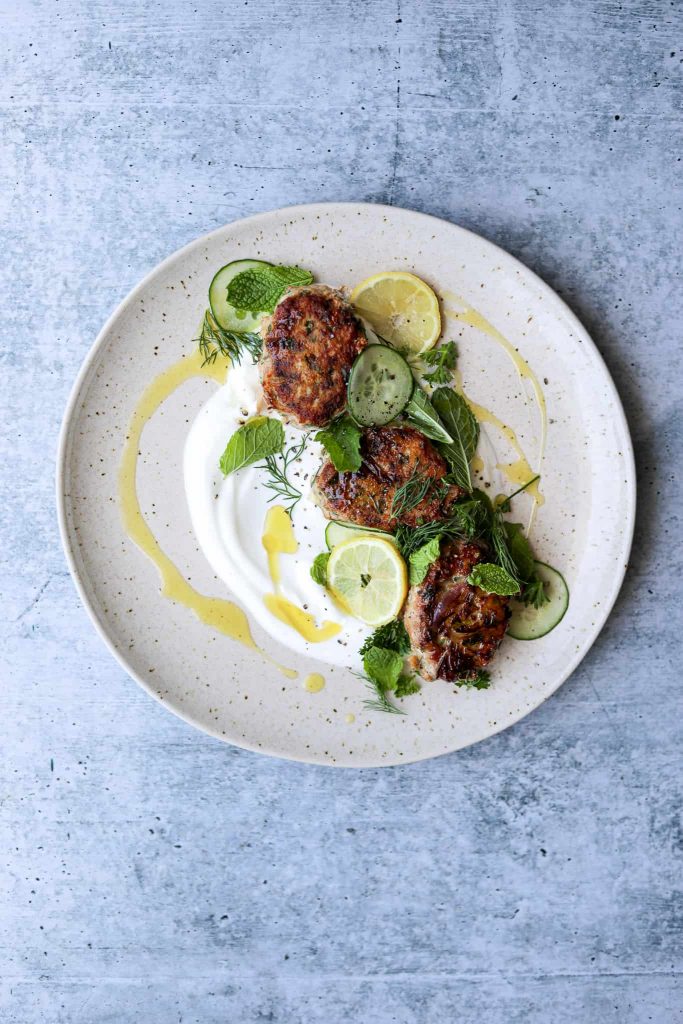 This recipe for chicken koftas with yogurt and herb salad is the perfect dish to impress at your next dinner party!
Koftas are a middle eastern spiced meatball. I love the combination of dried spices and fresh herbs. They're super rich and flavorful so I like to serve them with tangy Greek yogurt and fresh herb salad to cut the spice and smokiness of the meatballs. You can serve chicken koftas with yogurt and herbs by itself or with rice, grilled bread, and hummus!
Ingredients used in this recipe:
Dark meat ground chicken: I highly recommend using dark meat (thighs) for these chicken koftas. It's so much moister and more flavorful than chicken breast. You can also use lamb or beef!
Smoked Paprika: Smoked paprika (and paprika in general) is not spicy at all unless it is specifically labeled as "hot". That's why I love it so much! You get the sweet, smokey chili flavor without the excessive heat. Get it here → Smoked Paprika

Ground coriander: Coriander is the dried seeds of the cilantro plant! It's a spice I always have on hand and I put it in so many things! Coriander is highly underrated in my opinion. If you're not familiar with it try adding it to marinades, vinaigrette and spice rubs. Get it here → Ground Coriander
Whole Milk Greek Yogurt: Adding just a little bit of salt to yogurt intensifies the flavor! Salty greek yogurt is perfect balance the spicy chicken koftas and herby salad.
---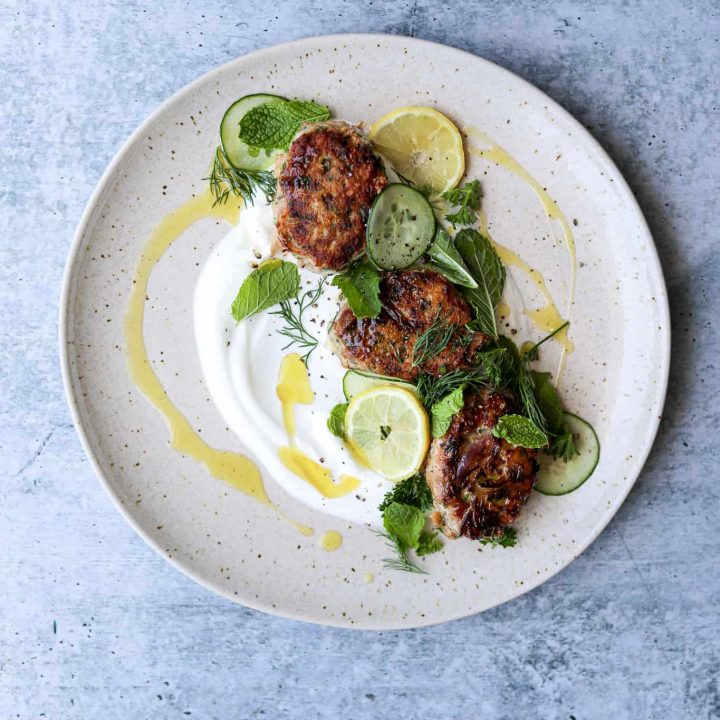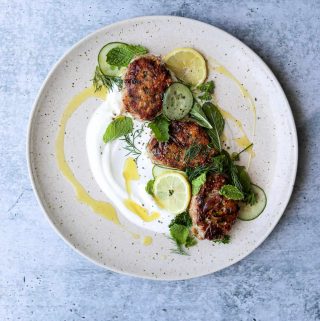 Chicken Koftas with Yogurt and Herb Salad
Spiced Middle Eastern meatballs with tangy yogurt and herbs.
Print
Pin
Rate
Ingredients
Chicken Koftas
1

lb

ground dark meat chicken

1/2

red onion thinly sliced

2

cloves

of garlic

finely chopped or grated

1

tbs

cumin

1/2

tbs

coriander

1/2

tbs

smoked paprika

1/4

c

chopped herbs; parsley

mint, and dill

2

tsb salt

1/4

c

olive oil for sautéing
Herb Salad
1

c

parsley

1/2

c

dill

1/2

c

mint

1

English cucumber thinly sliced

juice from 1/2 a lemon

1/4

c

olive oil
Yogurt for Serving
1

c

whole milk Greek yogurt

1

tsp

salt
Instructions
In a bowl mix together the ground chicken, herbs, spices, garlic, onion, and salt. Use a spoon or a small ice cream scoop to portion individual meatballs. Use your hands to gently form them into small oval meatballs. They don't need to be perfect so don't overwork them.

Heat a cast-iron pan to medium heat and pour in 2-3 tbsp olive oil. Place 3-4 koftas in the pan, be careful not to overcrowd them. Depending on the size of your pan you will need to cook them in 2-3 batches. After about five minutes flip them over and cook them on the other side. They should be caramelized and a deep golden brown color. Once they are fully cooked on the second side pull them from the pan, and place them on a paper towel-lined plate to drain any excess oil. Repeat this process with the rest of the koftas until they are all cooked.

To prepare the salad: Toss the fresh herbs, sliced cucumber, lemon, and olive oil until evenly coated. Season with salt and set aside.

Next, season the greek yogurt with a pinch of salt.

To assemble: place the yogurt onto a large plate or platter and spread it around with the back of a spoon. Place the koftas on top of the yogurt. Garnish the koftas with the herb salad, season the with freshly cracked pepper and a drizzle of olive oil. Enjoy immediately!
---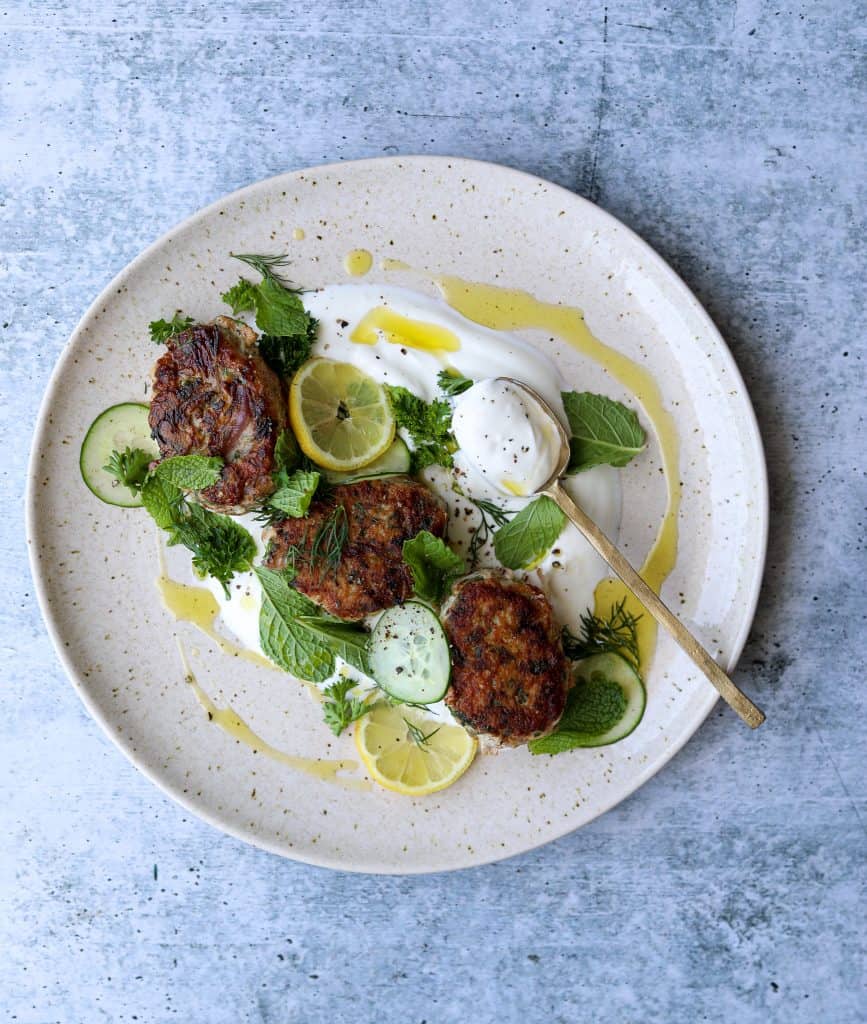 If you love Chicken Koftas with Yogurt and Herb Salad check out these other great recipes →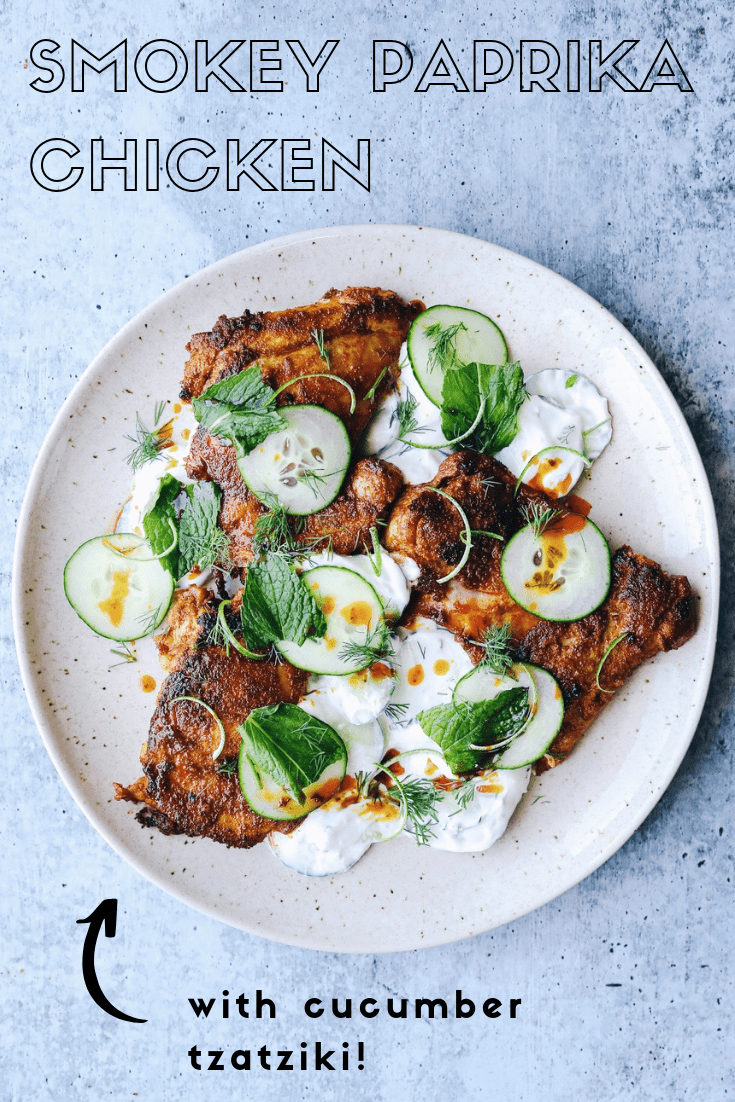 Smokey Paprika Chicken with Cucumber Tzatziki
This recipe for smokey paprika chicken with cucumber tzatziki is going to be your new go-to weeknight dinner! The combination of smokey paprika chicken with cooling yogurt tzatziki is one of my all-time favorites! Smoked paprika (and paprika in general) is not spicy at all unless it is specifically labeled as "hot". That's why I…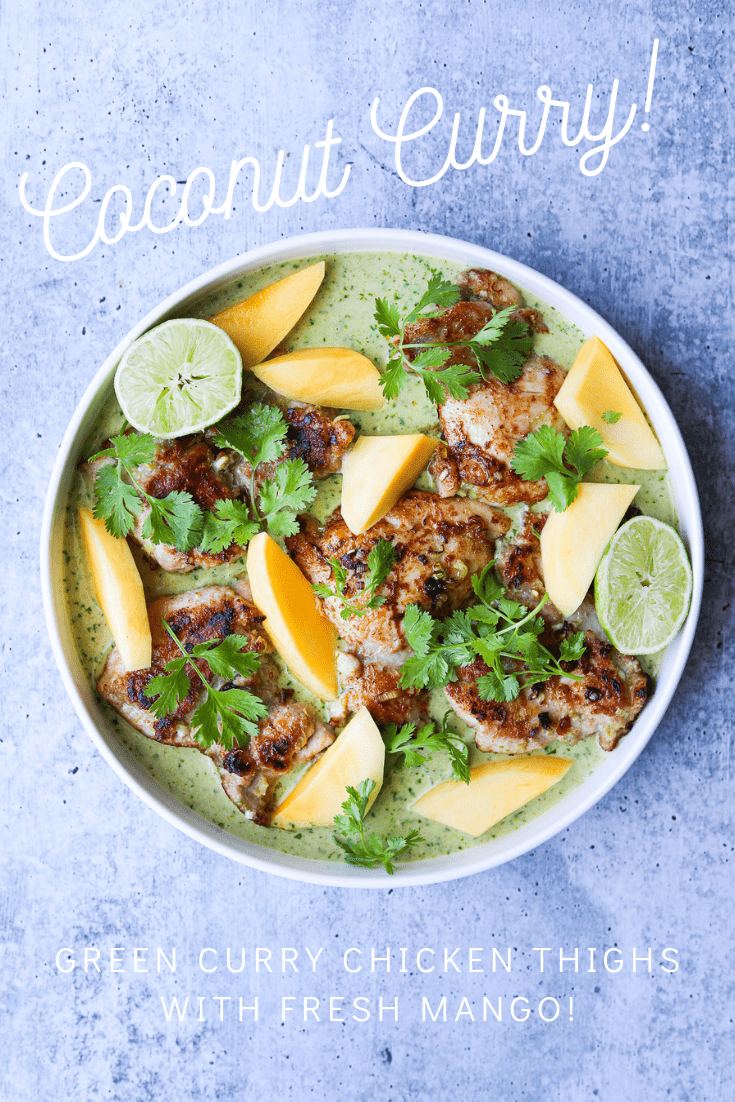 Green Curry Chicken Thighs with Fresh Mango
Green curry chicken thighs make for an easy weeknight dinner! I used to think a curry would be the last thing you would want to eat on a hot summer day, but after spending a few weeks in Thailand last year, I learned otherwise. The combination of ginger, lemongrass, coconut, fresh lime, and cilantro has…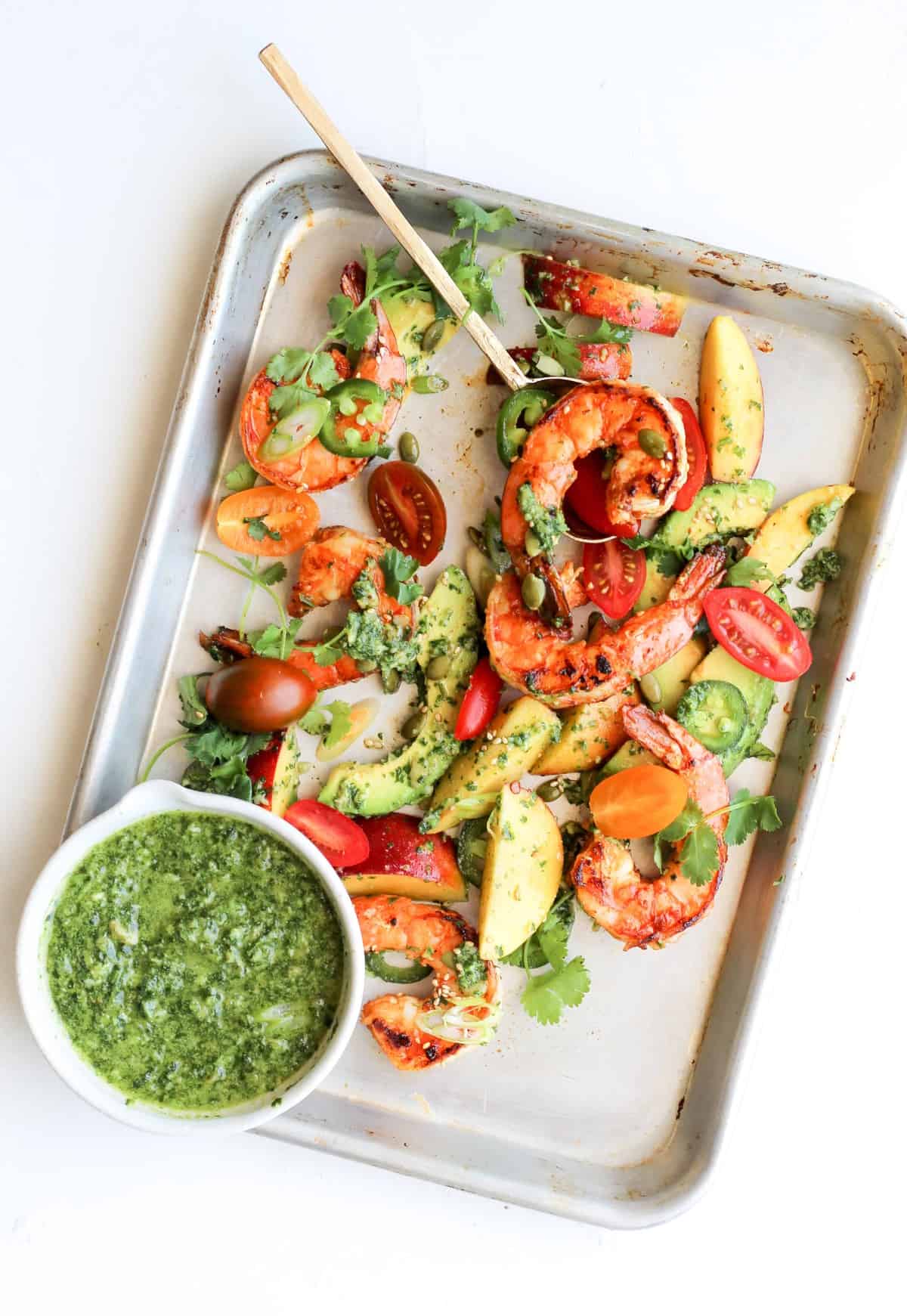 Chipotle Shrimp Salad with Peaches and Cilantro-Jalapeño Vinaigrette
This chipotle shrimp salad recipe is a summer dinner game changer! This chipotle shrimp salad with peaches and cilantro-jalapeño vinaigrette make for the perfect summer dinner. Pair it with corn on the cob and a glass of chilled white wine for a complete meal! Shout out to all my apartment dwelling friends with no space…
Don't forget to leave this recipe a five-star review!