Rigatoni all vodka is a quick and easy crowd-pleasing dinner! This creamy, tomato sauce is tossed with freshly cooked pasta and lots of parmesan cheese. Serve with salad and a glass of red wine for a complete meal!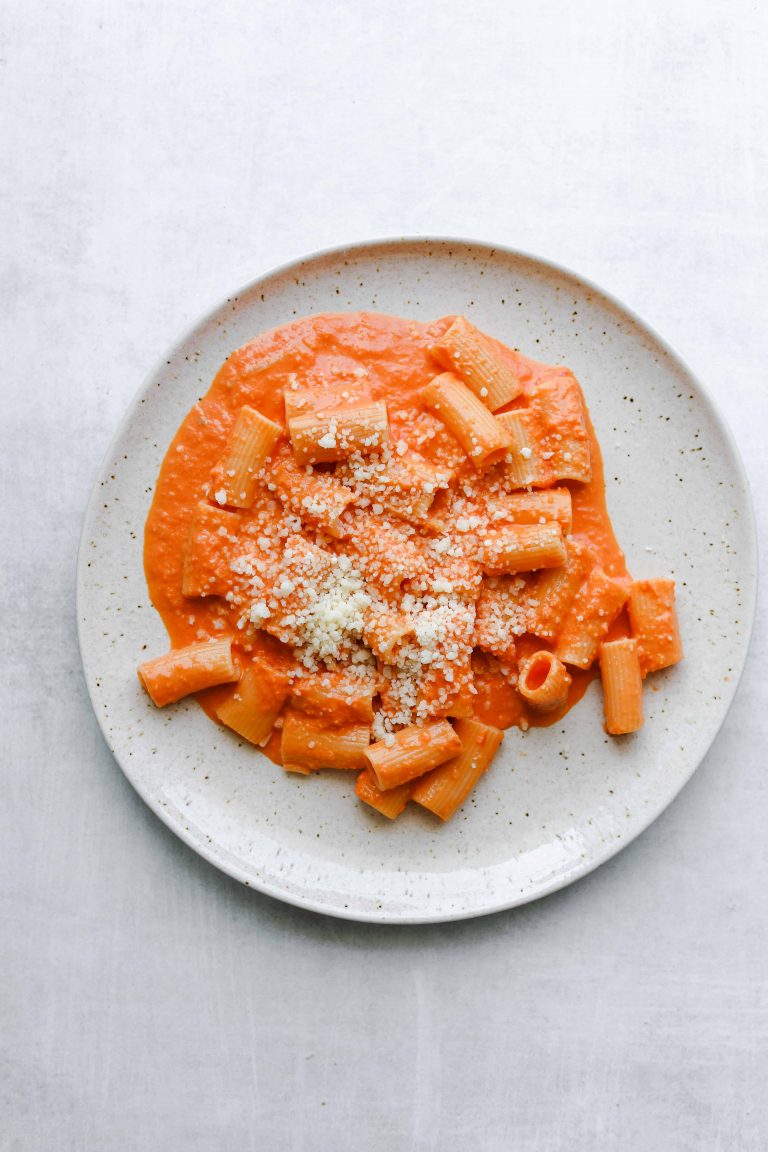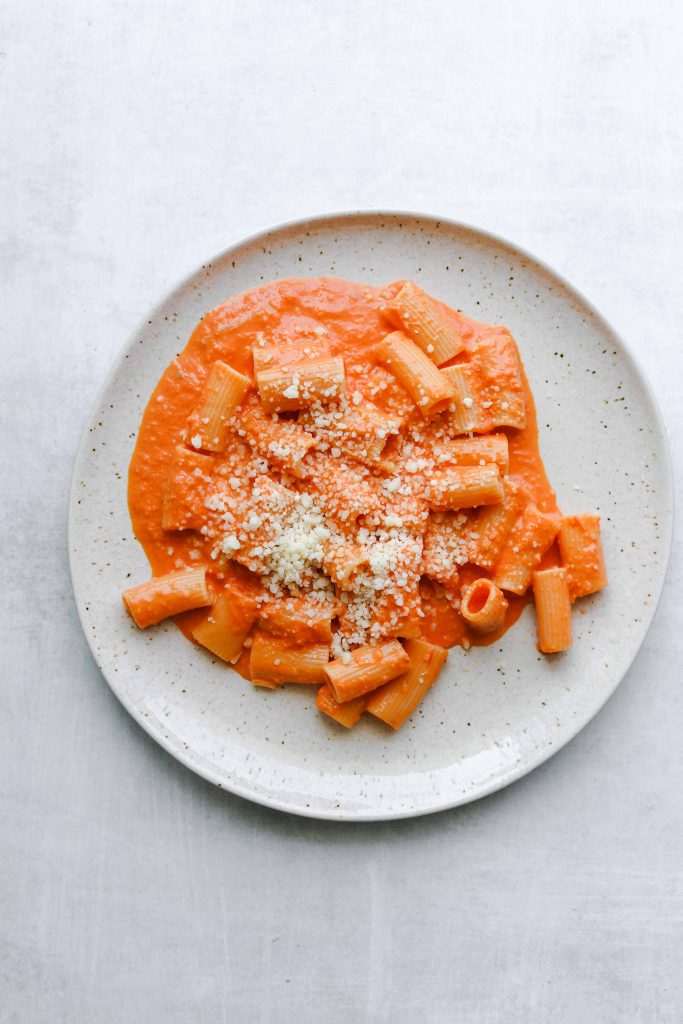 I'm going to let you in on a little secret; I never order pasta with vodka sauce at an Italian restaurant! The reason: it's so easy to make at home, foolproof really! I can make it at home so easily and most of the ingredients I have in the pantry already. Check out my super-simple recipe below, and you just might find yourself feeling the same way!
---
Ingredients you'll need:
"Tubular" pasta: rigatoni, penne, or pipe rigate.
Vodka: You actually can make this sauce without vodka if you prefer. Just omit it, no need to substitute any other ingredient.
Tomato Paste
Heavy Whipping Cream
Onion or Shallot
Garlic
Butter
Fresh Basil: fresh only, never dried!
Grated Parmesan Cheese or Pecorino Romano
Crushed Red Chili Flake (optional): If you like it spicy!
Vodka Sauce FAQs:
What does the vodka do and does it actually add flavor to the sauce? Vodka actually does flavor the sauce and cuts the acidity and richness of the tomatoes and cream!
Is there alcohol in vodka sauce? Technically, yes, but that being said the alcohol content is mostly cooked off. Just like red wine in a bolognese or white wine in a piccata sauce.
What can I substitute for vodka? No need to substitute anything. If you want to make this sauce without the vodka just omit it and skip to the next step.
Can I add meat to the sauce? Yep! You can add chicken, Italian sausage, shrimp, or even lobster (omg!).
Can I use other pasta shapes? Absolutely! I personally prefer a "tubular" shaped pasta because it holds onto the sauce, but almost any shape will work with this recipe.
Recipe Steps:
Step One: Bring a large pot of salted water to a boil and cook the pasta until al dente. Reserve 1/2 cup of pasta water before draining.
Step Two: Sauté the onion and garlic, then add in the tomato paste.
Step Three: Deglaze with the vodka, bring it to a simmer.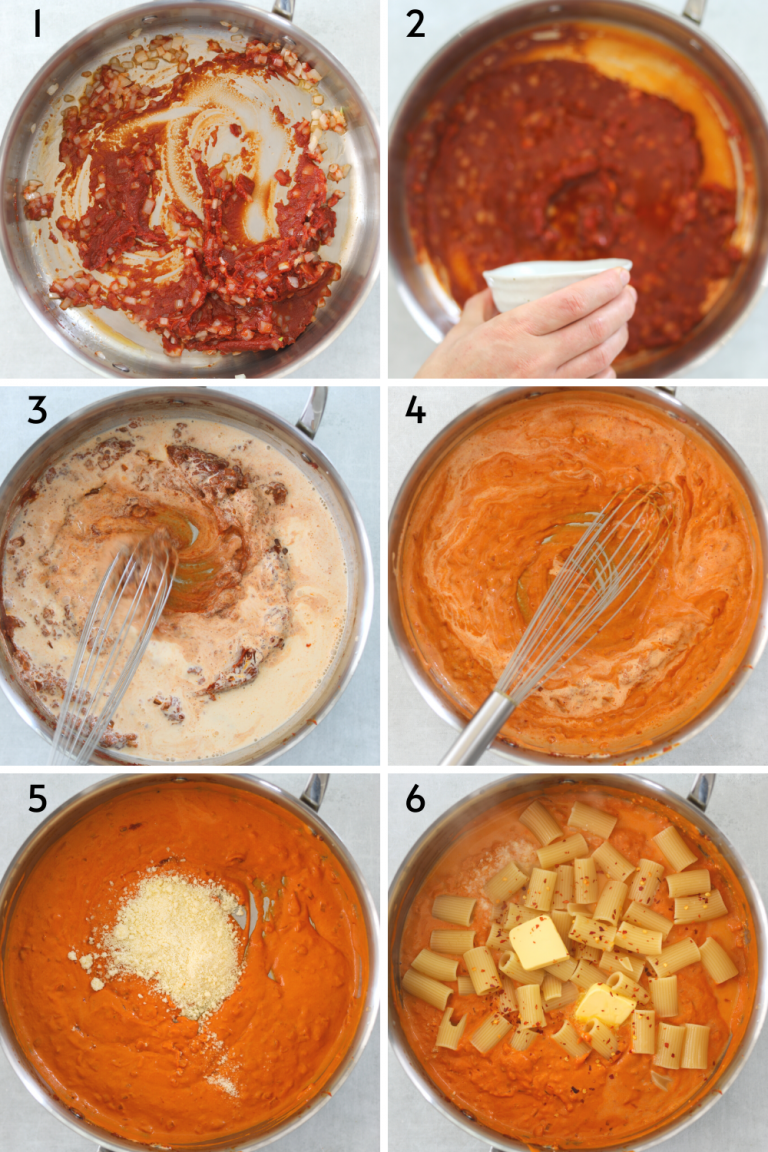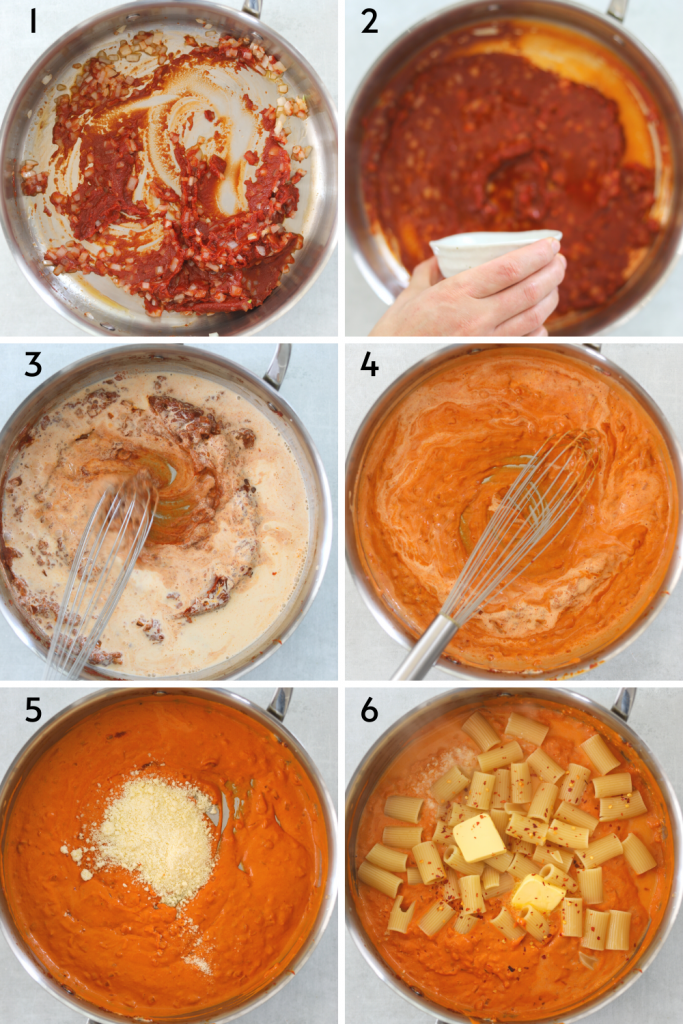 Step Three: Next, pour in the cream, followed by the parmesan cheese and reserved pasta water.
Step Four: Last, Fold in the cooked pasta, butter, and (optional) crushed red chili flake. Serve immediately!
Check out more delicious pasta recipes:
Creamy Calabrian Chili Bolognese
Fennel + Pork Bolognese
Short Rib Ragu with Pappardelle
Creamy Mushroom and Garlic Pasta
Roasted Cauliflower Carbonara
Bucatini al Limone
---