Spicy, tangy buffalo chicken tossed with crisp romaine lettuce, kale, and creamy buttermilk blue cheese dressing! This salad is like game day in a bowl!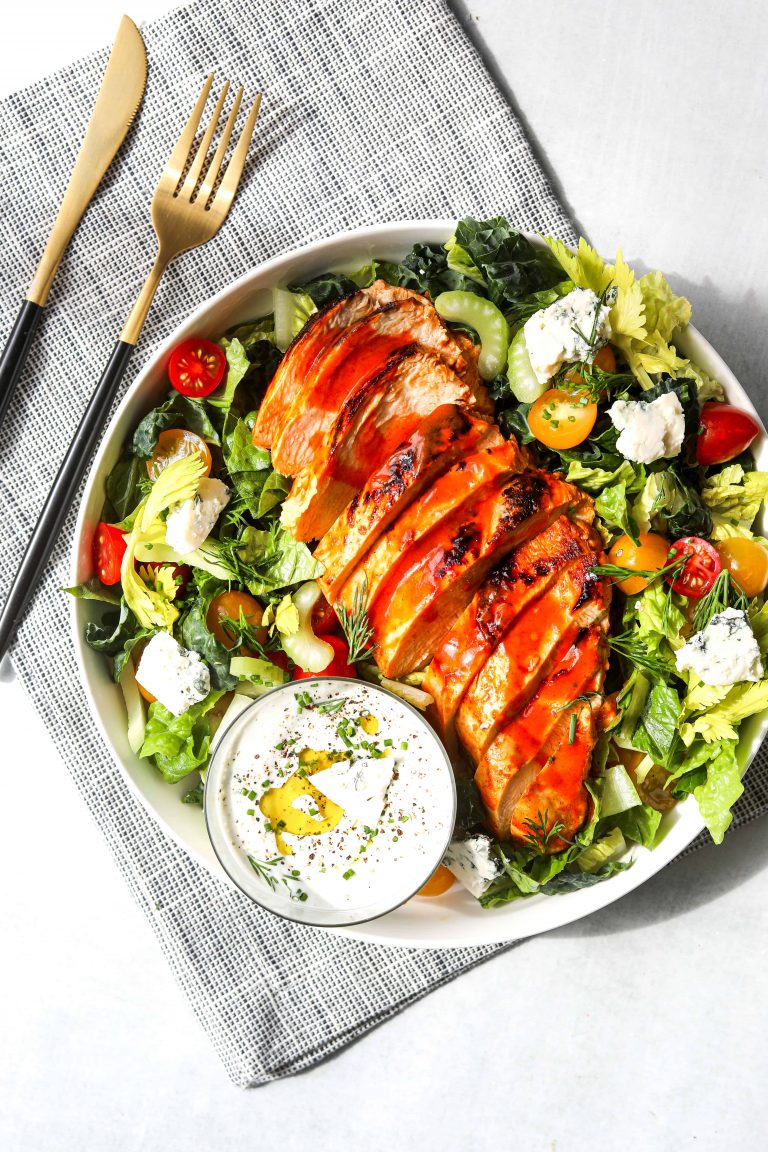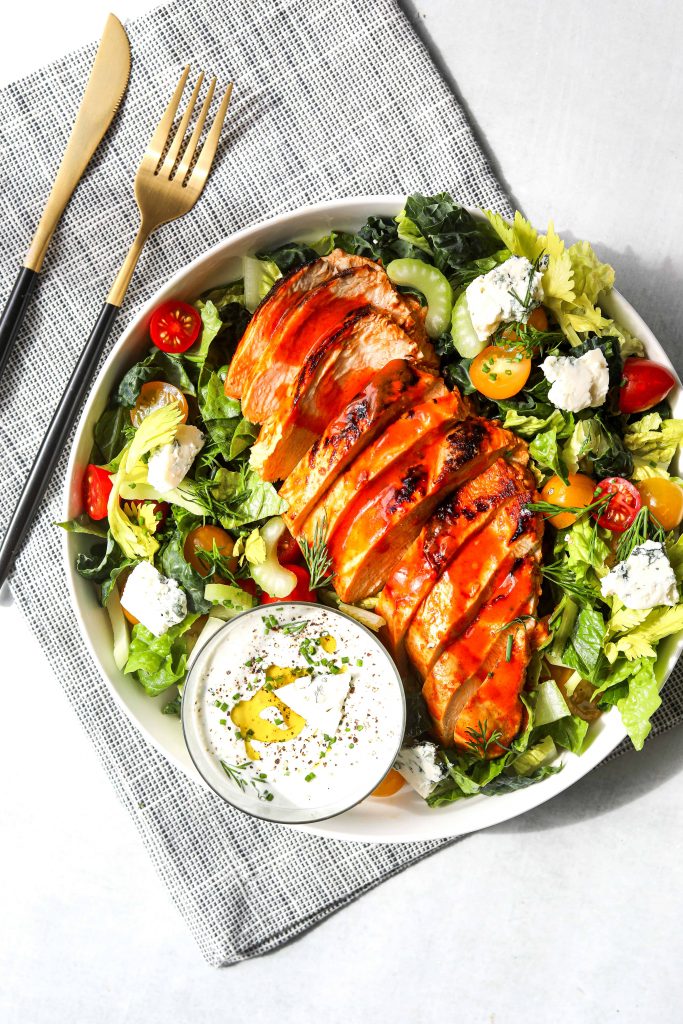 Why I love this Salad→
A big pile of buffalo wings and blue cheese dressing has always been my go-to guilty pleasure meal! This salad is all of that buffalo-blue cheese-chicken goodness tossed together with crisp lettuce and veggies. This salad is easier to eat than buffalo wings and maybe a little healthier?
Ingredients in This Recipe→
Boneless Skinless Chicken Breast: I've found that chicken breast works best but, you could also use thighs if you prefer.

Romaine and Kale: I like the combination of chopped kale and romaine. The kale adds extra crunch and sturdiness that holds up really well to the saucy chicken and creamy dressing.

Buffalo Sauce: Franks Red Hot is the classic buffalo hot sauce. I add a little butter and honey to tone down the spice.

Buttermilk Blue Cheese Dressing: This creamy blue cheese dressing recipe is the perfect complement to the spicy buffalo sauce. You can use ranch dressing if you prefer.

Celery: You can't have buffalo chicken without celery!
Recipe Tips + Tricks→
-You can use store-bought dressing. There are some pretty good bottled blue cheese dressings in the refrigerated section at the grocery store. Feel free to use store-bought in a pinch!

-This salad is great for meal prep! Simply leave the dressing and buffalo sauce on the side and pack into Tupperware and this salad will stay fresh in the refrigerator for up to three days.
Blue Cheese vs. Ranch→
I know, I know, a lot of people really hate blue cheese. I get it, it's funky, sharp and the flavor is pretty intense. If you don't like blue cheese feel free to make a ranch dressing instead! I like both and switch between the two depending on how I'm feeling that day.
How to make Buffalo Chicken Salad→
Step One: Make the buffalo sauce. Use half the sauce to marinate the chicken, reserve the second half for drizzling over your salad.

Step Two: Cook the chicken in a cast-iron pan.
Step Three: Make the buttermilk blue cheese dressing. If you're using bottled dressing skip this step.

Step Four: Assemble the salad ingredients, toss with the dressing, season with salt and pepper then dig in!
---
Did you make this recipe?
Leave a review below, then snap a picture and tag me @craving_california and use #cravingcalifornia on Instagram so I can see it!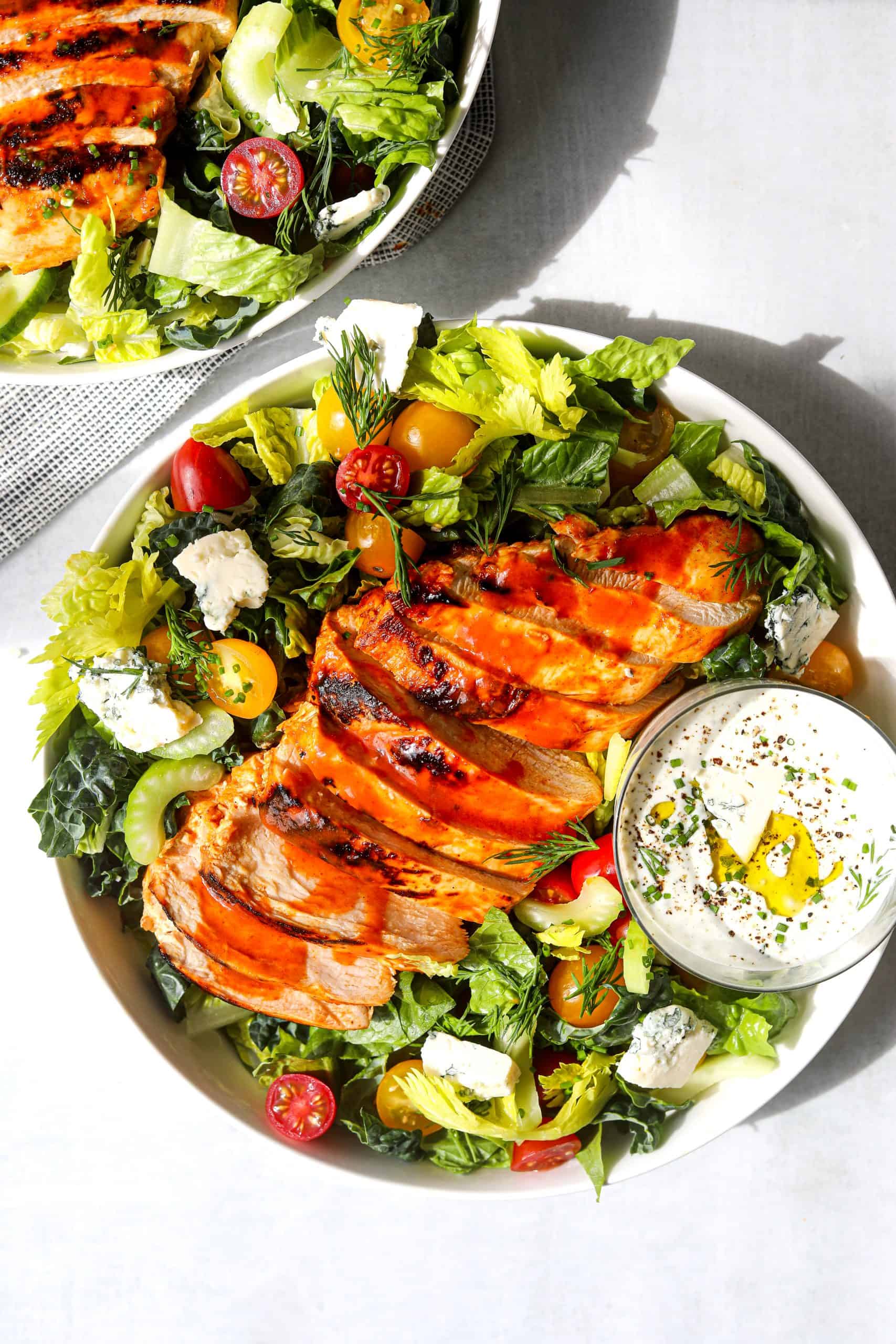 ---
Check out more delicious salad recipes: