20 California Style Brunch Recipes to Celebrate Mother's Day
Spend less time in the kitchen and more time with the people you love with these simple yet elegant Mother's Day Brunch recipes. Sweet or savory? Buttermilk pancakes or eggs with crispy bacon? With plenty of breakfast options to choose from, this list has something for everyone!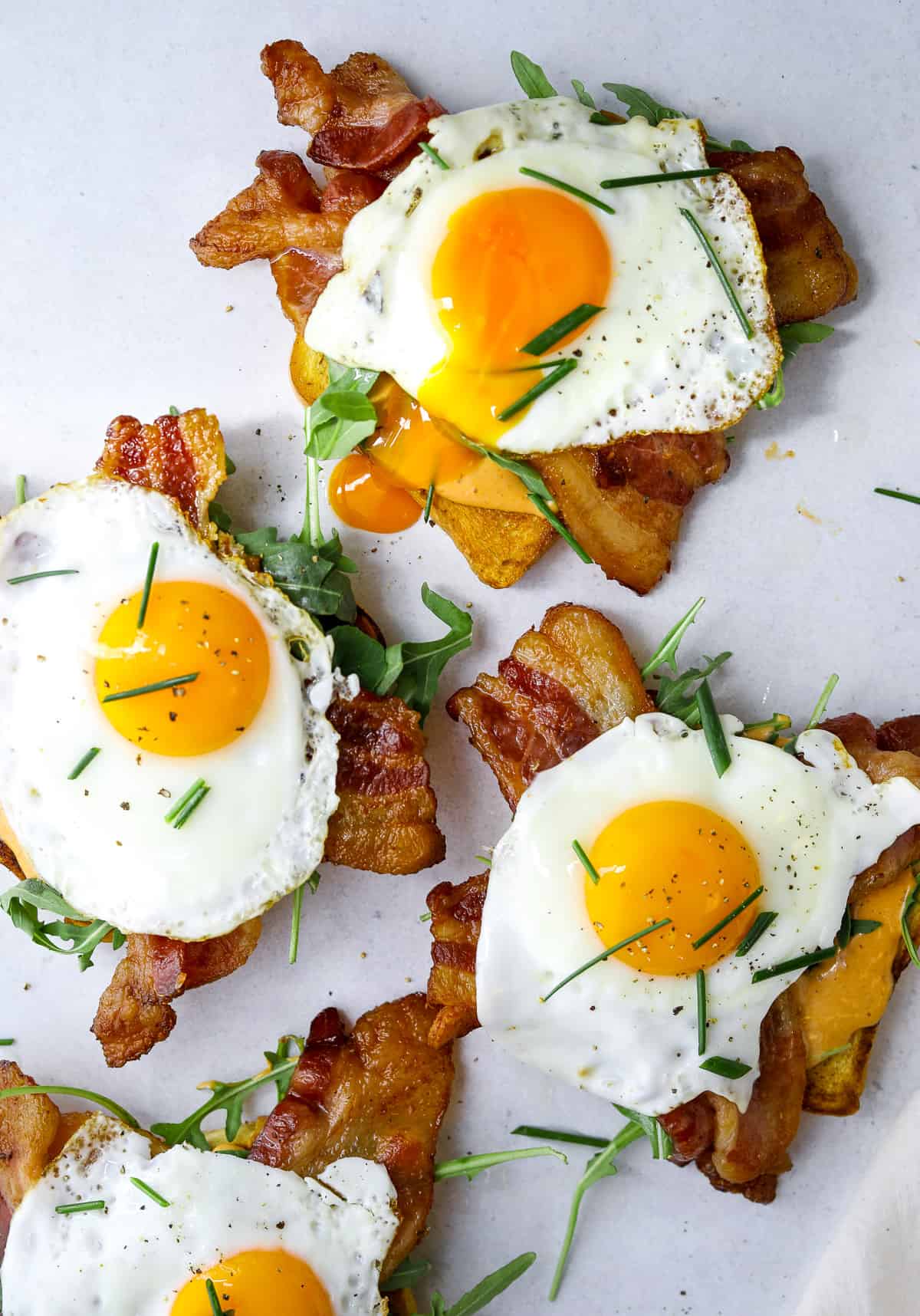 Sweet Stuff: Pancakes, Waffles & Pastries
Oat Flour Buttermilk Pancakes
These light and fluffy buttermilk pancakes are made with wholesome oat flour. They're perfect for the gluten-free Mama in your life!
Banana Waffles with Salted Maple Butter
SALTED.MAPLE.BUTTER…. need I say more?
Sourdough French Toast with Blueberry Compote
Warm, custardy sourdough french toast, what's not to love? Serve maple syrup and blueberry brown sugar compote. Heaven!
Double Chocolate Scones
If your Mom is a chocolate lover you're definitely going to want to make her these buttermilk scones chocked full of dark and milk chocolate!
Strawberry Rhubarb Puff Pastry Tart
This Strawberry and Rhubarb Flakey Pastry with sweet cream cheese is just the thing for a spring morning!
Gluten-Free Olive Oil Cake
Made with citrus zest and almond extract, this olive oil cake is incredibly moist and flavorful. I highly recommend finishing your Mother's Day Brunch with this delicious cake!
Savory: Eggs, Toasts & Potatoes
Savory Smoked Salmon Dutch Baby
This savory dutch pancake really is something special! Fill it with all kinds of toppings like smoked salmon, avocado, eggs and even caviar if you're feeling fancy!
Brioche Breakfast Toasts with Bacon, Egg and Chipotle Aioli
You can't go wrong with bacon and eggs! Brioche Breakfast Toasts are so quick to whip up, you can have them ready before anyone says they're hungry.
Eggs en Cocotte
Eggs en Cocotte is the perfect recipe for slow, cozy, weekend mornings. They're great if your cooking for a crowed and can even be prepped the night before. Serve with toast points and a fresh herby salad.
Hash Brown Frittata
I cannot get enough of this hash brown frittata! It's crispy and golden brown on the outside, tender and custardy on the inside. Serve with smoked salmon, chives and a dollop of creme fraiche!
Croque Monsieur Croissant Bake
Take everything you love about a classic croque monsieur sandwich but make it a breakfast casserole! Yep, you guessed it… this one can be made the night before and baked off in the morning.
Citrus Cured Salmon
No one is ever disappointed with smoked salmon! Serve with freshly toasted bagels, capers and cream cheese.
Salads & Sides:
Dandelion Greens Salad
A few minutes is all it takes to throw together this fresh and healthy Dandelion Green Salad.
Herb Salad with Shaved Parmesan
This light and fresh herby salad is the perfect side dish to out balance all your favorite salty, fatty breakfast foods.
Stone Fruit and Burrata Salad
Want to show your Mom that you're a put together, well-rounded adult… make her this Stone Fruit and Burrata Salad!
Snap Pea and Burrata Salad
Crisp, creamy and ridiculously good! This Snap Pea and Burrata salad is quick to disappear whenever I make it!
Avocado Panzanella
This is not your traditional Panzanella salad! This twist on an old classic is made with crisp, sweet snap peas, creamy avocado, and feta cheese, all tossed with toasted bread and basil vinaigrette!
Frisée Salad with Bacon, Croutons and Poached Egg
This breakfast salad lives up to the hype! Warm bacon lardons, warm toasted croutons, and poached egg on a bed of bitter frisée lettuce tossed with mustardy vinaigrette!
Drinks: Coffee & Cocktails
I'd like to send big thank you the person who decided brunch was a meal deserving of coffee and cocktails!
French Press Cold Brew
For the coffee lovers, check out my recipe for a super-simple cold brew coffee made in a French press.
Aperol Spritz
If you're looking to a mimosa-alternative don't count out the Classic Aperol Spritz.
Hungry For More?
*Click Here* to check out all of Craving Californias best Breakfast Recipes